This post is brought to you by Travel Iowa. All opinions are my own. #for21+
Have you ever experienced a virtual wine tasting? Sipped on Iowa wines? If not, I'm afraid you might be missing out. My husband and I have visited several wineries for wine tasting over the years.
I was certainly excited to experience my very first virtual wine tasting in a collaboration with Travel Iowa.
Virtual Wine Tasting with Iowa Wineries
Honestly, I didn't know what to expect. Nevertheless, I was pleasantly surprised and incredibly inspired.
I'm sure that when you think of wineries, you tend to think of places like Napa Valley. However, the Midwest is also home to some beautiful and exceptional wineries — and Iowa is one of them. Yes, Iowa.
Apparently, Iowa grows 40 different types of grapes that are specifically able to withstand their cold winters. They have such rich, hardy soil that some of the grapes have cold hardiness as low as -40ºF.
Who knew? I honestly never would've thought of Iowa and wine. Farming, yes. Wine, not so much.
However, across the state, each Iowa winery offers a unique history and eclectic experience for locals and out-of-state visitors. Steve and I have already talked about a trip that way in our travel trailer.
So, for the virtual wine tasting experience, I was introduced to three wineries and the four women winemakers behind each of them. The first word that comes to mind? WOW.
Yes, WOW. Their stories were inspiring and those stories made each bottle of wine that much more special. There's a science to winemaking, and degrees (enology and viticulture). Many of them studied at the University of Iowa.
Some of them have endured blood, sweat, and tears — and still do. I'd love to share a little about each of them and the delightful wine they shared with us.
Let's take a look at the women and wineries of Iowa. My hope is to inspire you to visit or try one of their wines.
Summerset Winery is located outside of Des Moines, Iowa in Indianola, where they produce award winning Iowa wine from locally grown, central Iowa grapes.
Summerset opened in the summer of 1997 and became one of the first estate wineries in Iowa. Today the winery is located on 12 acres of vineyards just 20 minutes from the downtown area.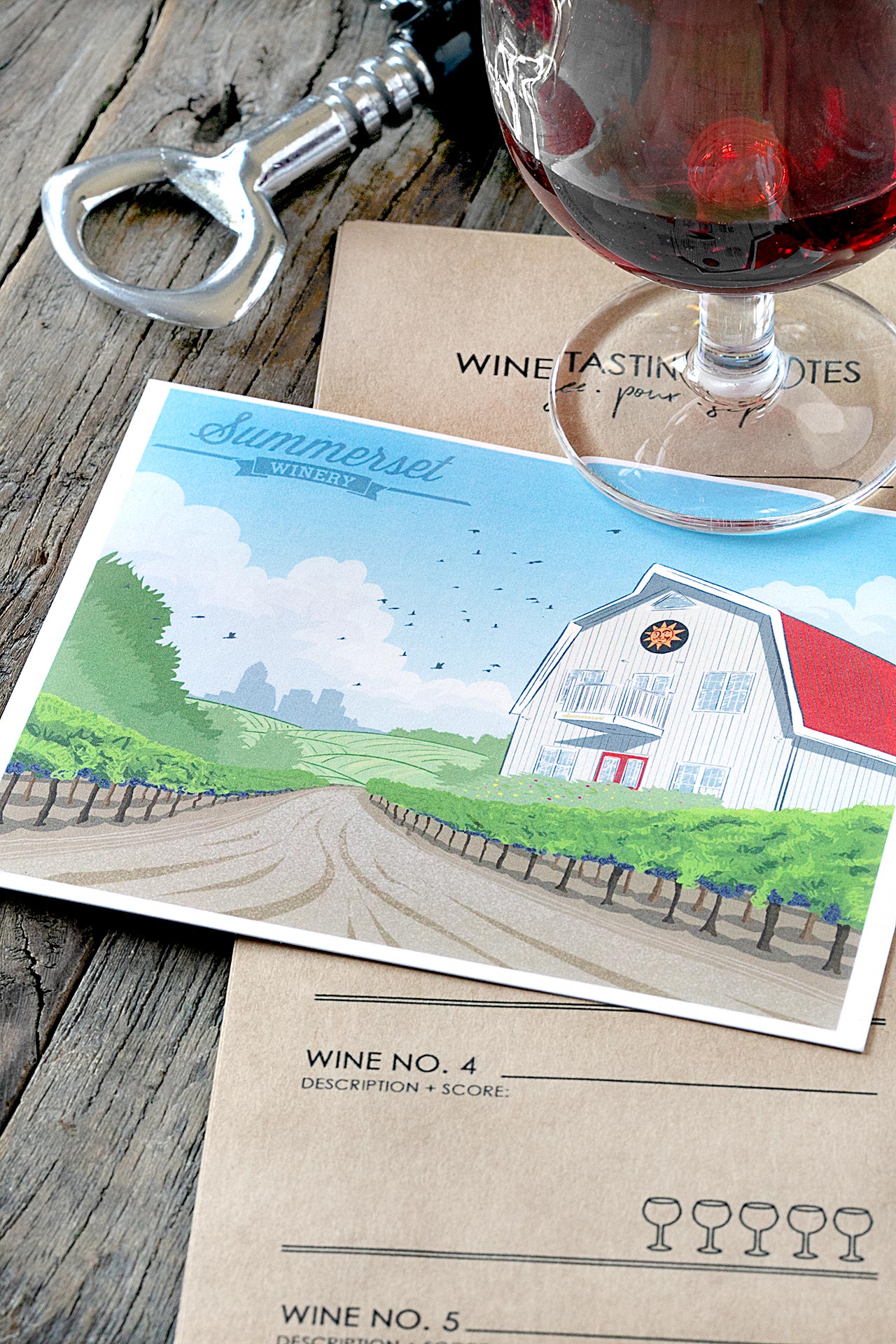 I loved the colorful postcard they sent, Megan's personality, and the bright tasty wine they provided. Therefore, I got such an energetic vibe from the whole virtual experience with Summerset, making me want to go and experience it for myself.
Summerset Winery provided the delicious Caba Moch. It's their #1 seller, which doesn't surprise me. It's blended from Catawba (white) and Marechal Foch (red) grapes — and reminded me of sangria. A lot of us agreed it was a great deck wine too.
The Caba Moch is fruity with tropical notes of mango but brings a nice balance of acidity and sweetness. It was so good and it's understandable that the winery calls it a Party in a Bottle. Ha.
Pairings:
A sweet red pairs with just about anything. Might I suggest trying it with this healthy sheet pan recipe (Chicken Sausage and Peppers) or chips and salsa?
Would you like to try the Caba Moch? I got a special code just for you. Visit summersetwine.com and use the code TRAVELIOWA15 to save 15% on your purchase for the month of March (2021).
Glyn Mawr Winery is a mother-daughter-owned winery located in Mount Vernon, Iowa. They are a small, local business that started in 2009 with 1,100 grapevines on two and a half acres. They now have a tasting room on historic Main Street and described the facility as a little old school, a little classic, and a little vintage.
Since its start, the winery has produced over 21,000 lbs of grapes each summer and over 9,000 bottles of wine each year. They produce 12 varieties of wine and they're available at the tasting room and on their website.
I also learned that not all wineries function at the same level. Brenda and Anna hand-cork and label every single bottle (9k a year to be exact). In short, each bottle has a little extra TLC accompanying it.
This mother-daughter team showed such grit and determination. In short, I wanted to hug their necks.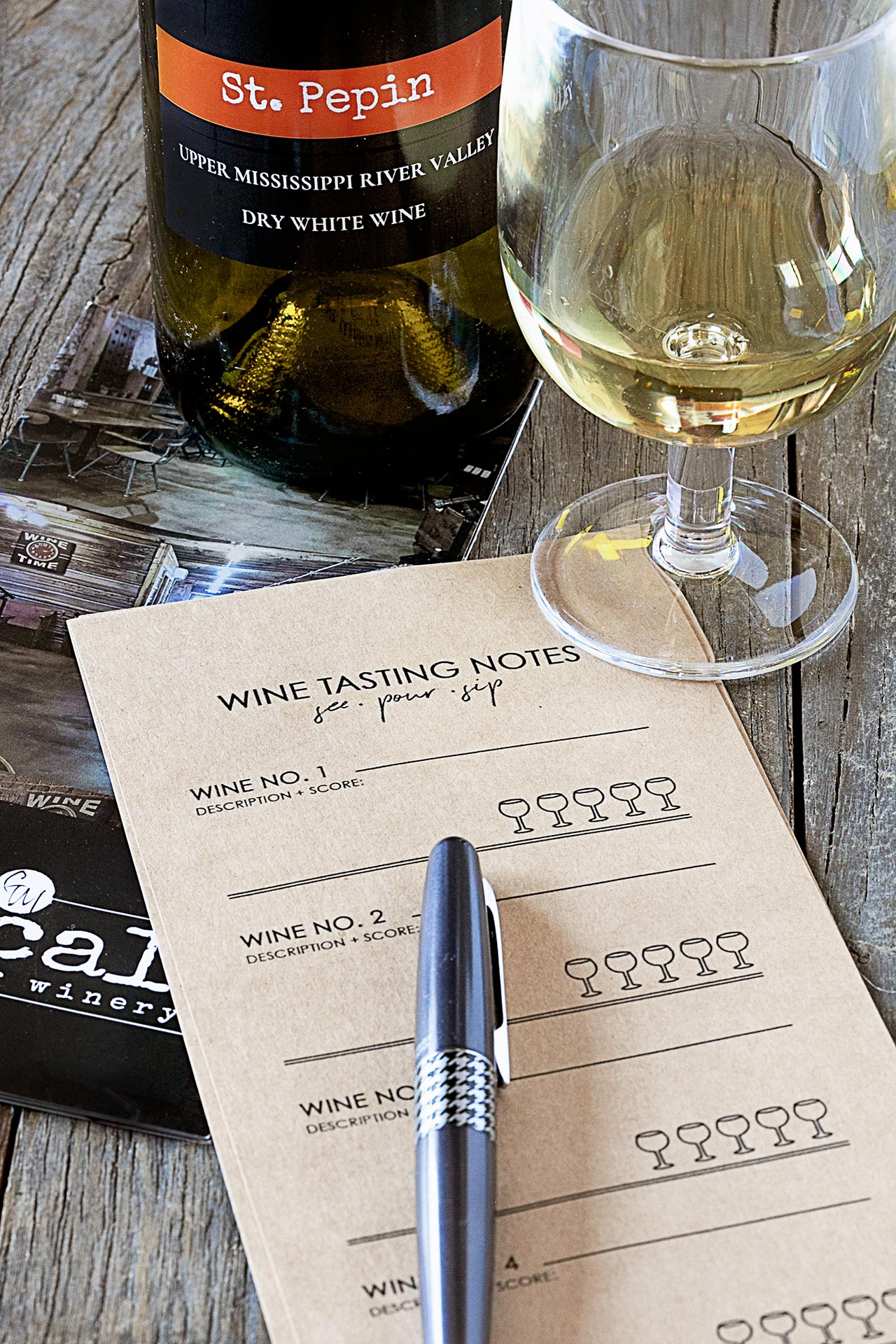 St. Pepin was provided for the wine tasting. An amazing off-dry white wine with a floral aroma and a light crisp finish, this one was by far my favorite. It had such a lovely citrusy flavor. So good.
Pairings:
Enjoy this wine chilled and pair alongside these Savory Chickpea Crostinies with Sun-Dried Tomatoes or this Salmon Fettuccine Alfredo. For a lighter dish? This summer grill out some chicken with a zesty barbecue sauce.
Interested in ordering a bottle of St. Pepin? Brenda and Anna provided me with a discount code as well. Visit glynmawr.com and use the code SPRING10 to save 10% on your purchase, then email Glyn Mawr and they'll find you the best shipping rate to your area. This savings is good through the month of March (2021).
Soldier Creek Winery is a family-owned business. Located on Soldier Creek, which is the inspiration behind the name, the property has been on their family farm operation for over 50 years.
The family-owned farm originally produced crops and was home to livestock including corn, soybeans, hogs, chickens, and cattle. However, the farm transitioned and became a family-owned winery. Each family member began exploring a career in the vineyard and winery profession.
Their current space serves as a tasting room on the weekends and production during the week. They roll out the vats and barrels each weekend for their customers to enjoy a unique wine tasting experience.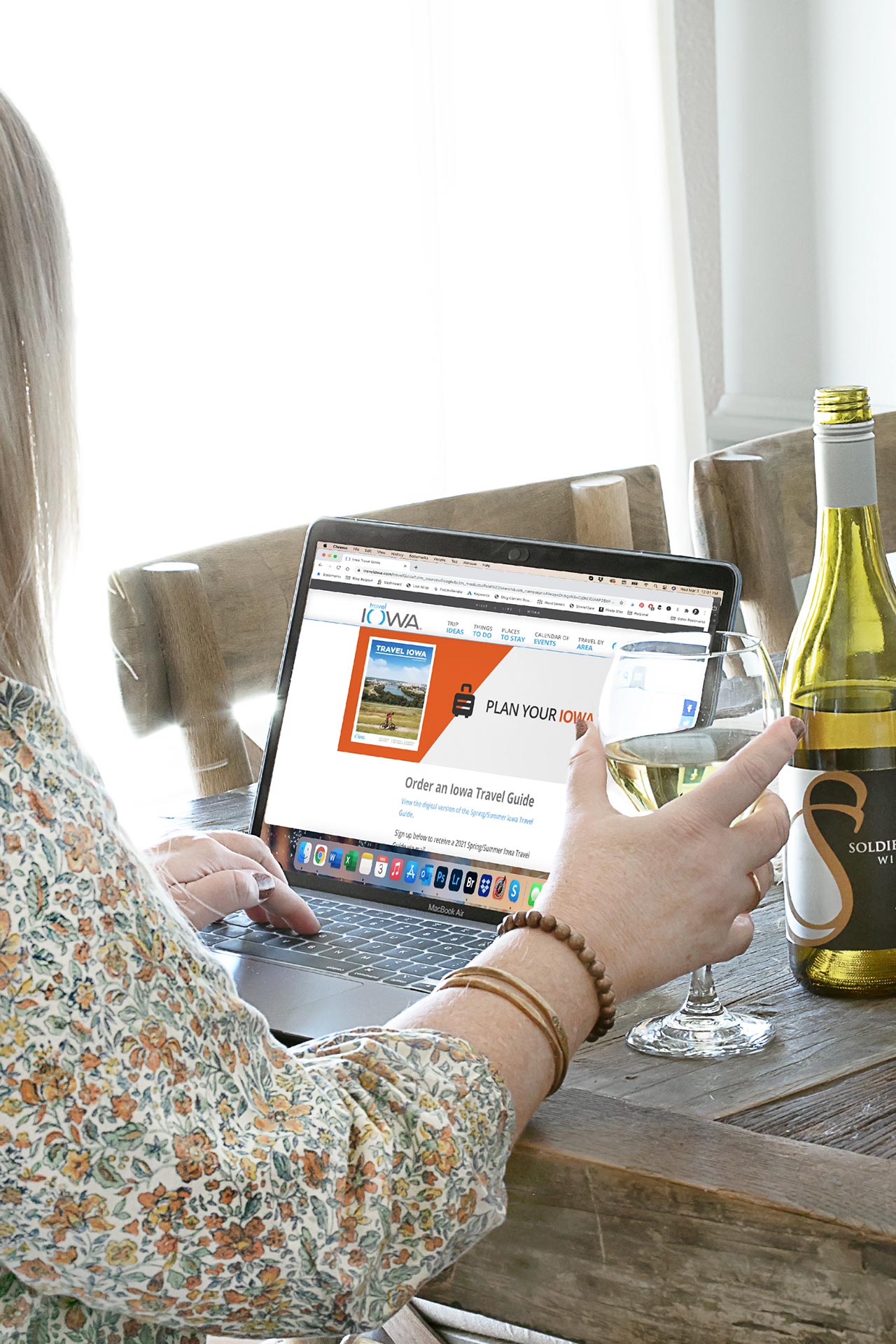 Soldier Creek Winery creates its wines on-site from locally-grown grapes. Therefore they've selected 10 French-American hybrid grape assortments that thrive in Iowa's climate year-round.
The juicy, bright, and crisp 2019 vintage of La Crescent was provided by Solider Creek. An off-dry white wine holds flavors of orange blossom, honey, and citrusy aromas. While swirling the glass, there was such a beautiful aromatic smell as well.
Pairings:
This off-dry wine pairs with a wide range of meals. From a plate of curry and naan to eggplant parmesan or even fish tacos. I'd love to try it with Goat Cheese and Peach Crostinis or this Zesty Pecan-Crusted Chicken and Grape Salad.
We're on a roll here. How about another discount code for you to try the La Crescent? Visit soldiercreekwinery.com and use the code MADEINIOWA to save 10% on your purchase for the month of March (2021).
Wine & Beer Passport | Travel Iowa:
Have a little thirst for some wine and adventure? The Iowa Wine and Beer Passport is a fun way to support Iowa-owned wineries and breweries while receiving a curated collection of deals and discounts.
How fun would this be for a girls' trip? Or how about planning that family reunion?
It's free to sign up and the more wineries and breweries you visit, the more chances for prizes. Woo-hoo! Learn more by visiting Travel Iowa.
Meanwhile be sure to follow Travel Iowa on Facebook, Instagram, Twitter, and/or Pinterest.
Wine Tasting Notes Printable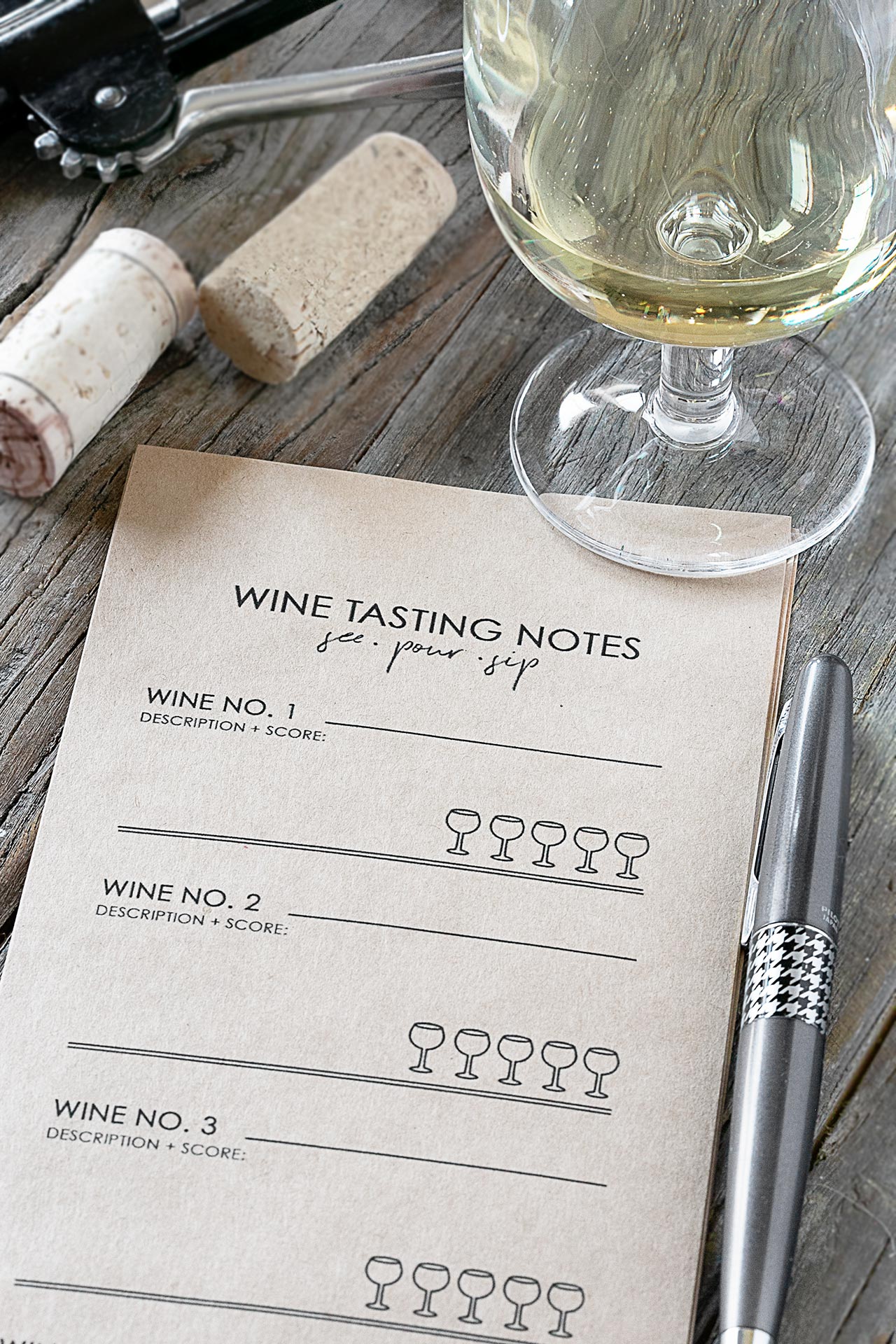 Please Note. Printables and downloads designed by Live Laugh Rowe are for PERSONAL USE ONLY. So, please do not alter the file or claim it as your own. Not intended for resale. Nor are the printed versions of this file.
Other Travel Related Posts:
Best Ways to Save on Travel
Travel to St. Maarten
Thoughts on Packing
Italy Adventures
Newfoundland
Connect with Live Laugh Rowe!
Facebook | Instagram | Pinterest | Twitter
Hugs and Blessings!