This Zesty Pecan-Crusted Chicken is brought to you by Spectrum® Organics. Let's be honest, I'm pretty darn excited to be back again this week sharing how these cold pressed and expeller pressed products can create some new culinary adventures in YOUR cooking journey!
Last week I shared a delicious recipe Savory Chickpea Crostini with Sun-Dried Tomatoes using the Spectrum Organic Cayenne Pepper Olive Oil. Would you believe that Spectrum has been traveling the globe to source from the best regions for over 30 years? WOW! It's a brand that is truly committed to bringing you the best there is for a better-for-you-lifestyle.
And in case you missed it last week, be sure to stick around for an exciting sweepstakes that includes a trip to Barcelona, Spain for you AND a friend. Woo hoo! Be sure to enter (at the end of the post).
The Mediterranean cuisine is quite popular; however, I can't say that I've made a lot of it over the years. Every now and again I do and we always enjoy the dishes. My mom is a big fan the cuisine and has several cookbooks. Maybe I need to expand my horizons a little more often. Hmmm…
Anywho, one thing is certain, I love salads! It's such a basic ingredient/dish that has so many possibilities. Right? This Zesty Pecan-Crusted Chicken is delicious on its own, but paired with the greens, grapes and a drizzle of the Garlic and Chili Sesame Oil the flavors of this dish are really enhanced.
Spectrum Garlic & Chili Sesame Oil
The NEW Spectrum Organic Garlic & Chili Sesame Oil is cold infused with organic garlic and organic chili pepper. This oil is an ideal companion for your light sautés, sauces, drizzles or dressings. Add a splash to a bowl of noodles for a spicy twist! So many delicious options.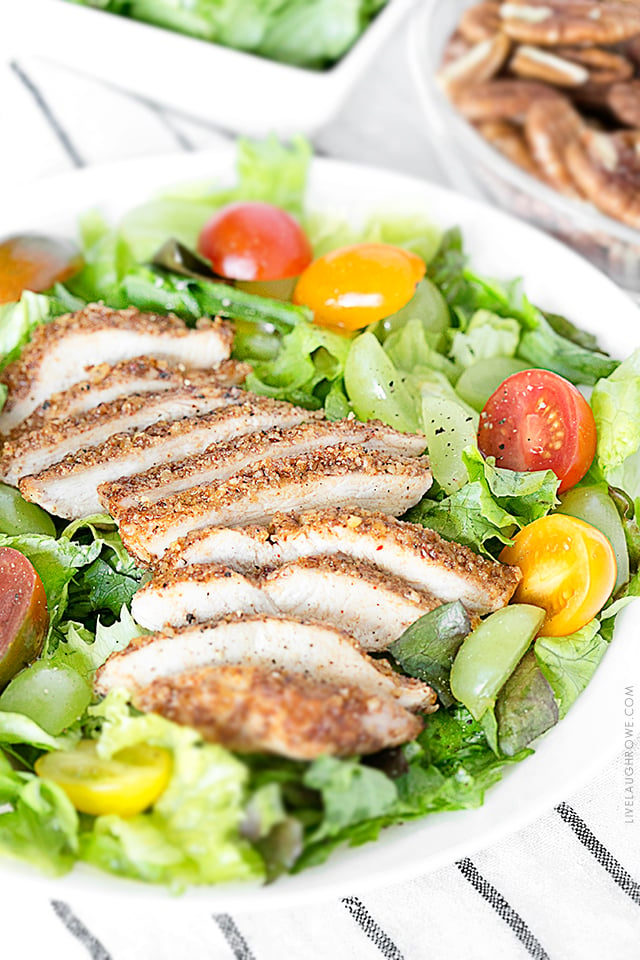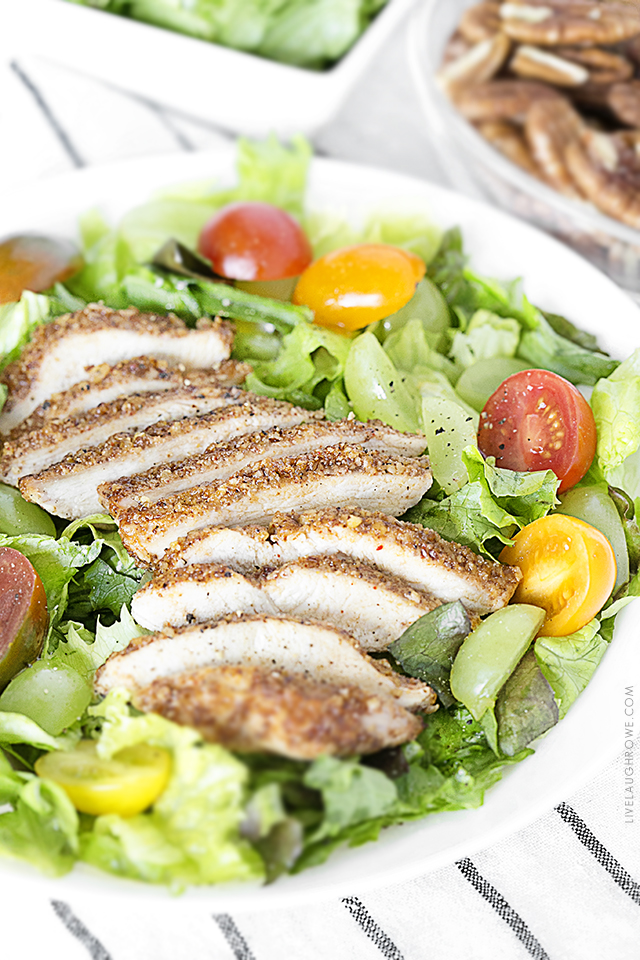 Let's take a look at how you can try this Garlic & Chili Sesame Oil in today's recipe, Zesty Pecan-Crusted Chicken and Grapes on Salad Greens. Enjoy!
Zesty Pecan-Crusted Chicken and Grapes on Salad Greens
Ingredients
1/4

cup

chopped pecans

1

tsp

chili powder

1/4

cup

olive oil

1 1/2

pounds

boneless, skinless chicken breasts

12

ounces

seedless grapes, sliced

6

cups

salad greens, chopped

constellation tomatoes, halved (optional)

Spectrum Organic Cold Infused Garlic and Chili Sesame Oil
Instructions
In a blender*, mix the chopped nuts, chili powder and oil. When the mixture is thoroughly combined, pour it into a shallow bowl.

Brush the pecan mixture onto chicken and place on racked baking dish. Roast for 40-50 minutes until the chicken is thoroughly cooked.

Remove chicken from oven and thinly slice. Slice grapes, tomatoes (optional), cut or tear salad greens.

Fan the chicken over 1 cup of salad greens and add grapes and tomatoes (optional).
Notes
*I used my Oskar Jr. Chopper Plus.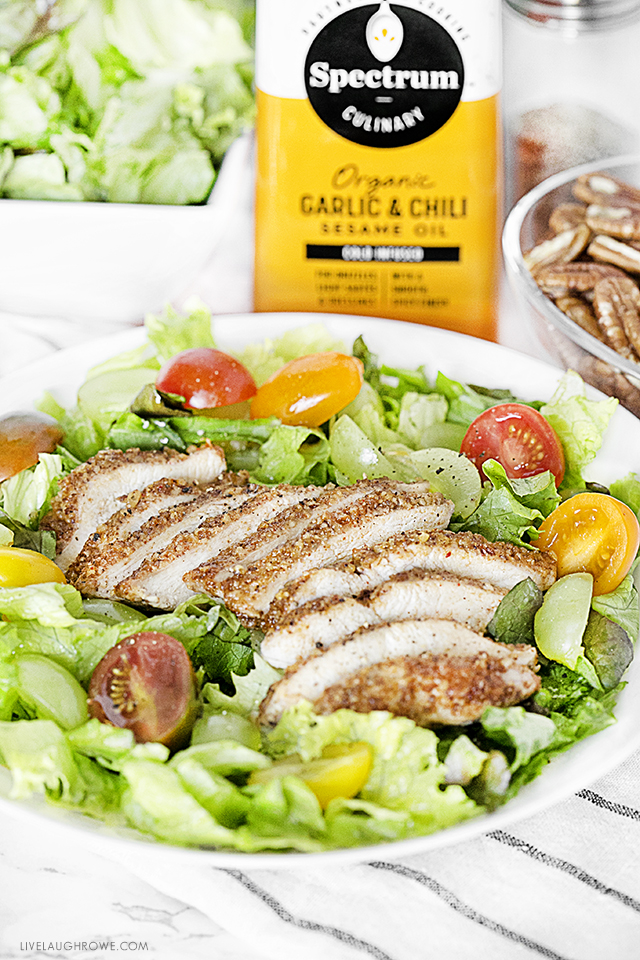 Looks and sounds pretty tasty, right? Mmmm. Yes, please and thank you!
Have you tried Spectrum brand yet? It has natural and organic culinary oils and vinegars with more than 30 varieties of seed, nut and plant oils that are good for any type of cooking, including coconut oil, olive oil, canola oil, avocado oil, grapeseed oil, sesame oil and more!
So, add the ingredients to your grocery list and give Spectrum brand a try! Ready to talk about the Spectrum Taste of Barcelona Sweepstakes? Let's do this!


Sweepstake Details:
Contest began at 9:00 AM ET 9/1/18 and ends 11:59 PM ET 12/15/18.
To enter log into your Instagram or Facebook account and follow Spectrum and upload a photo or video with the hashtag #TasteofBarcelonaContest and a brief statement as to why you selected this oil.
Prizes: 2 Grand Prizes: 8 day/ 7-night trip to Barcelona, Spain for winner and 1 guest during May, 2019. Trip includes coach class airfare 6 nights hotel accommodations, ground transportation in Spain, activities, breakfast daily, four lunches and four dinners and US $400 spending money.
Complete rules available at facebook.com/spectrumorganics/

Be sure to visit with me here too:
Facebook | Instagram | Pinterest | Twitter | Google+