Travel to St. Maarten — you'll love the beautiful beaches while indulging on delicious food and drinks!
Ironically, last week I talked about travel and adventures! Hmmm…. Are you seeing a theme around here?
Visiting St. Maarten has become a yearly tradition. That one week where we do NOTHING. We've been to St. Maarten 8 times over the past 7 years, so I'm going to be honest with you in saying that we now spend 95% of our time on the beach. Every once in a while we'll try something new, but we've officially concluded that the beach is where we want to be — to read, sip on BBCs, nap and chillax.

Travel to St. Maarten


I thought it might be fun to share some things to do and places to eat in St. Maarten, from our experiences. If you're not planning any travel to the island, maybe this will inspire you!
Places to Eat:
Mama Pizza, Oyster Pond
Mama Pizza is best known for its Italian-style pizza and wide assortment of toppings. However, the menu also includes pastas, meat and fish dishes. It is a cash-only establishment.
Talk of the Town, Grand Case
One of our favorite spots. Outdoor eating (the locals call it a Lolo) with open grilling. It's far from a fancy spot, but don't let that fool you. With a large selection of authentic, Caribbean style dishes — you'll get a large serving for a great price!
Carousel Ice Cream, Philipsburg
Enjoy some Italian Gelato – ice cream, homemade every day on St Maarten. They also have a bar and offer coffee & tea specialties. Kids of all ages will enjoy riding the Italian Carousel as well.

Mr .Busby's, Oyster Bay
Genuine beach bar that is located on Dawn Beach. Offers a large variety of food for breakfast and/or lunch. The food is good and the service is always excellent.

Mr. Busby's (view from Dawn beach)
Island Pizza, Dawn Beach
A small pizza joint on Dawn Beach that is only open in the afternoon and evenings — you order and eat it on the patio or take it to-go. It's a delicious thin crust pizza joint with a large selection of toppings. Our absolute favorite is the Florentine. Soooo good!
"La Sucriere" French Bakery and Pastry, Simpson Bay
I love the outdoor deck on the water. They have a large selection of pastries, breads and sweets. You can get a large baguette of bread for $1.25. I usually enjoy a bread basket and cappuccino.
Sarafina, Marigot
In the heart of Marigot, Sarafina has a wide range of sweet and savory French pastries, fruit salads, sandwiches and filled rolls, and brews Lavazza coffee. My parents ported in St. Maarten for a cruise awhile back and told us about this place. It's a great spot for breakfast or a sweet treat with coffee.
CANOA, Oyster Bay
CANOA is situated on the floating dock in Oyster Pond. It's has such a charming candlelight atmosphere on the water and the service is always impeccable. My favorite dish is the Salmon Kebabs.
Dinghy Dock Bar, Oyster Pond and Simpson Bay
The Dingy Dock Bar is a popular bar and grill that happens to specialize in American cuisine. It's a very informal and casual spot with a large selection of beer. Customer favorites include the Fish and Chips, Hamburger and their Nachos.
Dinghy Dock at Oyster Pond
Pineapple Pete's, Philipsburg, Simpson Bay
Pineapple Pete's is an american owned restaurant. The atmosphere is great and the food is good, but we don't make this a regular stop. I think everything should give it a try, but be aware that their 15% tax is actually a service fee.
Mark's Place, Philipsburg
Ribs! Need I say more. Mark's Place is located in the parking lot of Grand Marche (a grocery store). It's a popular spot among the locals too. Take-out available as well.
The Perch, Orient Bay
This is Club Orients beach bar. So, you will find many of the nude sun bathers here. However, the food and service is AMAZING. Our favorite lunch? The ribs!
Every afternoon the bell will sound for Happy Hour with the famous BOGO drink special from 2:30-3:30 p.m. The bar tenders are Willy (she's been there for over 32 years), Kelly and Corrina. Jennifer is on the grill. WONDERFUL people.
Sunset Beach Bar, Philipsburg
Fasten your seat belts and watch the arriving and departing planes soar right over your head. The Sunset Beach Bar is located on Maho beach, at the end of the runway of Princess Juliana International Airport. It's a HUGE tourist spot, but a great place to enjoy a few drinks, grab a bite to eat and watch the planes come and go.
I've never left the bar area due to the danger of the jet blasts. There are warning signs in several locations about the danger of injuries and/0r death.

Plane Landing in SXM. View from Sunset Beach Bar
Places to See and Explore:
Orient Beach
There is a family beach with lots of little bars and places to eat and shop. There is also an au naturale (aka nude) beach within Club Orient. Orient Beach is one of the more popular beaches; however, there are MANY other beaches to choose from.
Marigot Market, Marigot
This is very similar to a stateside Farmers Market. There is fresh seafood, spices, homemade items — and you're typical, cheap souvenir goodies. You can find some unique pieces as well. Sarafina is across the street, so do a little shopping and treat yourself to a french pastry or two!
Marigot Market
Rhino Safari, Simpson Bay
Pilot your own watercraft on a snorkeling adventure. Ride your very own two-man RHINO RIDER (a 10' inflatable motorboat). It was a super fun time!
Sunset or Dinner Cruise, departs from Simpson Bay
Enjoy a beautiful Caribbean sunset on the Sunset Cruise or the Dinner Cruise. We've done both and had a lovely time! You'll sail out on the PASSAAT (a gaff-rigged sailing schooner) built in 1911 in Hasselt, Holland. The boat and hosts (Pieter & Mirian) are magnificent.

Sunset Cruise on the Passaat
Happy Bay
A quiet, romantic and secluded beach that requires a 15 minute walk through a foot path. On a steamy hot day, make sure you have plenty of water to stay hydrated. There is no commercial activity on this beach — so you bring your own food and drink, then be sure to take your trash with you. Note: This is a clothing optional beach.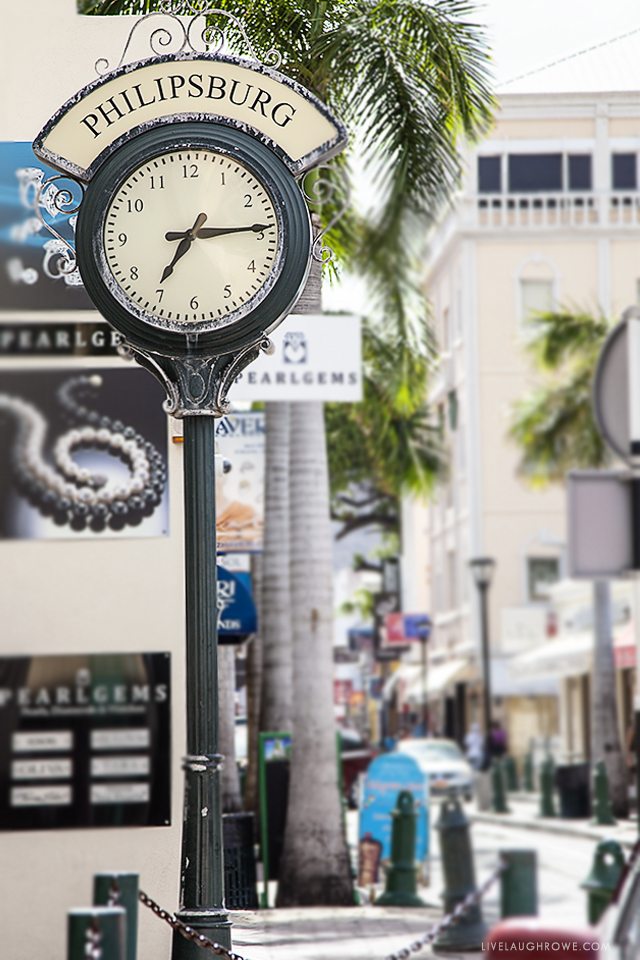 Shopping in Philipsburg (front street).
There are lots shops in Philipsburg to explore – from jewelry to souvenirs to clothing. Most of the cruise ships port in Philipsburg, so this ares is geared for tourists, etc. Front street is the main shopping street, but there is lots to see and do. The Guavaberry Emporium is one of those must-see spots (wink).
NOTE: Beware of solicitors.
Pinel Island
Pinel Island is a charming tiny island on the north end of St. Martin. A must see on your visit! Many of the local resident of St. Martin/St. Maarten go to Pinel Island to relax on weekends!
It's a short five minute taxi-boat ride over to Pinel for $7-$8 per person. You can find the 'ferry station' at the end of the road at French Cul de Sac.
Enjoy the pristine waters and a day of relaxing, exploring, sunbathing, and/or a picnic on this tropical paradise!

Beautiful Pinel Island
Sooooo, are you ready to plan a little travel to St. Maarten? Trust me, you won't regret it… I'm wishing we had a second trip on the books this year (wink).

Be sure to visit with me here too:
Facebook | Instagram | Pinterest | Twitter | Google+