A summertime favorite, you'll find this salsa to be easy and healthy! So, skip the store-bought seasoning packets and make this with fresh ingredients straight from your garden or your local farmer's market. We love chips and dip — and this Easy Garden Salsa Recipe frees me up from having to slave away in the kitchen or over a sink of dirty dishes. (Pssst!! Be sure to stick around to see what freebies I have to share with you too!)

Garden Salsa Recipe


Mexican food and flavors are some of my favorite! And it's amazing all the foods you can add salsa to for a pop of flavor. Are you ready to grab your food processor and get this party started?
Easy Garden Salsa Recipe
Ingredients
6

tomatoes

Roma tomatoes or about a pound of the tomatoes you have on hand

1

small handful of cilantro

3

green onions

½

jalapeño

to taste (optional)

½

tsp

garlic powder

Salt and pepper

to taste
Instructions
Toss all the ingredients in your food processor and give it a whirl!

Place in an airtight container and refrigerate for 30 minutes before serving.
Notes
If you prefer chunky salsa, be sure not to over-process it.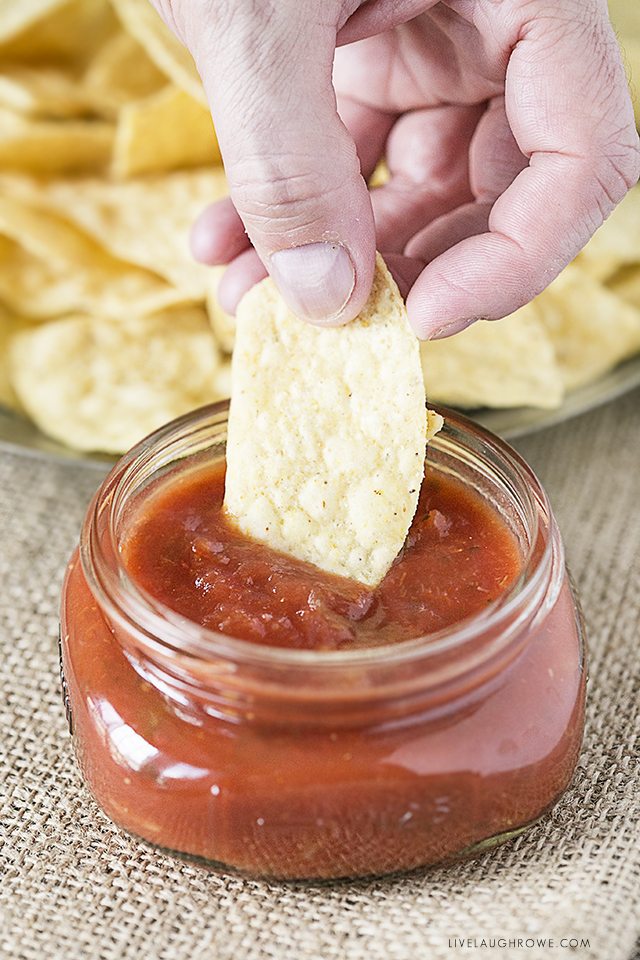 Now for the clean up… while you wait for the salsa to chill, give the food processor a quick scrub with a Bubble Up dish brush set and soap. Then give your counters a wipe down with your Mrs. Meyer's multi-surface spray. Easy peasy!
FREEBIES FROM GROVE COLLABORATIVE:
I also wanted to share with you this FREE Summer Chef's Set of Mrs. Meyer's hand soap + dish soap + multi-surface spray + Grove Collaborative Bubble Up with your first order from my friends at Grove Collaborative. Isn't that super sweet of them?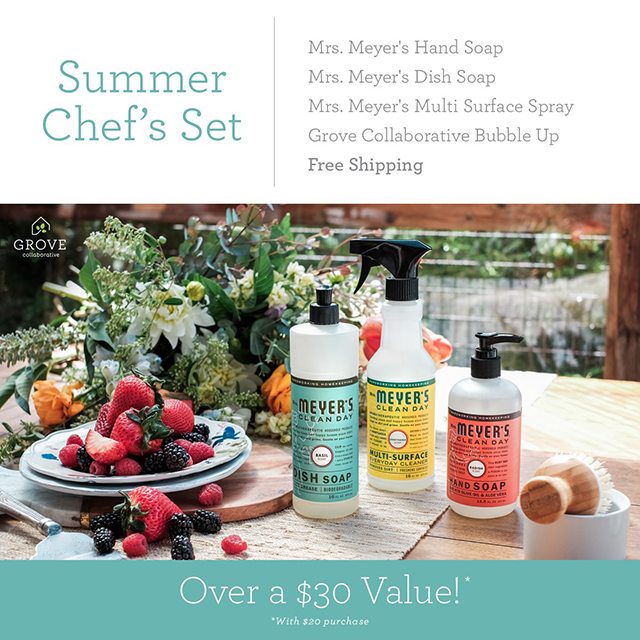 Yes, all of the listed items can be yours for FREE if you're a new customer. These are some of my favorite products — and everything you need to make cleanup effortless, from salsa to a full blown summer barbecue.
PLUS, right now when you sign up for Grove Collaborative, you'll also get a free 60 day VIP trial. For 60 days, you'll save even more with free shipping, free gifts, price matching, exclusive sales and personal service!

Already a Grove customer? No worries, we've got you covered too! You'll get a free set of Grove Walnut Scrubber Sponges. Grab your FREE Walnut Scrubber Sponges NOW!

While these freebies are a great incentive to join Grove Collaborative — you're sure to find other fabulous products that will soon become your favorites. For me, some of those products include the Eucalyptus and Spearmint Soy Candle (I'm OBSESSED with this candle), the Eucalyptus Mint Shower Spray and the Lemon Verbena Foaming Hand Soap (just to name a few)!
Don't spend time running to the store for dish soap when the sun is shining. Grab your Summer Chef's Set and try Grove Collaborative now!
Don't wait too long — this awesome sauce offer ends on Sunday, May 14th at 6 p.m. (PST).
*Please note that Grove currently does not ship to Canada, Hawaii, or Alaska

Be sure to visit with me here too:
Facebook | Instagram | Pinterest | Twitter | Google+