Missouri Wineries | 5 Must-See Wineries
Being that I've officially lived in Missouri for more than half of my life, I thought it might be fun to share some of the must-see Missouri Wineries with you. And there's no better time than the present for a road trip, right?
Let's be honest here, I'm a lightweight. So I rarely drink. I'm fine with a diet coke, a bottle of water, or a cup of coffee. However, there are occasions where I don't mind enjoying a little wine tasting or a glass of wine with a meal. When we lived in St. Louis, Steve and I would occasionally visit a winery.
Below you'll find five of the top wineries in Missouri. We've been able to try out a few ourselves and we hope you will someday too.
Be sure to sign up for my email to get
new recipes and creative ideas
sent right to your inbox!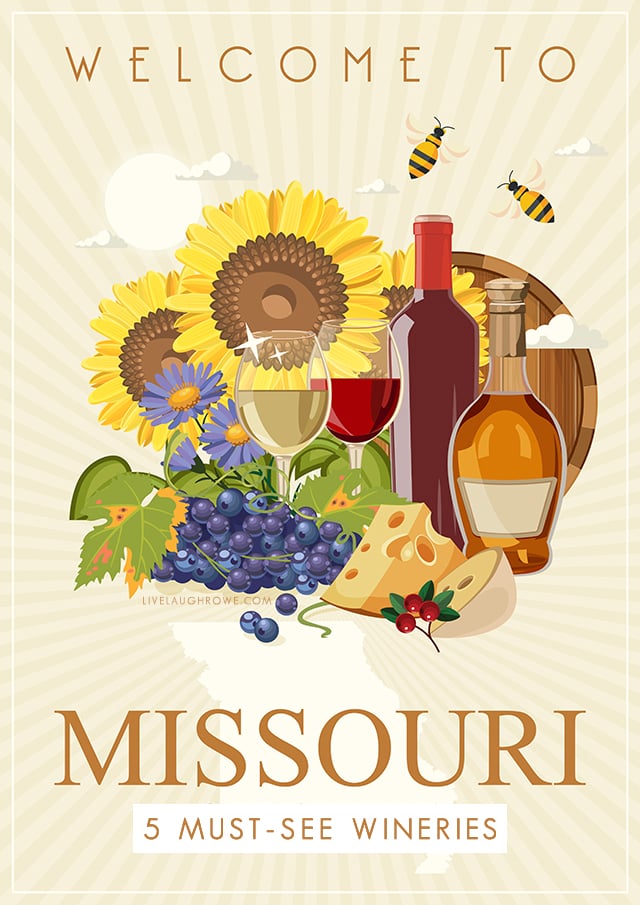 Missouri may be home to the most famous brewery in the United States, but there's more the Show Me State's beverage scene than Anheuser-Busch and its Budweiser. Like Missouri's beer, the wine industry was also created by German immigrants in the mid-1800s.
Soon after, Italian immigrants joined the wine-making roost. The state's grape-growing region was quickly nicknamed the Missouri "Rhineland," after the famous German wine region. Before Prohibition hit in the early 1900s, Missouri was considered the country's top wine-producing state.
Today, nearly 150 wineries call the state home. While California's Napa Valley and New York's Finger Lakes region are considered two of the top wine areas in the United States, Missouri challenges as one of the top 10 wine-producing states.
Top 5 Must-See Missouri Wineries
Pirtle Winery
Located in the small town of Weston, about 20 miles north of Kansas City, Pirtle Winery calls an old church home. People flock to the winery daily to enjoy a wine tasting or purchase a bottle or two for home. Calling historic Weston home since 1978, Pirtle Winery produces some of the state's best grapes for wine in a vineyard north of town.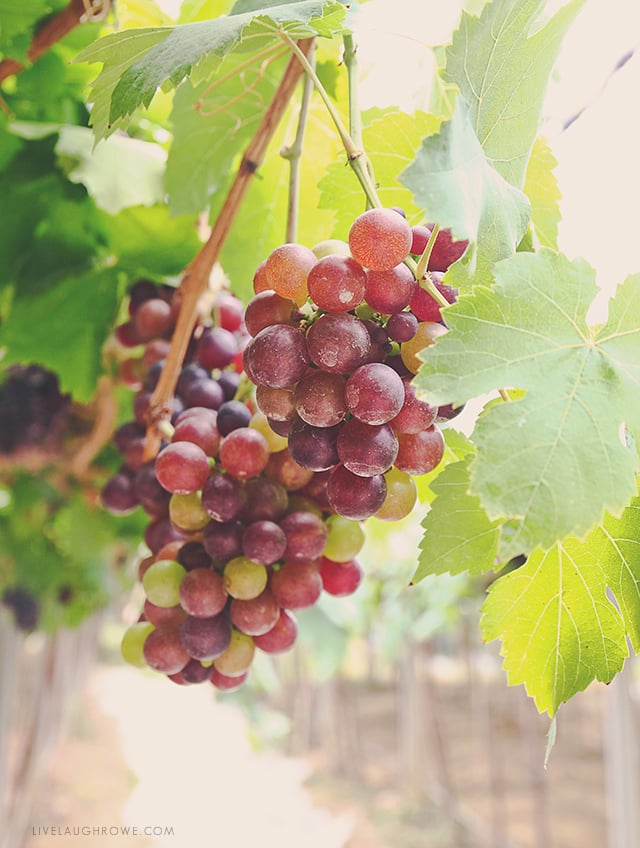 With choices ranging from whites such as Citrine, made from Riesling grapes to reds like Alhambra, a full-bodied wine aged for 18 months in French oak. The winery also produces fruit wines and mead. Be sure to enjoy samples or a bottle of wine in the patio area. And if you'd like, Weston's downtown charm of boutique stores and old west architecture is worth checking out too.
Stone Hill Winery
Located in a setting reminiscent of a German village, Stone Hill Winery has called Hermann home for more than 170 years. In the heart of Missouri's "Rhineland," Stone Hill is the state's top-producing winery.
Photo Credit: Stone Hill Winery
As with nearly every beverage maker, Prohibition destroyed Stone Hill's business. Sadly, they had once reached the point where they were the second-largest winery in the United States. Stone Hill once shipped more than 1 million gallons of wine around the world. However, during Prohibition, the winery transitioned into a traditional farm operation raising crops.
The Held family took over in 1965 and has spent the past five decades rebuilding and recreating one of the country's best wineries and vineyards. Today, Stone Hill Winery is home to almost 200 acres of vineyards. With six vineyards located around Hermann, Stone Hill uses the Missouri soil to grow some of the best grapes available to produce its award-winning wines, as well as non-alcoholic grape juice.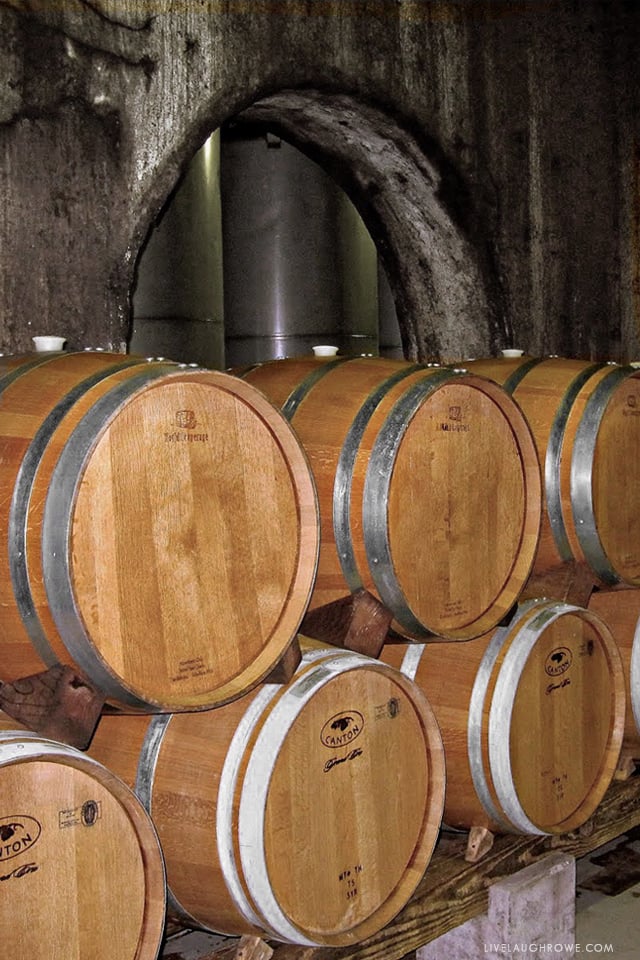 As one of Missouri's top tourist attractions, Stone Hill offers tours of its facility and vineyards. Be sure to stick around for wine tastings and buy a bottle for home.
St. James Winery
Italian immigrants settled in Missouri's Meramec Highlands region because the area was ripe for winemaking. Prior to Prohibition, the St. James area was home to about 200 wineries. It took years afterward to rebuild the wine business.
As Missouri's wine industry started to bounce back in the 1960s, the Hofherr family took over the St. James Winery. The family produced about 8,000 gallons of wine in 1970, its first year as a winery. Continuing to use the Concord grapes since early winemaking in the state, The family-owned winery is known for Velvet Red and Velvet White wines with a fragrance and taste like freshly ripe grapes
The St. James Winery continues to produce some of the best wine in Missouri, earning awards in international competitions. Sold in 16 states, the winery produces about half a million gallons of wine. Offered daily, enjoy a vineyard tour and wine tasting.
Montelle Winery
Nestled among scenic hills and woods less than an hour west of St. Louis, Montelle Winery is located in the country's first viticultural area, due to its soil, microclimate, and history. Clayton Byers opened Montelle Winery in 1970 as one of the leaders in the rebirth of Missouri wineries.
Noted winemaker Tony Koojumjian has owned Montelle for more than the past two decades. Daily tastings are available featuring five of the winery's best wines. The winery hosts musical acts on the weekends, so plan to stay and enjoy some fine tunes with your wine. The winery does not allow outside beverages and food. Please check the website for additional policies regarding pets, etc.
Sainte Genevieve Winery*
Located midway between St. Louis and Cape Girardeau, Sainte Genevieve Winery calls the Mississippi River valley home. The Hoffmeister family began raising grapes on a vineyard on their property in 1983. Today, they offer free samples at the winery, which is located in the historic downtown of Ste. Genevieve.
The winery boasts of sweet whites such as Amoureux or the red Lady Genevieve. Fruit wines include strawberry, pear, and elderberry. Enjoying the Christmas Plum wine during the winery's holiday season (October-December) is a must too.
*Unfortunately, St. Genevieve Winery has closed since compiling this information.
Bonus: Chandler Hill
Located in Defiance, Missouri, Chandler Hill became one of our favorite spots when we lived in St. Louis. The beautiful views, wine tasting, and delicious foods whisk visitors away to a special place. With indoor and outdoor seating, you're sure to find a spot to enjoy an afternoon getting lost in conversation. Be sure to arrive early on the weekends, tables fill up fast and it's first come, first serve.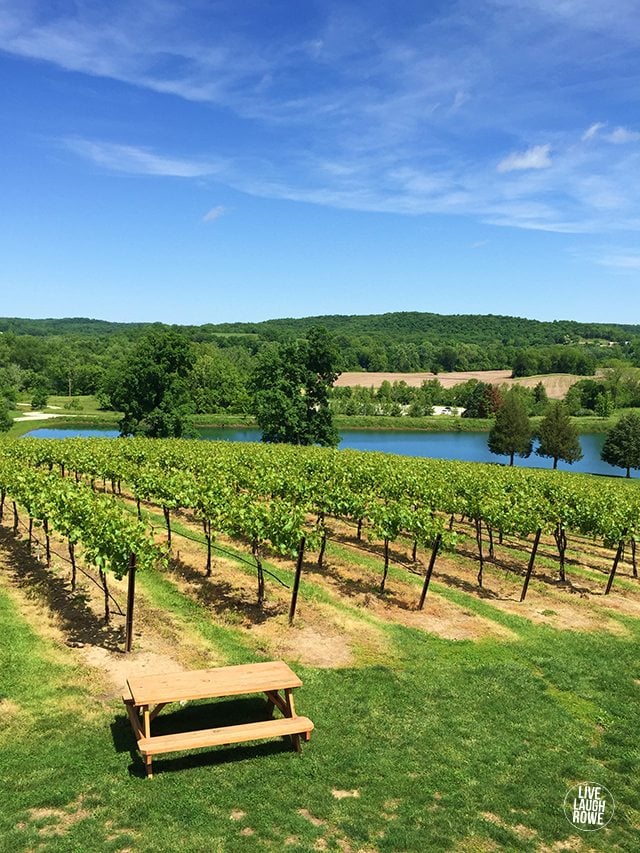 Missouri's Winery Scene
In conclusion, prohibition may have damaged Missouri's wine industry in the early 1900s, but since the 1960s, the industry has bounced back. Today, you can find good wineries in each region of the state. From the state's oldest with Stone Hill to some of the younger operations, Missouri's wine scene continues to grow and challenge as one of the country's best. Enjoy your travels through Missouri wine country and don't forget a bottle or two for home.
Connect with Live Laugh Rowe!
Facebook | Instagram | Pinterest | Twitter
Hugs and Blessings!