Friends, it's FRIDAY! Woo hoo. We made it to the end of the week, so let's celebrate with one of my all-time favorite appetizer and/or snack: Goat Cheese and Peach Crostini.
I know peaches will be going out of season soon (womp womp womp), but I just had to share this recipe. If you have some peaches that need to be used, you're in luck with this simple, and delicious, appetizer.
Peach Crostini with Goat Cheese and Basil


This past spring, my husband and I visited a local lavender farm for some appetizers, live music and a little time out together. Unfortunately, it was raining cats and dogs — I honestly thought there was going to be a mud slide (a bit of an exaggeration, but you know what I mean… a LOT of rain and the property was muddy and hilly). Gulp!
However, we didn't cancel our reservation. We went and enjoyed ourselves. Of course the lavender iced tea was on my radar and we ordered some amazing appetizers.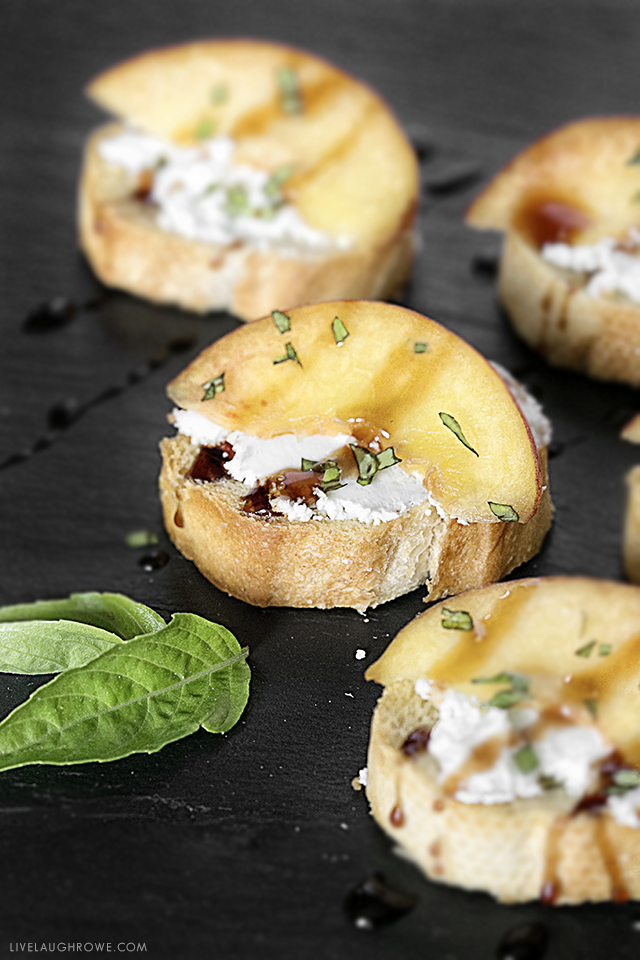 The first round was a plate of Berry and Ricotta Crostini and the other plate was Goat Cheese and Peach Crostini (maybe they were on the menu as Peach and Goat Cheese Crostini, I can't remember. Potato Potahto, right?)
The Berry Crostini were nothing to write home about, but the Goat Cheese and Peach Crostini were AMAZING. A second order was put in and devoured fairly quickly. We both knew that recreating that delicious goodness would be on our radar. No time was wasted either.
Peach Crostini with Goat Cheese
Goat cheese has NEVER been on my radar, for some reason I assumed that I didn't like it. WRONG! It's an all-time favorite. There's a local goat farm that sells their goat cheese at the Farmer's Market and a few local grocery stores. My favorite is the one with pecans, orange zest and cranberries. It's a staple on my salads…. sooooo good!
So, after swooping up all of the ingredients between between the farmers market and the grocery store, I was ready to knock this recipe out of the ball park. I even tried to make my own balsamic reduction. That was an epic fail! So, I headed back to the store and scored a pre-made bottle (this brand) and had no guilt whatsoever… because sometimes homemade is not worth the stress. Amen?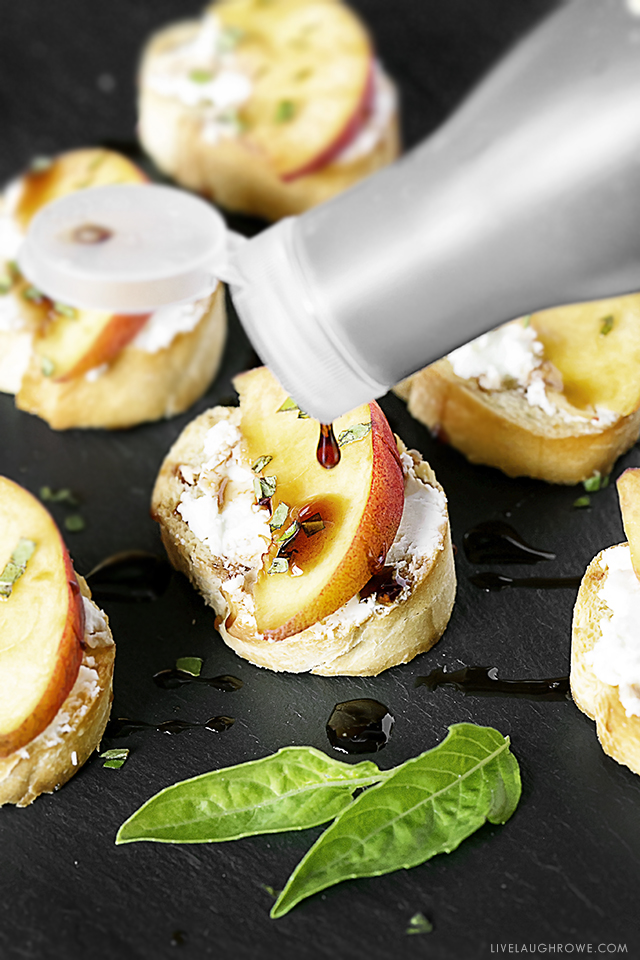 Without further adieu, let's dig into this simple recipe, Goat Cheese and Peach Crostini. Enjoy!
Goat Cheese and Peach Crostini
Ingredients
Baguette, sliced

Goat Cheese

Peach, sliced

Basil, chopped

Balsamic Reduction
Instructions
Preparing Baguette
Preheat oven to 350 degrees. Slice baguette into 1/2" slices.

Arrange baguette slices on large rimmed baking sheets; brush both sides with oil (or spray with cooking spray).

Bake until golden brown, approximately 15-20 minutes and turning crostini over once during the baking).

Let cook on baking sheet.
Assembling Crostini
Place about 1 tablespoon of goat cheese on baguette slice.

Add slice of peach and chopped basil.

Drizzle Balsamic Reduction over crostini.
Notes
This recipe uses measurements loosely.  Add the mount of goat cheese, basil and balsamic reduction to your taste.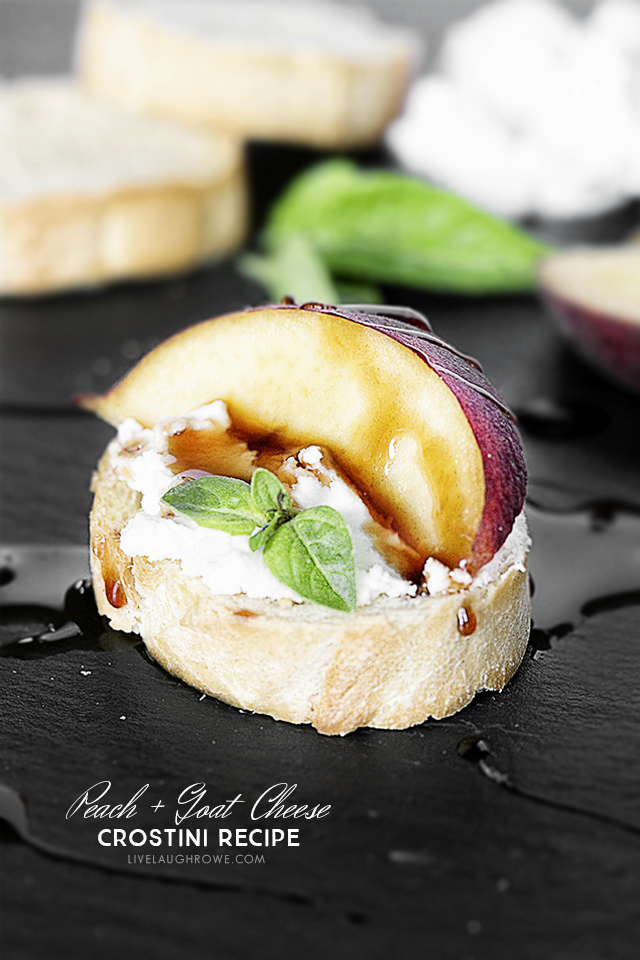 Additional Appetizers that are worth trying:
Honey Mustard Chicken Tenders
Easy Slow Cooker BBQ Chicken Wings
Crab Meat Hors D'oeuvres
Italian Stuffed Mushrooms

Be sure to visit with me here too:
Facebook | Instagram | Pinterest | Twitter | Google+