These Savory Chickpea Crostini with Sun-Dried Tomatoes are brought to you by Spectrum® Organics. Along with this delicious chickpea recipe, I'm sharing how this wide range of cold pressed and expeller pressed products can open doors to culinary adventures in YOUR cooking journey!
The Spectrum brand has natural and organic culinary oils and vinegars with more than 30 varieties of seed, nut and plant oils that are good for any type of cooking, including coconut oil, olive oil, canola oil, avocado oil, grapeseed oil, sesame oil and more! A great brand that is committed to bringing you the best there is for a better-for-you lifestyle.
Stick around for an exciting sweepstakes that includes a trip to Barcelona, Spain. What!?! Yep!
Garbanzo Bean Recipe | Chickpea Crostini


You might have recently seen the Goat Cheese and Peach Crostini recipe I shared. As a result, you could probably say that I'm loving the idea of a smaller, bite sized snack or appetizer. They're easy to pull together, smaller portions and the possibilities are endless.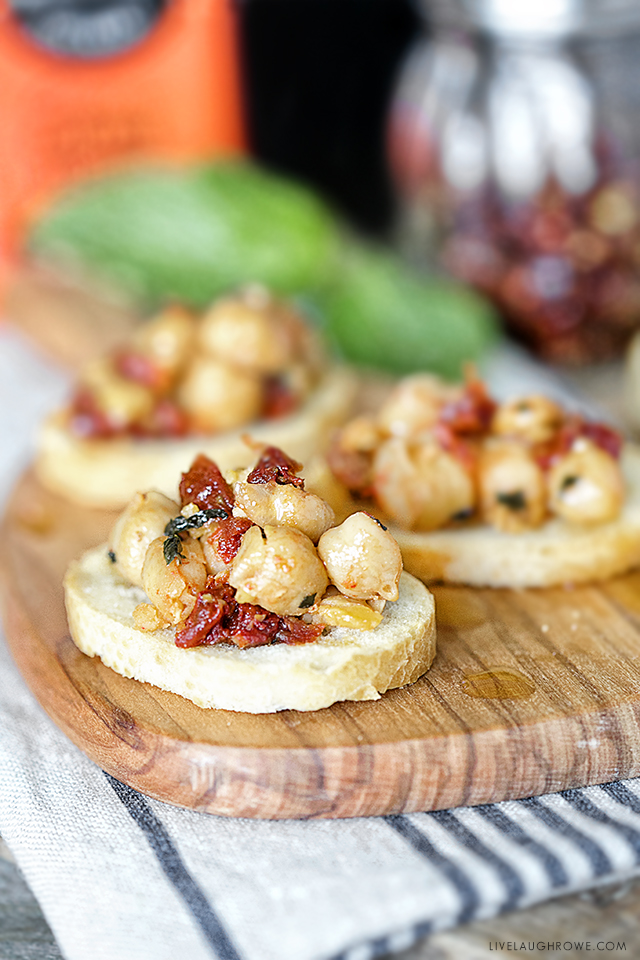 As a BIG fan of chickpeas and sun-dried tomatoes, I knew this chickpea recipe was a going to be delicious. For those of you who love a little (or a lot) of heat — the Spectrum Organic Cayenne Pepper Olive Oil adds that with just a drizzle or two! The oil is cold infused with organic cayenne pepper — this is right up my husband's alley. He loves food with a little heat!
Simple and Savory Chickpea Recipe


So, if you're looking for a savory chickpea recipe that will be a real crowd pleaser, you've come to the right place! Enjoy.
Savory Chickpea Crostini with Sun-Dried Tomatoes and Mint
Ingredients
1/4

canned chickpeas

rinsed and drained

1

tbsp

sun-dried tomatoes, drained and chopped

1/4

tsp

minced garlic (1/2 garlic clove)

1/8

tsp

kosher salt

1

pinch

red pepper flakes, optional

2

tbsp

water

1

tsp

fresh mint leaves, finely chopped

fat free cooking spray

4

1/4-inch thick slices of baguette

1/2

tsp

Spectrum Organic Cayenne Pepper Olive Oil, for drizzling
Instructions
Preparing Baguette
Preheat oven to 350 degrees. Spray each 1/4-inch slice with fat free cooking spray.

Bake until light golden brown, approximately 10-15 minutes.
Assembling Chickpea Crostini
Combine chickpeas, sun-dried tomato, garlic, salt, red pepper flakes (optional) and water in a small skillet; bring to a gentle simmer over low heat. Cook, stirring occasionally, until mixture is warmed through, about 3 minutes.

Remove from heat. Using a fork, mash about half of chickpea mixture. Stir in chopped mint.

Divide chickpea mixture evenly over toast; drizzle with Spectrum Organic Cayenne Pepper Olive Oil. Garnish with mint leaves, optional.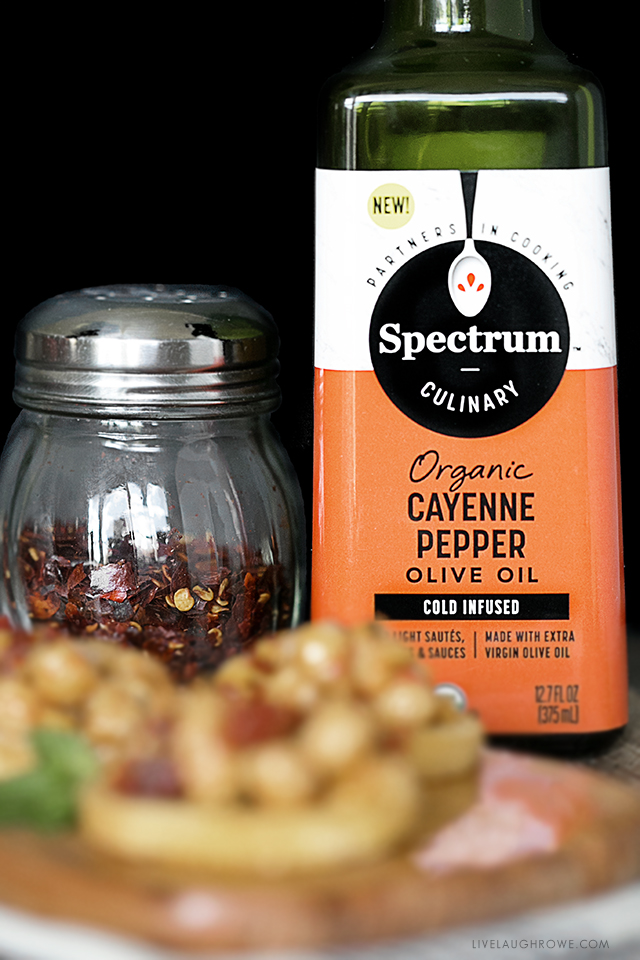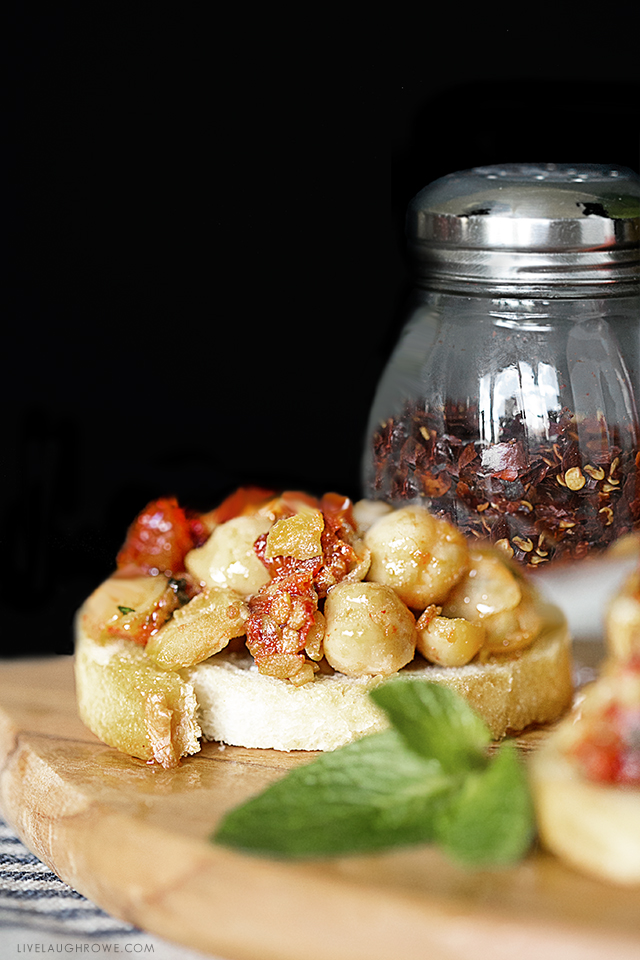 Looks and sounds pretty amazing, right? The Cayenne Pepper Olive Oil is also great to drizzle over a chicken stir-fry to dial up the heat, or add a small touch to a tasty bowl of butternut squash soup for some extra warmth.
You know what is so great about this brand? Spectrum products are sourced from the highest quality of ingredients with care. the brand's olives are taste-tested before being made into the full-flavored line of oils and sprays. As a result, this is a line that's created for people who love perfection in their food. Yes, please!
Not only would I love for you to try this delicious recipe, but I hope you'll try the high-quality Spectrum brand! So, how about we talk about the Spectrum Taste of Barcelona Sweepstakes? Finally, right? (hee-hee)


Sweepstake Details:
Contest began at 9:00 AM ET 9/1/18 and ends 11:59 PM ET 12/15/18.
To enter log into your Instagram or Facebook account and follow Spectrum and upload a photo or video with the hashtag #TasteofBarcelonaContest and a brief statement as to why you selected this oil.
Prizes: 2 Grand Prizes: 8 day/ 7 night trip to Barcelona, Spain for winner and 1 guest during May, 2019. Trip includes coach class airfare 6 nights hotel accommodations, ground transportation in Spain, activities, breakfast daily, four lunches and four dinners and US $400 spending money.
Complete rules available at facebook.com/spectrumorganics/
GOOD LUCK!!

Be sure to visit with me here too:
Facebook | Instagram | Pinterest | Twitter | Google+