On the hunt for a healthy meatloaf recipe? This Weight Watchers Meatloaf is amazing. Made using ground turkey and a top secret ingredient (carrots, shhhh) — this dish is light and flavorful. Don't tell the kids, but the carrots add moisture as it bakes and sneak in a veggie to your meal as an extra bonus.
Weight Watchers Meatloaf Recipe

By the beginning of May, I had lost 10 pounds on Weight Watchers. I was doing really well and staying on track. Then May rolled around and started off with a business trip to St. Louis, right now we're hosting company and eating out a lot aaaaand my birthday is this week. Bring on the CAKE!
So, do you see my dilemma here? Yeah. I decided to go easy on myself for the rest of the month. I'm using the excuse that it's my birthday month, so let's just roll with it. Okay? (wink).
I love meatloaf. I've even shared a couple of other great meatloaf recipes in the past. How about you, do you like meatloaf? I have so many childhood memories of family dinners that included meatloaf being served with potatoes and a vegetable. Not to mention the laughs, memories and conversations.
I'm sure you're thinking, "Yeah, I like meatloaf — but a healthy version?"
Healthy Meatloaf Recipe


Yep. A healthy meatloaf recipe that you could never tell is a weight watchers recipe! It doesn't taste like diet food. It's actually a very tasty dish. My husband loved it too — he even used leftovers to make meatloaf sandwiches.
I'm certain the kids won't even mind the carrots — especially if they can add a little ketchup. Right? Let's dig in to this healthy dish. Enjoy!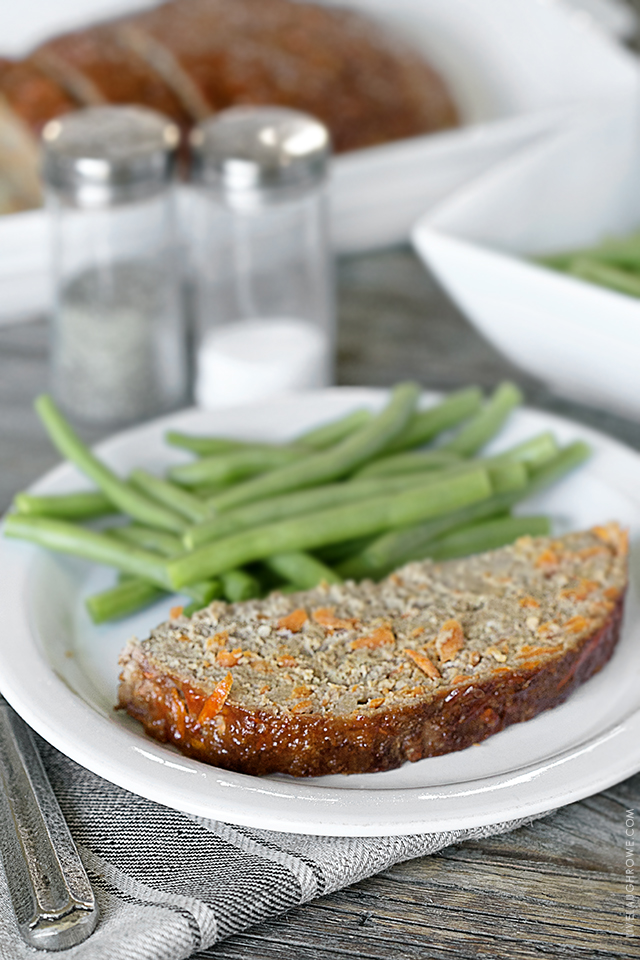 Healthy Turkey Meatloaf
Ingredients
cooking spray

2

pounds

uncooked ground turkey breast

2

cups

shredded carrot

1

cup

whole wheat breadcrumbs

2

large

egg whites

1

tbsp

Dijon mustard

1/2

tsp

onion powder

1/2

tsp

garlic powder

1/2

tsp

salt

1

tbsp

Worcestershire sauce
Instructions
Position rack in center of oven and preheat oven to 350 F.

Spray a 9x13" baking pan with nonstick spray and set aside.

Mix ground turkey, carrots, bread crumbs, egg-whites, mustard, onion powder, garlic powder and salt in a large bowl until fairly smooth.

Form into a 10-inch oblong loaf (with a flat bottom). Set in baking pan.

Brush meat loaf with Worcestershire sauce and bake for about 1 hour; until meatloaf is brown and a meat thermometer inserted in the center of loaf reads 165 F.

Cool for 5 minutes in pan before slicing into 8 even slices.
Notes
Serving Size:  1 slice
SmartPoints:  1 point per slice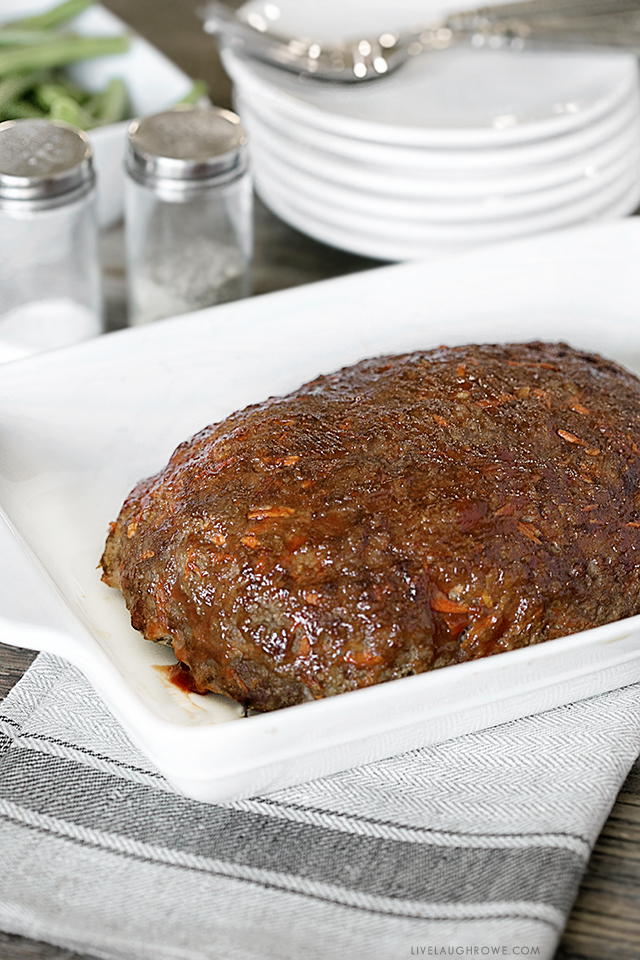 Looking for some side dish ideas?
Garlic Sautéed Spinach
Chopped Salad
Pressure Cooker Creamed Corn
Roasted Brussel Sprouts

Be sure to visit with me here too:
Facebook | Instagram | Pinterest | Twitter | Google+