This Garlic Sautéed Spinach has become one of my favorite side dishes and it's so incredibly easy! Whether it's paired with chicken, salmon or steaks — it's sure to compliment your meal.
If there's one part of dinner that I love, it's side dishes. Mashed potatoes, corn, coleslaw, green beans, etc. When I first got married, my parents were out for a visit and mom suggested that we sauté some spinach. It sounded delicious, but I didn't have a clue where to start.
Simple Garlic Sautéed Spinach
Fortunately, mom to the rescue. She showed me how simple this recipe was — and it's become a regular dish in our house. Most of the ingredients you probably already have in your refrigerator and pantry too.
Garlic Sauteed Spinach
Instructions
Rinse the spinach.

In a very large pan, heat the olive oil and saute the garlic over medium heat for about 1 minute, but not until it's browned.

Add the spinach, toss it with the garlic and oil.

Cover the pot, and cook for 2 minutes. Uncover the pot, turn the heat on high, and cook the spinach for another minute, stirring with a wooden spoon, until all the spinach is wilted.

Using a slotted spoon, lift the spinach to a serving bowl. Add a splash of lemon juice, optional.

Serve hot. Season with salt and pepper, to taste.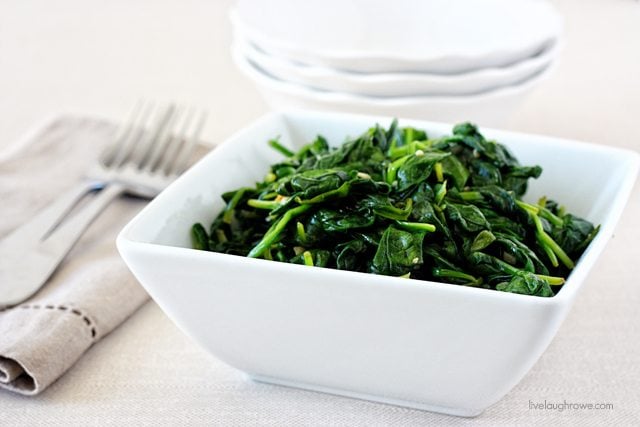 This sauteed spinach dish is perfect to season to your liking too. Add more garlic, season with salt and pepper, add a spritz of lemon and more! A healthy dish packed with flavor that you can enjoy seconds guilt free.
Do you have a favorite side dish? Share them with me in the comments. Here's to healthy side dishes!

Be sure to visit with me here too:
Facebook | Instagram | Pinterest | Twitter |Google+