A good food pairing can play into a hardy meal plan too. It seems like soup and salad is one food pairing that you can't go wrong with. Since I'm sharing my chopped salad recipe, I thought I would share what I paired my salad with as well — Great Value Broccoli Cheddar Soup.
Soup and Salad Pairing

How many of you made a new year's resolution to lose weight? My hand is flailing in the air. Haha. With a healthier diet, comes healthier meals, right? So, that's where a delicious salad comes into the picture. Thankfully, I loooove them and this Chopped Salad Recipe just happens to be one of my favorites. It's simple, yet flavorful and can be perfectly paired with soup!
Simple Chopped Salad Recipe


Due to our busy lifestyles, a meal with easy prep, great value and quality taste is something we're on the lookout for. It seems like in today's society, it's a lot of go-go-go. And, of course, some days are much worse than others. Can I get a witness?
Therefore, on a recent grocery run, I picked up some of the fully cooked soups in the freezer section at Walmart. I chose the Great Value Loaded Baked Potato Soup and the Great Value Broccoli Cheddar Soup. Using the stock pot method, there really wasn't much prep work at all. As a result, while the soup was warming up, I was able to whip up the salad. Easy peasy, right?
Heat and Serve Great Value Broccoli Cheddar Soup
To prove just how easy the making process was, I even created a fun video to show you how easy it is:
These items are fully cooked, simply heat and serve. And priced at under $5.50 for four 8-oz servings, that truly is a great value. Other Great Value products available are:
Chicken Tortilla Soup
Tomato Basil Soup
Classic Mac & Cheese
5-Cheese Mac & Cheese
All of these products are great when paired with a salad or sandwich, etc. They've been developed to compare to what you might order at a chain restaurant. Why eat out when you can bring it home?
Friends, the Broccoli Cheddar soup was amazing! Mmmm…. And since we had some cold weather roll back through, we probably ate more than the 8 oz. serving (hee-hee).
So, I paired our soup with my simple Chopped Salad Recipe. Let's dig in, shall we? Enjoy!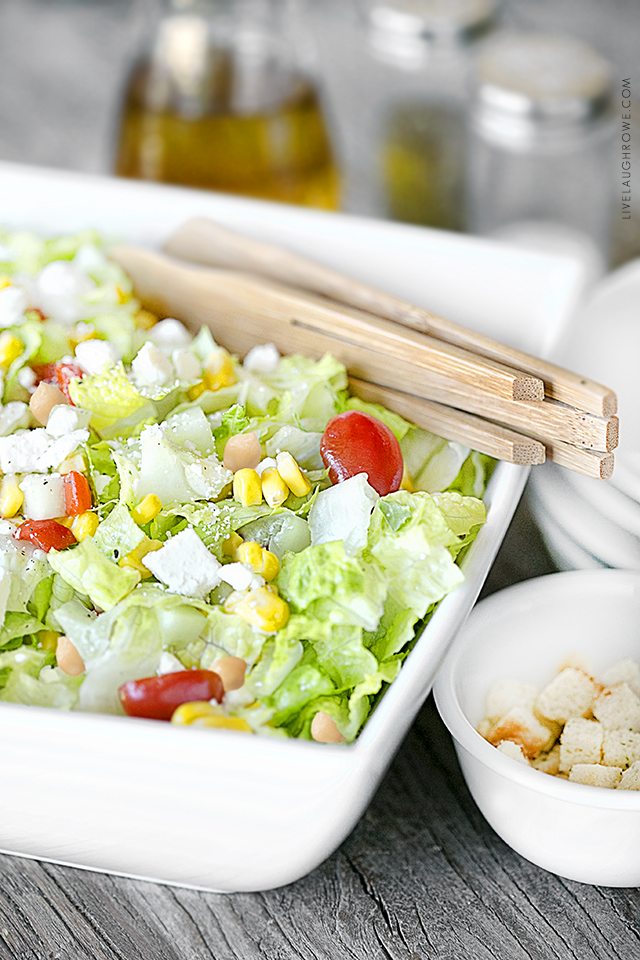 Simple Chopped Salad Recipe
Ingredients
4

cups

chopped romaine lettuce

1/2

cup

garbanzo beans

1/2

cup

corn kernels

1

cup

cherry tomatoes, halved

1/2

cup

cucumber, quartered slices

1/4

cup

roasted red peppers, chopped

1/4

cup

crumbled gorgonzola cheese
Instructions
In a large bowl, combine romaine lettuce and remaining ingredients. Mix well.

Add dressing of choice (or serve on the side).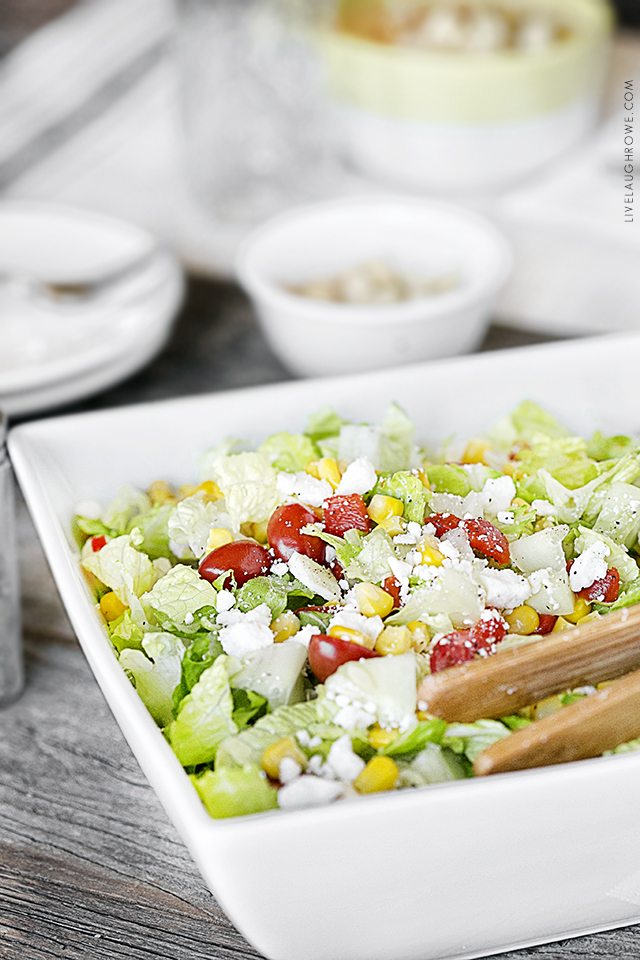 And lunch and/or dinner is served!! I enjoy my chopped salad with an Olive Oil and Balsamic Vinaigrette Dressing I make in my Good Seasons Cruet. Maybe you'll use a ranch or greek dressing.
GIVEAWAY ENDED 3/31
Winner is Diane Buckelew!
Required Entry: In the comments below, tell me which of the Great Value Soups and/or Mac and Cheese dishes you would try — and what you would pair it with!! Good luck!
Bonus Entry: Click HERE to tweet about this fabulous giveaway and let me know you did in the comments.
*Giveaway Ends 3/31/18 at 11:59 p.m. EST. Winner will be notified by 4/10/18.
Other great salad recipes to check out:
Low-Fat Taco Salad Recipe
Fresh Spinach Salad

Be sure to visit with me here too:
Facebook | Instagram | Pinterest | Twitter | Google+
This post is sponsored; however, all opinions and my love for this soup is 100% my own.