Bite-size desserts are the best! These Mini Lemon Cheesecake Tarts have a delicious trio of flavor with the lemon, cheese and crust. Add a berry for garnish and they grow even more tasty. You can't beat a 1 point Weight Watchers Dessert either.
Mini Lemon Cheesecake Tarts – WW 1 SmartPoint


When you love food and you're trying to lose weight, finding desserts that won't completely sabotage your diet can be hard. Especially if you have a sweet tooth like me! Dessert is my jam.
I can't remember if I told you I'm back on Weight Watchers. I know I mentioned in my weekly newsletter. Anywho, I've lost 9 pounds and I am determined to lose 50 pounds or more this time around. I even joined a gym. I truly want this to be a lifestyle change, but we all know how easy it is to fall of the wagon.
So, with weight loss on my mind and a love for dessert lingering in the distance, what's a girl to do? Find delicious low-point desserts. That's where these Mini Lemon Cheesecake Tarts come into the picture, a Weight Watcher dessert that is low on points and scores high in flavor.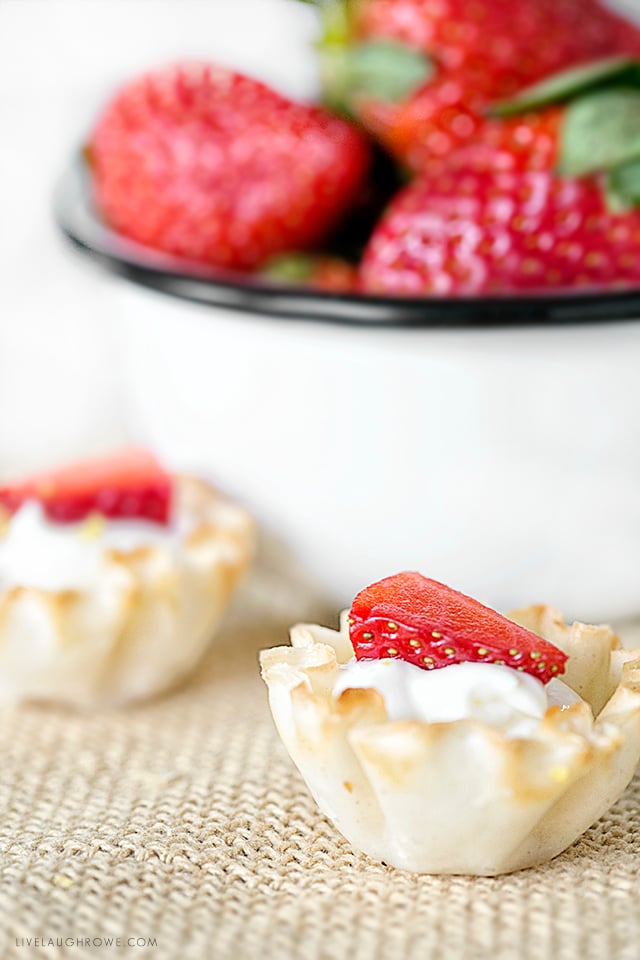 I was so excited to try this recipe, but couldn't find the mini phyllo shells anywhere. It crossed my mind to try making them on my own — and that didn't really go as planned. Phyllo fail… haha! I had already make the cream cheese filling, so I had to figure something out.
Guess where I looked next? Amazon! I ordered a set of three boxes and had them in two days. Woo hoo! I couldn't wait to assemble these bite-size treats.
Amazing Weight Watchers Dessert
Let me assure you that they are so DELICIOUS too. At only one point each, I indulged in more than a couple. These cheesecake tarts are a perfect way to satisfy your sweet tooth without overdoing it.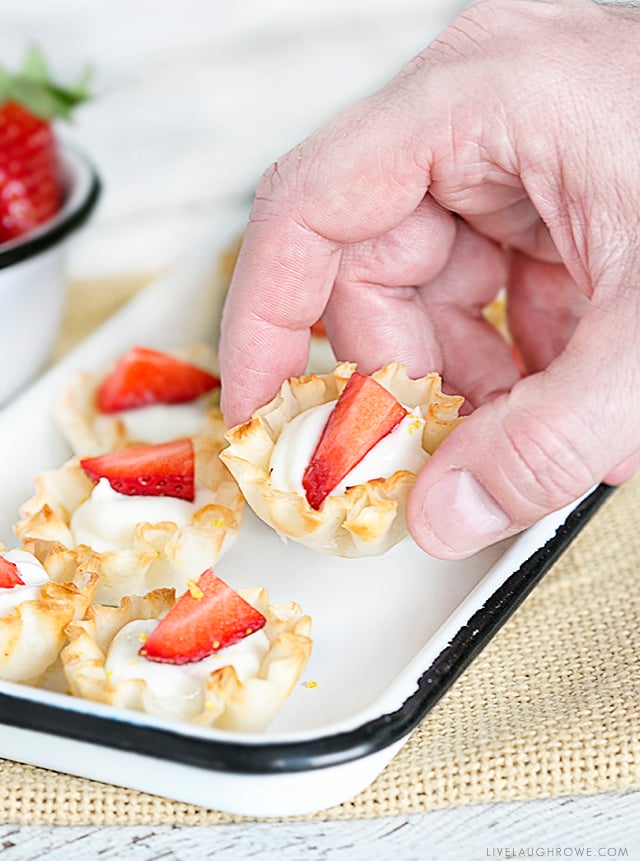 Are you ready to whip up these lemon cheesecake tarts? You're taste buds are sure to do a happy dance… enjoy!
Mini Lemon Cheesecake Tarts
Ingredients
30

mini phyllo shells

8

oz

1/3 less-fat cream cheese, at room temperature

1/4

cup

fat-free plain Greek yogurt

2

tbsp

granulated sugar

2

tsp

lemon juice

2

tsp

lemon zest, freshly grated (divided)

1

tsp

vanilla extract

5

medium

strawberries, cut into 6 pieces each

(any fruit variety will work also)
Instructions
In a medium bowl, briskly whisk together softened cream cheese, yogurt, sugar, lemon juice, 1 tsp. lemon zest and vanilla until smooth.

Spoon cream cheese mixture into a plastic ziploc bag, snip off a corner and evenly pipe mixture into mini phyllo shells. (Filling shells with a spoon is an option as well).

Top each shell with a piece of strawberry or fruit of choice (raspberries, blueberries or blackberries). Garnish with additional lemon zest.

Serve immediately or cover and refrigerate up to 4 hours.
Notes
Yields 1 tart per serving.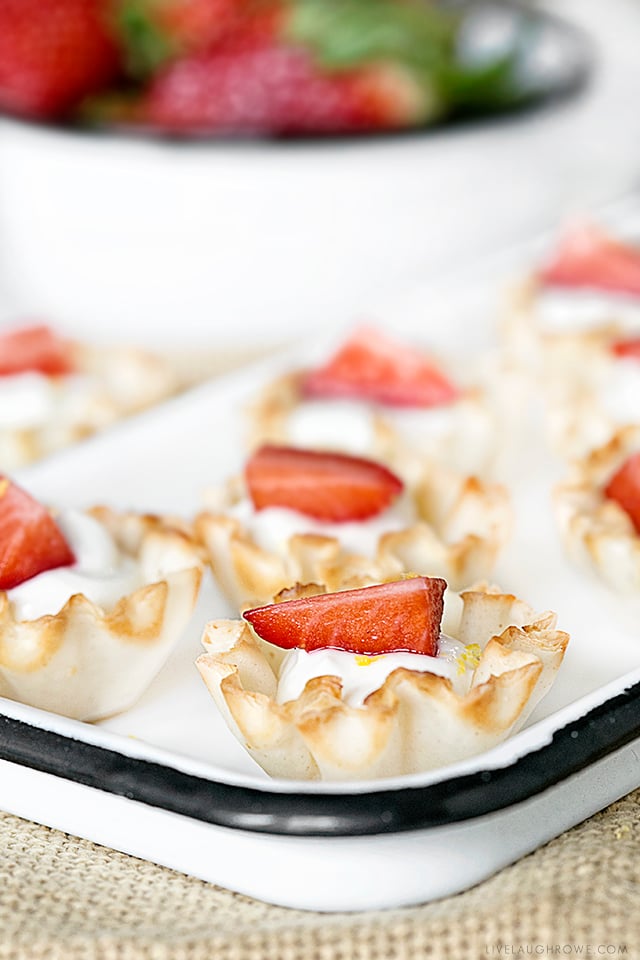 Enamel bowl and platter pictured from Bits of Vintage (one of my favorite on-line shops).
Another Weight Watchers Dessert or two.. (wink)
Mini Mint Cookies and Cream Ice Cream Sandwiches
Frozen Chocolate Peanut Butter Banana Bites
Skinny Pineapple Angel Loaves
Easy White Chocolate Drop Cookies
Low-fat Strawberry Banana-Frozen Yogurt Bars

Be sure to visit with me here too:
Facebook | Instagram | Pinterest | Twitter | Google+