If you like pasta and vegetables, this Weight Watchers dish of Pasta with Roasted Vegetables, Rosemary and Feta is going to be a real treat! A meatless dish that is simple to make, but has a distinctive sharp and tangy flavor from the rosemary and feta cheese. With less guilt and more flavor, this Weight Watchers recipe is sure to be a new favorite.
Pasta with Roasted Vegetables | Weight Watchers Meal


It's probably safe to say that if FOOD was a love language, it would be one of mine. Ha! I love food; therefore, it makes dieting very difficult. Plus, I like to eat when I celebrate, when I'm sad, when I'm angry and every other time in between. Can anyone else relate to that?
Yes, I'm on Weight Watchers and fighting the good fight. However, it's often a roller coaster — a great week, then a rough week. I just continue to tell myself that slow and steady wins the race and I have to celebrate the little victories (and, trust me, there are plenty of those).
Roasted Vegetable Pasta
Pasta is one of my favorite foods. Fettuccini Alfredo, Mac-n-Cheese, Goulash, Tuna Casserole are amongst some of my favorites. It's a real treat when you can find a pasta dish that is Weight Watchers friendly too. The pasta paired with roasted vegetables, chopped rosemary and feta cheese is an amazing combination of flavor.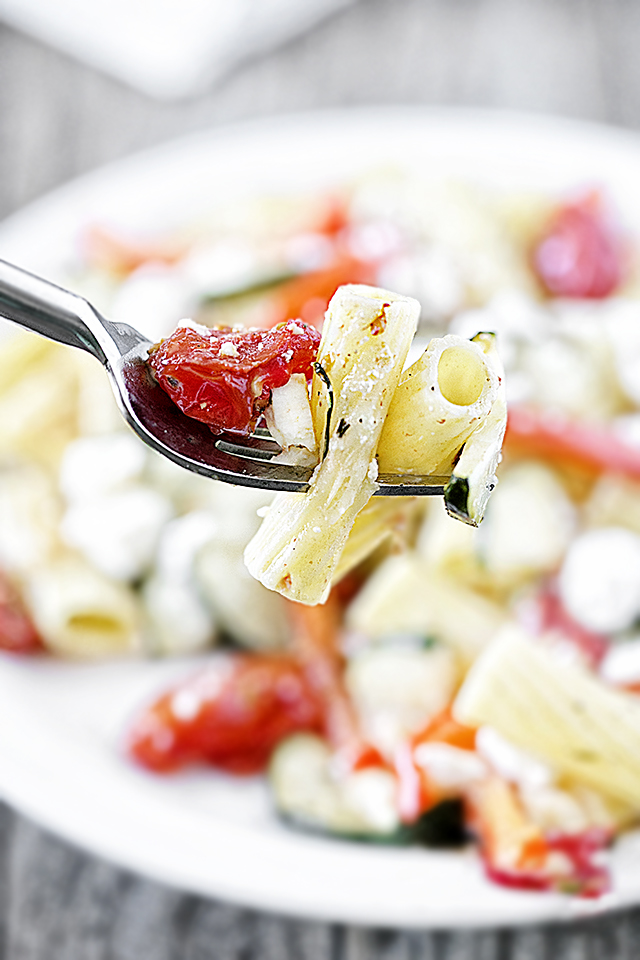 When the hubby asks for a dish to go in the regular rotation, you know you've found a great new dish! So, I hope you enjoy it as much as we have.
p.s. I usually make a lot more vegetables than the recipe calls for because their ZERO points, so you can pile them on (wink-wink). Disfrutar (enjoy in Spanish).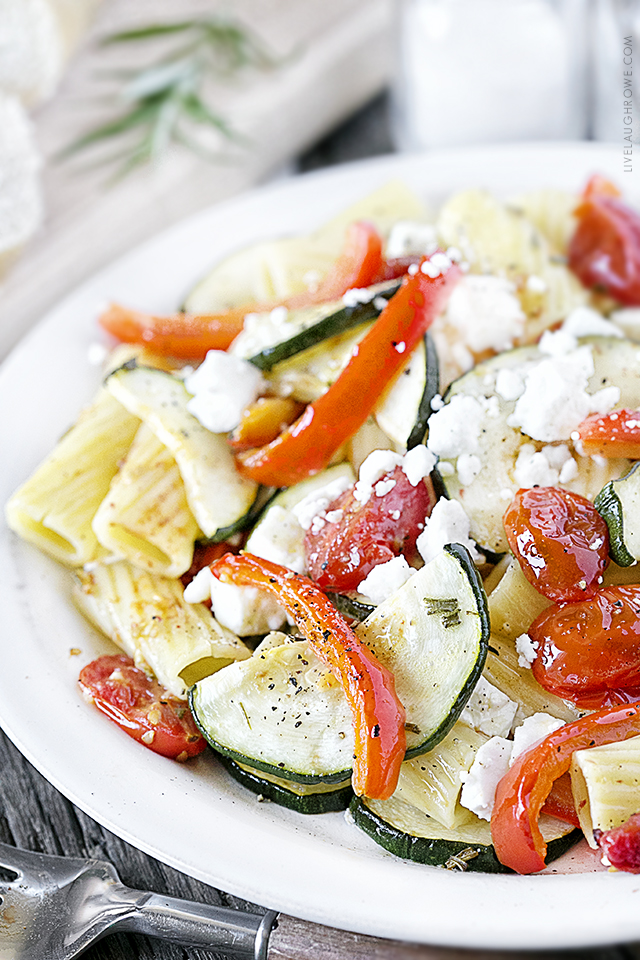 Pasta with Roasted Vegetables, Rosemary and Feta
Ingredients
1

medium zucchini, sliced 1/4 inch thick

1

red bell pepper, thinly sliced

1-1/2

cups

halved grape tomatoes

2

tsp

chopped fresh rosemary

2

medium garlic clove, minced

cooking spray

1/2

tsp

salt (or to taste)

2

pinches

freshly ground pepper (or to taste)

2

cups

cooked rigatoni

2-1/2

tbsp

crumbled feta cheese, divided (1-1/4 tbsp per serving)
Instructions
Preheat oven to 450 F and prep pot with water to cook pasta according to directions on package.

Place zucchini, bell pepper, tomatoes, rosemary and garlic on a rimmed baking sheet (lined with parchment paper, optional). Coat with cooking spray.

Sprinkle with salt and pepper; toss and spread out evenly on baking sheet. Roast , stirring once, until tender and vegetables begin to brown in spots, approximately 15 to 20 minutes.

Toss vegetable mixture with pasta and sprinkle with feta.
Notes
Serving size is 1 cup cooked pasta, 1/2  of vegetables and 1-1/4 Tbsp crumbled feta cheese.  6 SmartPoints per serving.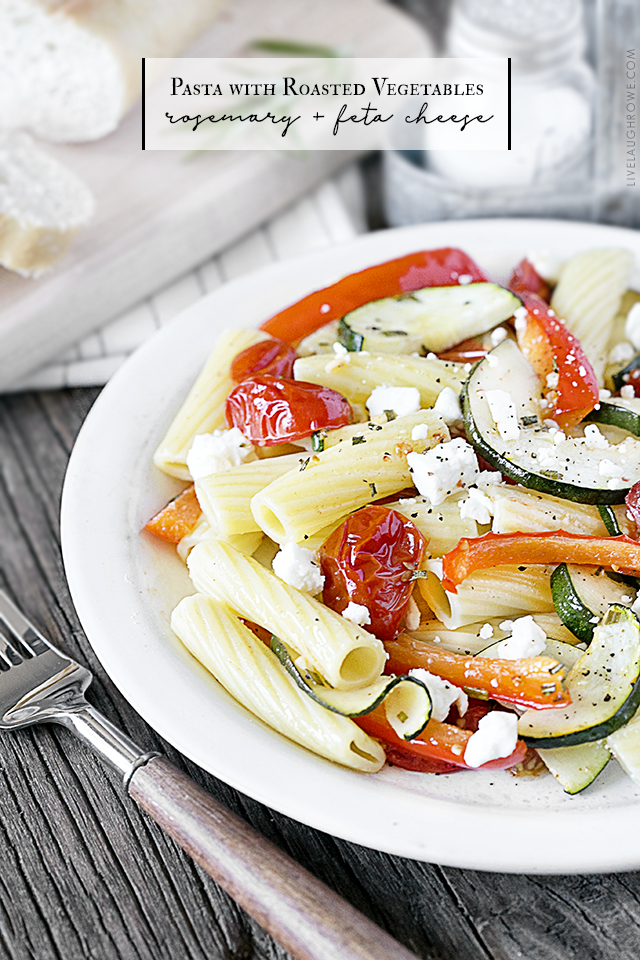 Looking for some additional Weight Watchers recipes?
Honey Mustard Chicken Tenders
Chicken Piccata Stir-Fry
Healthy Meatloaf Recipe
BBQ Chicken Skewers

Be sure to visit with me here too:
Facebook | Instagram | Pinterest | Twitter | Google+