These Lemon Lime Cookie Crisps are ultra-thin, packed with flavor and crunchy. Now that's a winning combination. A Weight Watchers cookie recipe with 5 points in 4 cookies is a win-win.
Who doesn't love cookies? There are way too many options out there to not like any cookies. Right? Let's see, some of my favorites include chocolate chip, peanut butter, frosted banana, white chocolate chip macadamia, sugar and more. Mmmm…
Super Delicious Lemon Lime Cookie Crisps


I just got back from a work trip to St. Louis and on one particular afternoon a pile of Insomnia Cookies arrived. This is a good time to point out that I've never had them, but I knew we had one in Springfield, MO as well.
I granted myself some grace and snatched up one of the warm and soft sugar cookies. And oh dear Lord. It was uh-maze-ing!!! I may or may not have decided to have a second. Insert face palm.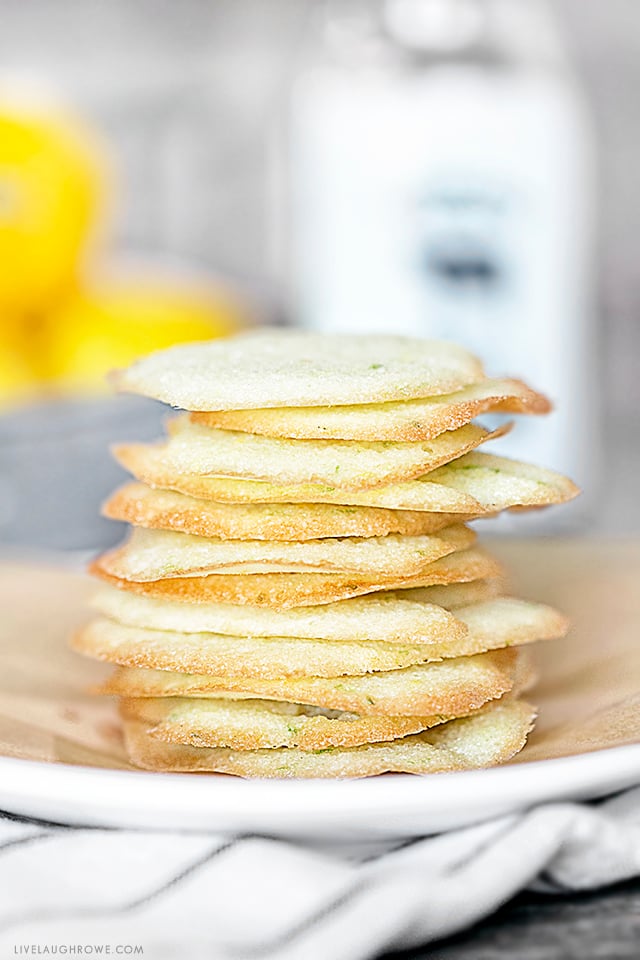 Yeah, so cookies… you might consider them a bit of a weakness. When you're watching what you eat but you have a HUGE sweet tooth, you're always on the hunt for delicious recipes that are low in fat/calories — or low in points (also known as Weight Watchers friendly).
These not only looked good, but sounded like a perfect combination of flavors as well. I'm happy to report that they didn't disappoint.
I'd say getting the sizing right was a challenge, so mine varied in size. That didn't effect the flavor, so all is well in the world. I just want to be transparent with my experience… in case you get a little frustrated when placing them on the cookie sheet. The perfectionist in me was annoyed. HA!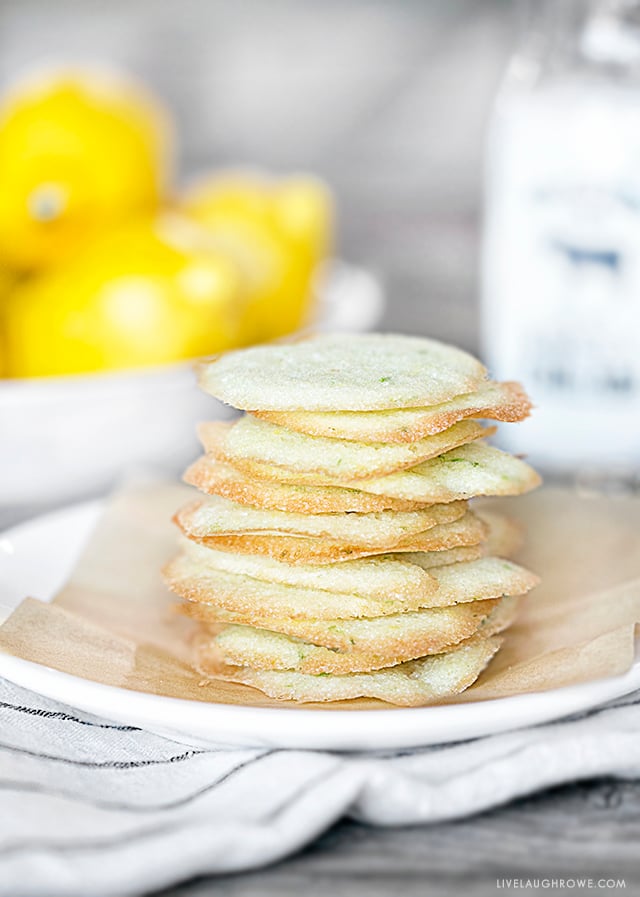 Add a glass of milk to the mix and you're ready to enjoy this crunchy, flavorful perfection. And, on another note, how cute is that little milk bottle? I purchased this little milk carrier with the bottles on Amazon. Adorable!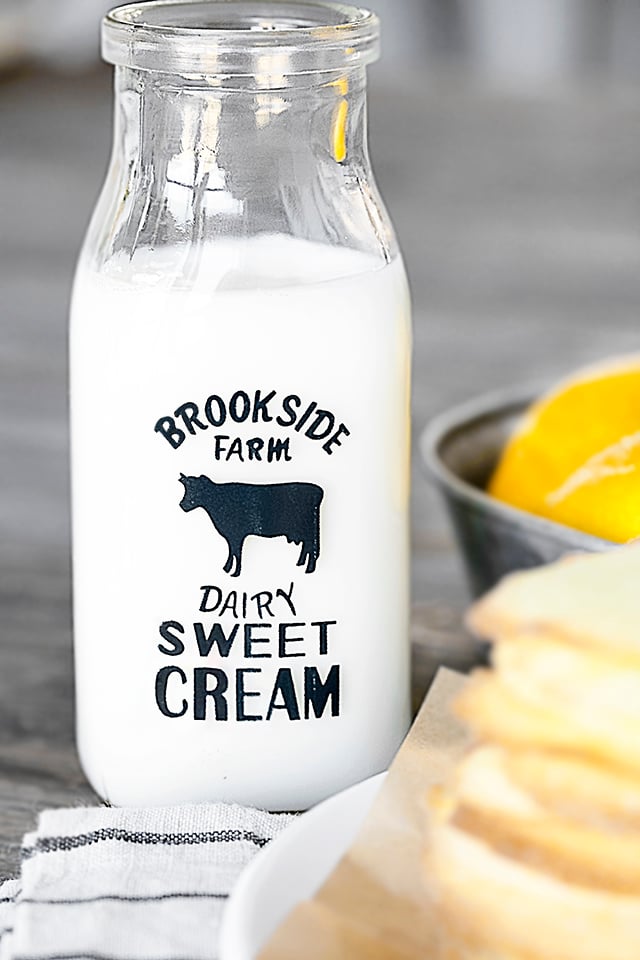 Lemon Lime Cookie Crisps
A thin cookie that has a punch of flavor and a perfect amount of crunch! This weight watchers cookie will not disappoint. 4 crisps =5 SmartPoints
Ingredients
3-1/3

tbsp

unsalted butter, softened

1/2

cup

sugar

2

large

egg whits

1/3

cup

cake flour

1/2

tsp

vanilla extract

2

tsp

lemon zest, finely chopped

2

tsp

lime zest, finely chopped
Instructions
Place parchment paper on 2 cookie sheets. (You may need to make more batches depending on the size of your cookie sheets).

Using an electric mixer, cream butter and sugar in a medium bowl until light and fluffy. Add egg whites and stir until just blended. Sift cake flour over butter mixture and mix with a spoon; fold in vanilla.

Fold lemon and lime zest into bowl.

Drop heaping teaspoons of batter onto prepared cookie sheets leaving at least 3-inches between each cookie. When cookie sheet is full, flatten out cookies with back of a spoon so cookies look almost translucent and measure about 3-inches across.

Bake until edges start to brown, about 4 to 5 minutes. Remove from oven and quickly transfer to a cooling rack using a thin metal spatula.
Notes
Yields approximately 40 cookies.  Store cookies in an airtight container to retain crispness.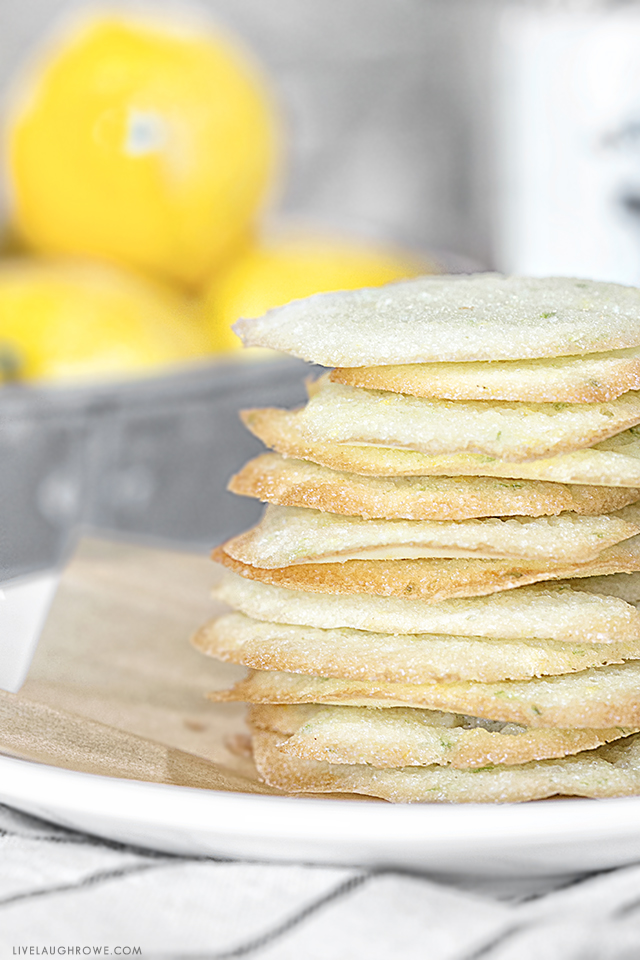 I bet your sweet tooth is telling you it's time to make these cookies — or grab the ones in your pantry (haha).
More Weight Watchers Desserts to enjoy:
Mini Lemon Cheesecake Tarts
Easy Lemon Bars
Easy White Chocolate Drop Cookies
Chocolate Chip Meringue Cookies

Be sure to visit with me here too:
Facebook | Instagram | Pinterest | Twitter | Google+