These Sweet BBQ Oven Baked Baby Back Ribs are so easy to make and packed with flavor. Forget the hamburgers and hotdogs, because these baked ribs are going to be the star of the show.

Baked Baby Back Ribs


On our recent trip to St. John's, Newfoundland, Steve's mom made several meals for us. Moroccan Beef over rice, stew with corn bread, and BBQ Ribs. Other times we enjoyed fish and chips (duh… haha).
All of the meals were delicious; however, the oven baked rib recipe was AMAZING. I wasted no time in asking for the recipe, knowing I wanted to share it with you.
Upon my arrival home, I started my grocery list and added all of the necessary ingredients. Unfortunately, I hit a bump in the road…. Womp womp womp!
The recipe called for a couple of VH sauces… huh? Come to find out, that's a Canadian branded food.
I can't lie, I was little bummed (and maybe a teeny tiny bit stressed). I called my mother-n-law to see if she had any recommendations for substitutions — no luck. Gulp.
Delicious Appetizer Recipe
So, I tried to find the best substitutions that I could (based on the ingredients listed on the VH sauces) aaaaand guess what? They tasted pretty darn good. I think they might have tasted just like my mother-n-laws.
Would you believe that my husband said they were better than his smoked ribs too? Yep. #winning
The ribs baked so beautifully without the sauce in my roasting pan that I almost started eating them before the recipe was complete. They smelled incredible and had a beautiful golden crisp color to them.
However, I waited it out and was quickly reminded as to how good they were — especially after adding the sauce and finishing up the baking. Mmmmm.
These Sweet BBQ Oven Baked Baby Back Ribs have a delicious sweetness to them. Pair them with a potato salad, coleslaw, macaroni and cheese, or any of your favorite side dishes.
One more quick note before we get to the amazing recipe — if you like lots of sauce, double up on the sauce recipe for two racks of the baby back ribs or you could just make one rack of ribs. Does that make sense? I hope so.
And I also hope that you enjoy this flavorful recipe. Many thanks to Jeannette (big virtual hug).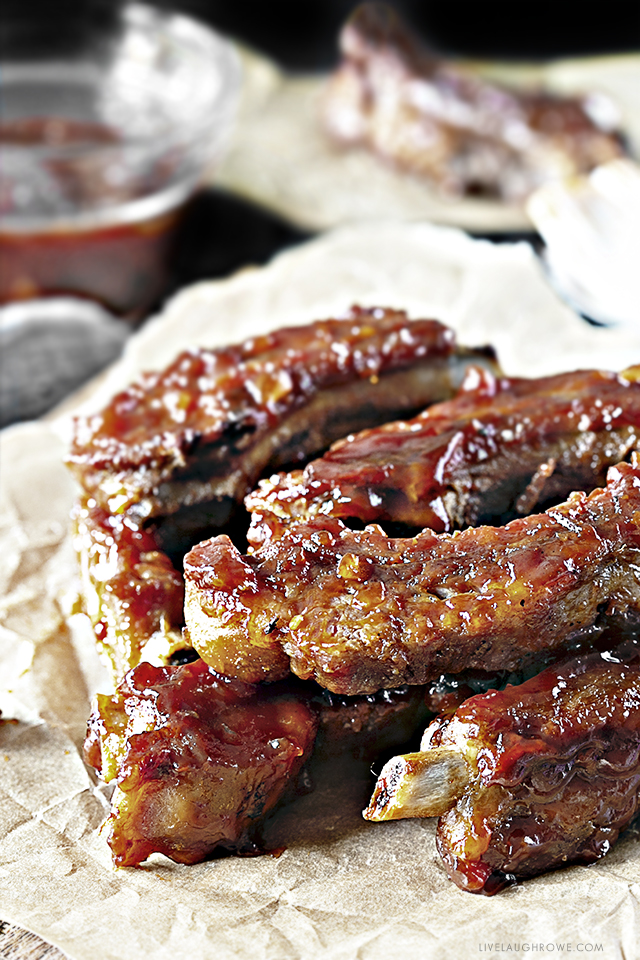 Sweet BBQ Oven Baked Baby Back Ribs
Ingredients
Ribs
Pork Loin Baby Back Ribs (one or two racks)

Salt and Pepper, for seasoning
Sauce
1

cup

ketchup

1/2

cup

water

1/2

cup

brown sugar

3

tbsp

vinegar

3

tbsp

lemon juice

3-4

tbsp

honey

1

small onion, diced (very small)

1/2

cup

Sweet and Sour Sauce

1/3

cup

Teriyaki Sauce or Marinade
Instructions
Ribs
Remove membrane and cut ribs individually.

Place in roaster or large baking pan with lip.

Sprinkle with salt and pepper.

Bake at 400 for approximately 1 hour to 1-1/2 hours, turning once midway.

Drain off fat and cover with sauce (see recipe below).

Bake at 350 for an additional 25-30 minutes.
Sauce
Place ketchup, water, brown sugar, vinegar, lemon juice, honey and onion in a pan and bring to a boil. Simmer for 10 minutes.

Add sweet and sour sauce and teriyaki sauce (or marinade). Simmer an additional 5 minutes.
Notes
If you live in Canada, feel free to use the following substitutions (ingredients from the original recipe). 
- use 1/2 jar of VH Pineapple in place of the Sweet and Sour Sauce. 
- use 1/2 jar of VH Medium Garlic Sauce in place of Teriyaki Sauce or Marinade.
For the Teriyaki, I used the KC Masterpiece Honey Teriyaki Marinade.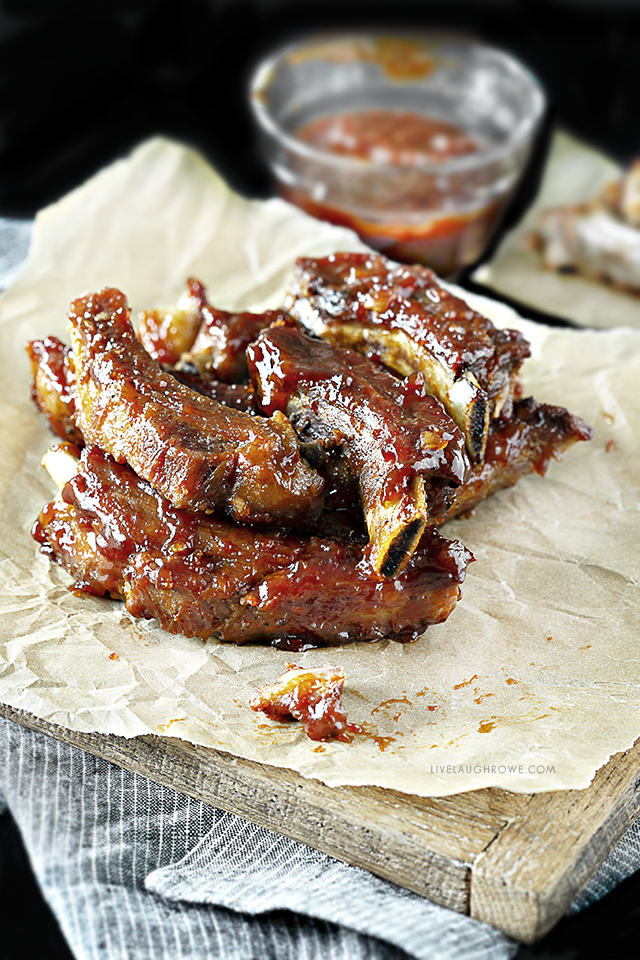 Other great dishes to try:
One-Pot Chicken Pot Pie
Mini Meatloaf Dinner (Sheet Pan Recipe)
Strawberry Salsa over Grilled Chicken
Italian Meatballs

Be sure to visit with me here too:
Facebook | Instagram | Pinterest | Twitter | Google+