It's officially BBQ season! We are HUGE fans of barbecue in the Rowe household — chicken, pork chops, etc. And since not all barbecue recipes have to be done on the grill, why not bring the party inside? It's always good to have options, so I'm sharing how to make perfect BBQ Drumsticks (or thighs) in a cast-iron skillet.
Cast Iron Skillet BBQ Drumsticks


Last weekend I decided to BBQ some chicken and make a corn bake for lunch. Grilling wasn't an option due to the weather conditions, so I had to figure out a different plan. I am no chef, friend.
Often, I feel like such a novice. Experimenting in the kitchen can be so stressful. I hate to waste good food. Silly, but true.
However, there are times that just call for a little 'put on your big girl pants and do this.' I grabbed my cast iron skillet and did a little googling and voila!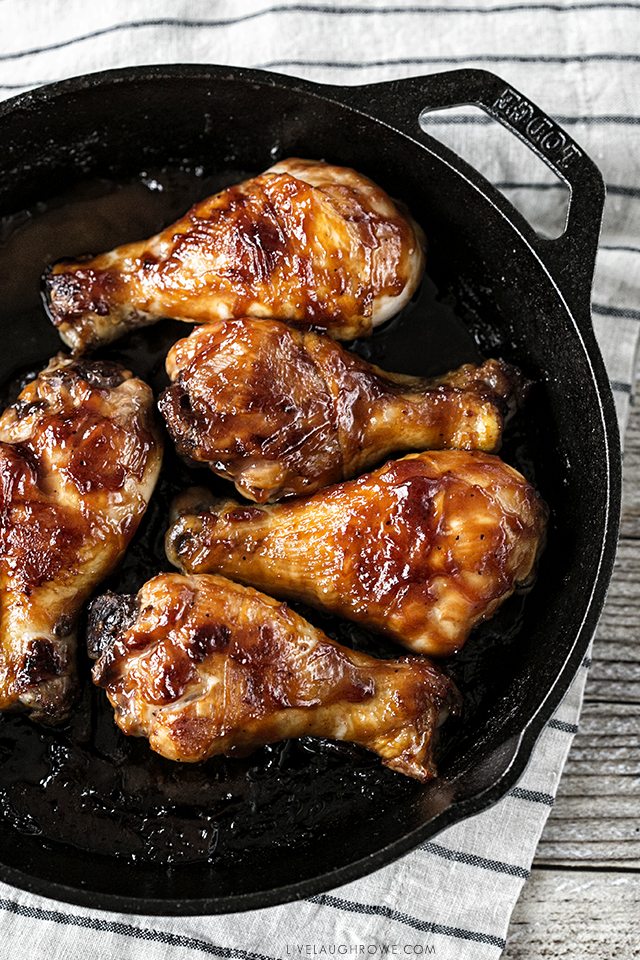 This cast iron BBQ chicken is AMAZING. These drumsticks were cooked to perfection and flavorful. Score! (I love-love-love our Lodge Cast Iron Cookware, pictured).
Perfect Cast Iron Skillet BBQ Drumsticks (or Thighs)
Instructions
Marinate drumsticks in barbecue sauce (in refrigerator) for a minimum of 30 minutes.

Preheat the oven to 400F.

Heat cast iron skillet over medium heat until warm.

Add oil and drumsticks to pan.

Lightly brown chicken on all sides (approximately 5-10 minutes).

Place pan in oven for 20-25 minutes, basting the chicken with barbecue sauce twice.

Remove pan from oven and baste with barbecue sauce one last time, optional.
I really need to use my cast iron skillets more often. They really are a kitchen essential! Do you have a favorite recipe you've made in your skillets? Let me know in the comments below. I'm always looking for new recipes to try!
Other chicken recipes to try:
Pineapple BBQ Chicken Skewers
How to make Chicken Fajitas in a Cast Iron Skillet
Skillet Chicken Tacos
Chicken Burrito Bowl
Hugs + Blessings,