Tasty, complex flavors are the contributors to this simple dish. The sweetness of this strawberry salsa, complimented by the balsamic glaze, is an amazing combo. You're in for a treat with this flavorful recipe that the whole family will enjoy!

Flavorful Strawberry Salsa with Balsamic Glaze


I'm back on WW (Weight Watchers) and I love attending meetings for accountability, meal ideas and more.
A few weeks ago at WW, someone mentioned a strawberry salsa dish with chicken that she absolutely loved. Hmmm. It sounded pretty amazing. I think I might have started to drool — haha. Of course I'm joking, but it did sound pretty tasty.
I was officially intrigued and spoke to the gal after the meeting. She gave me some more details about the ingredients and the cookbook. Would you believe she even took my number and text me a picture of the cover!?!? Wowzer.
Strawberry-Balsamic Salsa


Unfortunately, the cookbook where this chicken with strawberry salsa was located has been discontinued. However, I struck lucky and found one on ebay! Yay!
Upon it's arrival, this was one of the first recipes I made — and I just had to share it with you. All the credit goes to WW!
Now back to the flavor of this amazing dish. It's funny how you can love strawberries, basil and balsamic glaze and never think to combine them and serve over a piece of chicken.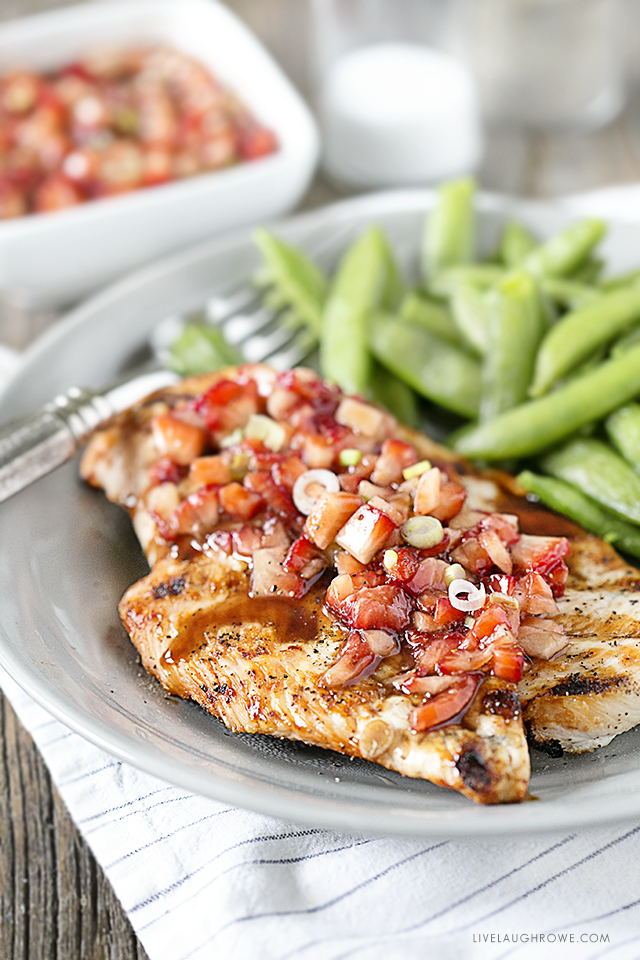 Hopefully you'll enjoy this Chicken with Strawberry-Balsamic Salsa as much as we did. My husband loved it!
Unfortunately, we didn't have jalapeños on-hand, and he mentioned that they would've added the perfect 'kick.' I'm not a fan of anything spicy, so it tasted great as-is. Enjoy!
Chicken with Strawberry-Balsamic Salsa
Ingredients
Grilled Chicken
4

(5 oz)

skinless boneless chicken breast cutlets

1/2

tsp

salt

1/4

tsp

pepper
Strawberry-Balsamic Salsa
2

cups

hulled diced fresh strawberries

3

tbsp

balsamic glaze

2

tbsp

thinly sliced fresh basil

2

tbsp

thinly sliced scallions

2

tsp

minced jalapeño pepper, optional

1/2

tsp

salt

1/4

tsp

pepper
Instructions
Grilled Chicken
Spray ridged grill pan with nonstick spray and set over medium-high heat.

Sprinkle chicken with 1/2 teaspoon salt and 1/4 teaspoon pepper. Place chicken in pan and grill, turning once, until chicken is cooked through, approximately 8-10 minutes.
Strawberry-Balsamic Salsa
To make salsa, combine strawberries, balsamic glaze, basil, scallions,  jalapeño, salt and pepper in medium bowl and stir gently to combine.

Serve salsa over grilled chicken.
Nutrition
Check out these delicious WW recipes too!
WW Chicken Salad Melt Sandwich with Tarragon
Pasta with Roasted Vegetables and Feta Cheese
BBQ Chicken Skewers with Pineapple
Turkey Stuffed Bell Peppers
Amazing Lemon Bars

Be sure to visit with me here too:
Facebook | Instagram | Pinterest | Twitter | Google+