Baked Apple Cider Donuts
Just hearing the words Baked Apple Cider Donuts makes my mouth water. This simple recipe is so delicious and makes a great treat on a crisp fall morning, especially when paired with a hot cup of coffee.
Be sure to sign up for my email to get new recipes
and creative ideas sent right to your inbox!
Baked Apple Cider Donuts
Confession. Donuts are a weakness for me. However, a plain donut will do the trick…as long as it's not stale (haha).
Locally, we have a place called Hurts Donuts and their Streusel Donut is to die for. Ummm, my mouth is drooling. They have a lot of rich flavored donuts and my taste buds do have a sugar limit, but that streusel donut has stolen my heart. Yes, sometimes, donuts can be too sweet (at least in my book).
Anywho, I thought it was time to try my hand at making some donuts since I had bought a donut pan many years ago and never put it to good use. It's funny how much "stuff" you buy because your kitchen "needs" it, yet it sits the cupboard for far too long.
Well, I'm happy to report that I finally put my donut pan to good use. Woop Woop! And, I must admit, that the donuts were pretty darn good too.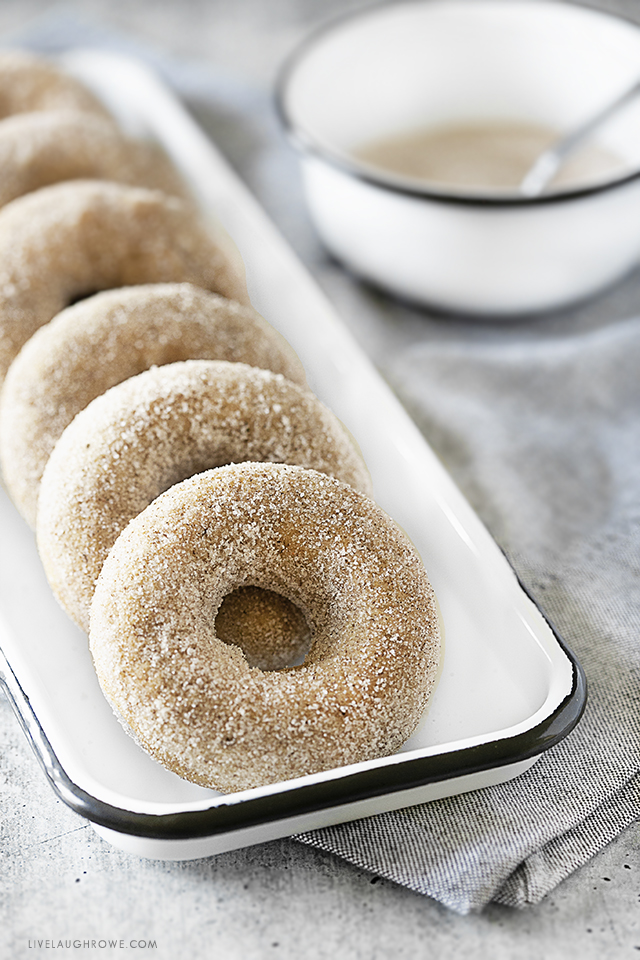 This easy Baked Apple Cider Donut recipe seems perfect for fall — it's not only the season for all things pumpkin, but it's also all-things apple, right? While you don't use any fresh apples in this recipe, it is packed with apple flavor. I can't wait to hear what you think.
How long do donuts last unrefrigerated?
Donuts, when properly stored, and freshly baked (not cream-filled) will last for about 1 to 2 days at an average room temperature. However, if kept in the refrigerator, freshly baked donuts will keep well for about 1 week.
Are you ready to whip up a batch of these Baked Apple Cider Donuts? Yeah? Me too!
Making Baked Apple Cider Donuts
Start by preheating your oven to 350º F. Lightly grease each well in the donut pan.
Grab a medium-sized bowl and a whisk (or spoon) to stir all the ingredients together. Place dough in a large storage bag (or decorating bag) and fill each donut cavity 3/4 full.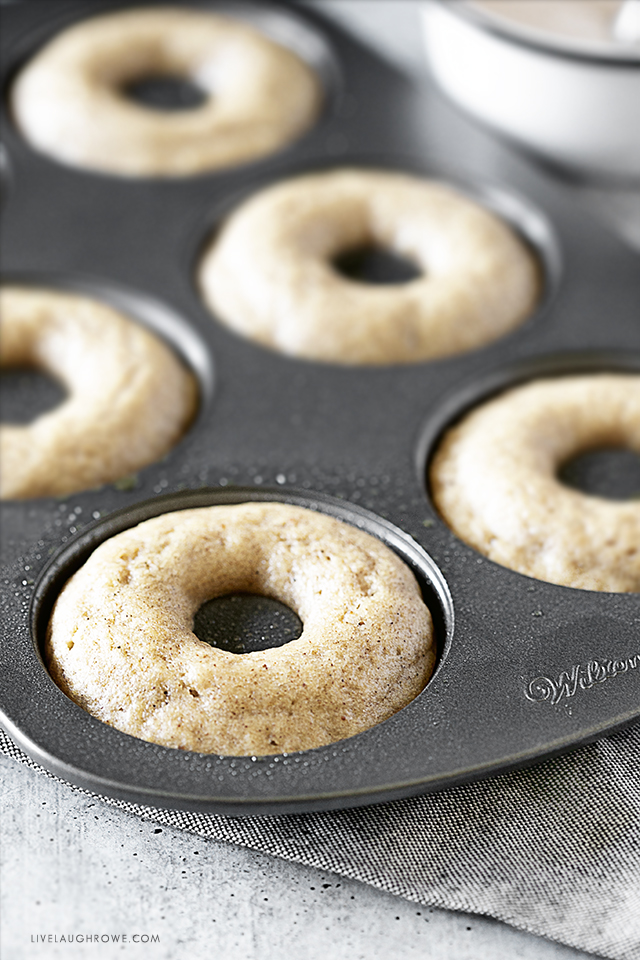 Bake for 8-10 minutes. Place on a cooling rack. While cooling, whip up the spiced sugar and place it in a resealable bag. Coat each donut. These are best served when freshly made. Enjoy!
Baked Apple Cider Donuts
Ingredients
Oil, for brushing

1 1/4

cup

all-purpose flour

1/4

cup

granulated sugar

2

tsp

apple pie spice

1/2

tsp

baking soda

1/4

tsp

salt

1/2

cup

apple sauce

1/2

cup

frozen apple juice concentrate, thawed

1

egg

2

tbsp

canola oil
Spiced Sugar
1/4

granulated sugar

1

tsp

apple pie spice
Instructions
Preheat the oven to 350º F (180º C). Spray the donut pan with oil.

For the donuts, combine the flour, sugar, spice, baking soda, and salt in a medium bowl. Add the remaining ingredients and whisk until just combined.

Place the dough in a gallon-sized storage bag (or decorating bag with a large tip). Fill the bag with dough and pipe around each donut well, until it's about 3/4 full.

Bake 8-10 minutes, or until the donuts spring back when lightly pressed. Remove from the oven and let the donuts cool in the pan for 5 minutes before removing them. Place on a cooling rack.

Meanwhile, combine sugar and apple spice in a resealable bag. Add several warm donuts to the tag and toss to coat. Repeat with the remaining donuts.
Other delicious apple flavored recipes to try:
Apple and Cheese Danish
Crockpot Apple Butter
Hot Caramel Apple Cider
Easy Apple Crisp
Connect with Live Laugh Rowe!
Facebook | Instagram | Pinterest | Twitter
Hugs and Blessings!