These Greek Pork Chops are brought to you by the National Pork Board, Smithfield and Walmart. All opinions are my own.
Pork lovers rejoice! Today I'm sharing these grilled Greek Pork Chops, which are incredibly easy and packed with flavor. Paired with some Greek yogurt (or tzatziki sauce) and feta cheese, your taste buds will explode from the amazing Greek flavors.
Grilled Greek Pork Chops


Last weekend the hubs and I headed to Lee's Summit, MO for the Smokin' on the Summit BBQ event. We had such a great time. The Smithfield's Get Grilling America campaign was there, so you can imagine all of the grilling, smoking and basting that was going on. Pure bliss!
Smokin' on the Summit BBQ Event
Chatting with some of the amazing competitors and capturing them in action was a treat — and they were of all ages (from kids to retired folks). Thankfully, it was a beautiful day and our senses were in overload. We left feeling inspired and ready to fire up the grill when we got home.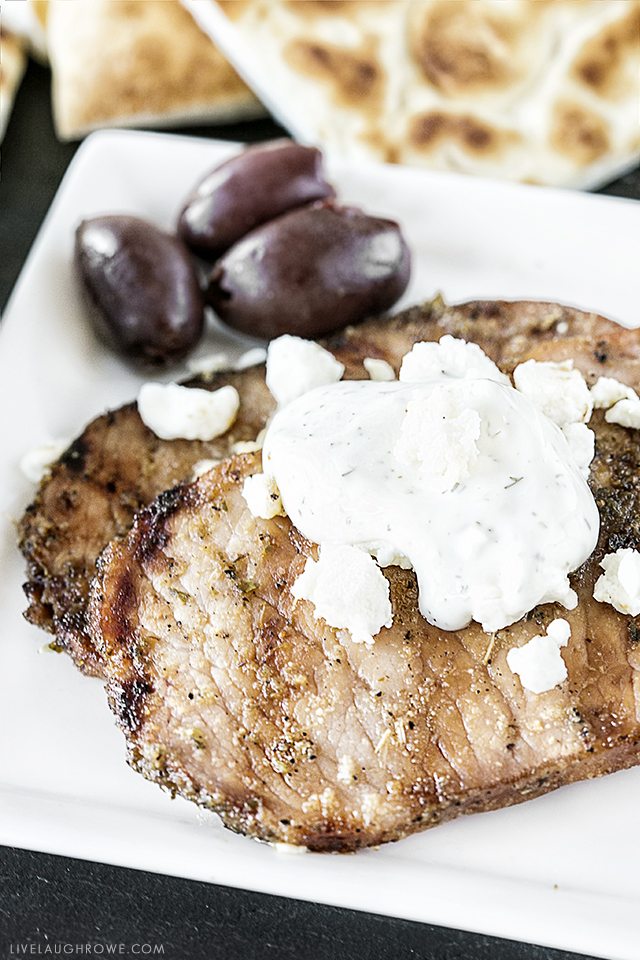 While I worked on my Greek Pork Chops, the hubs was out preparing for a day of smoking ribs. Dinner was pretty amazing that night as we enjoyed both the Greek Pork Chops and smoked ribs.
Big Sky BBQ cutting their ribs.
Tamm Good Eating headed to the judging tent.
Smithfield, Walmart and the National Pork Board have teamed up with Smithfield's Get Grilling America campaign to educate pork fans about cooking fresh pork. They want pork lovers to understand how easy it is to grill pork for a delicious meal or large gathering.
These Greek-inspired pork chops are just that — easy!
Grilling the Greek Pork Chops


Let's grab our ingredients, heat up the grill and get this par-tay started. p.s. I picked up my pork chops at my local Walmart, using their on-line Grocery Pick-Up Service.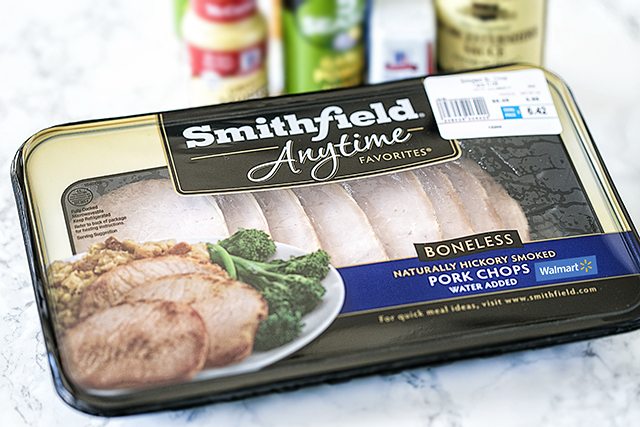 Grilled Greek Pork Chops
Ingredients
Pork Chops
4

Smithfield boneless pork chops

approximately 1/4" thick

2

tbsp.

extra virgin olive oil

4

tsp.

lemon juice

1

tbsp.

Worcestershire sauce

1

tsp.

onion powder

2

tsp.

dried oregano

1

tsp.

garlic powder

1

tsp.

pepper

1/2

tsp

ground mustard
Toppings
Greek Yogurt Dip or Tzatziki sauce

Feta Cheese

Kalamata Olives
Instructions
In a large resealable bag, mix first eight ingredients. Add pork chops; seal bag and shake or turn to coat. Refrigerate 4-6 hours or overnight.

Remove chops from bag and discard extra marinade (or keep for basting).

Grill chops, covered, over direct heat on high 2 1/2 minutes on each side.

Allow pork chops rest for 3 minutes before serving.
Notes
Please don't overcook your pork. Grill it like a steak to get a tender, juicy product. Cook pork chops to an internal temperature between 145º F and 160º F, followed by a three minute rest (as stated above).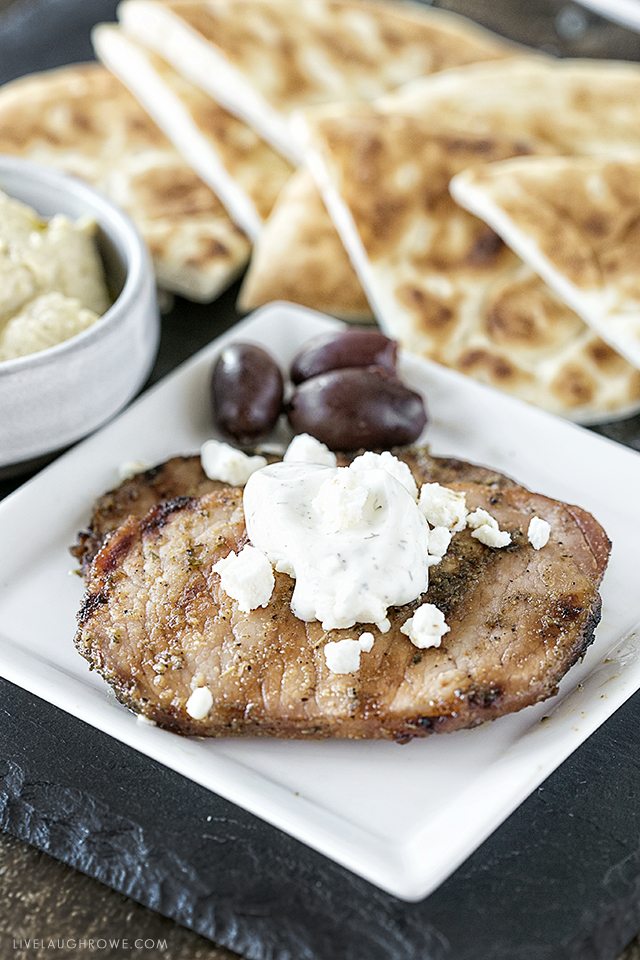 Serve with Greek bread and hummus on the side! Grill up a vegetable and dinner is served.
For more recipe inspiration and grilling tips, visit SmithfieldGetGrilling.com and follow Pork Be Inspired on social media: Facebook | Twitter | Pinterest | Instagram | YouTube.
απολαμβάνω!

Be sure to visit with me here too:
Facebook | Instagram | Pinterest | Twitter | Google+