This mini dessert is going to blow your mind, friends. Why? Well, the flavors are insane and it's easy to make. Plus, let's be honest, an Orange Creamsicle Dessert that is served in shot glasses makes it twice as fun.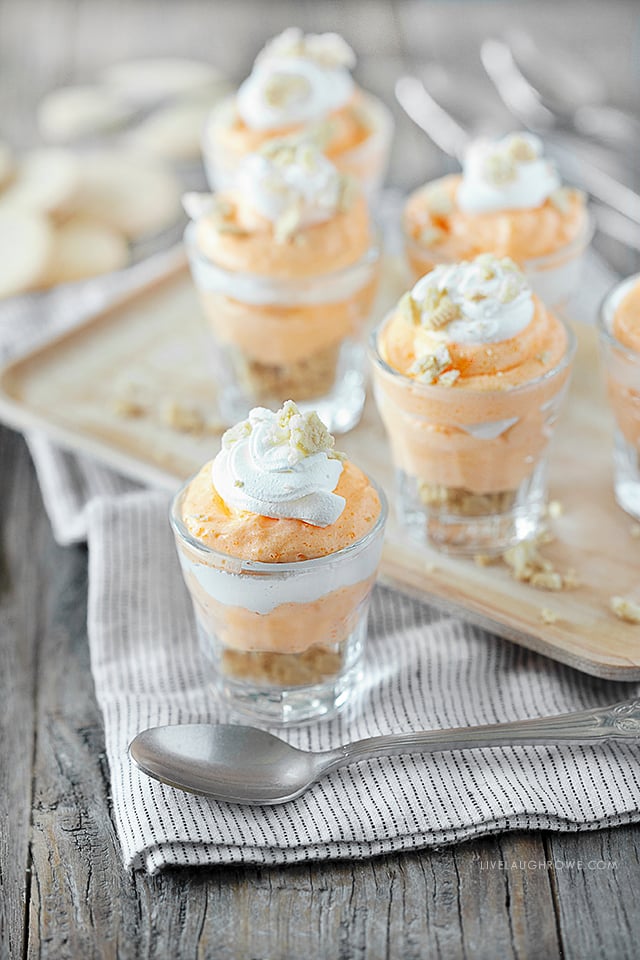 Simple and Delicious Creamsicle Pudding Shots


Years ago I made some delicious mini Banana Pudding Shots. They were so easy and delicious that I recently wondered why I hadn't made any other pudding shots.
Did you know that I do a lot of different work? Yep. I create printables and sell them every now and again. I recently started doing some work for another blogger as well.
While I was doing some research for a poke cake recipe, I happened to stumble upon an Orange Creamsicle Slab Pie by Pillsbury.
Daaaaang, that recipe looked so good too. Go ahead and Google it if you must. Anywho, it got me thinking, wouldn't it be fun to tweak the recipe so that it could be made in little shot glasses? Ummm, yes.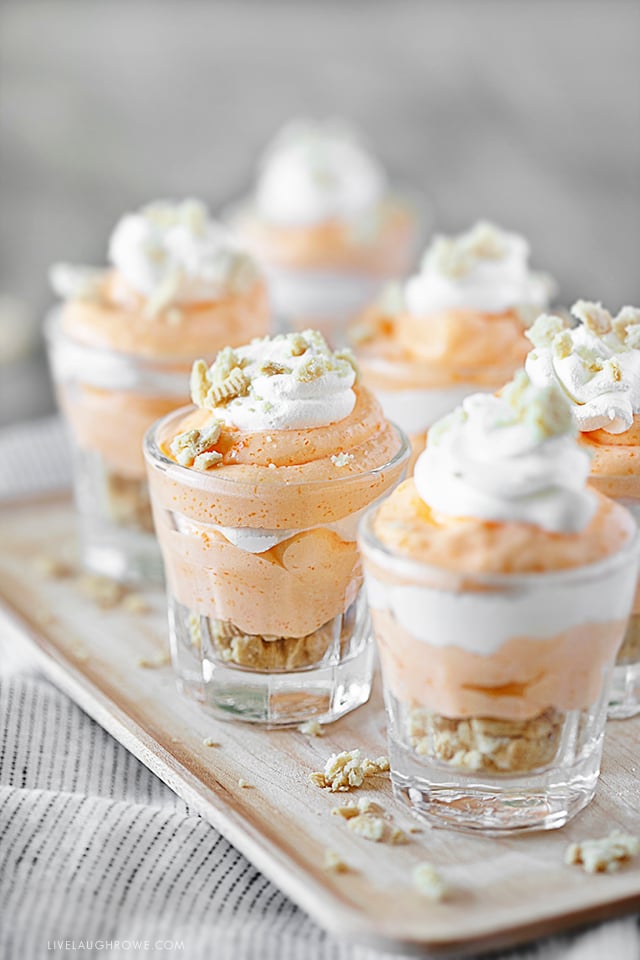 Plus there's always less guilt when desserts are small, right? High five.
If I'm being honest with you, this recipe was 100% an experiment. I had no idea if it would work or what it would taste like. And, of course, I had my husband do the taste testing. Since he's a fussier eater, I like to get his opinion. A perk of having him working from home too. (wink-wink)
So, I decided to use Golden Oreo ™ cookies for the crust and garnish. And layered the pudding mixture and cool whip in the little glasses. It looked pretty stinking cute and was perfectly delicious.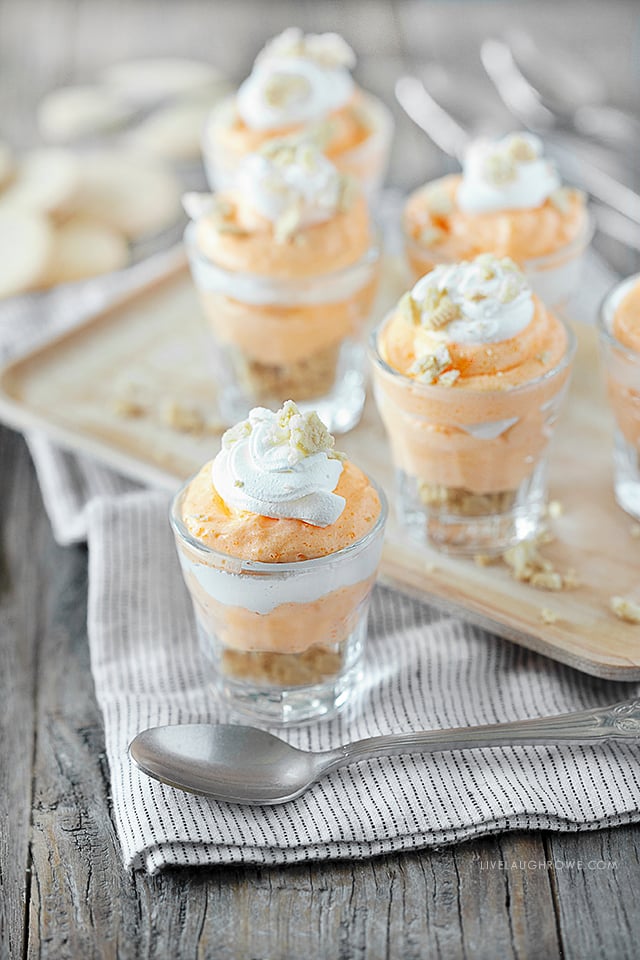 *Now, here's a couple of things to keep in mind when making this deliciousness:
-Please note that the number of servings will vary based on the size of the shot glass you use — or if you should decide to make larger servings (ahem, why not?). So give yourself some grace in that department.
-I used the IKEA snaps glasses, they come in a pack of six for $2.99. Purchasing a dozen won't break the bank, which is always nice.
-Prepping them as close to serving time as possible is recommended. I put a few in the fridge overnight and didn't like how they looked — and certainly wouldn't want to have served them like that. It's hard to cover shot glasses without ruining your tops, so fresh is key.
Halloween Snack Perfection
And last, but not least, these are a PERFECT Halloween treat. Just add some black or chocolate sprinkles and voilà. Enjoy!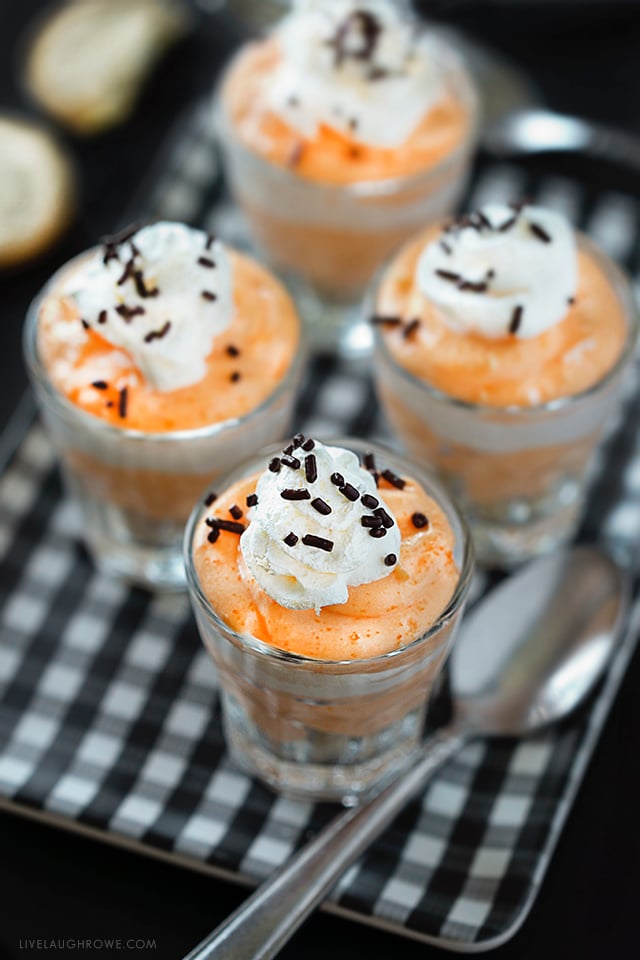 Orange Creamsicle Pudding Shots
A mini dessert that is the perfect combination of orange and vanilla flavors is found in these Orange Creamsicle Pudding Shots.
Ingredients
1

box

orange-flavored gelatin (4-serving size)

1/4

cup

boiling hot water

1

box

vanilla flavored instant pudding (4-serving size)

1

cup

milk

1

container

(8 oz) frozen whipped topping, thawed

Golden Oreo™ Cookies, how many will vary on your preferences.
Instructions
Pour boiling water over gelatin powder in a small bowl; stir until gelatin is dissolved. Set aside.

In a large bowl, beat dry pudding mix and milk with whisk for approximately 2 minutes or until thick. Beat in dissolved gelatin mixture with a whisk until well mixed. Let stand for 5 minutes.

Stir in 1/2 cup of whipped topping. Let set in the refrigerator for 10-15 minutes.

Spoon 1 cup pudding mixture into a 1-gallon resealable food-storage plastic bag; seal bag. Spoon 1 cup whipped topping into a 1-quart resealable food-storage plastic bag; seal bag. Cut 1/8-inch opening diagonally across the bottom corner of each bag.

In the bottom of each of the shot glasses, place a small amount of crushed cookies. Pipe pudding over crushed cookies. Pipe some cool whip and finish with the additional pudding mixture.

Complete the recipe with a dollop of cool whip and additional cookie crumble.
Another tempting creamsicle recipe to consider making is this frozen pie …and it might just be creamsicle flavored too. Yes, please!