Hello, friend! It's Satur-yay. Yes and Amen! The weekend is here, and I couldn't be happier. How about you? Ready for the weekend? Any fun and exciting plans? I'm laying low at home.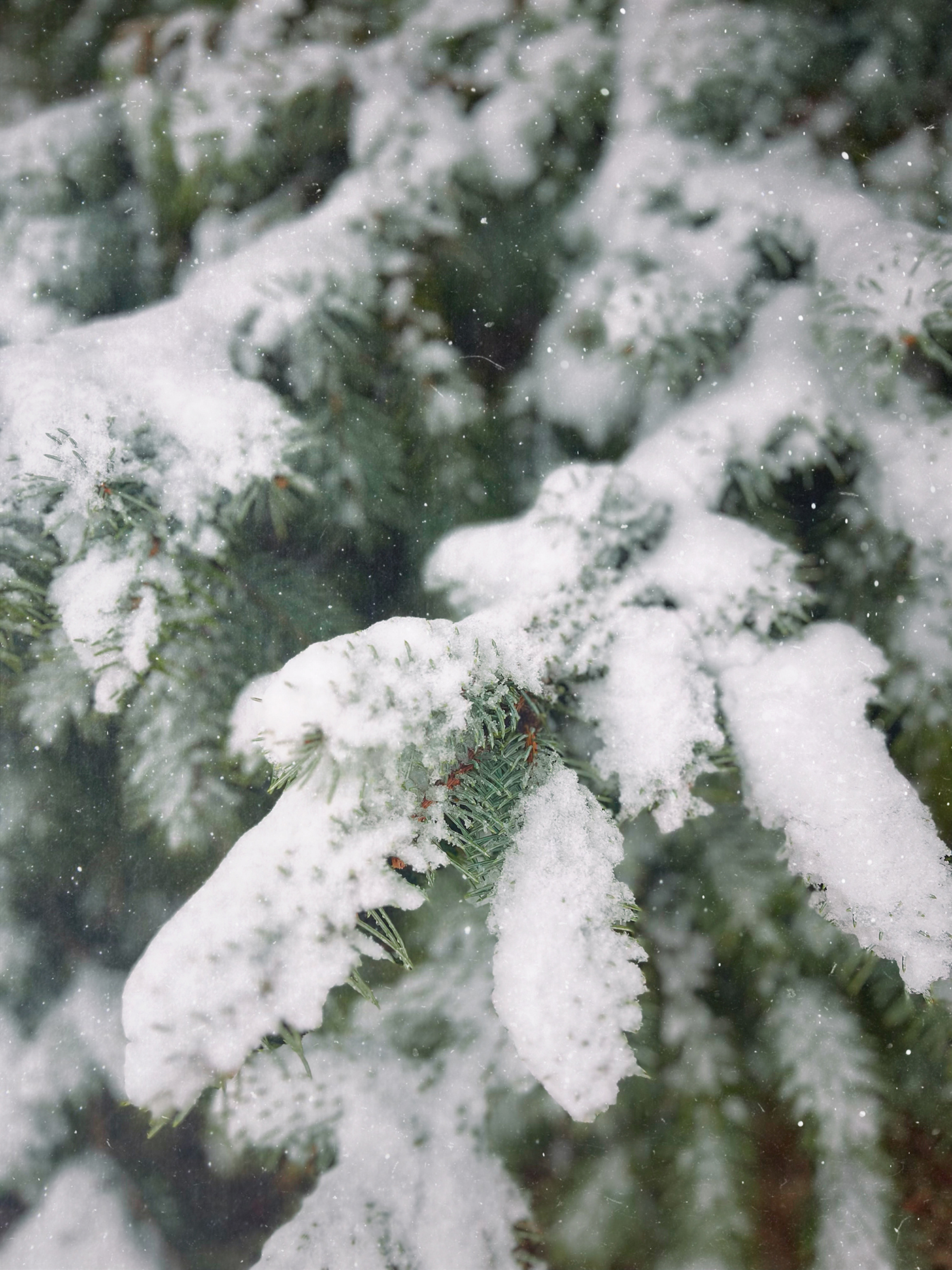 I love this photo. We got some snow flurries a week or so ago, and my sister snapped this with her iPhone. I asked if I could use it here on the Weekender. Snow is so beautiful (in moderation, of course).
Miscellany:
1. Start of the New Year. How has your new year kicked off? Mine has kicked off with a little respite, and Netflix binge-watching. I also started some classes and strategizing for a bigger and better year here on the blog. Not too shabby, right?
I want you to know that if your year hasn't kicked off on a good note — it's okay. A couple of weeks ago I mentioned in the Weekender that my word for the year was going to be comeback; however, if I had a second word — it would be grit.
Got grit?
It's defined as having the determination and courage to push through any challenge or obstacle thrown your way until you succeed.
Guess what? I believe in YOU! 2023 is going to be our best year yet. We can push through any challenge or obstacle 2023 is planning to throw our way. 👊🏻
And if you need an extra word of encouragement or want me to add you to my prayer list, please e-mail me at kelly(at)livelaughrowe(dot)com.
2. Lattes at Home. Steve gave me a box of these 1-Step Vanilla Lattes and, well, I'm obsessed. If you own a Keurig and love coffee — treat yourself to a box and gift a couple too. (Here's a twelve-count box too).
3. Nash & Pet-Friendly Coffee Shop. Amongst our many visits to Gulf Shores, AL, we discovered a dog-friendly coffee shop called The Southern Grind Coffee Shop on the Wharf. At first, they only had dog-friendly seating outside. However, this time I noticed on the door, it said that it was Dog Friendly. I asked if we could bring Nash in with us and they said yes. YAY!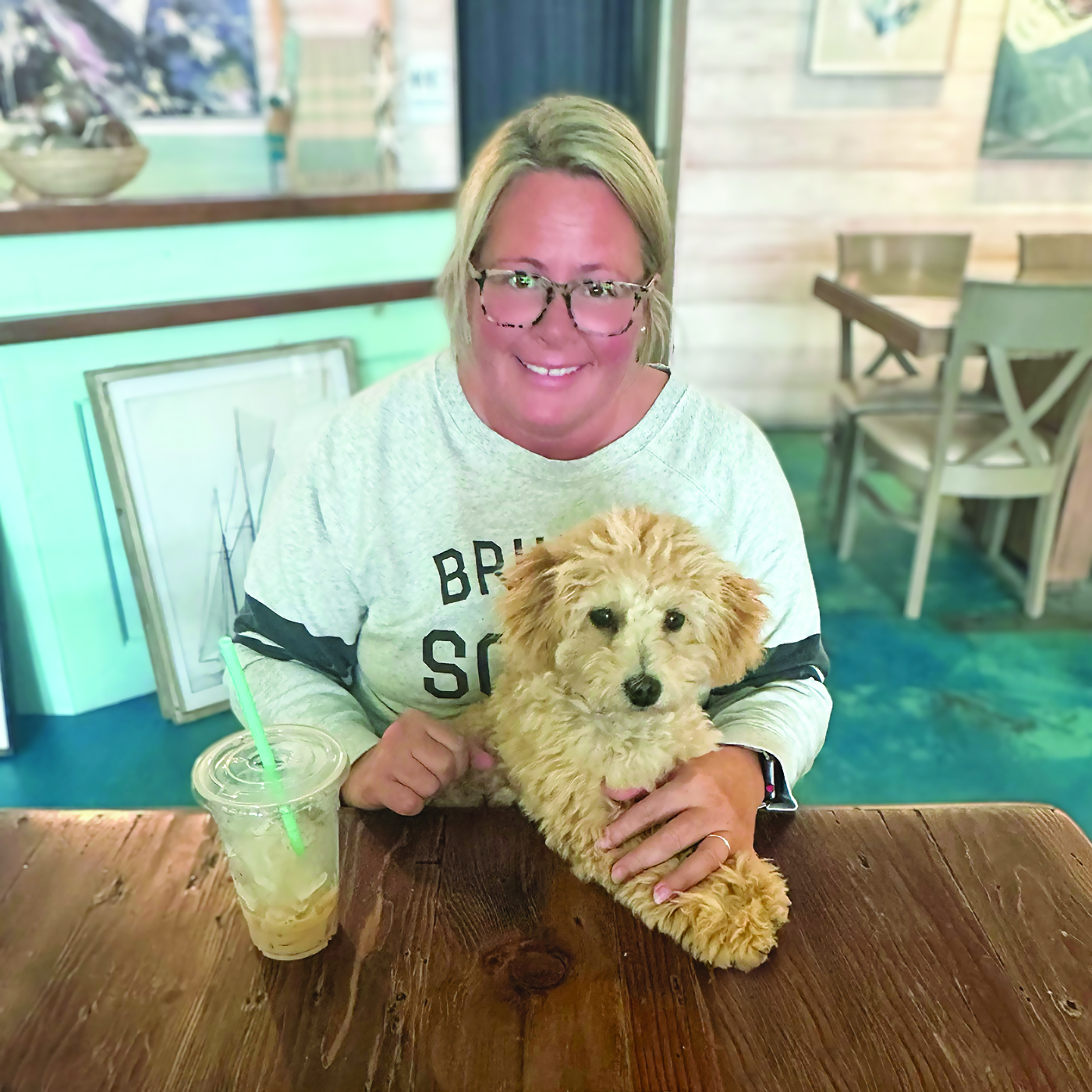 It's not a great (quality) picture, but it was too cute not to share. And Nash was a very good boy.
More on Nash…
Everywhere we go, Nash seems to be the center of attention. Haha. He made a couple of new friends at the campground — Colby and Barney (both doodles, of course). He also spent a couple of days at Doggy Daycare at Sea Paws Dog Resort. He came back to the camper a little zombie, so I would say it was a good day for Nash.
4. Transparency. I'm going to let you in on a little secret. 🤫 I'm officially back home. Yep, we're back home. I knew my boundaries when we planned a month away in the Oliver, but I wanted to put my best foot forward. And it barely lasted two weeks. Haha.
Nash did great in week one, but for a puppy — a small trailer, being tethered or sitting in a pen is not ideal. And then our surge protector decided to go on the fritz. Sooo, thankfully we had our solar power, but it has its limitations too. At that point, I was VERY ready to come home. I'm not an off-grid kind of girl. Steve and I agreed that I'm mid-maintenance (not low or high, just mid). 😂
My awesome sauce husband brought Nash and me home and headed back to Gulf Shores for another week. We'll all be reunited this weekend, and I couldn't be more excited.
I've concluded that small spaces are not my jam. Maybe we need to invest in a second home in Gulf Shores — we could live in Missouri for six months and Alabama for the other six months. Doesn't that sound like a fabulous plan?
All that to say, there's never a dull moment in the wonderful world of the Rowe's. Haha.
5. Survey. Next week I'm going to have a survey for y'all to take. I'd really like to learn more about YOU, what you draw inspiration from, what you'd like to see more of, your favorite reading materials, etc. Stay Tuned. And, yes, there will be a giveaway. 🎉
Around the Web for Valentine's Day:
These Valentine Matchbox Covers.
This Chunky Yarn Valentine Garland
This Valentine's Day Snack or Favor Idea — has over 140k pins!
These are ADORABLE Stickers.
Love is in the Air Valentine's.
This Valentine's Day I Spy Printable.
These Typography Valentine Tags.
This Cozy Knit Sweater with Heart. ❤️
This Pink Lady Punch — great for a Galentine's Day Party!
These Treat Bags (fill with candy or homemade caramel corn).