Celebrate Valentine's Day with two FREE printables! 20+ printable scripture cards plus darling valentine matchbox covers. Pair the two and you have a sweet gift idea for mom, dad, friends, classmates and more!

Printable Scripture Cards + Valentine Matchbox Covers


Before we get to the star of the show, I need to ask if anyone else is feeling as unmotivated as I have lately. I mean, what is my problem?!? In all honesty, I'm having a hard time mustering up the energy to do much of anything these days. I'm certain that the weather is playing a role too — it's always overcast. Sigh.
However, I have been reading more and enjoying every minute of it. I'm currently reading Something Like Happy by Eva Woods. I started it less than a week ago and I've almost finished it already! It's an enjoyable novel about taking on happiness.
Since I'll be finishing that book sooner than I expected, I started reading Influencer: Building Your Personal Brand in the Age of Social Media by Brittany Hennessy too. A little work related reading, so there's less guilt – right? Wink-Wink.
I might deserve a pat on the back for pulling this post together. HA! In all honesty, my mom inspired todays crafty goodness. A couple weeks ago she asked me to type up some scriptures about "love" to fit into little envelopes.
I decided that in the process, I would ensure they would fit into a matchbox. With 20+ passages about love to choose from, are a great reminder of what love represents throughout the bible.
20+ Printable Bible Verses
Do you see where this is going? Yep. After my Matchbox Advent Calendar was such a big success, I thought it would be fun to provide you some valentine matchbox covers — aaaaand provide the printable bible verses as an option too!
Seriously, I'm obsessed with using matchboxes for simple, creative gifts. There are so many ways to cover them, fill them and gift them.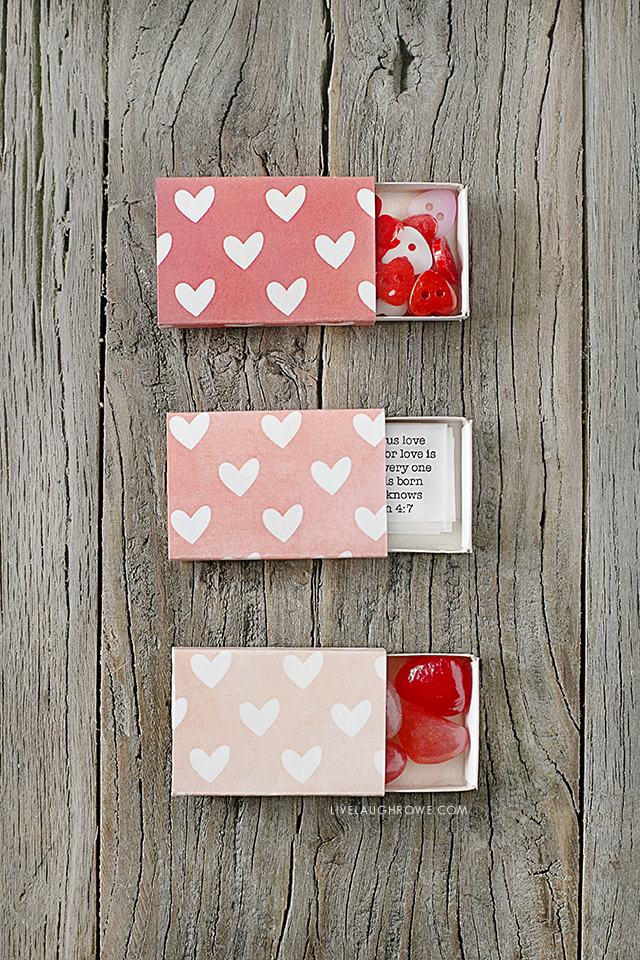 Years ago (back in 2013), I shared these Vintage Inspired Covered Matchboxes with printable 10 Things I LoveAbout You little cards to print and choose ten to place in a box. These were a big hit too — and they've been featured in a couple of magazines. So, apparently I'm not the only one who likes these cutie patootie matchboxes.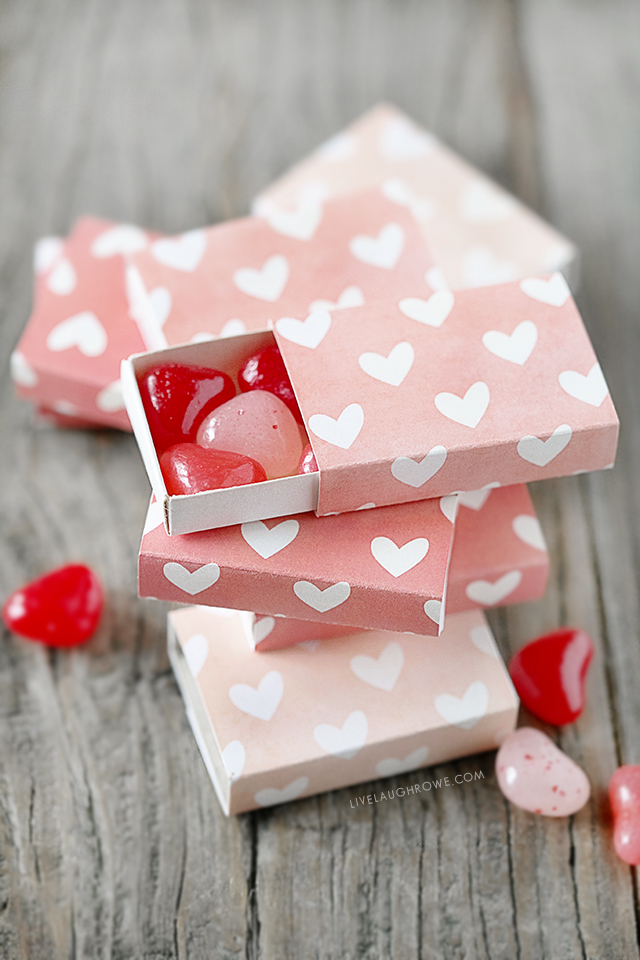 Supplies for Valentine Matchboxes:
Small matchboxes (32 count)
Valentine Matchbox Covers (see printable link below)
Paper Cutter (or scissors)
Bone Paper Folder
Double Sided Tape
Scissors
1. Empty each of the matchboxes.
2. Print matchbox covers and cut them out using paper cutter (or scissors).
3. Wrap festive matchbox cover around the matchboxes. Use the bone folder to create your creases for clean folds.
4. Attach the covers with double sided tape.
5. Fill with goodies and/or printable scripture cards (see printable link below).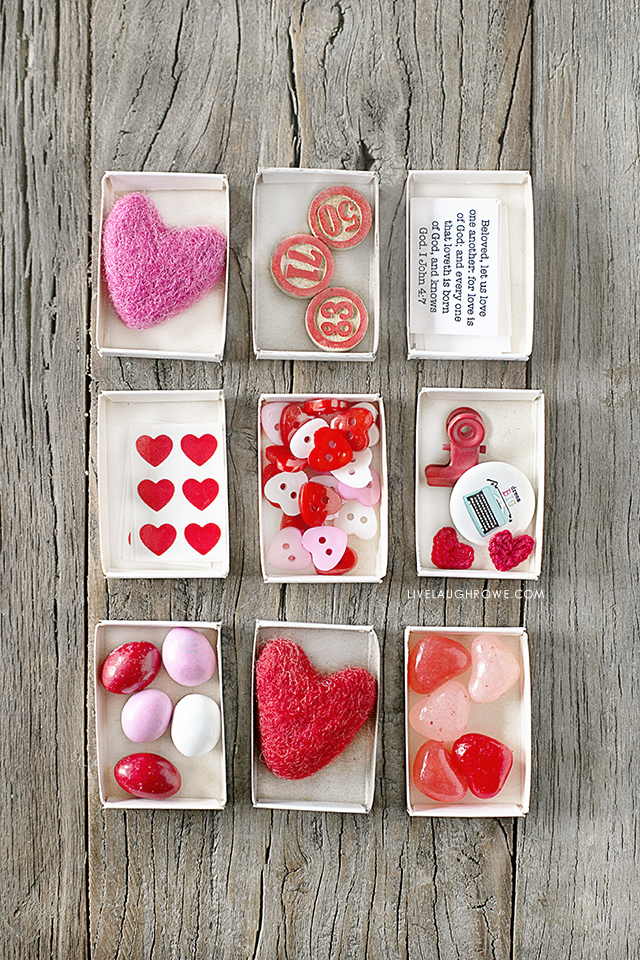 *Please Note: All printables and downloads designed by Live Laugh Rowe are for PERSONAL USE ONLY. Please do not alter the file or claim it as your own. You may not re-sell printed or electronic versions of these files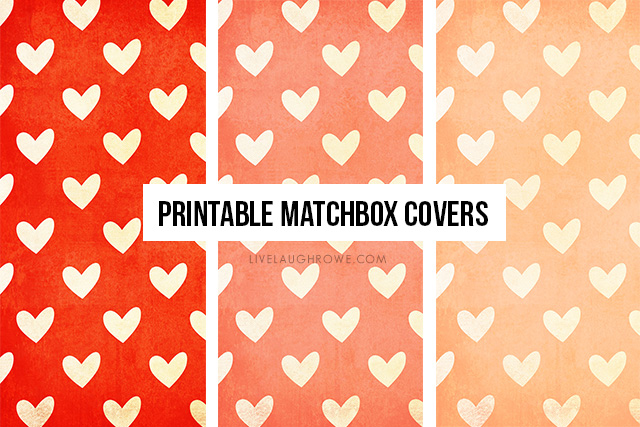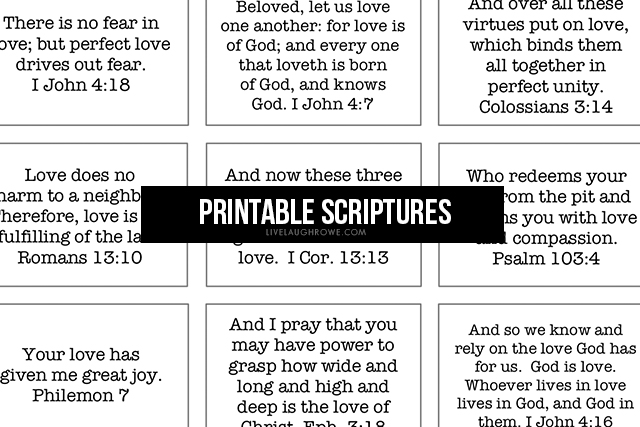 How about some more Valentine's Day inspiration?
Easy Cookie Gift Idea for Valentine's Day
Valentine's Day Snack Idea or Favor
Minimalistic Printable Greeting Cards for Him and Her
Vintage Heart Tin | Valentine's Day Gift Idea

Be sure to visit with me here too:
Facebook | Instagram | Pinterest | Twitter | Google+