Today I'm kicking printables to the curb — and sharing a sweet Valentine's Day Snack Idea for Kids of All Ages. And did I mention the packaging is adorable too? Yup.
ADORABLE Valentine's Day Snack Idea or Favor


Oh, Valentine's Day… you sure know how to make this girl happy. I truly enjoy everything about this day filled with hearts, valentines, and sweet treats. I mean, what's not to love?
Some may say it's an overrated holiday, but if you have people in your life that you love and care about — celebrate them! We're never guaranteed tomorrow and I love any excuse to spread a little extra love.
Here's something that I recently read and it made me feel all warm and fuzzy.
"It's been an ugly day," she said.
"Tell me something beautiful?
And he said her name. ♥
Gasp. Isn't that ridiculously lovey-dovey?!? My first thought was, "Awwww…." I'm willing to bet a few of you are rolling your eyes. Haha. Seriously though, that is a little over the top — but how I'd like to think of Valentine's Day. Ya know?
Sweet Valentine Favors


Recently, while scrolling away on Instagram (ahem, it's easy to get carried away), I saw a darling favor idea. I think it was for a baby shower.
Anywho, it had pink and white meringue cookies wrapped up ever-so-sweetly. I decided to put a little Valentine's Day twist on the idea because a snack idea wrapped up cutely is irresistible. Heck yeah!
Sooooo, sugar cones, doilies, and a sweet treat for the win! Of course, you could use popcorn or a healthier snack if you'd like. Quite frankly, anything goes. Let's take a look at how you can pull these together too.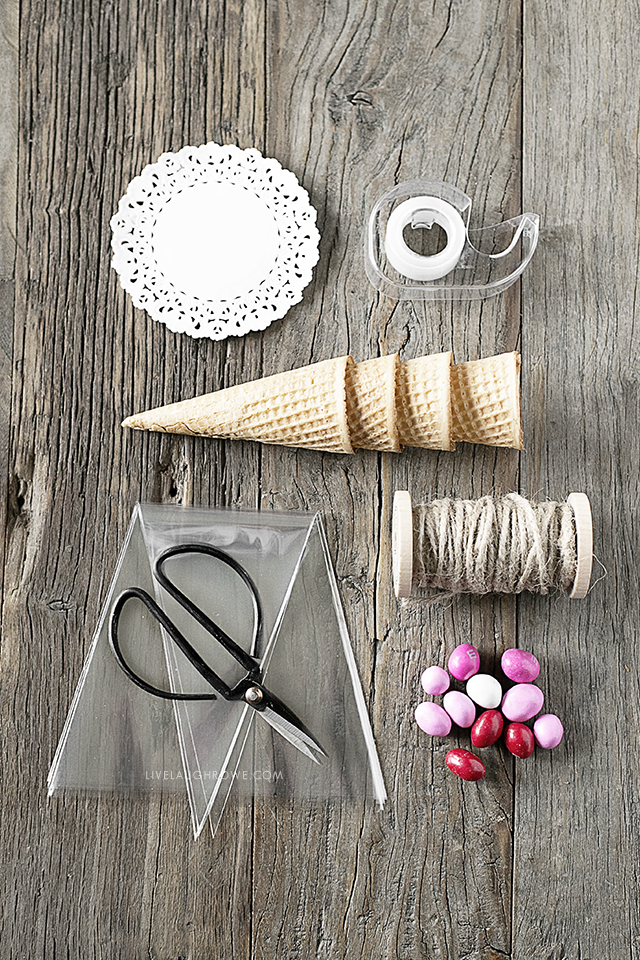 Supplies for Valentine's Day Snack or Favor Idea:
Sugar Cones (I used Keebler)
4″ Round White Doilies
Transparent Cone Bags (I purchased these)
Twine, String, or Ribbon
Candy (I chose Peanut M&Ms)
Transparent Tape
Step One:
Wrap doily around the sugar cone and use tape to keep it in place.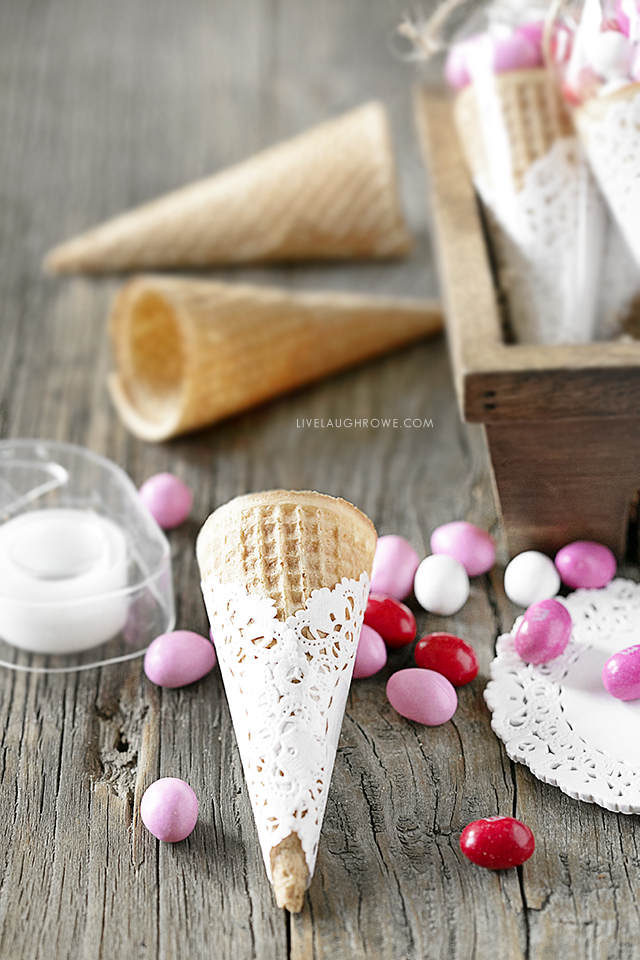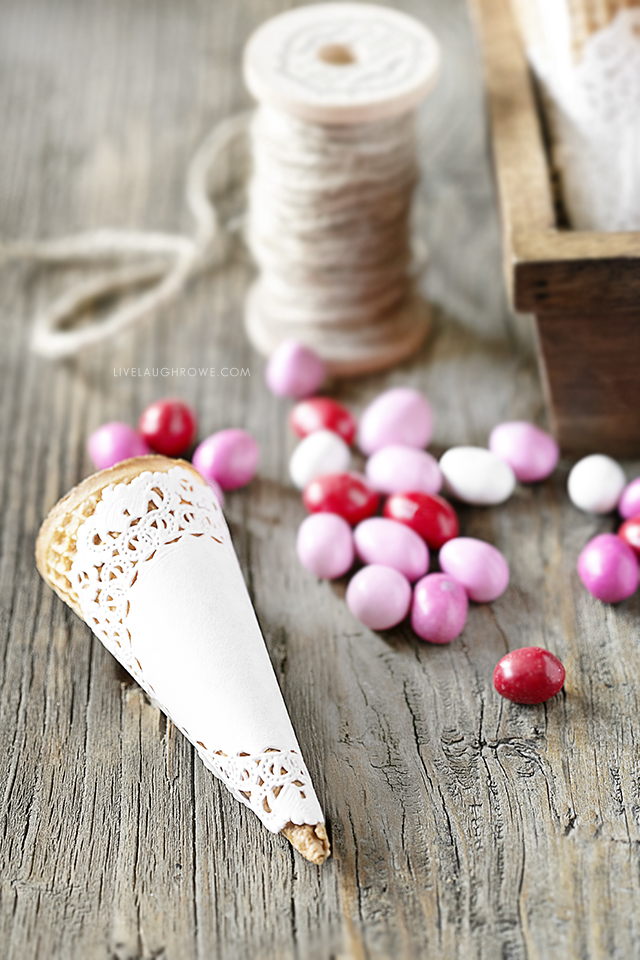 Step Two:
Place doily wrapped cone in transparent cone bag.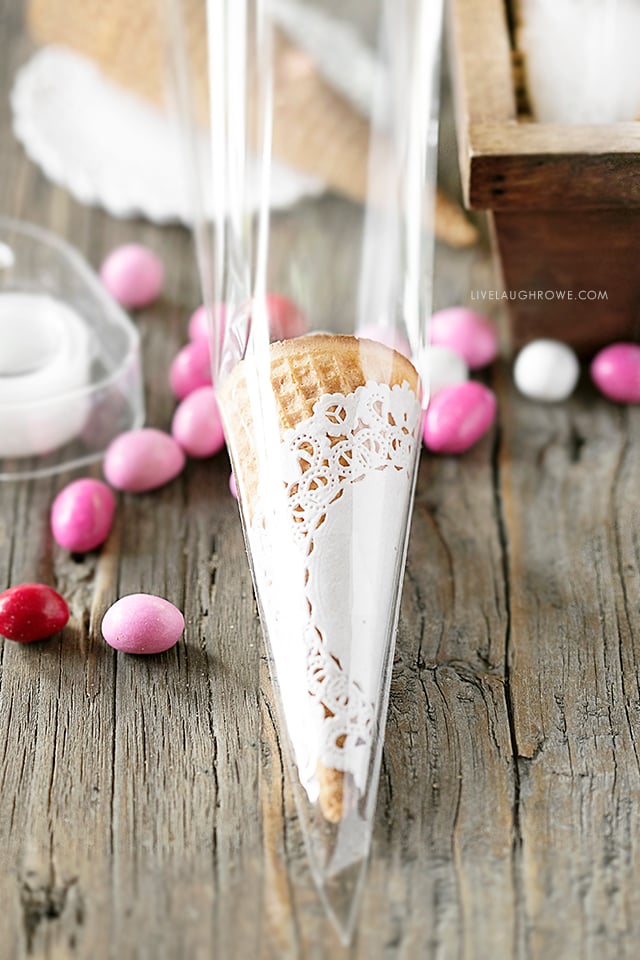 Step Three:
Fill with candy and tie closed with twine, string, or ribbon.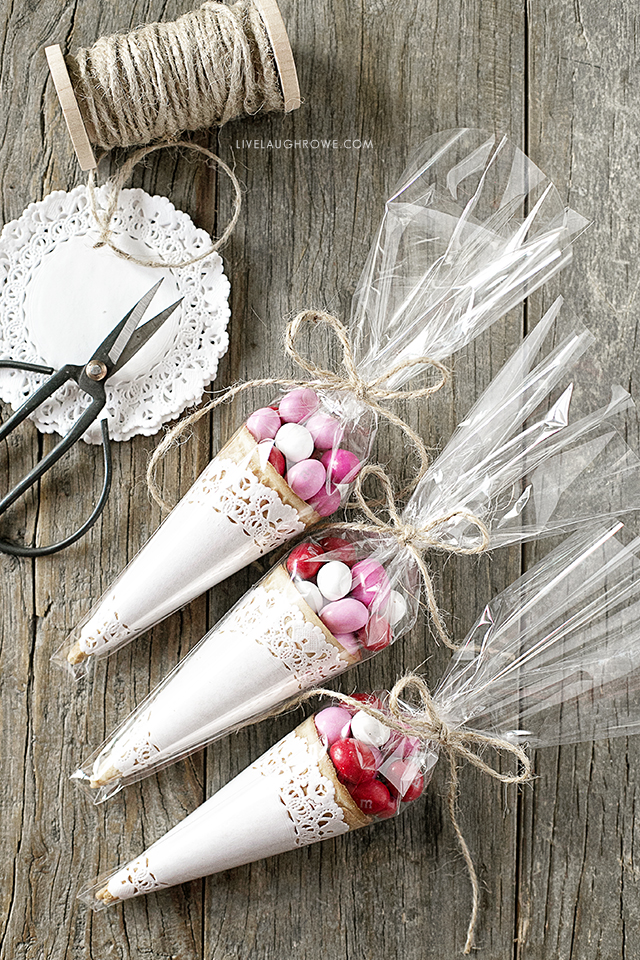 Voila! That's it! A fabulous and festive Valentine's Day favor or snack idea!
Of course, you could add a typography gift tag too. Oh so sweet. Right? While they make a great classroom snack or after-school snack — these would make fantastic party favors too! Oooh la la.
Here's some more Valentine's Day inspiration too:
Coffee Gift Idea for Valentine's Day
Valentine Boxes using Matchboxes
Bubble Gum Valentines
Creamy Pastel Mints for Valentine's Day
Hugs + Kisses,