It's finally time to share a few pics of the inside of our Oliver Travel Trailer! Last September I posted, Why we chose the Oliver Trailer — and I kind of left you hanging. Sorry about that…

Oliver Trailer Tour


In short, we picked up our trailer in October of last year… and we call him Ollie. We took one trip, then he went into storage for the winter months. Womp womp womp. Since then, a few more trips to Branson have taken place.
Certainly, these trips to Branson have been called 'practice trips.' Haha. They allowed us to figure out what we need for functionality and gave the dogs some time to adjust to a much smaller space. The first trip (or two), were NOT easy. Why? First of all, we were not prepared and the dogs were terribly restless.
However, we've come along way, friends! Our latest trip was a week long and it went FANTASTIC. Having a crate for Parker to sleep in at night was just what the doctor ordered. Steve and I both worked comfortably, we cooked/barbecued and realized that we're officially ready to hit the road. We'll be going West after I've fully recovered from my upcoming surgery and our scheduled visit to St. John's, Newfoundland in July.
Oliver Travel Trailers are the best
travel trailers on the market so that you can
explore the world and do it in all four seasons!
Let me first give you this disclaimer — the interior of the Ollie is light and bright! Sooooo, photographing it isn't exactly easy. Nevertheless, you're going to get a peek into our tiny home away from home, on wheels. We absolutely LOVE our Oliver Travel Trailer…. as do many others. Ollie has been the talk of a few campgrounds we've visited already (wink-wink).
Sleeping Area
Let's start in the back of the trailer — where the beds are. Yes, I said beds (with an 's'). This isn't a permanent housing situation, so we chose to go with twin beds, allowing for more walking room and not having to set up and tear down a bed every day.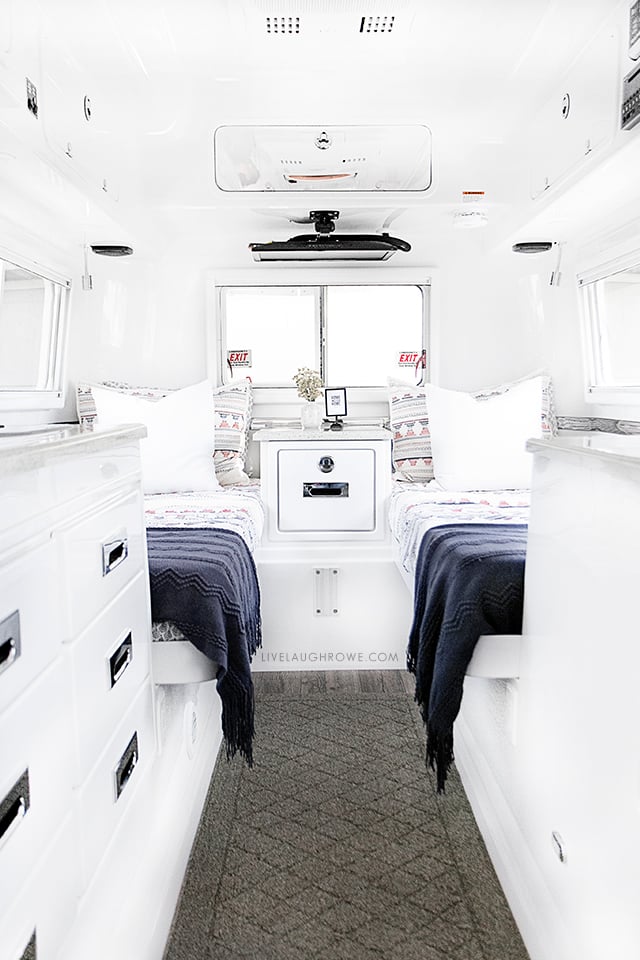 The night stand and drawer were a selling feature too. In addition, mounting the TV from the ceiling provides storage and versatility.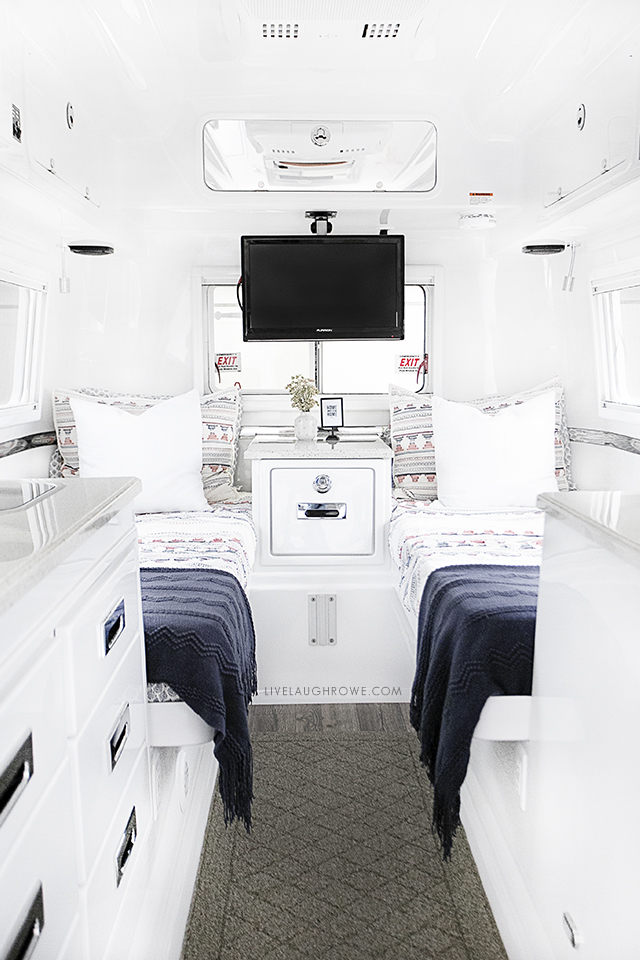 We also had a laguna table installed (not pictured, but the stand and tabletop is inserted into that metal bracket between the beds). This provides an additional work space that can be set up (aside from the dinette area). Since Parker likes to be close to mama, this will most likely be the spot I will work from (when necessary).
The Oliver Travel Trailer is a brand of
high quality fiberglass travel trailers
manufactured and headquartered
in Hohenwald, Tennessee.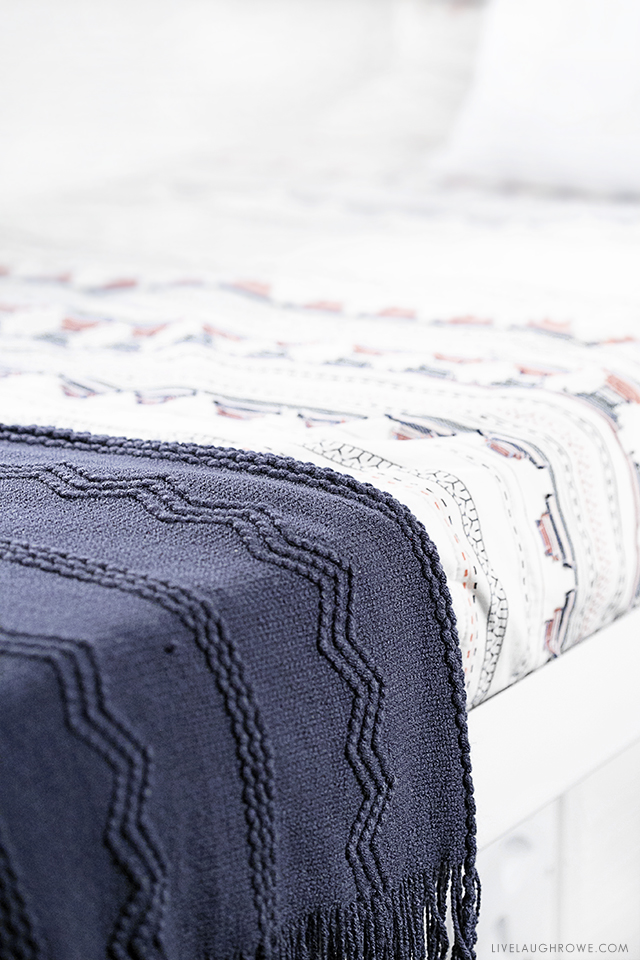 The bedding is from the Opal House Collection at Target and the navy throw blankets are from Amazon.
Kitchenette
The kitchenette and pantry are between the bed area and the dinette. The kitchenette is on one side with a couple of propane burners, a refrigerator and microwave. In addition, the drawers provide so much great storage — and they're so sleek looking!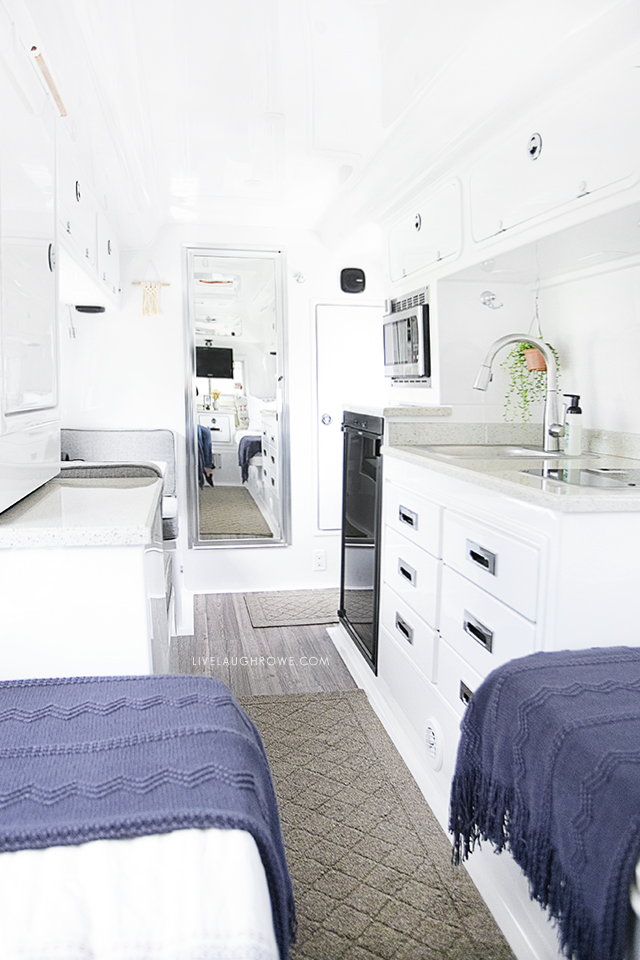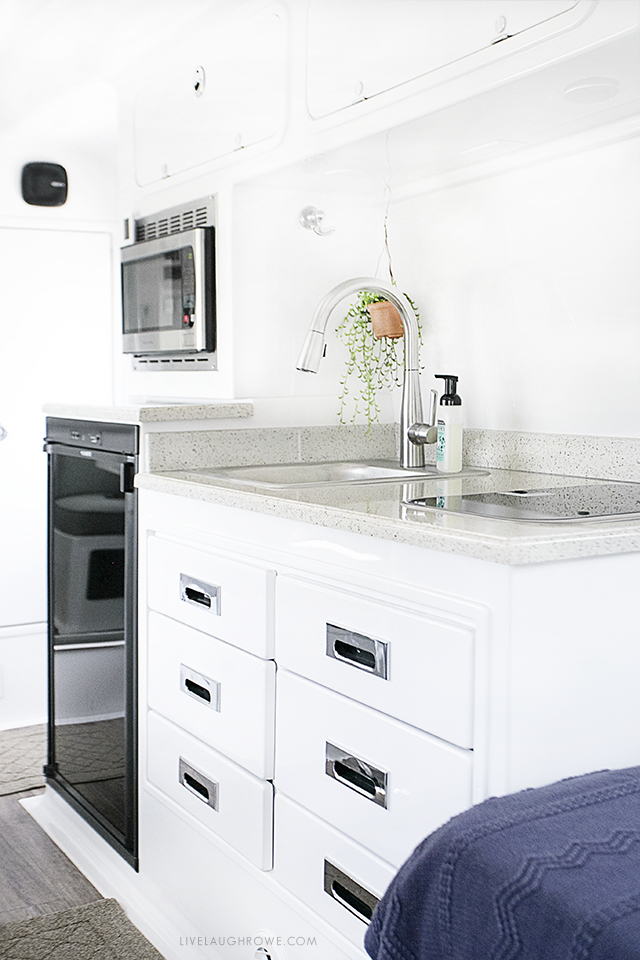 And across from it is the pantry area.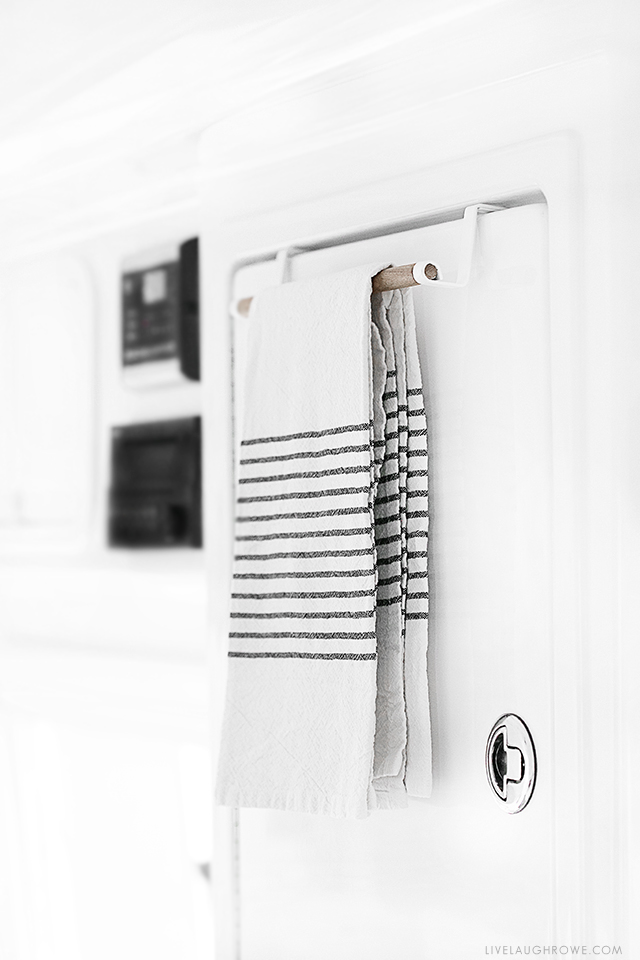 I think it's a decent size pantry for two! And this paper towel/towel holder I found at Target works PERFECT over the cabinet door.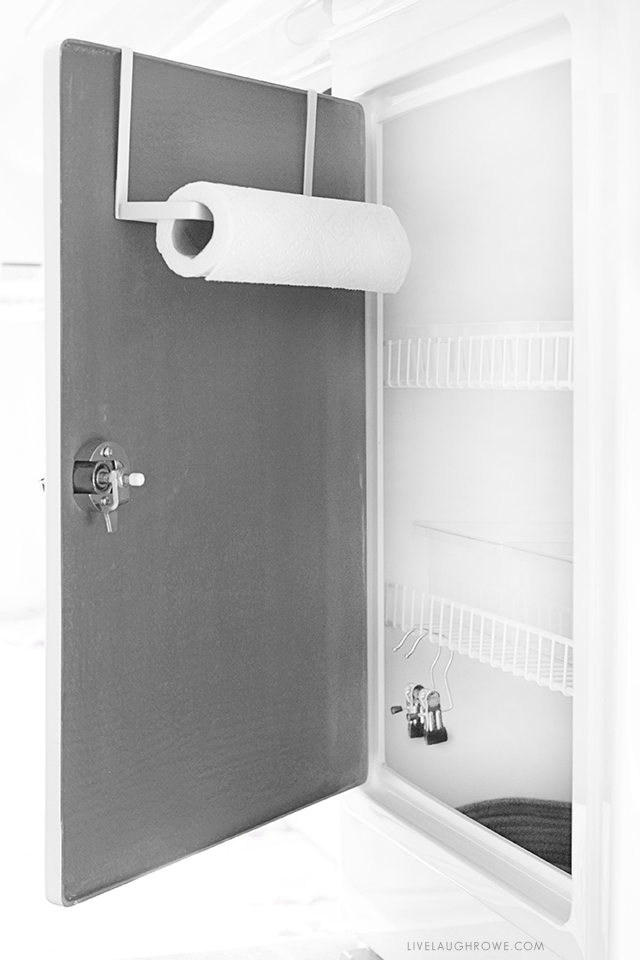 Dinette
And the dinette is perfect for Steve and I to dine at and/or work at. On the other hand, the dinette can be turned into another twin bed, perfect for a third guest.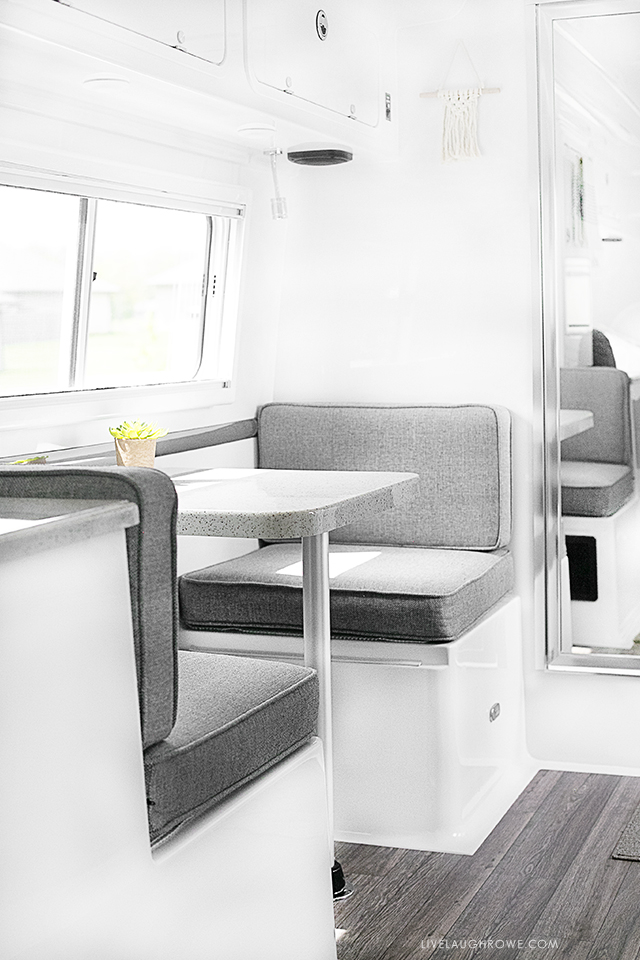 Bathroom
The bathroom is at the other end of the Oliver Travel Trailer. Having a wet bath is perfection. We haven't showered in it yet, but it's a decent size bathroom and I love knowing that I don't have to use campsite facilities if I don't want to…. and I really don't want to (haha).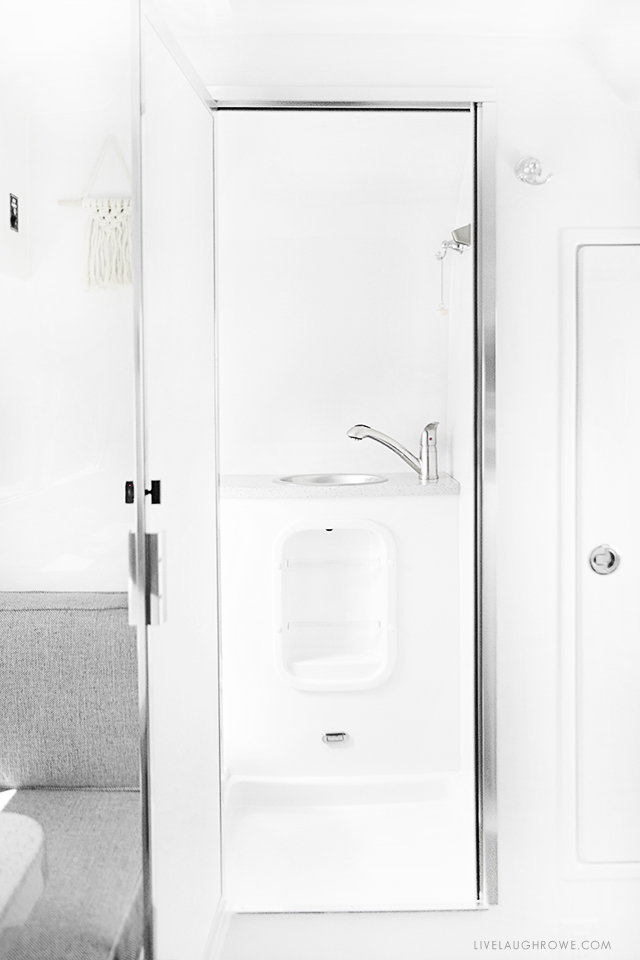 To the right of the bathroom is our one and only closet. I've gotten very creative in there for storing our Swiffer, shoes and so much more!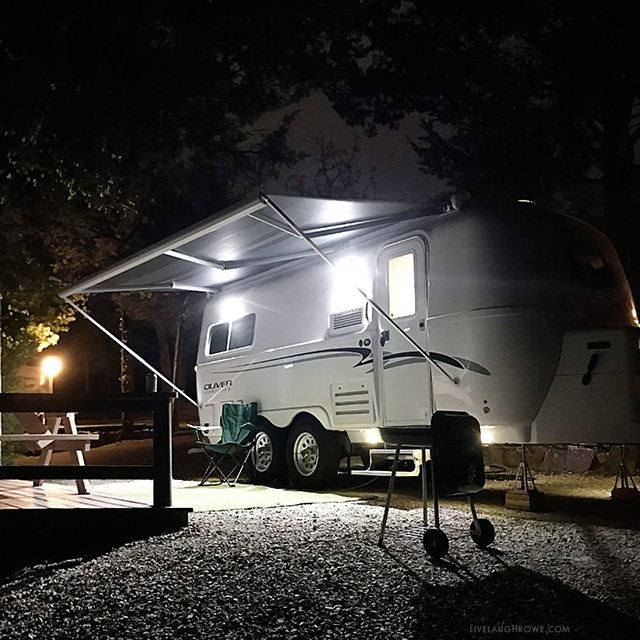 And that's it! Honestly, these pictures don't do it justice. However, it does give you an idea of how beautiful these trailers really are. We couldn't be happier with this purchase.
Other travel related posts:
Travel and Adventure Printables
Best Ways to Save Money on Travel
Travel-Themed Gallery Wall

Be sure to visit with me here too:
Facebook | Instagram | Pinterest | Twitter | Google+