Homemade Caramel Popcorn — Easy and Delicious Snack!
Have you ever made Homemade Caramel Popcorn? No? Well, hopefully, you like it, because this is a recipe worth saving …and it's a perfect munchie to have on hand. Yum!
Snack Time!


This has been a favorite of mine for years, but this is not just any old caramel popcorn recipe. So, there was this amazing caramel corn place called Johnson's Popcorn on the boardwalk in Ocean City, NJ. It's world-famous!
And since we vacationed there every summer, it was something we always looked forward to. My parents have even sent us 'just because' buckets over the years. Woot!!
However, this homemade caramel popcorn recipe is a close competitor. It is seriously one of the yummiest caramel corn recipes on the planet (yes, I may be a bit biased)! Growing up, this was always a treat and, believe it or not, we typically only made it during the holidays. Crazy, I know!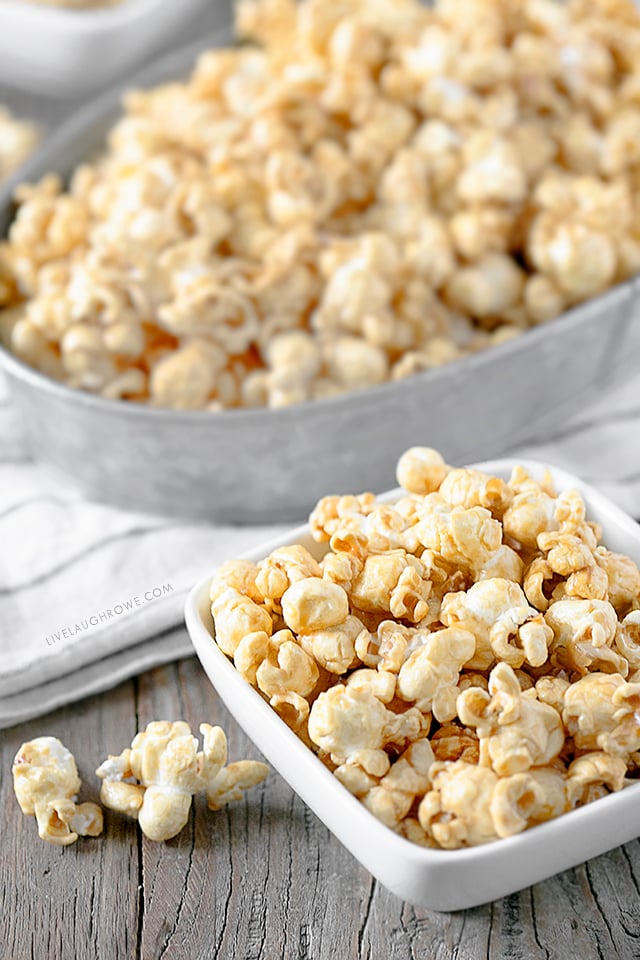 This is a great year-round snack — perfect for parties, football games, poolside snacks, etc. I remember my mom shaking that brown paper bag like it was yesterday. Oh, the sweet memories!
I'll never forget the first time I made this for my husband too. If my memory serves me correctly, the first word out of his mouth was, "AWESOME."
So, prepare to impress your friends, family, neighbors and/or co-workers. This is sure to be a crowd-pleaser and snack food that you could make yearly weekly (wink wink). I know my husband wouldn't mind!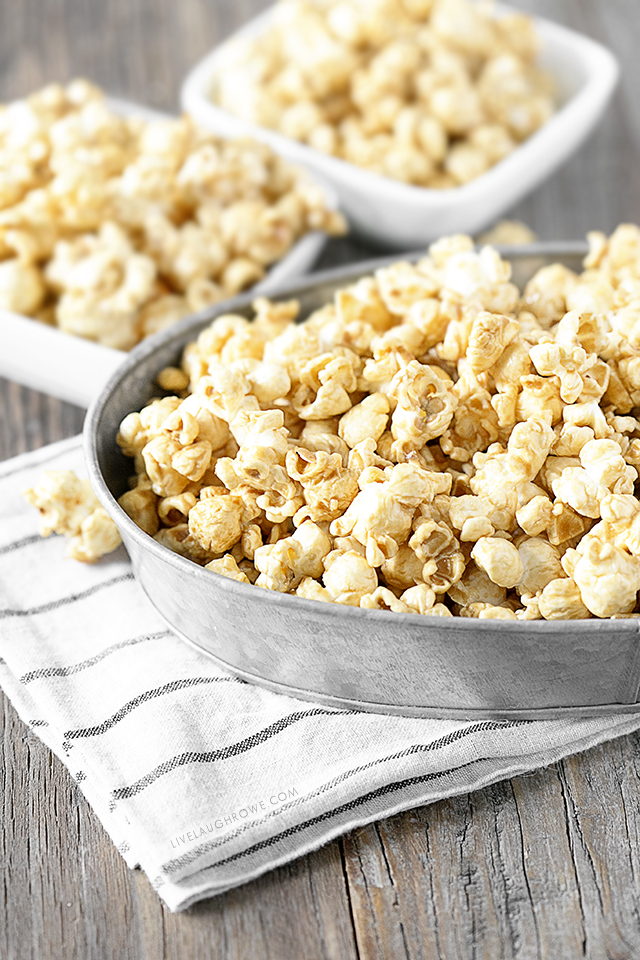 And in food news –> Popcorn lovers happen to be sweet on CARAMEL. Woot woot. So let's learn how to Make Homemade Caramel Popcorn. Enjoy.
Other delicious snack recipes you might enjoy:
Delicious Sriracha Snacks
Homemade Popcorn 'n Peanuts
Healthy Homemade Granola
No-Bake Candied Pecans
Homemade Caramel Corn
Ingredients
Popcorn
16

cups

of air-popped popcorn
Instructions
Place popped corn in a large brown paper bag.

Combine butter, corn syrup, sugar and salt in an 8 cup bowl. Microwave on high, 1-2 minutes or until it bubbles. Boil for 3 minutes, stirring after each minute. Add baking soda and vanilla, stir well, pour over popcorn.

Shake well, fold-down bag and microwave on high for 1 minute. Shake well. Microwave on high for 1 minute. Shake well. Microwave on high for 30 seconds. Shake well. Microwave on high for 30 seconds. 

Place on wax paper and let cool. Store in an airtight container!

Connect with Live Laugh Rowe!
Facebook | Instagram | Pinterest | Twitter
Hugs and Blessings!

*This post was originally published November 28, 2012.