This Spinach and Feta Quiche is simple to make and perfect for breakfast, lunch or dinner. Another perk, this is a Weight Watchers friendly recipe!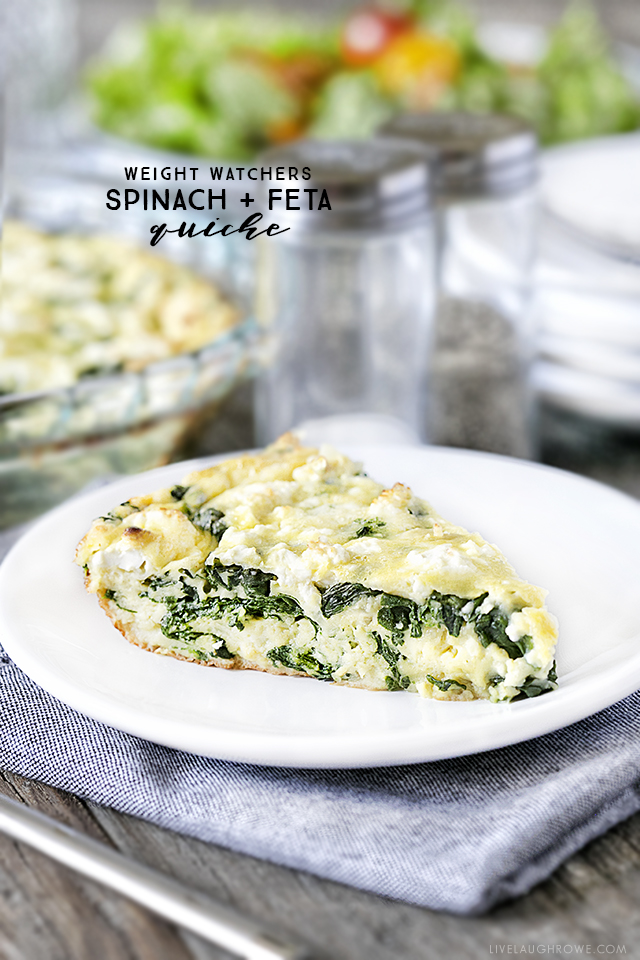 Spinach and Feta Quiche | Weight Watchers Recipe


Over the years I've shared several quiche recipes and that's because I LOVE quiche. When anyone tells me about a place with great quiche — I'm there or adding it to my list of places to visit.
My favorite quiches have crust, but the crust adds quite a bit of fat (especially if you're on a diet or changing your eating habits). Womp womp womp!
So, I like to cheat a bit on Fridays after I weigh-in — a celebration of loss or gain. So, I've enjoyed some great quiches since moving back to the Springfield-Rogersville area, particularly on Fridays. HA!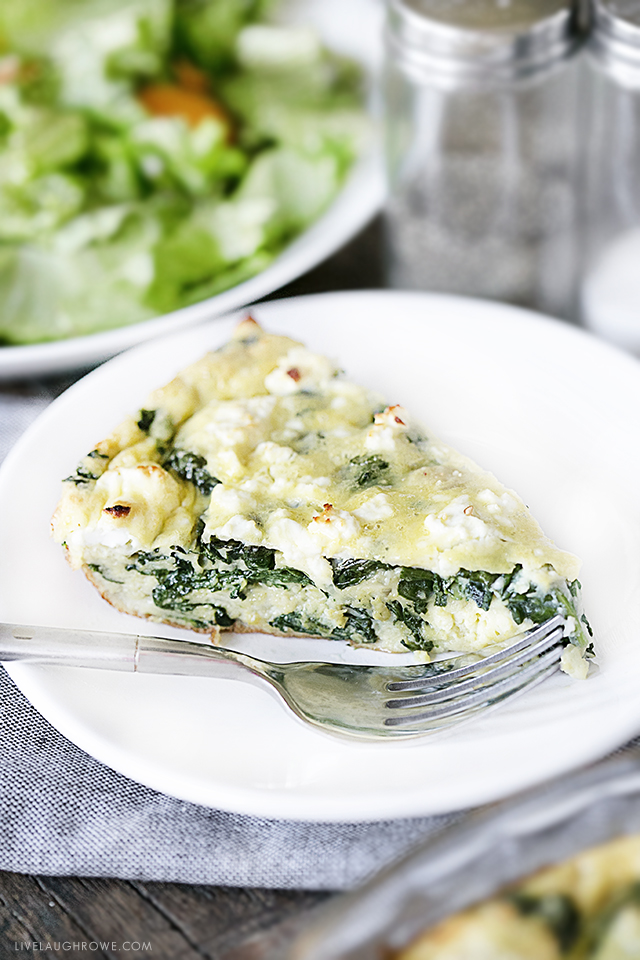 Quiches are something my mom made when we were kids. I think they all had crust, which is probably why I love that part the most. This hamburger quiche goes waaaaay back and kind of makes me sentimental, it's also a favorite of mine.
I've learned to love many different quiches as I've gotten older. This is one I got from a Weight Watchers leaders and I have to admit that I was a little skeptical about feta cheese in a quiche. It just sounded a bit wonky. However, it proved me wrong as it was quite tasty.
Coming in at only 3 smart points (on the Freestyle program) — you could enjoy a couple of slices if you want! Enjoy.
Spinach and Feta Quiche
Ingredients
1

medium onion, chopped

10

oz

Fresh Baby Spinach

4

eggs

1/2

cup

all-purpose flour

1/2

tsp

baking powder

1/2

tsp

salt

Pinch

Cayenne Pepper

1 1/3

cup

fat free milk

1/2

cup

crumbled feta cheese

cooking spray
Instructions
Preheat oven to 400 degrees. Spray 9-inch glass pie pan with cooking spray.

Sauté onion in non-stick skillet on medium heat until tender and begins to caramelize.

Add spinach to onion and sauté, stirring until spinach has wilted. Set spinach mixture aside to cool.

In a large mixing bowl, whisk together eggs, baking powder, salt, flour, cayenne pepper and milk. Stir in spinach and onion mixture.

Pour mixture into prepared pie pan and top with feta cheese.

Bake 35 minutes or until center is set and outside edge is golden brown. Let set 5 minutes before serving.
Other Weight Watchers recipes to try:
3-Ingredient Slow Cooker Salsa Chicken
Honey Mustard Chicken Tenders
Skinny Corn Bake
BBQ Chicken Skewers Recipe with Pineapple

Be sure to visit with me here too:
Facebook | Instagram | Pinterest | Twitter | Google+