Oven Roasted Cherry Tomatoes with Penne Pasta
Flavorful, fresh and simple Oven Roasted Cherry Tomato sauce with penne pasta. Roasting cherry tomatoes intensifies their sweetness, creating a perfectly simple sauce for an easy and delicious pasta dish. As a result, this recipe represents the Italian cuisine at its finest.
Be sure to sign up for my email to get new
recipes and creative ideas sent right to your inbox!
Dinner is served and won't disappoint
Recently my husband (Steve) and I decided to incorporate some more Meditteranean dishes into our meal planning. Therefore, we bought a few Meditteranean cookbooks. Meditteranean dishes are said to be heart-healthy and since we're getting older, we thought it might be good to eat some dishes that are just that, heart-healthy.
After we got the cookbooks, we thumbed through them eager to see what we might find. And we were excited to stumble upon this amazing recipe – Oven Roasted Tomatoes with Penne Pasta. This will certainly beat any dish you'll order in a restaurant. Moreover, I'm guessing you'll even consider adding this dish into your dinner rotation on a regular basis. Why? Because it's that good. Yes, that good.
Serve with a salad or some french bread. But most importantly, enjoy it.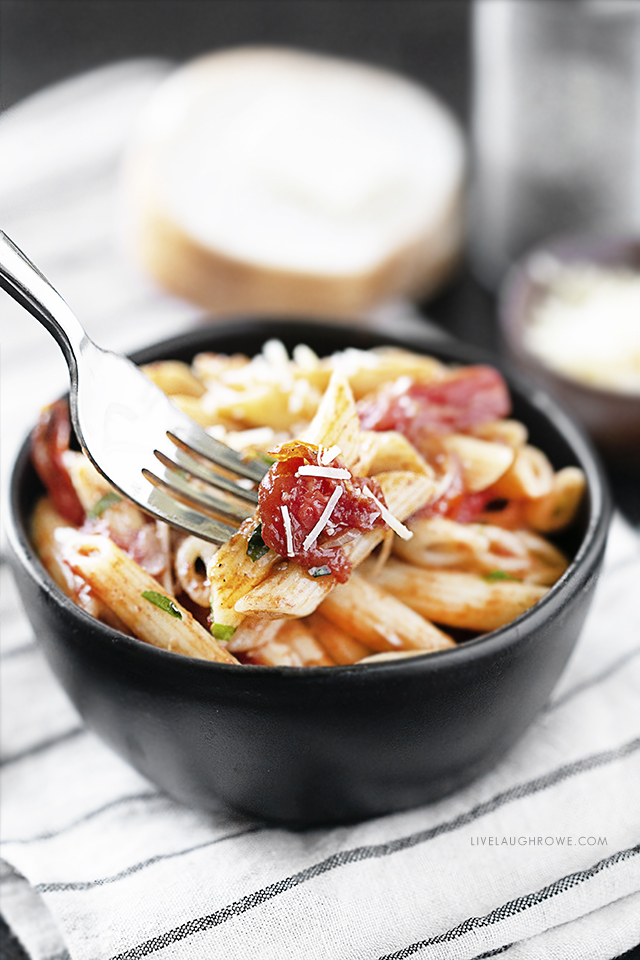 How to make Roasted Cherry Tomatoes
Shallot, thinly sliced
Extra-Virgin Olive Oil
Cherry Tomatoes or Grape Tomatoes
Garlic Cloves, thinly sliced
Balsamic Vinegar
Sugar
Salt and Pepper
Pepper Flakes, optional
Place rack in middle of oven and heat to 350 degrees.
Toss a teaspoon of oil with shallot in a small bowl. In a separate, larger bowl, toss tomatoes with remaining oil, garlic, sugar, vinegar, salt, pepper, and pepper flakes.
Place the tomatoes and mixture onto a rimmed baking sheet and scatter the sliced shallot over the tomatoes. Note: For easier clean-up, I lined the rimmed baking sheet with foil.
Roast the tomatoes until the tomato skins begin to shrivel and shallot begins to brown. Roast approximately 35 to 40 minutes. After that, let them cool 5 to 10 minutes. Your oven-roasted tomatoes are officially done.
Other delicious pasta dishes to try:
Best Stuffed Shells
Salmon Fettuccine Alfredo
20 Minute Frozen Chicken Pasta (Pressure Cooker Recipe)
Pasta with Roasted Vegetables, Rosemary and Feta
Simple and Hearty Minestrone Pasta
Ready to grab your ingredients and make this Penne Pasta with Oven Roasted Tomatoes? In short, I think you'll be surprised how a few basic ingredients can create such a delicious final product.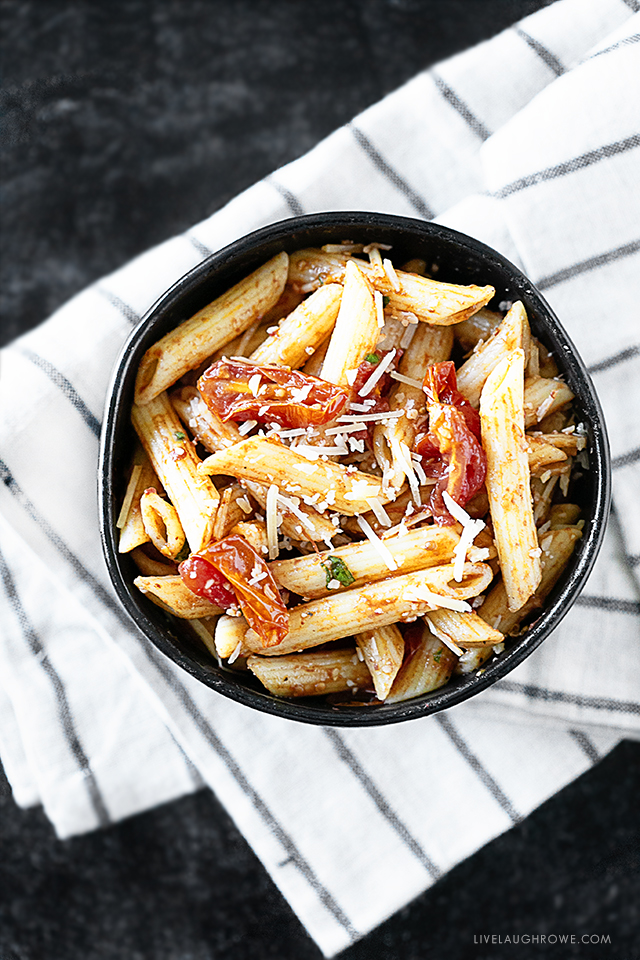 Penne with Oven Roasted Cherry Tomatoes
Flavorful, fresh and simple Oven Roasted Cherry Tomato sauce with penne pasta. This recipe represents Italian cuisine at its absolute finest.
Ingredients
1

shallot, sliced thin

1/4

cup

extra-virgin olive oil

2

pounds

cherry tomatoes, halved

3

large

garlic cloves, sliced thin

1

tablespoon

balsamic vinegar

1 1/2

teaspoons

sugar, or to taste

1/2

teaspoon

salt

1/4

teaspoon

pepper

1/4

teaspoon

pepper flakes

1

pound

penne

1/4

cup

coarsely chopped fresh basil

Grated parmesan cheese, for garnish

additional salt and pepper, for seasoning
Instructions
Adjust oven rack to middle position and heat oven to 350 degrees.

Toss shallot with 1 teaspoon of EVOO in a bowl.

In a separate bowl, gently toss the tomatoes with remaining oil, garlic, vinegar, sugar, 1/2 teaspoon salt, 1/4 teaspoon pepper, and pepper flakes.

Spread tomato mixture in an even layer on a rimmed baking sheet, scatter shallot over tomatoes and roast until edges of shallot begin to brown and tomato skins are slightly shriveled, approximately 35t to 40 minutes. Do NOT stir tomatoes during roasting). Let cool for 5 to 10 minutes.

Meanwhile, bring 4 quarts of water to a boil in a large pot. Add pasta and salt and cook, stirring often, until al dente. Reserve 1/2 cup cooking water (optional), then drain pasta and return it to the pot.

Using a rubber spatula, scrape tomato mixture onto pasta. Add basil and toss to combine. Season with salt and pepper to taste and adjust consistency with reserved cooking water as needed.
Connect with Live Laugh Rowe!
Facebook | Instagram | Pinterest | Twitter
Hugs and Blessings!