Warning! Today's post is sure to make you hungry. Jelli from Jelli Bean Journals is back with a delicious, chocolatey dessert that will have you craving something sweet.
What do you get when you layer the best chocolate chip cookie crust with tangy cheesecake and light-as-air chocolate mousse? A tower of dessert decadence, my friends. (Licks spoon). Let me introduce you to the Chocolate Mousse Cheesecake with a chocolate chip cookie crust!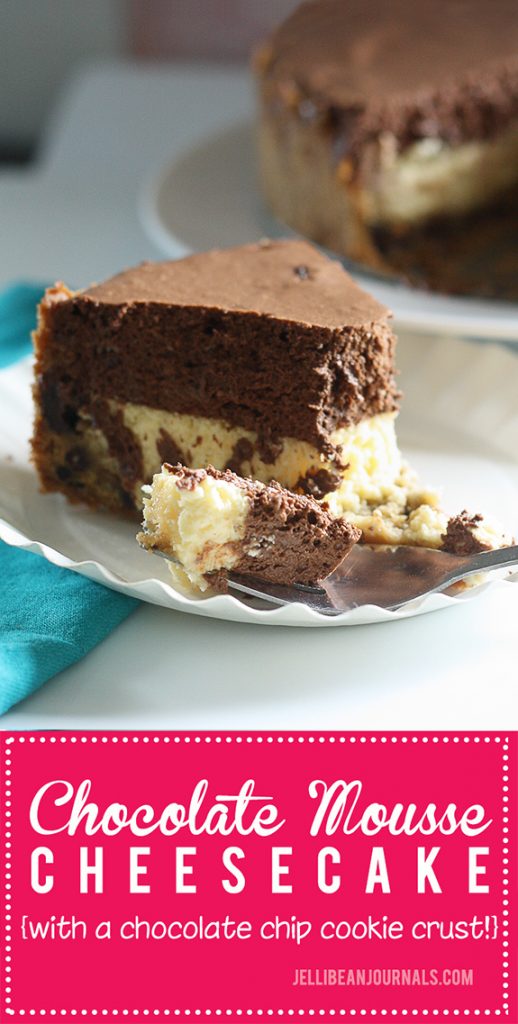 Oh no, not again.. My husband and I had just cuddled into the couch to watch our nightly guilty pleasure sitcom. Cozy cushions fluffed behind us, arms wrapped around one another, and there it was. I NEEDED egg rolls.
Pregnancy cravings had struck again. I got up for a glass of water, trying to fill my tummy and ignore the urge, but it just didn't work.
He pulled on his jacket and headed out the door. Twenty minutes later, the egg rolls arrived, still crispy and fresh.
This cheesecake recipe has a similar story.
I wanted chocolate chip cookies. AND cheesecake. AND chocolate mousse.
There you have it! Chocolate mousse cookie cheesecake.
A much more refined pregnancy craving than pickles and ice cream, wouldn't you say?
This dessert is easy to make, much easier than it looks. All you've got to do is plan ahead. I'd recommend making it over the course of two days so that the cheesecake has time to develop optimum flavor while it chills in the fridge and so that you don't go bonkers waiting for the mousse to fully set up while your guests are arriving. Two days to cheesecake. It's worth the wait, trust me!
A quick overview of the steps (and recipe below):
Bake the chocolate chip cookie crust. Use my favorite fail-proof chocolate chip cookies recipe and press it into a springform pan. Bake.
Whip up a one-bowl bare bones cheesecake. Bake again.
Fold together the simplest two-ingredient chocolate mousse recipe from everyone's favorite American baker in Paris, David Lebovitz and layer it on top.
Chill and serve!
Chocolate Mousse Cookie Cheesecake
Ingredients
Cookie crust layer:
1

recipe chocolate chip cookie dough

or a tube from the refrigerated section at the supermarket
Cheesecake layer:
Chocolate mousse layer:
7

oz

bittersweet or semisweet chocolate

finely chopped

3

tablespoons

water

4

large eggs

at room temperature, separated

Pinch

salt
Instructions
Grease a 6" or 8" springform pan and press cookie dough into the bottom and up the sides in a 1/4 inch layer. Bake until it's golden, but not completely cookie-like. It will solidify as it sets and it will be baked again. We don't want any burnt cookies on our hands!

Preheat oven to 350F. Add all the cheesecake layer ingredients into a large bowl and beat until smooth. Pour over the cookie crust layer and bake 30 minutes, or until the sides of the cheesecake are set but the center is just a bit wobbly. Cool to room temperature and refrigerate at least 6 hours.

Combine the chocolate and water in a heatproof bowl set over a pan of barely simmering water. Heat until the chocolate is almost melted, stirring occasionally. Remove from the heat and stir until the mixture is smooth. Cool to room temperature.

In a clean, dry bowl whip the egg whites and the salt on medium-high speed until stiff peaks form.

Stir the egg yolks into the cooled chocolate mixture. Add one third of the whipped egg whites to the bowl with the chocolate and fold gently to lighten up the mixture. Fold in the remaining egg whites gently with a spatula just until no visible streaks are left. Smooth over the top of the cheesecake and refrigerate at least three hours before serving.
More chocolate bliss, served up fresh: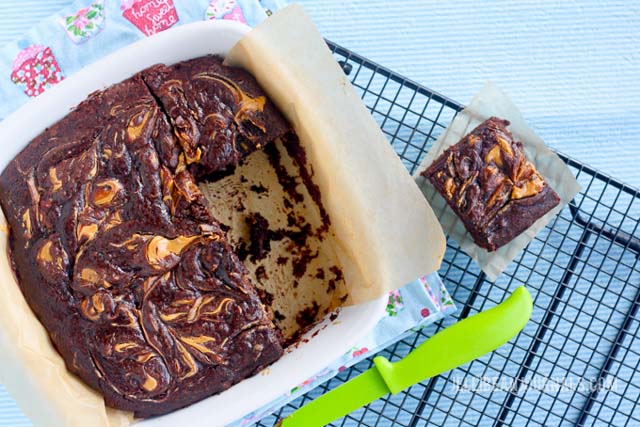 Skinny {Secret-Ingredient} Chocolate Peanut Butter Brownies

Chocolate Peanut Butter Cupcakes
You can also find me hanging out here:
Pinterest | Facebook | Twitter | Google+
https://betweennapsontheporch.net/