A sweet and crunchy treat that won't last long, this Bulldog Brittle is sure to be a new dessert favorite. Using only five simple ingredients this recipe comes together quickly and makes a delicious brittle to serve to your guests.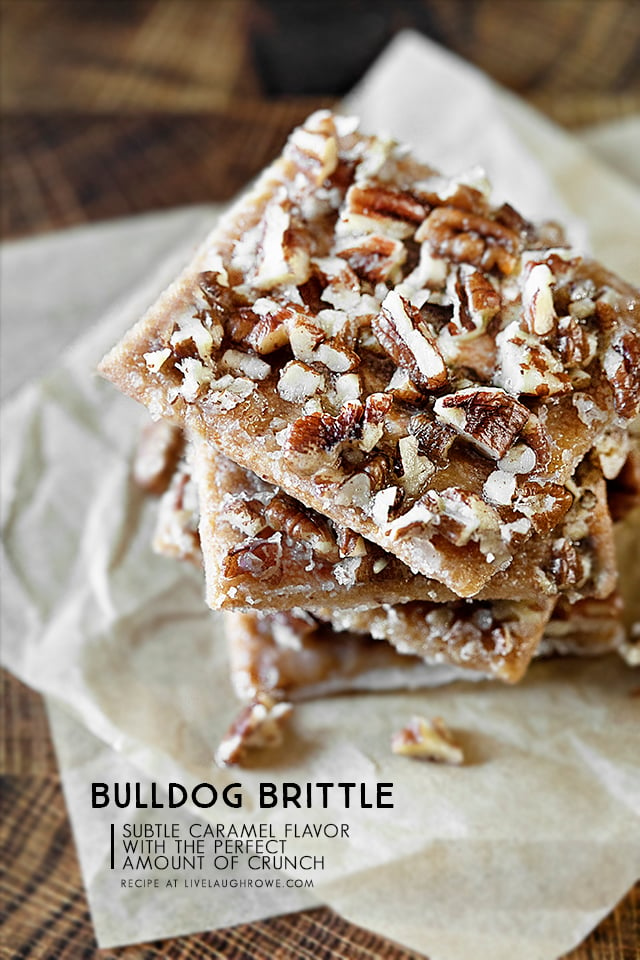 A few weeks ago I was watching the Kids Baking Championship Holiday Bake-tacular on the Food Network. The kids were challenged to make holiday gingerbread house cakes.
First off, let me say how much I love Duff Goldman and Valerie Bertinelli. They certainly make a great hosting team.
So, in this episode, one of the kids made a Bulldog Brittle as a part of her gingerbread house cake. And, of course, it made quite an impression on the judges, particularly Valerie. Consequently, she kept nibbling on it, stating how good it was and mentioned that she hadn't heard of it.
The contestant went on to explain (in her sweet southern accent) that all the little old ladies make it and bring the Bulldog Brittle to all of the church functions.
As a result of Valerie's excitement, I was curious as to what this brittle was too. In short, it sounded pretty darn delicious. I found several different versions of this recipe and decided to give it a try.
Oh, my glorious goodness, friends. It was so good. Maybe even a little addictive (ahem).
"It has a delicious subtle caramel flavor
with the perfect amount of crunch." -Kristine K.
How to Make Bulldog Brittle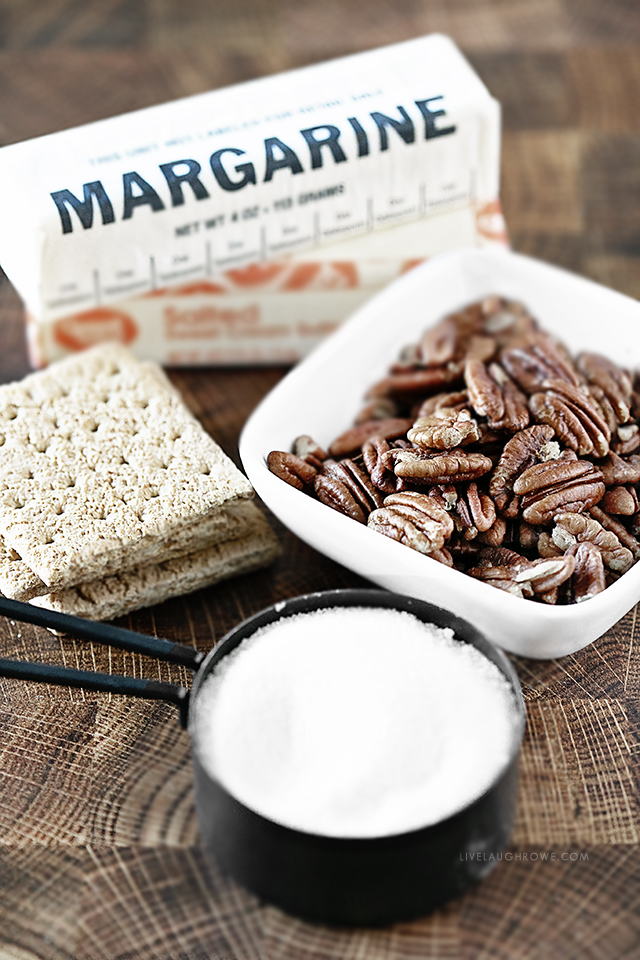 Ingredients:
Butter
Margarine
Sugar
Pecans
Graham Crackers
Instructions for Bulldog Brittle:
Cover cookie sheet with foil and place graham crackers into the pan. They should touch one another and be sure to break them into appropriately sized pieces to fill any gaps
Melt butter and margarine in a saucepan on medium heat. Next, you'll add the sugar and stir, bringing to a boil. Boil for about a minute and continue to stir, but be sure not to burn.
Remove from the heat and pour over the graham crackers. After that, you'll sprinkle with nuts. Place in the oven at 350º F for 10 to 12 minutes.
Remove from the oven and let it cool completely. Break apart and serve or place in a sealed storage container.
Additional Notes:
I used a rimmed 13 x 18 cookie sheet. As a result, it took approximately 33 squares to fill my cookie sheet. However, the number of graham crackers you use will vary based on the size of your cookie sheet.
Recipe Adaptations for Bulldog Brittle:
Add chopped pecans to the melted butter, margarine, and sugar mixture before pouring over the crackers.
Sprinkle chopped pecans over the graham crackers, then pour the butter and sugar mixture over the graham crackers and pecans.
Add 1 teaspoon of vanilla to the butter and sugar mixture for extra flavor.
Toast pecans before adding to the recipe.
After baking, sprinkle mini chocolate chips over them.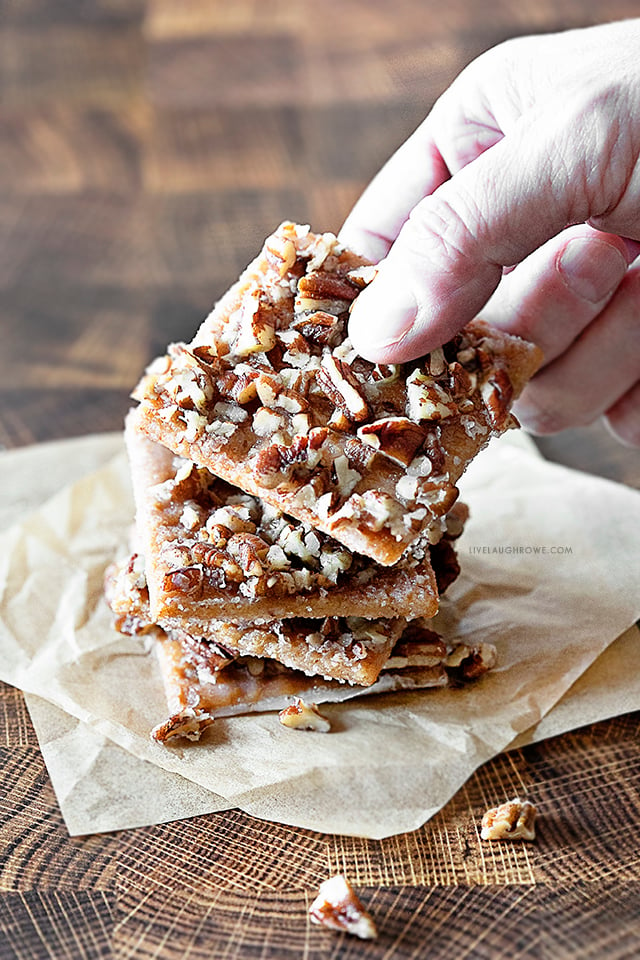 Other delicious nutty treats and desserts:
No-Bake Candied Pecans
Thumbprint Cookies
Peanut Butter Whips
Cranberry and White Chocolate Granola
Easy Peanut Butter Cookies
Slow Cooker Candied Pecans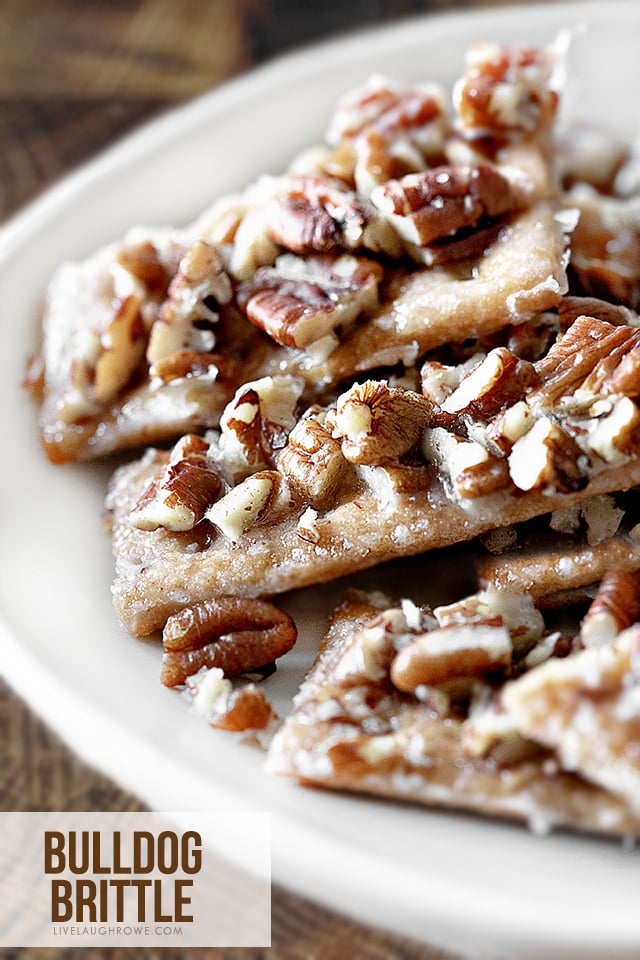 This is truly a snack that won't last long. In addition, it makes a perfect treat for holiday guests or you could gift the Bulldog Brittle in some festive holiday tins to friends and family.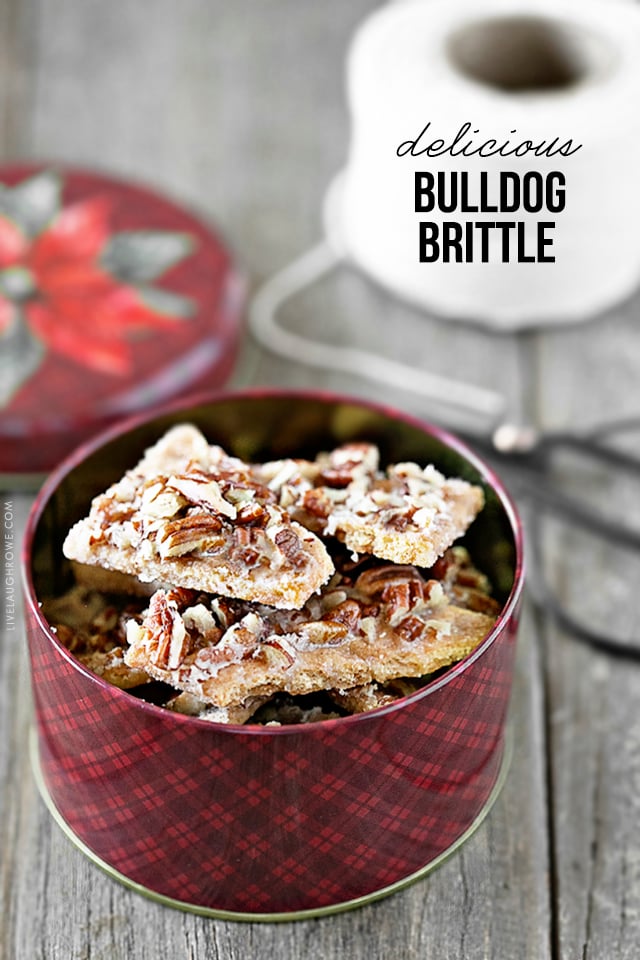 Who's ready to get this yummy goodness a try? I know I am. One batch didn't last long around here; therefore, another batch might be in order. Mmmm.
Be sure to print the recipe and let me know what you think in the comments below. Enjoy.
Bulldog Brittle
A tasty dessert using graham crackers.
Ingredients
1

stick

butter

1

stick

margarine

1/2

cup

sugar

2

cups

pecans, chopped

graham crackers
Instructions
Line a cookie sheet with aluminum foil or parchment paper. Line the cookie sheet with graham crackers.

In a saucepan, melt butter and margarine. Stir in sugar and bring to a boil, continually stirring for one minute.

Remove pan from heat and pour over the graham crackers.

Sprinkle with nuts and place in the oven for approximately 10-12 minutes.

Remove and cool completely. Break into pieces and store.
Hugs and Blessings!