A delicious Sweet Potato Dog Treats recipe, using only one ingredient. An all-natural, healthy, and inexpensive homemade treat that will certainly have your dog begging for more.
Do you have a dog that you enjoy spoiling on occasion? Then today is your lucky day. And I couldn't be more excited to share something yummy and healthy that you can treat your furbabies to guilt-free. Yay.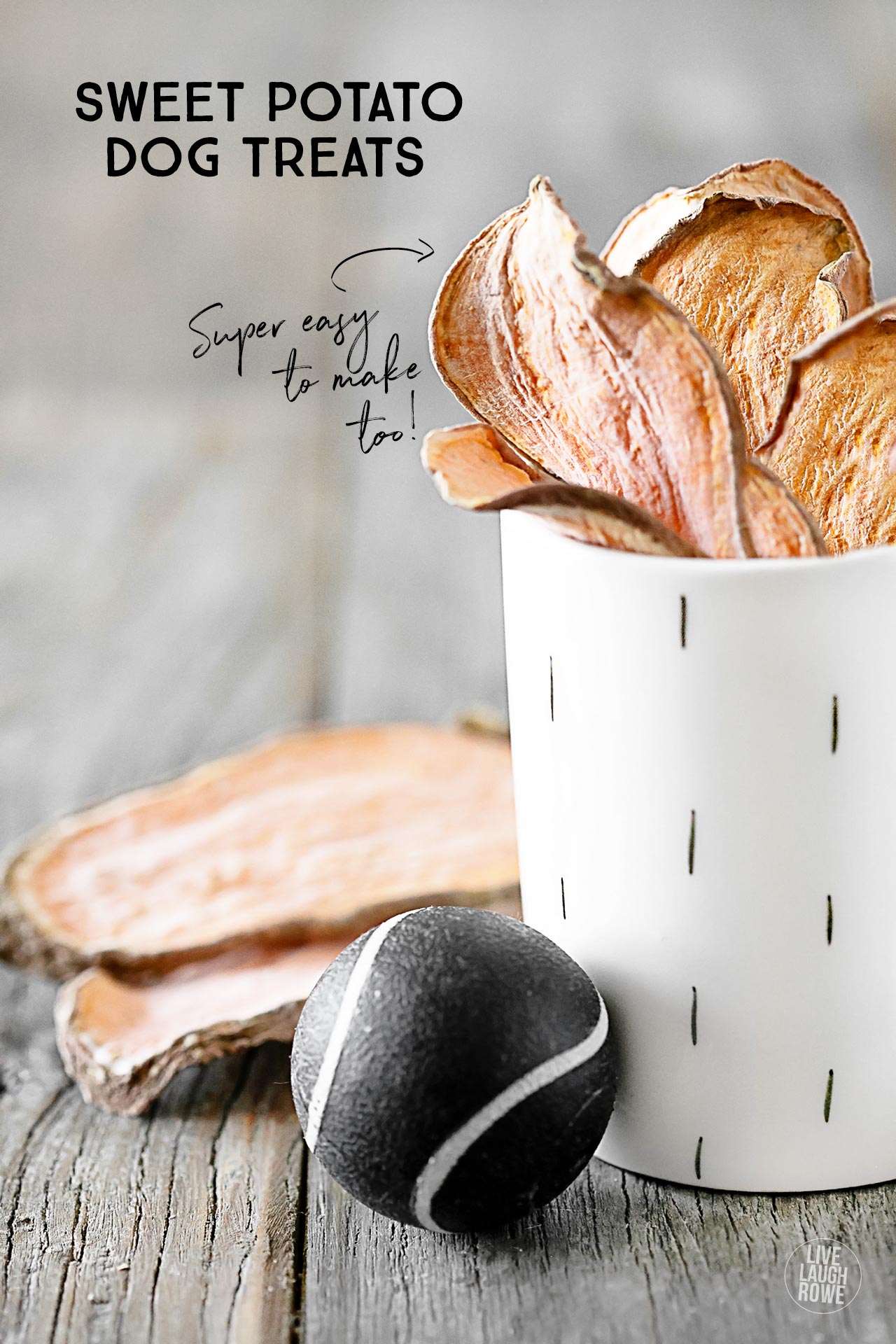 If you've been a reader, you might know that Steve and I have had two dogs since we've been married. As a result, they've both been such a big part of the blog over the years.
Losing our sweet Buster last year was incredibly difficult for me. So if I'm being honest, this post was a wee bit harder to write than usual.
The black ball was Busters and I remember the day I picked it up for him.
Sigh. Deep breaths, Kelly.
I've shared several dog treat recipes but recently I realized that it's been a while since I shared something new. So, when I stumbled upon the idea of making sweet potato dog treats, I couldn't resist sharing with you (and Parker couldn't agree more).
Are sweet potato treats good for dogs?
Sweet potato dog treats are safe. As a natural treat, sweet potatoes offer many health benefits offering including a little sweetness that they enjoy. Low in fat and high in dietary fiber, sweet potatoes support a healthy digestive system. They contain many other great vitamins. However, keep in mind, that it is recommended that you don't exceed ten percent of your dog's daily diet.
How do I make sweet potatoes for my dog?
Sweet potatoes must always be cooked for your dog. Therefore, preparation can vary from steaming, boiling to dehydrating. Also, note that you should never add any seasonings to the sweet potatoes.
Making the Dog Treats:
Cut three sweet potatoes lengthwise into 1/4″ slices.
Oven Method:
Place on wire racks on two large baking sheets and bake at 200ºF for approximately six hours. Cool.
Dehydrator Method:
Place sweet potato slices on the racks of a dehydrator. Dry at 145ºF for 10 hours. Cool.
Dog Treat Gift Packaging
So, how about we take a quick look at some fun packaging for gifting these yummy sweet potato dog treats? There are three dogs in the family, therefore there's a lot of "treating" going on. Haha.
You can simply gift using bakery bags with windows. Feel free to add a sticker or tag too.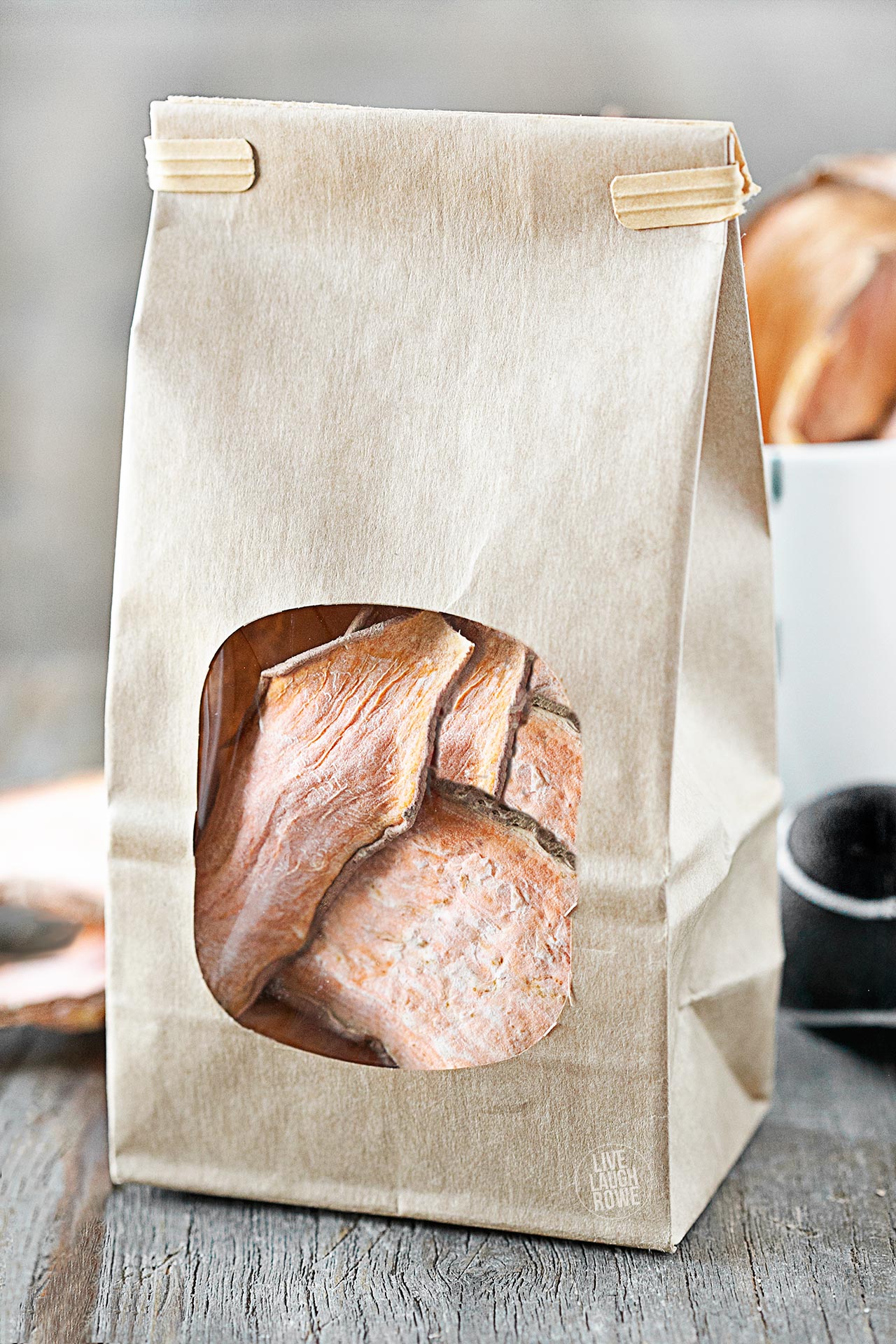 Or you can make these cute little dog house treat bags. Oh my gosh… so cute.
Supplies:
Gusseted Kraft Bags (I used a 3.5 inches x 6.69 inches x 2.31 inches, from Hobby Lobby)
Black Cardstock
Double-Sided Tape or Glue Stick
Mini Clothespins
Sharpie Marker
Dog Treats
In addition, here's a quick video on how to put these adorable treat bags together.
I recently used one of these to give a gift card to my sister for her dog, Max's birthday. She loved the creative packaging. So, I decided to share it with y'all too.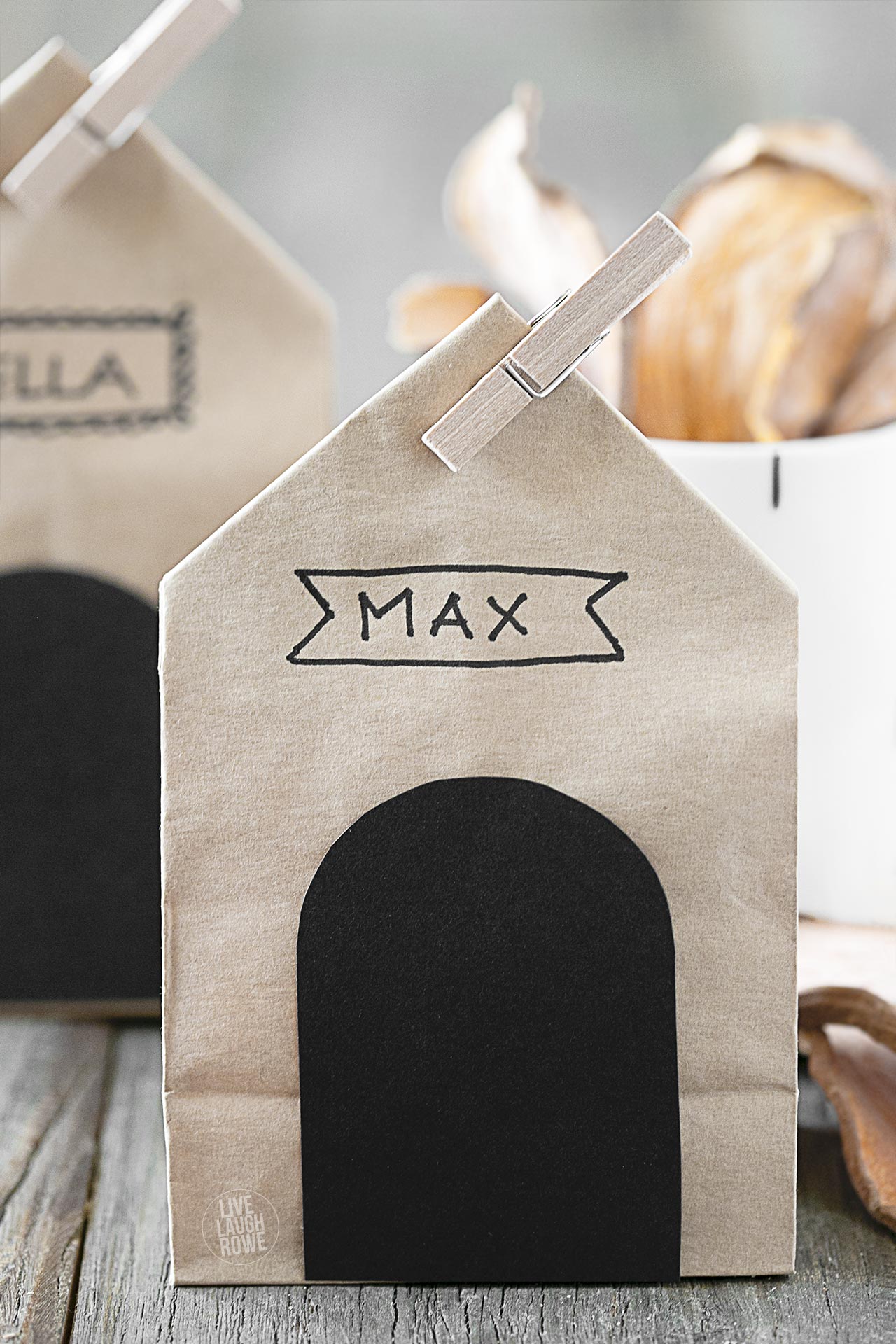 A special and simple homemade treat for the dogs — and cute packaging to boot? Yes, please.
Parker loves the sweet potato dog treats. Some were a little too crunchy for his old teeth, so I tend to soften them up with water a bit. He eats up all the little pieces I offer him.
In short, I hope you can spoil your own dog(s) and/or your friends' and families' dogs with these all-natural dog treats. Enjoy.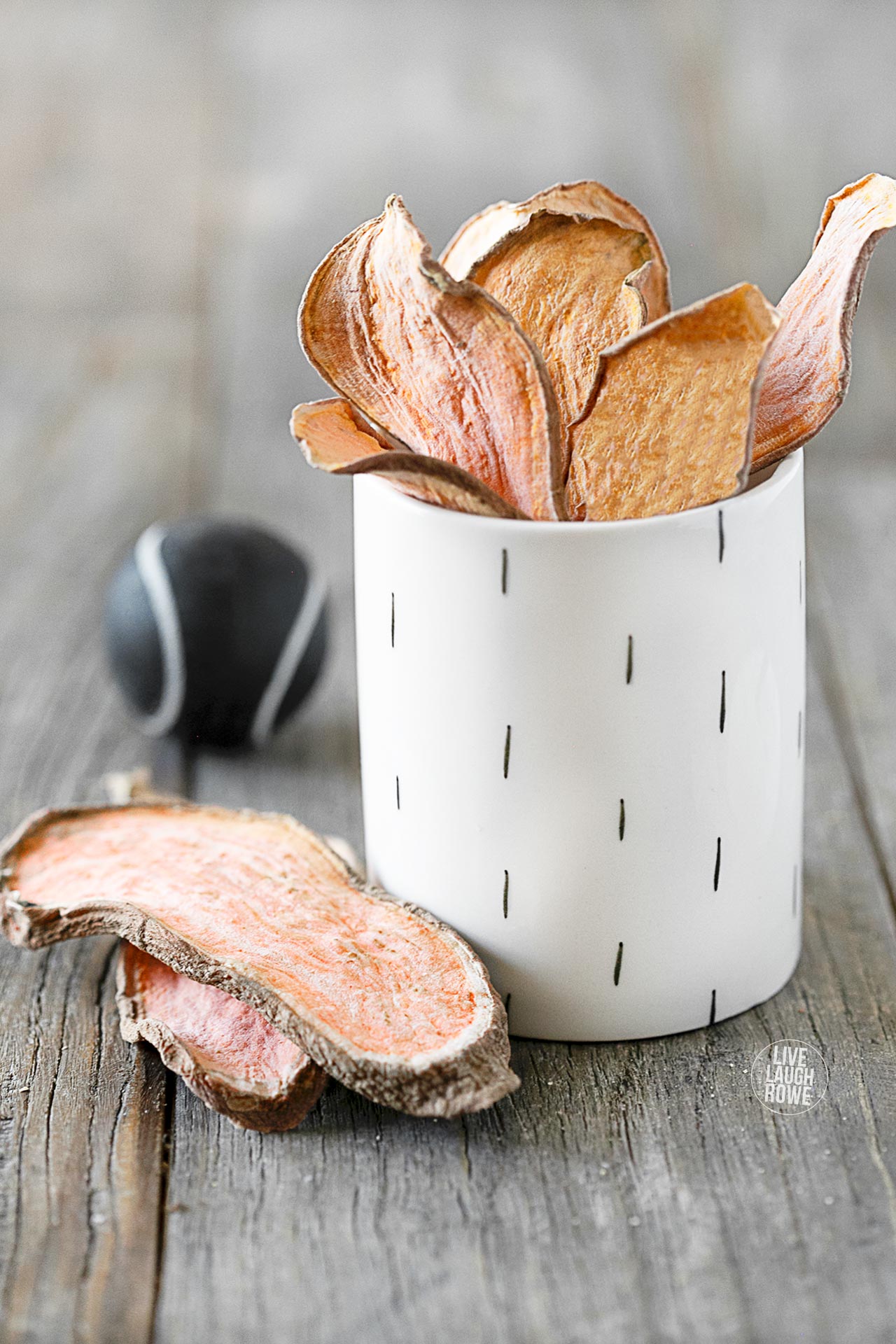 Sweet Potato Dog Treats Recipe
Instructions
Preheat oven to 200ºF. Place oven-safe wire racks on two large baking sheets.

Using a mandoline or sharp knife, cut the sweet potatoes lengthwise into (approximately) 1/4" slices. Place slices on wire racks.

Bake 6 hours or until slices are chewy and starting to dry, turning once; cool.
Notes
Store the sweet potato treats at room temperature for up to 1 month.
Also, note that removing the skin is will make it easier for your dog to digest.  
Hugs and Blessings!