Frozen Peanut Butter Whips
How many of you have gained a few extra pounds during the quarantine? Ahem, me. Consequently, many of us are looking for healthier options to get back on track. So, I thought it might be a good time to share these two-ingredient Frozen Peanut Butter Whips. They're incredibly simple to make, in addition to delicious and creamy.
Be sure to sign up for my email to get new recipes
and creative ideas sent right to your inbox!
Perfectly Refreshing Frozen Snack or Dessert
If you've been around here long enough, you might know that I'm a huge fan of peanut butter. Last year I did WW (Weight Watchers) for a short while and attended weekly meetings. As a result, I was introduced to these delicious peanut butter bites from another member.
Eating food from a stranger isn't my typical modus operandi (m.o.). Haha. However, after sharing the ingredient list (cool whip and peanut butter), she had my attention. Yes, please — and thank you.
Two-ingredient frozen and creamy peanut
butter treats that will melt in your mouth.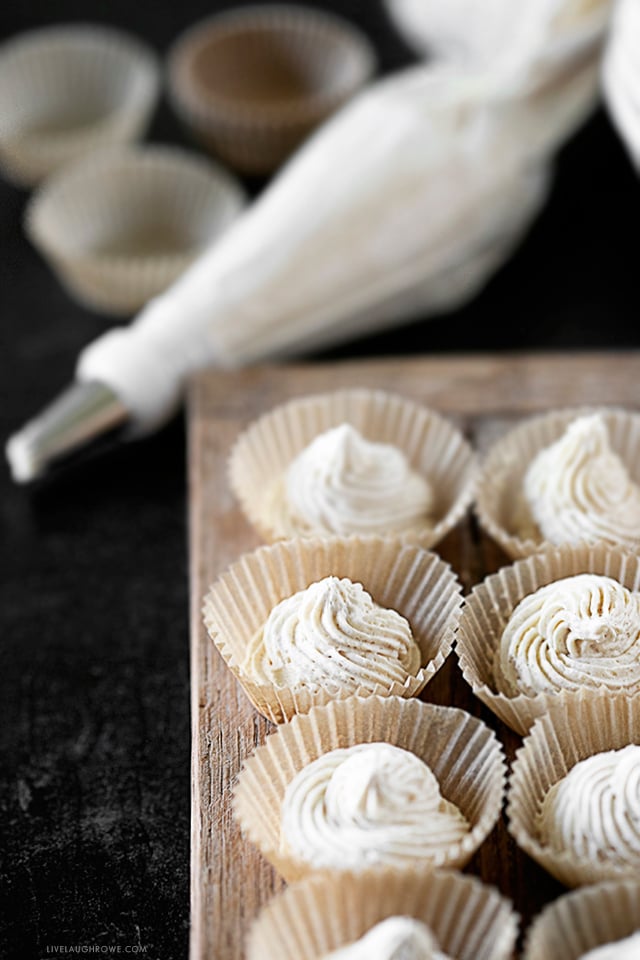 Nevertheless, after eating one, I was sold, hooked, excited, and ready to make some when I got home. Can you picture my excitement? If peanut butter were a love language, it would certainly be one of mine. HA!
Well, since then, I've made these peanut butter whips on a few different occasions. Because when you can find a snack that is simple, easy, and satisfying — you can't go wrong. Of course, the warmer weather is an even better excuse to keep these stocked up in your freezer.
Other Skinny Desserts to try:
Mini Lemon Cheesecake Tarts
Skinny Banana Ice Cream
Mini Mint Cookie + Cream Ice Cream Sandwiches
Skinny Pineapple Angel Loaves
Low-fat Strawberry Banana Frozen Yogurt Bars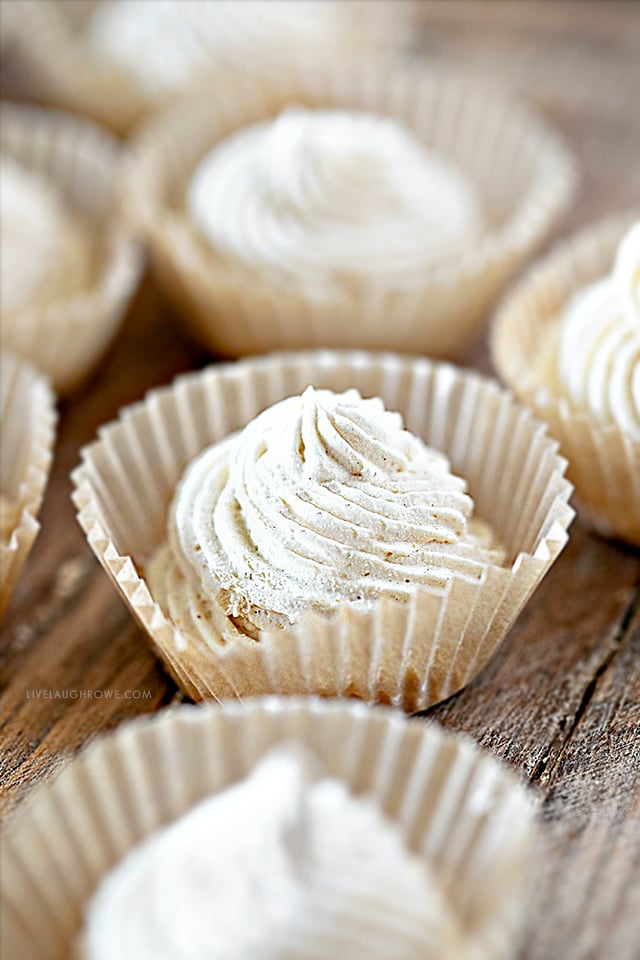 Making the Frozen Peanut Butter Whips
Ingredients:
Fat-Free Cool Whip
Peanut Butter
Instructions:
1. Place 24 mini cupcake liners (I prefer the kraft mini cupcake liners), in a cake pan or mini cupcake pan.
2. Simply mix the two together in a mixing bowl.
3. After that, you'll spoon the mixture into a piping bag or resealable bag.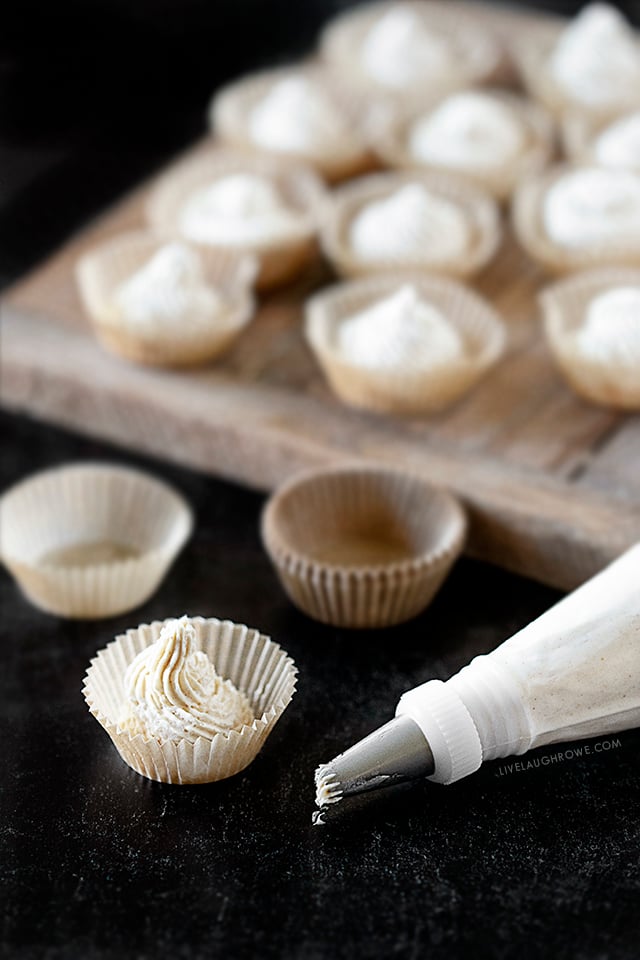 4. Portion the peanut butter mixture into the 24 liners and place in the freezer for an hour or two. Once frozen, place in a resealable bag and enjoy them for up to two months.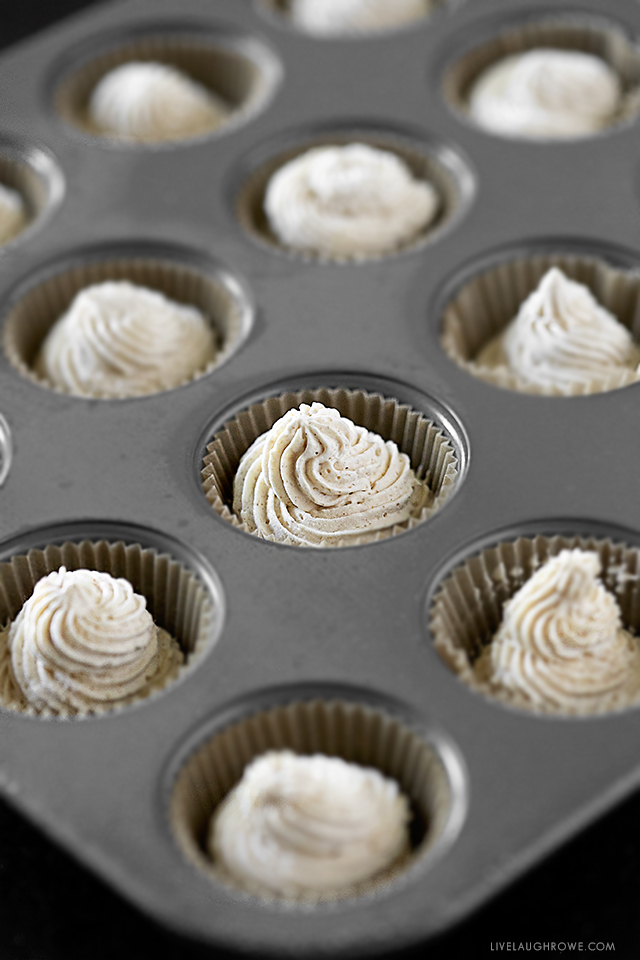 If you love peanut butter, you're in for a treat. I'm anxious to hear what you think. And this is easy enough to have the kiddos help out too. So, what are you waiting for? Fair warning, they may not last long. Hee-hee.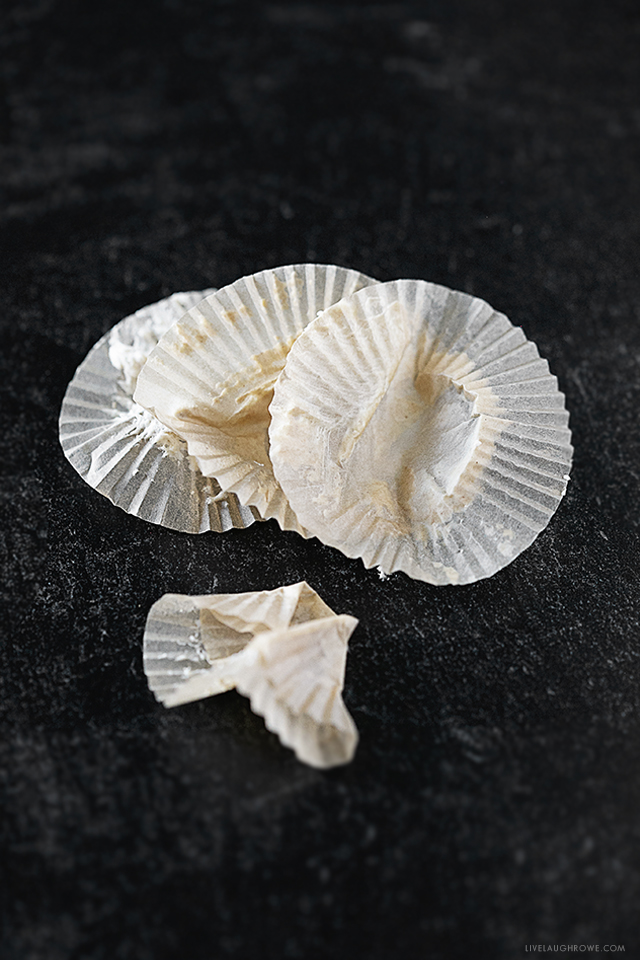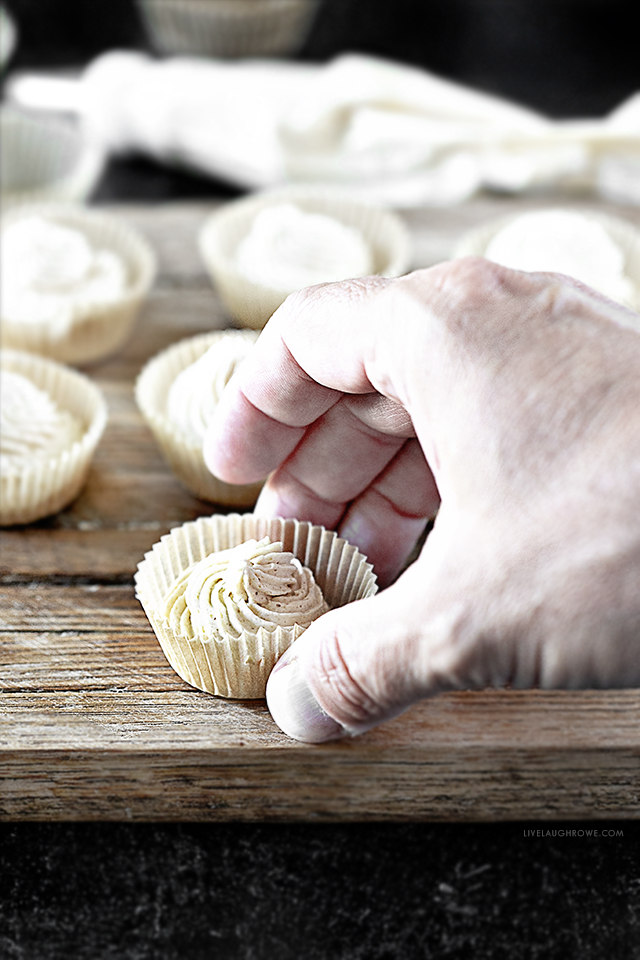 Frozen Peanut Butter Whips
Ingredients
1/2

cup

Jif Creamy Peanut butter

1

8 oz. carton Fat-Free Cool Whip
Instructions
Start by placing the mini cupcake liners into the 24 cups of the cupcake pan.

In a medium-sized mixing bowl, fold the peanut butter and cool whip together until thoroughly combined.

Spoon the mixture into a piping bag (or any resealable bag) and distribute evenly amongst the 24 mini cupcake liners.

Place pan in the freezer for an hour or two. Once frozen, place frozen treats into a resealable bag and store in the freezer for up to 2 months.
Notes
If using a piping bag and tip, I used the 4B tip by Wilton.  Using a small cookie scoop or spoon works well too.  
Feel free to use more peanut butter, although it will change the calorie and/or WW value.
Optional:  Allow the frozen whips to sit at room temperature for a few minutes to slightly soften before serving.
Connect with Live Laugh Rowe!
Facebook | Instagram | Pinterest | Twitter
Hugs and Blessings!