Homemade Granola Recipe
Granola lovers rejoice. Better than store-bought, this Cranberry and White Chocolate Granola recipe couldn't be easier and makes a great snack.
Maybe you've tried this Simple Homemade Trail Mix, Sweet and Salty Popcorn n' Peanuts, or these No-Bake Candied Pecans and are looking for something different. Granola to the rescue. This recipe has a perfect combination of sweet and salty — and a whole lot of crunch!
Be sure to sign up for my email to get new recipes
and creative ideas sent right to your inbox!

Amazing Granola Recipe


Who loves granola? Me (with my arm flailing through the air). However, I rarely buy it. Now that I've learned how easy it is to make, I'm thinking more granola will be in my near future. How about you? Do you have a favorite granola recipe? Please share it with me in the comments. I'd love to add a few more recipes to my recipe box.
I'm a big fan of finding great recipes and inspiration from magazines. Date nights to Barnes and Noble with my husband always have me leaving feeling inspired. Browsing through food, craft, and home magazines offers so many fantastic ideas.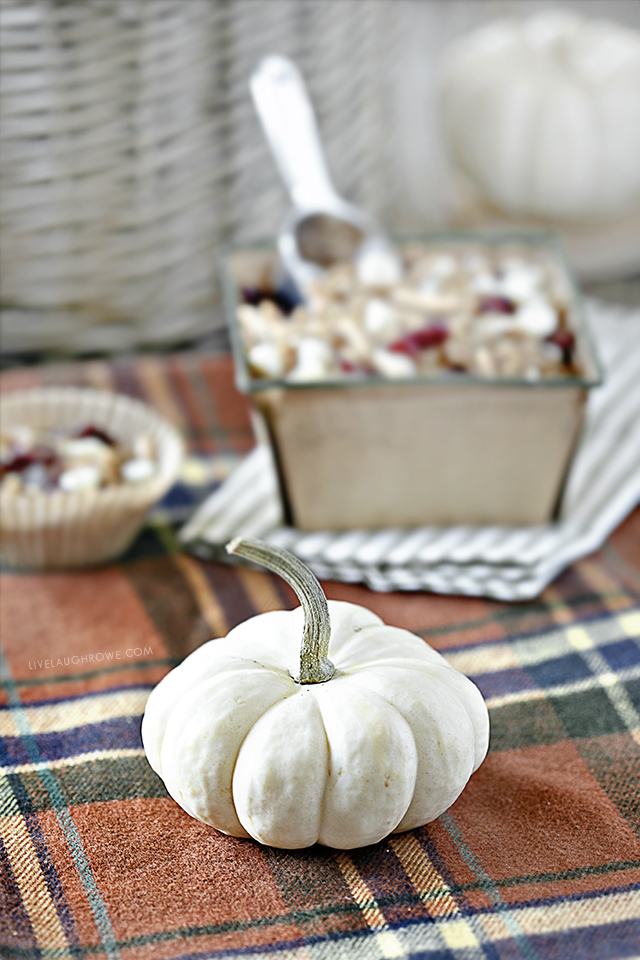 Today's recipe is one of those that inspired me in a book shop. Although I stashed it away several years ago, and completely forgot about it, today is your lucky day.
The spread in the magazine was styled so perfectly for a fall party. Children roasting marshmallows by the bonfire, a thermos of cider and lots of other goodies were served. However, this granola recipe caught my eye. Lots of nuts, oats, and seeds paired with cranberries and white chocolate? A medley of flavors that was a must-try.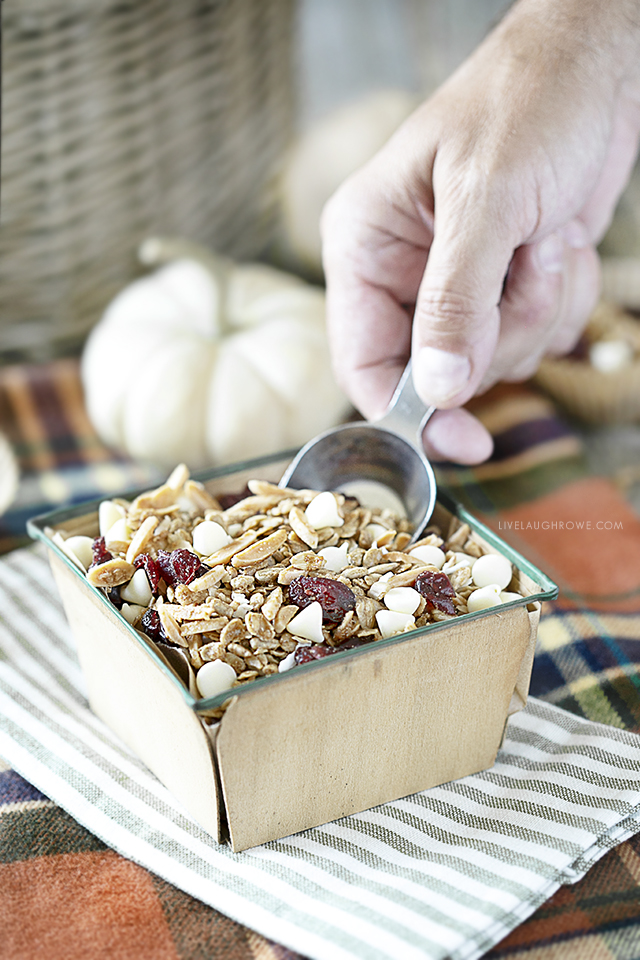 Last year I bought all of the ingredients and rather than making the recipe, the ingredients sat in my pantry for a whole year. Insert facepalm. So I ditched what had expired, purchased replacement ingredients and FINALLY made this granola recipe
A snack that is great for road trips, hiking, camping and more. And one batch makes about 9 cups, making it go a long way.
Granola Ingredients
Dry Ingredients:
Old-fashioned oats
Sunflower seeds
Almonds
Brown sugar
Cranberries
White Chocolate Chips
Coconut flakes
Salt
Wet Ingredients:
Canola Oil
Vanilla Extract
Maple Syrup
Of course, you can add or replace ingredients to your liking. Granola recipes have a lot of versatility. The maple syrup and brown sugar add a natural sweetness. Although, I felt the cranberries and chocolate seem to really elevate the flavors. It's a lovely mix of nutty, sweet and savory.
Ironically I wasn't going to add the white chocolate chips. I thought it might be too sweet. However, I did try a handful, making sure that there was a taste of all the goodies. Honestly, it was delicious. I was pleasantly surprised that it wasn't too sweet. Let me know what you think. Enjoy.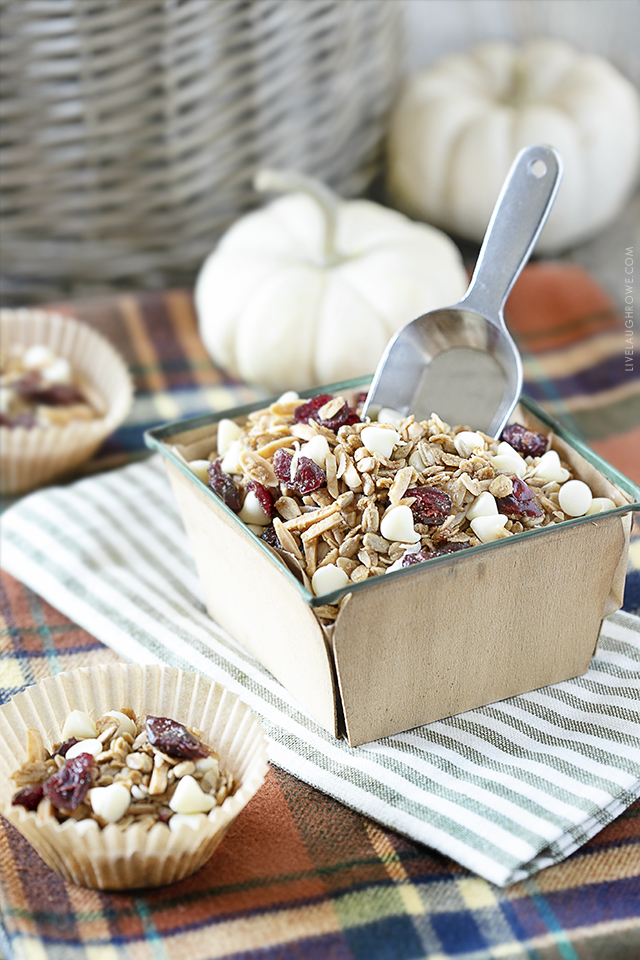 Making Cranberry and White Chocolate Granola Recipe
Cranberry and White Chocolate Granola
A granola recipe that is easy and a perfect medley of flavor -- sweet, nutty and salty. Adding cranberries and white chocolate really elevates this snack.
Ingredients
3

cups

old-fashioned oats

1 1/2

cups

sunflower seeds

1

cup

slivered almonds

1/3

cup

dark brown sugar, firmly packed

1/3

cup

canola oil

1/3

cup

maple syrup

2

tsp

vanilla extract

1

tsp

salt

1

cup

unsweetened flaked coconut

1

cup

dried cranberries

1

bag

white chocolate morsels (12-ounces)
Instructions
Preheat oven to 300º F. Position oven racks to the 3rd and 4th shelves.

In a large bowl, combine oats, sunflower seeds, almonds, and brown sugar.

In a small bowl, stir together oil, maple syrup, vanilla, and salt. Pout over oats mixture, stirring until evenly coated.

Transfer to two large rimmed baking sheets, spreading in a single layer. Place one baking sheeting on each rack.

Bake until evenly browns, about 45 minutes, stirring and rotating pans every 15 minutes. Remove from oven and sprinkle with coconut. Stir and spread in a single layer. Bake until coconut is lightly browned, approximately 10 to 15 minutes more.

Transfer pans to wire racks; sprinkle with cranberries, some additional fresh coconut (optional), and stir. Let cool completely. Fold in white chocolate morsels.
Be sure to check out these delicious snack options too:
Roasted Pumpkin Spice Almonds
Homemade Caramel Popcorn
Roasted Garlic Parmesan Chickpeas
Dilly Oyster Crackers
Cinnamon Roasted Almonds
Connect with Live Laugh Rowe!
Facebook | Instagram | Pinterest | Twitter
Hugs and Blessings!