Delicious Zucchini Casserole
A delicious Zucchini Casserole made using seven ingredients that you might already have in your pantry and refrigerators, this is a dish that is easy to make and incredibly satisfying. Casseroles are always a great dinner option, like this Tuna Casserole. Yum.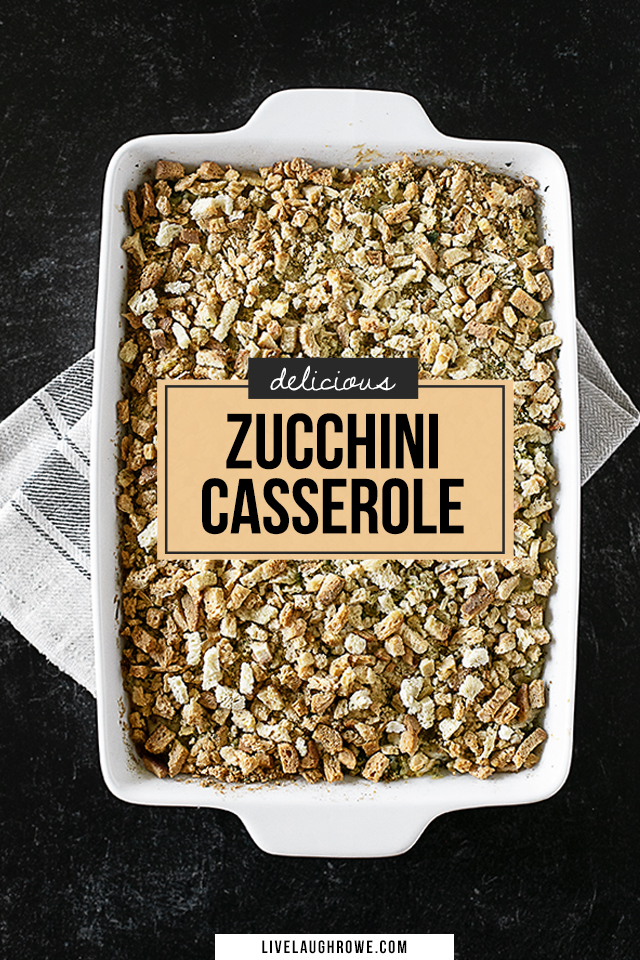 I thought I would share the story behind this amazing Zucchini Casserole as well, it's always fun to reminisce on some of the events before I said, "I do."
When I was engaged, I drove home (to New Jersey) for a shower my mom was hosting there in New Jersey. It was a Pampered Chef wedding shower and I got so many incredible pieces from pots and pans to cooking stones to several pieces that were perfect for entertaining. For the wife-to-be (ME), it was truly a dream come true!
One of the fabulous gifts my mom and sister put together was a recipe box. It was stainless steel and they had it engraved with "Recipes" on the front. Then they had friends and family provide recipes (on coordinating recipe cards) to fill the box. I adored this gift and throughout my first year of marriage, I gave most of those recipes a whirl. Some were huge wins and others were so-so.
However, one of those recipes was for a delicious Zucchini Casserole from a family friend. I adapted it a bit, but now it's in the official dinner rotation in our home, especially when zucchini is in season.
Delicious Family Dinner
Making the Zucchini Casserole
Ingredients:
Zucchini, cubed
Onion, grated
Carrots, shredded
Sour Cream
Butter, melted
Cream of Mushroom Soup
Herb Seasoned Stuffing
Instructions for Zucchini Casserole:
Start by cutting and cubing the zucchini. Steam until tender and drain. Set aside.
In a large skillet, melt the butter. Add carrots and onion, and saute until tender. Remove from the heat and stir in the sour cream and cream of mushroom soup (right out of the can).
Fold in the steamed (and drained) zucchini and half of the stuffing. Mix until stuffing is coated. Pour into a greased 3-quart baking dish.
Sprinkle the remaining stuffing over the zucchini casserole. Cover with foil and bake at 350º F for 35-40 minutes or until hot.
NOTES: Using pre-packaged chopped onions and matchstick carrots reduce the prep time and clean-up significantly. I prefer Pepperidge Farm stuffing, but Stove Top Savory Herbs stuffing worked just as well.
Other dinner recipes that might interest you…
One-Pot Chicken Pot Pie
Honey Mustard Chicken Tenders
Easy Shepherd's Pie
The Best Stuffed Shells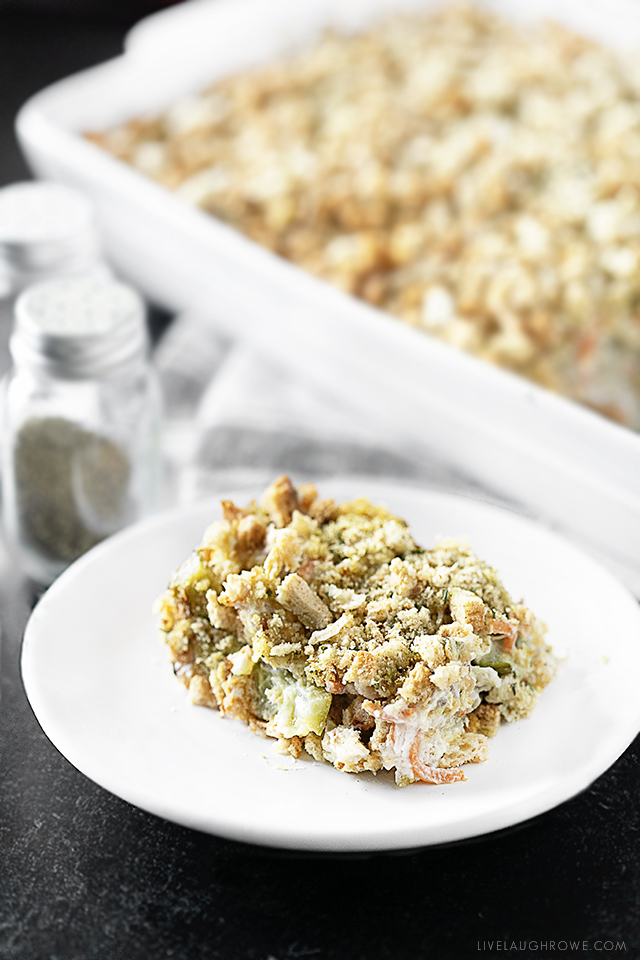 It's actually one of my husband's favorite dishes. So, if you enjoy zucchini, you're in for a treat with this Zucchini Casserole. The stuffing baked on top of this casserole adds a perfect amount of crunch, but each ingredient compliments the others. Paired with a side of apple sauce or a green salad, this meal is a real crowd-pleaser. Enjoy!
Zucchini Casserole
Delicious Zucchini Casserole is packed with vegetables and baked in a creamy mixture of stuffing mix, cream of mushroom soup, sour cream, and butter.
Ingredients
4

cups

zucchini, cubed

1

onion

grated, chopped or diced

2

carrots

shredded (about 1 cup)

1

cup

sour cream

8 oz. container

1/2

cup

butter

melted

1

can Cream of Mushroom Soup

10.5 oz can

8

oz.

Pepperidge Farm Herb Seasoned Stuffing

divided
Instructions
Steam zucchini until tender, drain.

In a large skillet, melt butter. Add carrots and onion, saute until tender.

Remove from heat and stir in sour cream and soup (right out of the can). Stir in drained zucchini and half of the stuffing (approximately 2 heaping cups). Mix until stuffing is coated.

Pour into a greased 3 qt. baking dish.

Top evenly with remaining stuffing, cover with foil and bake at 350 for 35-40 minutes or until hot.
Notes
Using matchstick carrots is a great alternative and saves time on the prep work.
Any herb-flavored stuffing can be substituted for the Pepperidge Farm stuffing.
Connect with Live Laugh Rowe!
Facebook | Instagram | Pinterest | Twitter
Hugs and Blessings!

*This post was originally published on August 26, 2013. Subsequently, I updated some of the photographs and text in June 2020.