If you enjoy zucchini, you're in for a treat with todays zucchini recipe. I thought I would share the story behind the recipe as well, it's always fun to reminisce on some of the events before I said, "I do."
When I was engaged, I drove home (to New Jersey) for a shower my mom was hosting in New Jersey. It was a Pampered Chef wedding shower and I got so many incredible pieces from pots and pans to cooking stones to several pieces that were perfect for entertaining. For the wife-to-be (ME!), it was a dream come true!
One of the fabulous gifts my mom and sister put together was a recipe box. They had it engraved with "Recipes" on the front, then had friends and family provide recipes (on coordinating recipe cards) to fill the box. I truly loved this gift and throughout my first year of marriage I gave most of them a whirl. Some were huge wins and others were so-so.
Zucchini Casserole
However, one of those recipes was for a delicious Zucchini Casserole from a family friend. I adapted it a bit, but it's in the official dinner rotation in our home, especially when zucchini is in season. My husband gets giddy when he knows it's on the menu! Yes, it's that good!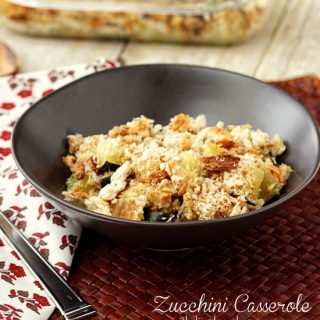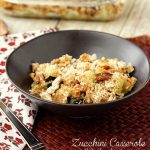 Print
Zucchini Casserole
Ingredients
3-4

cups

zucchini, cubed

1

onion

grated

2

carrots

shredded (about 1 cup)

1

cup

sour cream

8 oz. container

1/2

cup

butter

melted

1

can Cream of Mushroom Soup

8

oz.

Pepperidge Farm Herb Seasoned Stuffing

divided
Instructions
Steam zucchini until tender, drain.

In a large skillet, melt butter. Add carrots and onion, saute until tender.

Remove from heat and stir in sour cream and soup (right out of the can). Stir in drained zucchini and half of the stuffing (approximately 2 heaping cups). Mix until stuffing is coated.

Pour into a greased 3 qt. baking dish.

Top evenly with remaining stuffing, cover with foil and bake at 350 for 35-40 minutes or until hot.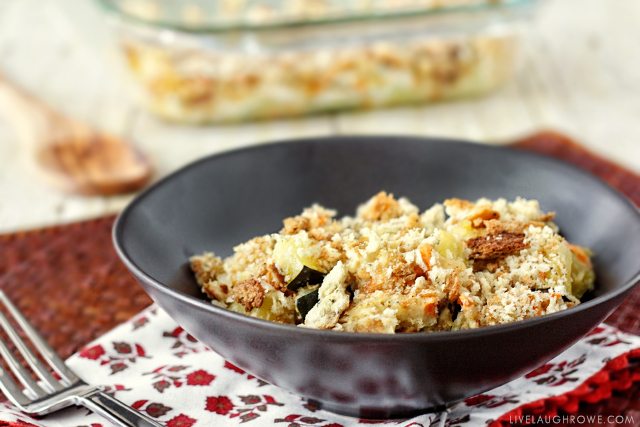 The stuffing baked on top of this casserole adds a perfect amount of crunch, but each ingredient compliments the others. Paired with a side of apple sauce or a green salad, this meal is a real crowd pleaser. I hope you enjoy!
Other dinner recipes that might interest you…
So, what's for dinner? Enjoy!


Be sure to visit with me here too:
Facebook | Instagram | Pinterest | Twitter | Google+