This is apparently the year of experimentation for me. I'm learning a lot about myself these days — and I seem to be a woman of habit and routine when it comes to recipes. It was time to do some more experimenting, and this time it was with a cauliflower recipe. This Cauliflower Chicken Alfredo Casserole is a one-pan wonder!
One-Pan Cauliflower Chicken Alfredo


I was a little worried about what I was getting myself into with this recipe. I mean, I love cauliflower. It's a must-have on a veggie tray, right?
But, cauliflower rice, what the heck is that? And Steve (the hubs), well — he doesn't like it. So, this was truly an experiment. However, Steve was just as curious as I was.
I can honestly say that as it was coming together, everything smelled amazing. How could it not taste good? At least that's what I was thinking.
Amazing Cauliflower Recipe
In most houses, I'm sure all recipes are hit or miss. Has one ever "hit the spot?" Let's take a quick walk down memory lane. As you may or may not know, I grew up in a pastor's home. Imagine how many meals or pies or treats were given to the pastor.
So, in our house, we had an ongoing joke that some dishes simply, "hit the spot." In our home, that spot was the trash can. Isn't that awful? But it's kind of hysterical too. It's a memory that we still laugh about. It's better than saying, "it was awful." Right?
Anywho, all that to say, this Cauliflower Chicken Alfredo Recipe could potentially "hit the spot." In spite of my concerns, this dish was absolutely amazing! You can't even taste the cauliflower. My husband wanted SECONDS!
With that being said, let's dig in! I truly hope that you (and your family) will enjoy this dish as much as we have. Prepare to be pleasantly surprised…. even those of you who aren't real fans of cauliflower. (wink wink)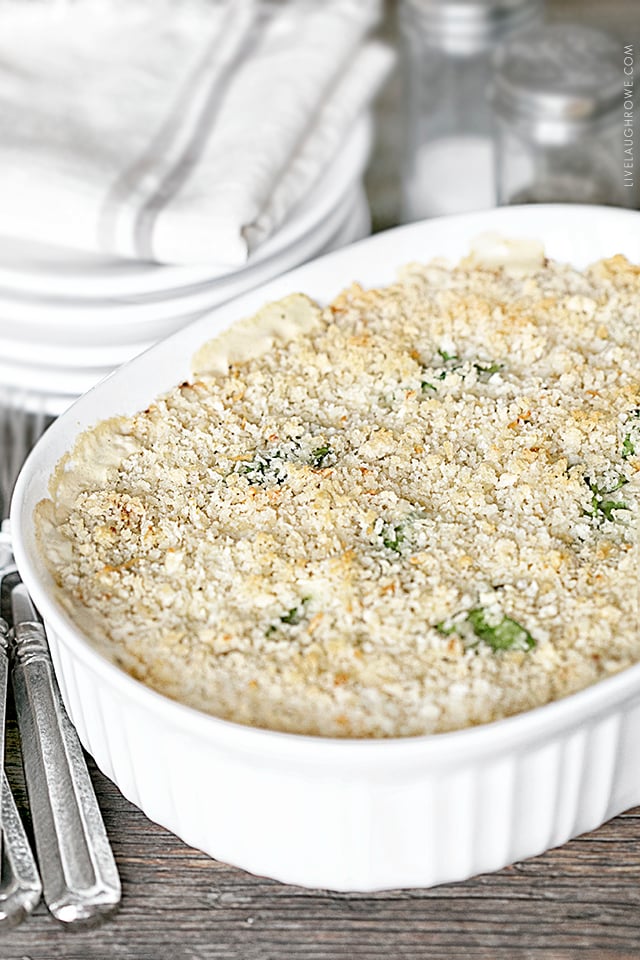 Chicken Alfredo Cauliflower Rice Bake
Servings:
6
(one cup servings)
Ingredients
1

2-1/4 to 2-1/2 lb.

head of cauliflower, trimmed and broken into florets

1

tsp.

dried basil, crushed

1/4

tsp.

black pepper

1/8

tsp.

salt

2-1/2

cups

fresh baby spinach

2

cups

cooked chicken breast, chopped

1

15 oz. bottle

light Alfredo pasta sauce

2

tbsp.

grated parmesan cheese

1/2

cup

panko bread crumbs

1

tbsp.

extra virgin olive oil
Instructions
Preheat oven to 400 F. Working in batches (in a food processor), cover and pulse cauliflower four to six times or until crumbly and resembles rice.

Transfer the cauliflower "rice" to a 2 to 2-1/2 casserole dish. Sprinkle with basil, pepper and salt; toss to coat. Bakes the mixture for 15 minutes.

Stir in spinach, chicken, and Alfredo sauce. Sprinkle with cheese.

Combine bread crumbs and oil; sprinkle over cauliflower mixture.

Bake 20-25 minutes or until top is browned. Serve!
Nutrition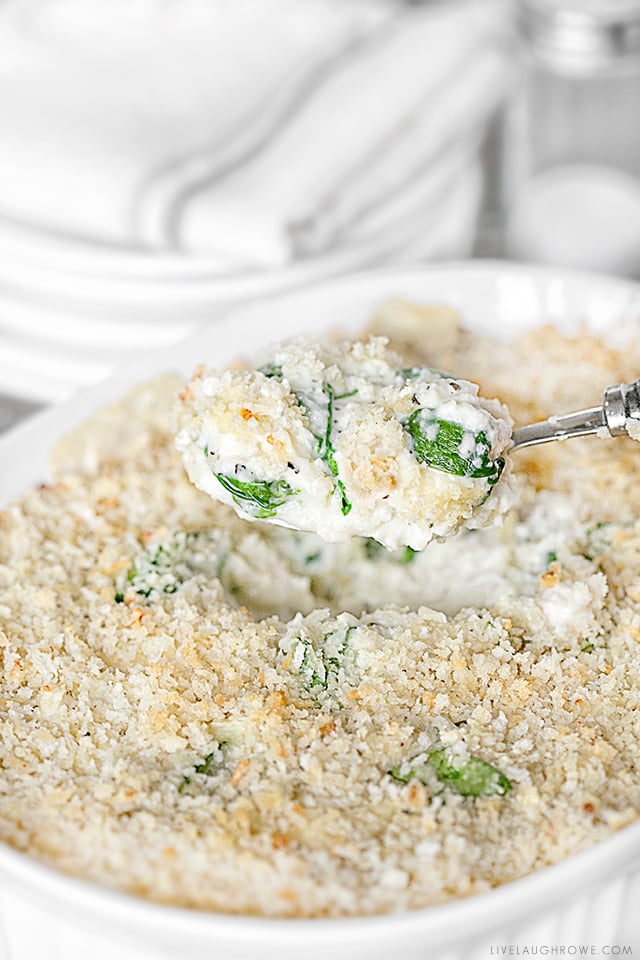 Since making this recipe, I've had mashed cauliflower too. Let's just say I'm having a bit of a love affair with cauliflower. Hee-hee.
More delicious casserole recipes you might try:
Tuna Casserole
Zucchini Casserole
Best Sweet Potato Casserole
Hash Brown Casserole (one of my favorites)

Be sure to visit with me here too:
Facebook | Instagram | Pinterest | Twitter | Google+