Thank you to Ragu for sponsoring today's post and inspiring me to pass on my family traditions.
These delicious stuffed shells are meatless, yet hearty!  An easy recipe that will have your friends and family asking for the recipe!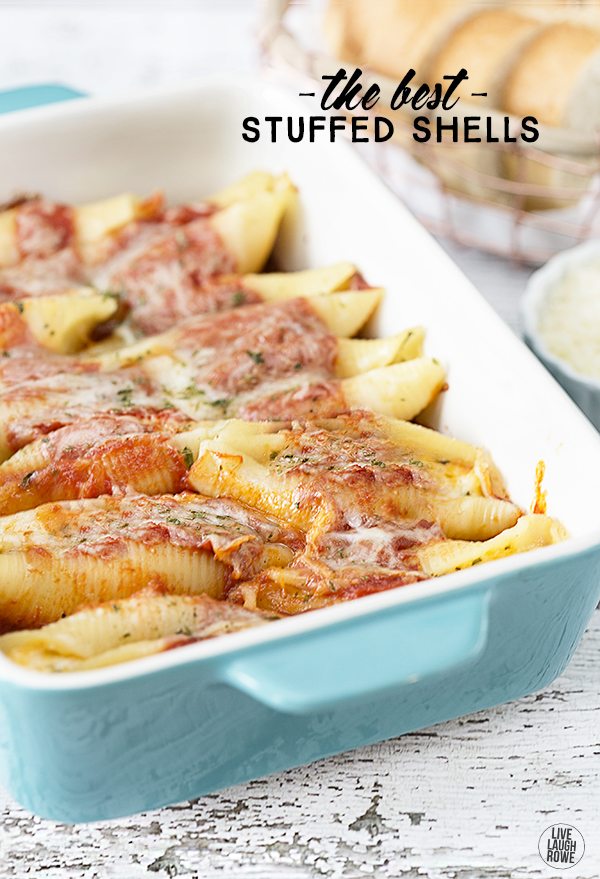 Whenever I make this recipe, I'm reminded of family time around the dinner table.  Mom making dinner in our tiny little kitchen in the parsonage we lived in.  My sister and I would be setting the table while our little brother was running around pretending he was a cowboy from the wild wild west.
For me, traditions are intensely personal and have shaped me into the person I am today. From a number of my family traditions, I've been able to share with family and friends so many fond memoried, laughable moments.  Traditions bring family across generations together.  It's a beautiful thing.
This stuffed shell recipe is something that my mom passed down to me.  One of my favorite wedding gifts was a recipe box filled with recipes from both friends and family; however, when I come across one from my mom — I'm overwhelmed with the warm thoughts of family and tradition.
You might be surprised to find that this is a meatless dish, but it's still incredibly filling.  I remember having some friends over and one of them seemed to be concerned that a meal without meat would not be fill her up. Paired with a salad and french bread, she was pleasantly surprised that it filled her right up.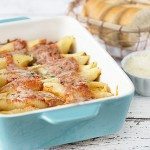 Print
Stuffed Shells
Ingredients
1

box of jumbo pasta shells

1

jar Ragu sauce

23.8 oz

1

egg

1

container Ricotta Cheese

15 oz

2-1/2

cups

shredded Mild Cheddar Cheese

2

cups

shredded Mozzarella Cheese

divided

¾

cup

grated Parmesan Cheese

divided

2

tbsp

of dried parsley
Instructions
Cook pasta shells according to package directions and drain. Preheat oven to 350. Grease bottom of two 13x9x2 inch glass baking dishes.

In a large bowl, beat egg. Stir in ricotta , cheddar cheese, 1-3/4 cups mozzarella, ½ cup parmesan and the parsley.

Assemble: Spread 1 cup of the pasta sauce in each of the baking dishes. Fill cooked shells with ricotta mixture. Arrange filled shells in baking dishes. Pour remaining sauce over shells. Sprinkle remaining mozzarella, parmesan and a dash or two of parsley over the top.

Back covered with foil until bubbly, approximately 45 minutes. Uncover and continue to cook until the cheese is melted, approximately 5 minutes. Let stands for 5 minutes or so before serving.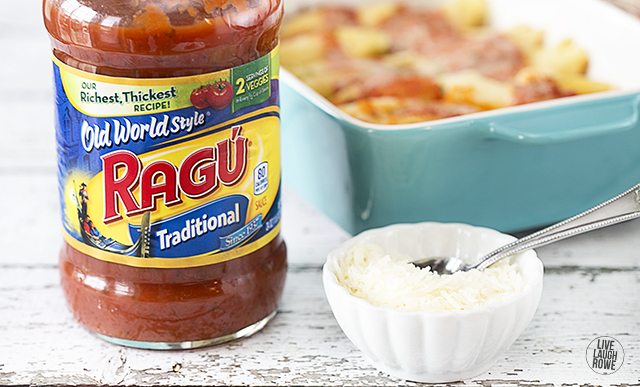 One of the key ingredients is the sauce.  There is some incredible tradition behind Ragu!  Assunta Cantisano came to America in 1914 and turned her authentic Italian blend into a true American sensation! With farm grown ingrediens and no artificial flavors or high fructose corn syrup — it's a great sauce to add into your family traditions!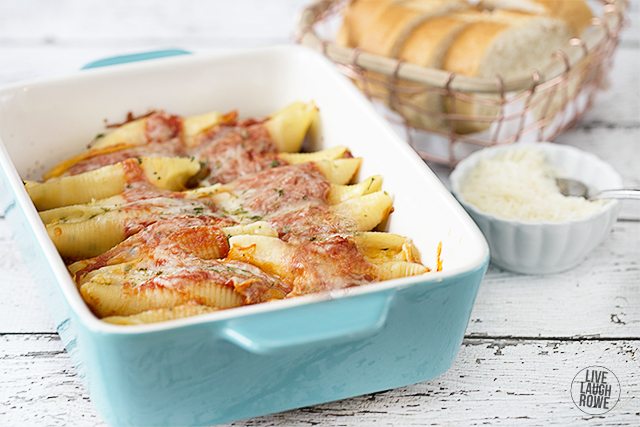 I'd love to hear about your family traditions.  What is something that comes to mind when it comes to dinner and/0r family time?  Please be sure to share in the comments below!
Gustare! "Enjoy" in Italian!

Be sure to visit with me here too:
Facebook | Instagram | Pinterest | Twitter |Google+