July 1st | Canada Day Word Search
"O Canada. Our home and native land." This post is for all of my Canadian readers. As July 1st is quickly approaching, you'll be celebrating Canada Day with lots of fun festivities. As a result, I thought a Canada Day themed Word Search might be a fun addition. Eh?
Be sure to sign up for my email to get new recipes
and creative ideas sent right to your inbox!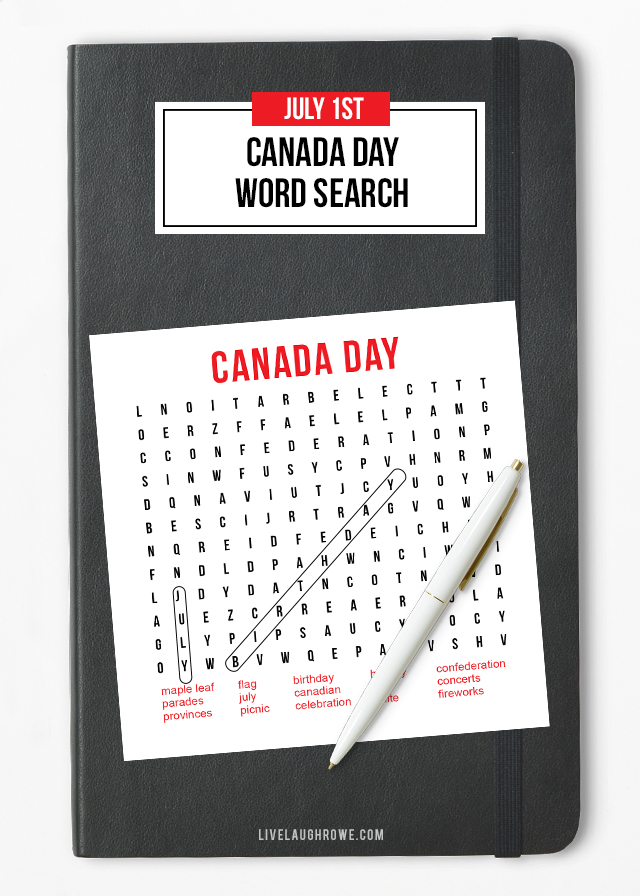 As many of you might have noticed, I've been sharing a word search for all of the different holidays we celebrate here in the states. Consequently, they've become a favorite to many readers. But one Canadian reader asked if I might provide one for July 1st, Canada Day.
Honestly, I love it when readers send me blog post ideas. And for this one, I was happy to oblige. So, this one is for you, Julie.
Unfortunately, we don't celebrate any of the Canadian holidays; however, all of Steve's family lives in Canada — so they're not forgotten. And ironically Steve's birthday is July 4th. He's completely Americanized. Haha.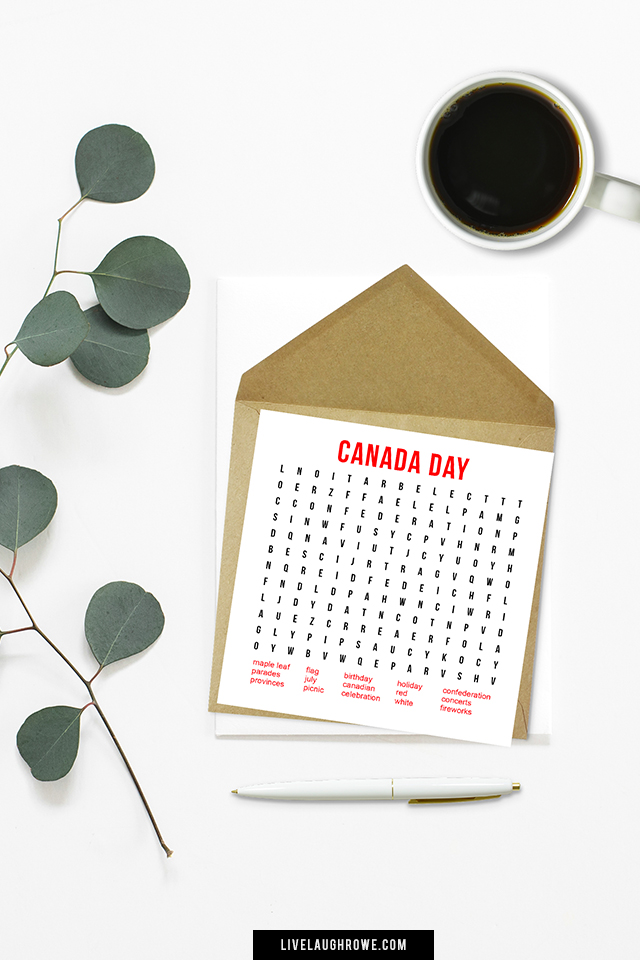 Ideas and Inspiration.
Are you wondering how to put this to good use?
Attending an outdoor concert, parade, or town celebration — print off a few of the word searches for a boredom buster before the festivities begin.
Roll the printable July 1st Canada Day Word Search up and tie with some ribbon or twine for some extra fun. After that, place one at each place setting for breakfast, lunch, or dinner.
How about a little family competition? See who can find all the words the fastest. Better yet, have the adults compete and then have the kids compete. Winners get an extra scoop of ice cream or an extra slice of watermelon, maybe?
Hosting a party? Maybe you could create a favor bag for all of your friends and family. And in addition to a few sweet treats, you could include a copy of the word search. This way they get to take a piece of the party home.
Other Canadian inspired posts:
Canada Day Printable Journal Cards
Newfoundland and Labrador, Canada*
The Beautiful Providence of Newfoundland*
*Can you see a theme there? Yeah? Well, my husband is from Newfoundland. Therefore, we've visited a couple of times and I had to share some of the beauty with you.
July 1st PRINTABLE
So, here we are at the good part. In other words, we're at the place where you get to save or print your July 1st Canada Day word search. (And the crowds go wild). On each printout, you'll find two of the word searches on it. As a result, each is sized at approximately 4-1/2″ x 4-1/2″. Grab some paper or cardstock, print, and cut. Don't have a printer? Ask a friend, or take a drive to your local office supply store. But most importantly, be sure to have some fun.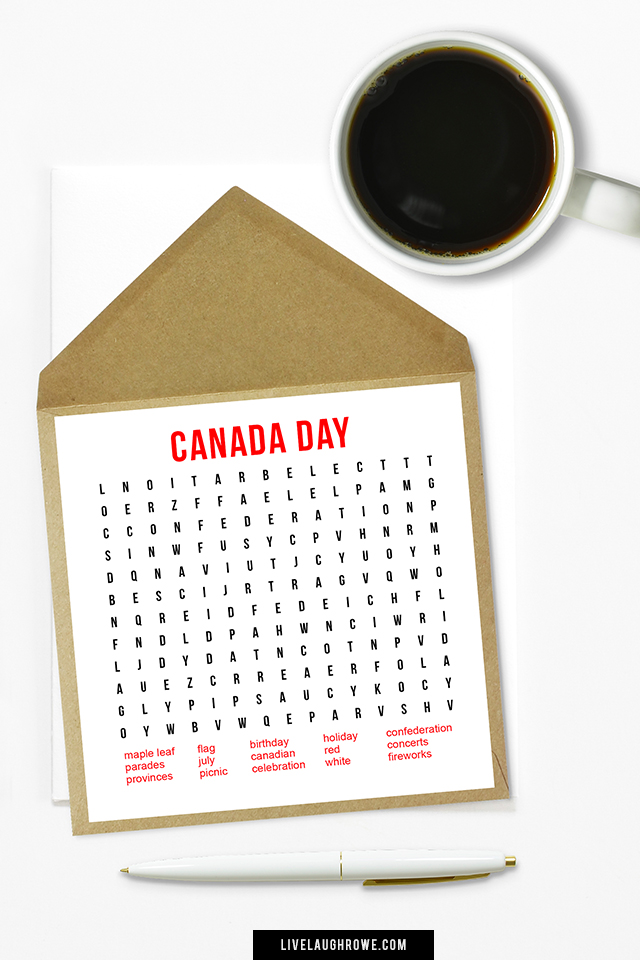 *Please Note: All printables and downloads designed by Live Laugh Rowe are for PERSONAL USE ONLY. Please do not alter the file or claim it as your own. In addition, this July 1st Canada Day printable is not intended for resale, nor are the printed versions of this file.
*Some readers expressed they were having trouble printing the PDF version. I believe it's a browser issue; however, please try this WORD DOCUMENT if you are having difficulties.
Connect with Live Laugh Rowe!
Facebook | Instagram | Pinterest | Twitter
Hugs and Blessings!