After today, you're going to think I might have a slight food addiction to stuffed peppers. Haha! Last year I shared recipe we've been making for years. These Turkey Stuffed Bell Peppers are a Weight Watchers recipe we recently tried — and they're amazing as well! Let's face it — a stuffed bell peppers healthy recipe that the whole family can enjoy is a TRIUMPH (wink wink).
Turkey Stuffed Bell Peppers


My mom shared this with me after she made it for dinner one night. I guess everyone was surprised as to how good they were. Of course that peaked my interest.
Weight Watchers Turkey Stuffed Peppers

For these, the rice is uncooked. Sounds a little crazy, right? That's what I thought. However, there's enough moisture in the mixture of the stuffed pepper that you won't need to cook it first. Of course it will need to be in the oven a little longer, but that's not a big deal if you plan ahead.
Stuffed Bell Peppers Healthy Recipe
The dill adds incredible flavor! I guess I don't use a lot of dill when I cook, but these Turkey Stuffed Bell Peppers really brought a love for dill to the surface.
One of my favorite pairings with stuffed peppers is corn. I have no idea why, but it is. And thankfully, corn is a zero point food on Weight Watchers, so it won't add any additional points.
Ready to fire up the oven? I'm anxious to hear what you think! Enjoy.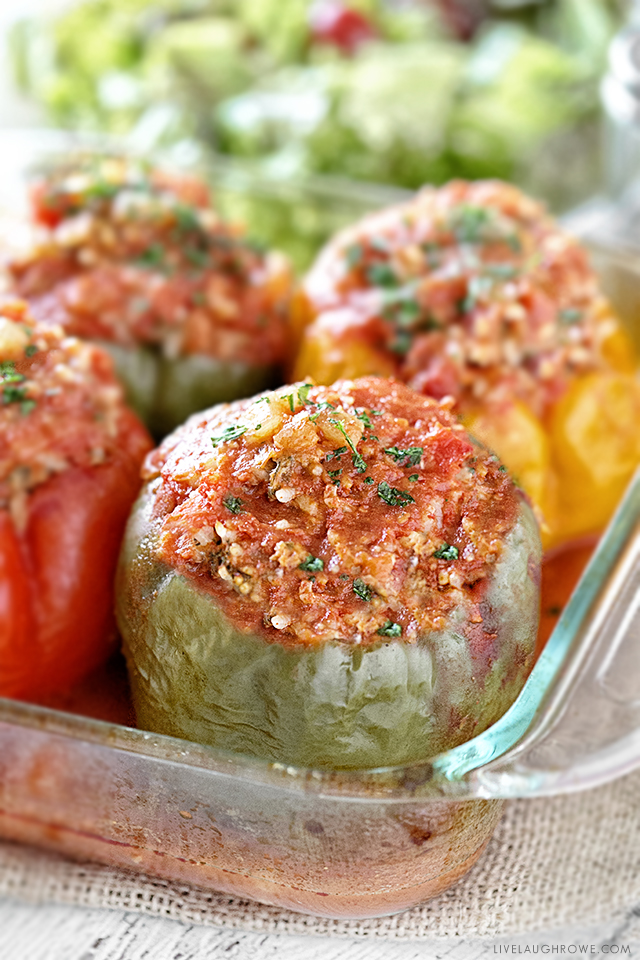 Turkey Stuffed Bell Peppers
Ingredients
Cooking Spray

4

medium

uncooked bell peppers, uncooked

3/4

cup

chopped or diced uncooked onion, divided

1 1/2

tsp

minced garlic, divided

1/4

cup

parsley, finely chopped

1

tbsp

dill, finely chopped

15

oz

canned crushed tomatoes, divided

1/2

cup

uncooked white rice

3/4

pounds

uncooked 93% lean ground turkey

1

tsp

table salt

1/4

tsp

black pepper

1 tbsp

extra virgin olive oil

3/4

cups

water
Instructions
Preheat oven to 375. Coat 8" square baking dish with cooking spray.

Slice tops off peppers. Carefully remove seeds and ribs from peppers. If pepper doesn't stand upright, trim a thin sliver off bottom.

In a large mixing bowl, combine half the onion, half the garlic, parsley, dill, 1/4 cup tomatoes, rice, turkey, 3/4 tsp. salt and pepper to make filling,

In a medium nonstick skillet, heat oil over medium heat. Add remaining onion; cook, stirring occasionally, until translucent, about 3 minutes. Add remaining garlic; cook, stirring, 30 seconds. Stir in remaining tomato, remaining 1/4 tsp salt and water; bring to a boil over hight heat. Reduce heat to medium low and simmer 1 minute.

Loosely stuff peppers with filling (leaving room for rice to expand) -- add about 3/4 c in each and nestle peppers in baking dish.

Spoon tomato sauce on and around peppers in baking dish.

Cover dish tightly with foil; bake until peppers are tender and rice is cooked, approximately 75 to 90 minutes.
Notes
Serving size is 1 stuffed pepper and 1/2 c sauce.  Each serving is 6 points on Weight Watcher Freestyle program.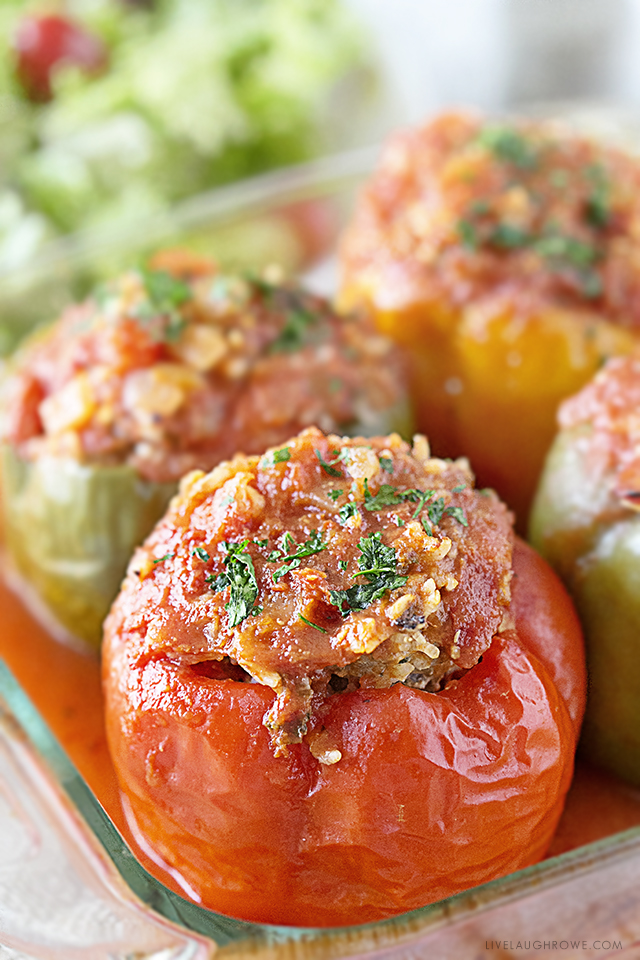 Other delicious Weight Watchers Recipes to try:
Skinny Banana Ice Cream using 4 Simple Ingredients
Mini Turkey Meatloaves — easy and delicious!
Skinny Corn Bake
Spinach Lasagna Rolls

Be sure to visit with me here too:
Facebook | Instagram | Pinterest | Twitter | Google+