Looking for a frozen healthy dessert for these hot summer days? I've got you covered with this AMAZING Skinny Banana Ice Cream. And guess what? It only requires 4 ingredients, an ice cream maker and about 20 minutes.
Delicious Banana Ice Cream Recipe – ZERO POINTS in 1/2 cup serving


Last week at my Weight Watchers meeting, one of the sweet women brought a treat in for everyone to try. Now, let me first start by saying that I'm a HUGE skeptic about eating other peoples food and ANYTHING with sweeteners other than sugar.
One of the workers tried it and said, "Oh no. No-no-no-no-no. I can taste the sweetener."
Why would I want to try that? I thought that I should just spare myself being grossed out and pass on giving it a try.
However, everyone else kept oohing and awing over this frozen goodness (insert rolling eyes). I attempted to convince myself to try it (over and over again throughout the meeting) and I knew I needed a low point frozen dessert option.
So, I tried it. At the very end of the meeting I moseyed my way over to the ice cream maker and placed a small bit in a cup. While I closed my eyes, I prepared for the worst…
A healthy dessert that is Weight Watchers Friendly!
Good glory. It was amaze balls, friends. Seriously so good. I quickly typed the recipe into the notes on my phone, came home and ordered the Cuisinart ICE-21 1.5 Quart Frozen Yogurt-Ice Cream Maker. There's no time better than the present, right? HA!
The chocolate Premier Protein Shakes are always on-hand in our house, but I can't say that I've had any of the other flavors. Nevertheless, it didn't take me to head out and buy some of the vanilla flavor (and make sure I had the rest of the ingredients too).
Can you tell I was on a mission here? Yes, it was that good!
While I could continue to ramble on about how good it was, how about I share the recipe with you? (wink-wink). Enjoy, friends.
p.s. This recipe is so adaptable. Feel free to remove the sweetener, use sugar if you're not dieting, try different fruits, use different shake flavors, etc. Okie dokie?
p.s.s. Some readers will say that banana is sweet enough without the sweetener; however, plain greek yogurt has a tart taste to it and the sweetener does help to offset that. Of course, everything is really a preference, so do YOU!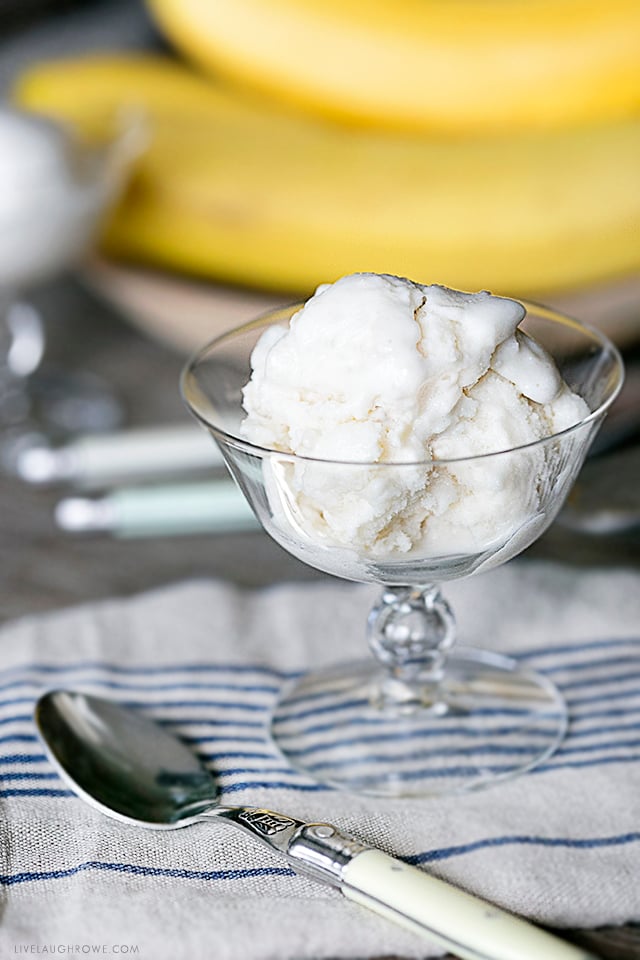 Skinny Banana Ice Cream
Ingredients
1

Premier Protein Shake, Vanilla

1/2

cup

Plain Non-Fat Greek Yogurt

1

ripe Banana, mashed

1

packet of Truvia
Instructions
Turn on the Cuisinart® ice cream maker; pour the mixture into the frozen freezer bowl and mix until thickened, around 15 to 20 minutes.
Notes
This makes about a pint of ice cream and it's 2 SmartPoints on the Freestyle program for the entire batch.  
1 cup = 1 SmartPoint (Freestyle Program)
1/2 cup = 0 SmartPoints (Freestyle Program)
On a completely random note, every time I think of ice cream I go for these cute spoons I have… Random and cute though, right? A TJ Maxx score from a few years back and I still love them.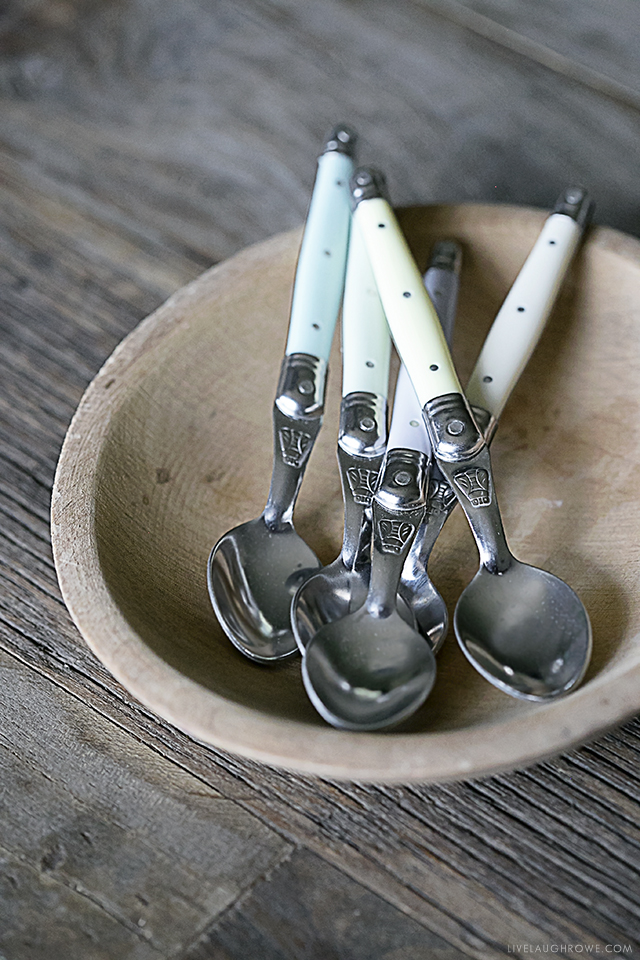 Other Weight Watchers Desserts to try:
Mini Lemon Cheesecake Tarts
Lemon Lime Cookie Crisps
Mini Mint Cookies and Cream Ice Cream Sandwiches
Easy Lemon Bars

Be sure to visit with me here too:
Facebook | Instagram | Pinterest | Twitter | Google+