Great tips on how to do a simple home office refresh without breaking the bank! This post was sponsored by Specialty Retailers, Inc.
Home Office Refresh


As many of you know, we moved last November into a new home… and it's still a work in progress. I'm learning that I have a hard time committing to some things (especially on the walls). We live in a 3 bedroom ranch — one is the master bedroom, one is the guest room (and Steve's office) and the other is my home office and craft room. It's a pretty decent sized room…. even Parker agrees.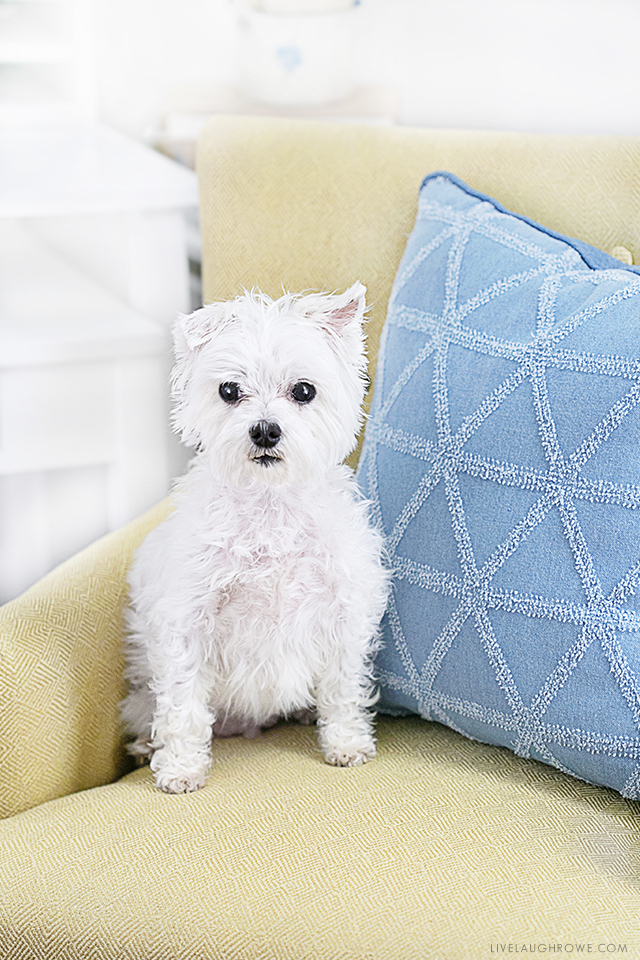 However, if I was to be perfectly honest with you, it's still a hot mess in there. Why? Because I have a hard time setting time aside to work in there. I still have a TON of purging and organizing to do. I had a walk-in closet in St. Louis, so there is a A LOT of stuff I'm trying to fit into my designated space. Gulp. Just this past week my husband said, "this room gives me agita." Nice, right?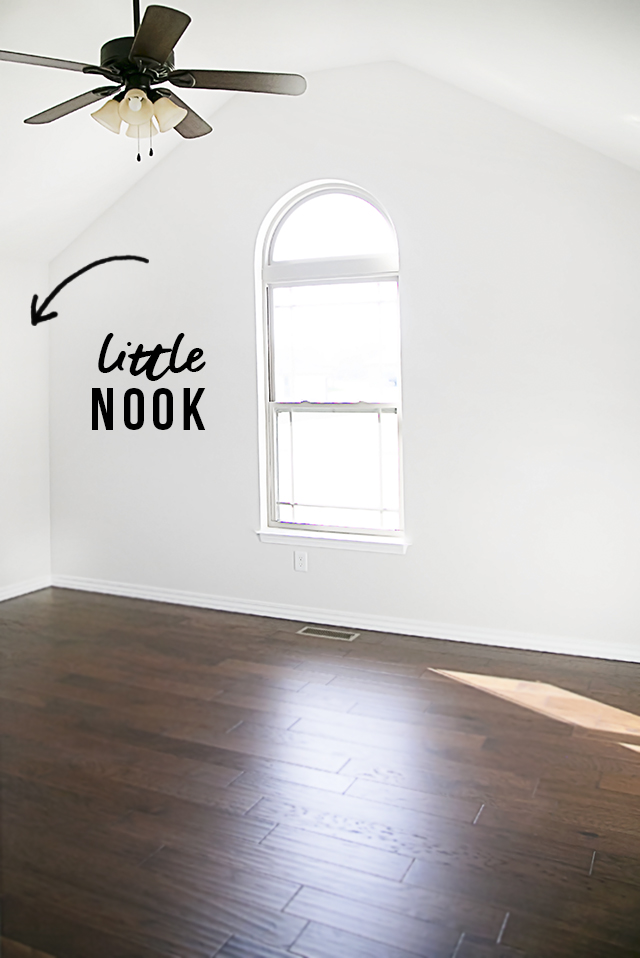 Well, I had a desk and paper organizer in a little nook in there (forgot to take a before picture after putting desk and paper organizer in there. Insert face palm) — so it was time to give that space a bit of refresh. I needed something to make (part of) my home office feel a little more comfortable.
So, I headed to Gordmans to see what I could find and scored BIG. Here are a few simple ways to accomplish a home office refresh without enormous stress and spending too much money.
SET A BUDGET.
Of course, most of us never want to break the bank when decorating! Finding items that are quality and priced right is the way to go and Gordmans didn't disappoint.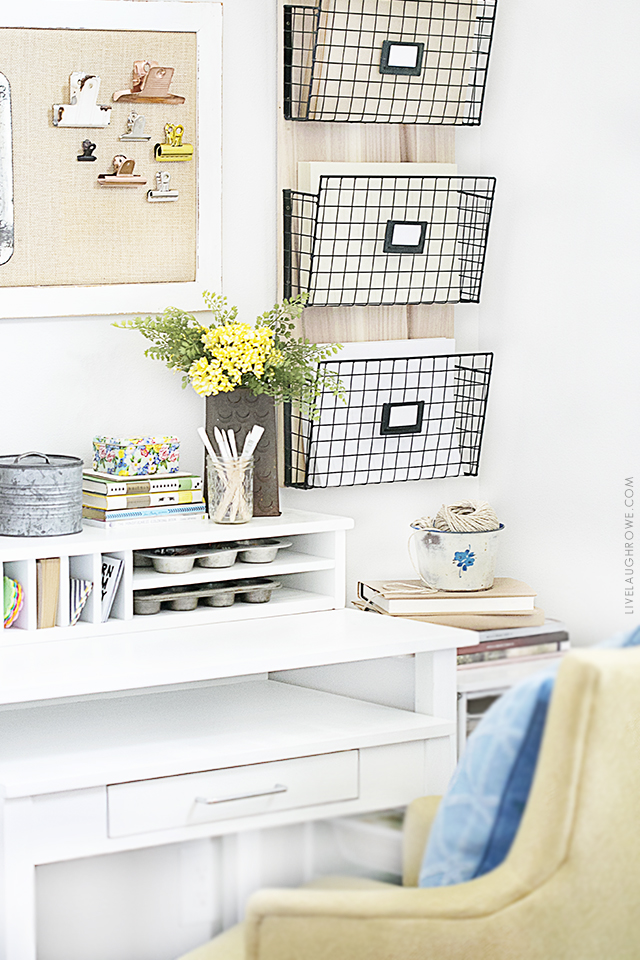 Simple Office Refresh on a Budget


I found SIX items under a total of $200 and they were a perfect compliment to what I had! I was surprised how many great pieces were on clearance too. I've learned in almost every store to make a couple rounds through the decor department, it's amazing how many things you'll discover that you missed the first time around.
Years ago I was shopping with a friend and she said we needed to bless our basket. I remember laughing, but I still to this day think about that. I pick up lots of things as I'm strolling around a store, but it's my goal to be intentional and only buy what I need. While a lot of items go into the cart, only a few are usually chosen and fall within the budget. Can you relate to that?
REPURPOSE
Use items you have in a different way. I love vintage pieces and mixing a little old with the new. Notice the old scalloped cheese grater that is being used as a vase? The floral stems are from Gordmans and I had the old grater. They were a match made in heaven (wink-wink).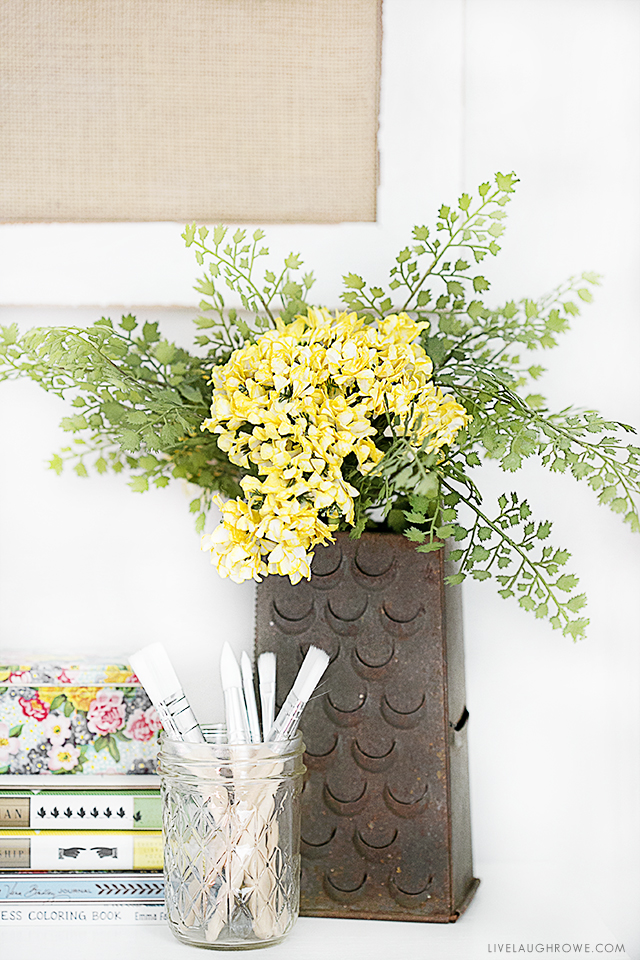 Old tins (and bowls) make great storage and/or display pieces too. Between you and me, the vintage pieces add a little character as well. I often wonder about the story behind some of the old pieces I purchase.
My house is like a bride on her wedding day — lots of something old and something new. Ha ha! I crack myself up folks.
Another favorite upcycle/repurpose is using old muffin tins for organizing little knick knacks like paper clips, thumb tacks, etc.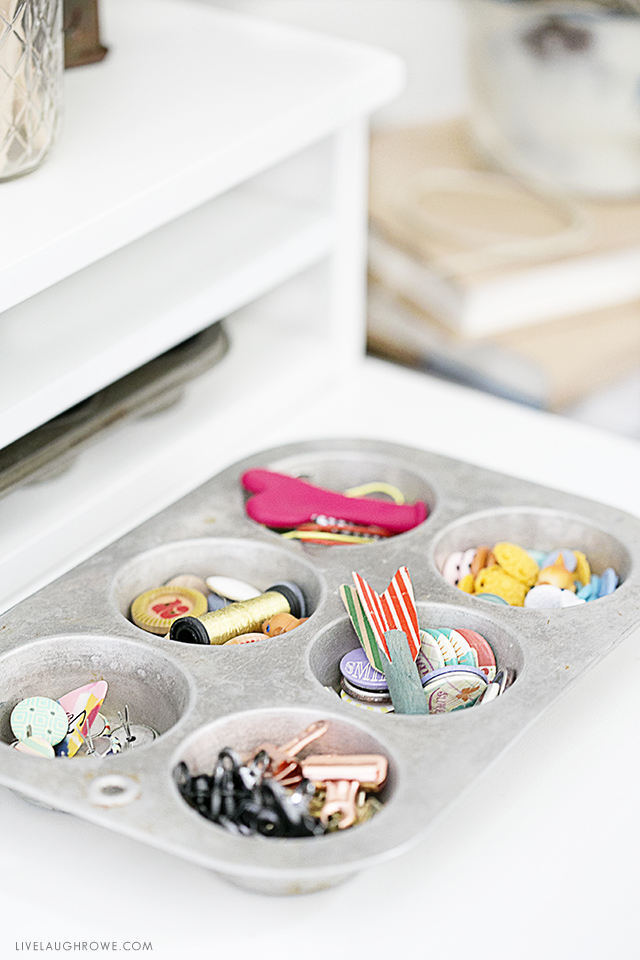 ORGANIZATION
One of the new pieces that came into this space was a fabulous wall organizer. The wire mesh pockets attached to the light colored wood were calling my name.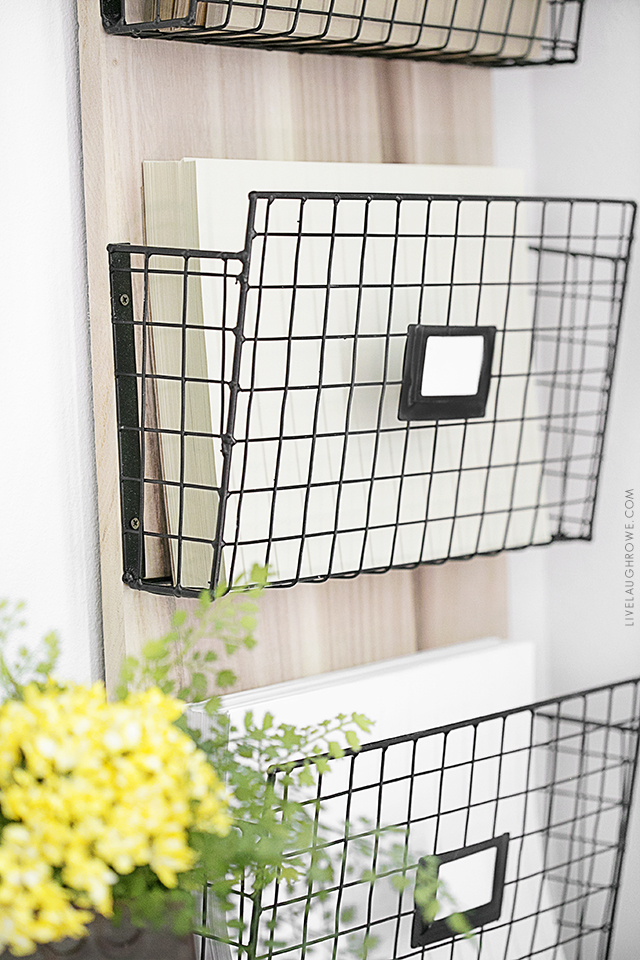 For $19.99, I knew it was coming home with me to hold my shipping labels, card stock and more. I couldn't be happier with how it looked after being hung up either.
Gordmans had soooo many of these wall pockets to choose from. Ahem, these are great for all the college students on the hunt for organizational pieces too.
POPS OF COLOR
Adding pops of color is easy to do by adding flowers, greenery, artwork, throw pillows, rugs and more.
Most of my furniture is light colored, so if and when I'm going to add pops of color, it's with throw pillows. However, this chair was super comfy and….. wait for it, yellow. This yellow chair would add a little sunshine to my home office. It quickly became a must have piece.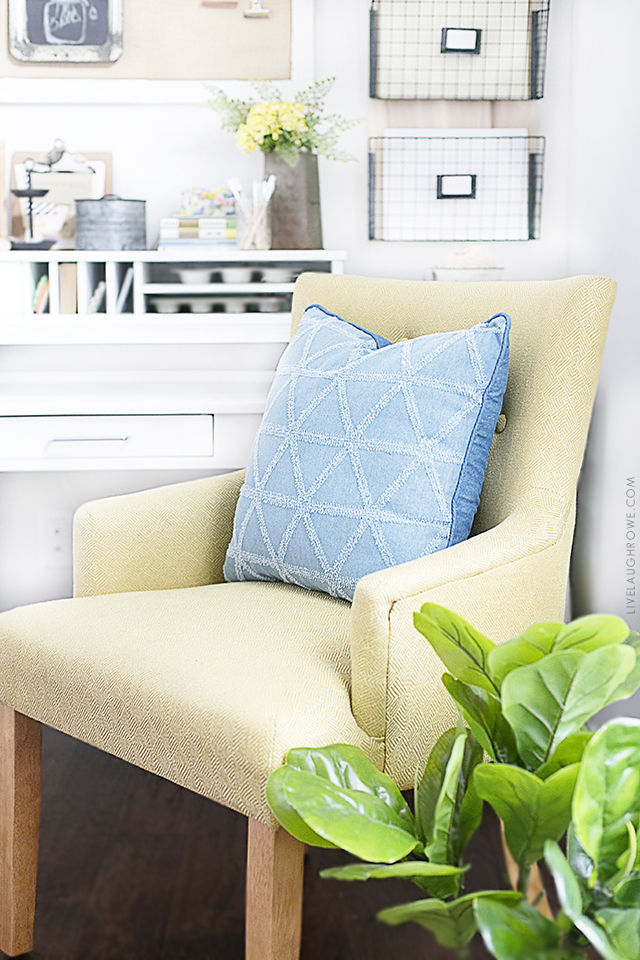 Not only would this chair bring some color to the space, but it would add a little versatility as well. I could use it for reading or turn and use it at the desk. Score!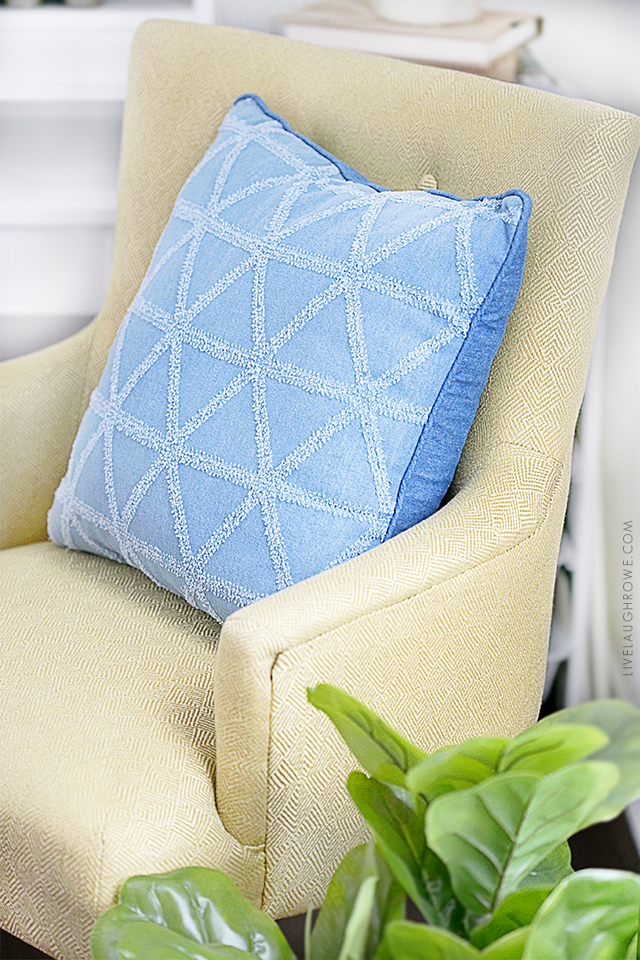 After finding the chair, I spotted this beautiful denim pillow with a geometric print that looked fantastic on the chair. I just love the play on patterns between these two pieces. Don't they look great in my home office nook?
Aaaaaand then there was the faux fiddle leaf tree. Swoon!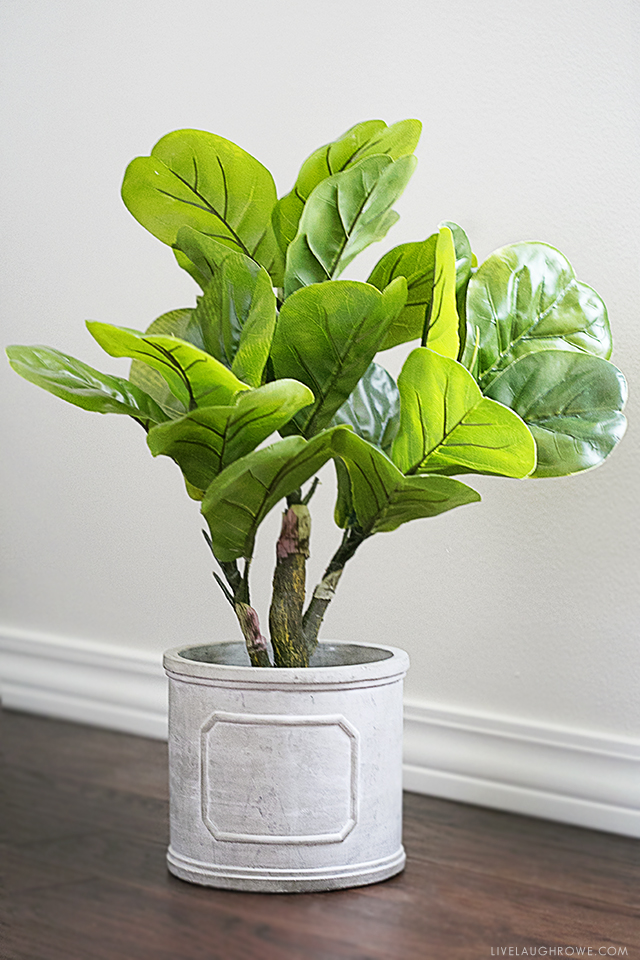 Oh my gosh. Best part? It was on clearance! Isn't she a beauty? I loved bringing greenery into the space. One word: PERFECTION!
The cement planter has a french farmhouse look and feel that I adore. This pairing could easily be moved from room to room when I get the itch to switch things up. You know how that goes?
RECAP
So here's a quick recap on what I scored at Gordmans… below you'll find everything itemized with price points. Mmmmkay?
Home Office Refresh with Gordmans
Itemized Purchases:
Wire Mesh Wall Pockets on Wood $19.99
Yellow Floral Stems and Greens $5.99 each
Beautiful Yellow Chair $99.99
Denim Geometric Pillow $14.99
Faux Fiddle Leaf Fig Tree $18.98 (clearance)
French Farmhouse Cement Plant Holder $6.98 (clearance)
APPROXIMATE TOTAL $175.00 — not too shabby!
So, what are you waiting for? Head to Gordmans today. From apparel to shoes to the perfect finds for an office refresh! Share what you buy on Instagram or Twitter with the hashtag #GotItAtGordmans. I can't wait to see what you find!
Looking for some more decor inspiration?
Simple Summer Entryway Decor
How to Make the Most of a Small Space | Apartment Living
Pet Friendly Furniture and Decor
Multi Purpose Room Makeover
Breakfast Room Buffet and Mantel

Be sure to visit with me here too:
Facebook | Instagram | Pinterest | Twitter | Google+