Dog Treat Ornament for Christmas
Looking for a fun way to spoil the dogs in the family this Christmas? This simple DIY Dog Treat Ornament can serve as a gift and a treat rolled into one. Prepare for wet noses and wagging tails.
This dog treat bauble is so simple to pull together; however, it will have the dogs knowing they're loved and begging for more. Did I mention that it might just impress the dog parents too?
Be sure to sign up for my email to get
new recipes and creative ideas
sent right to your inbox!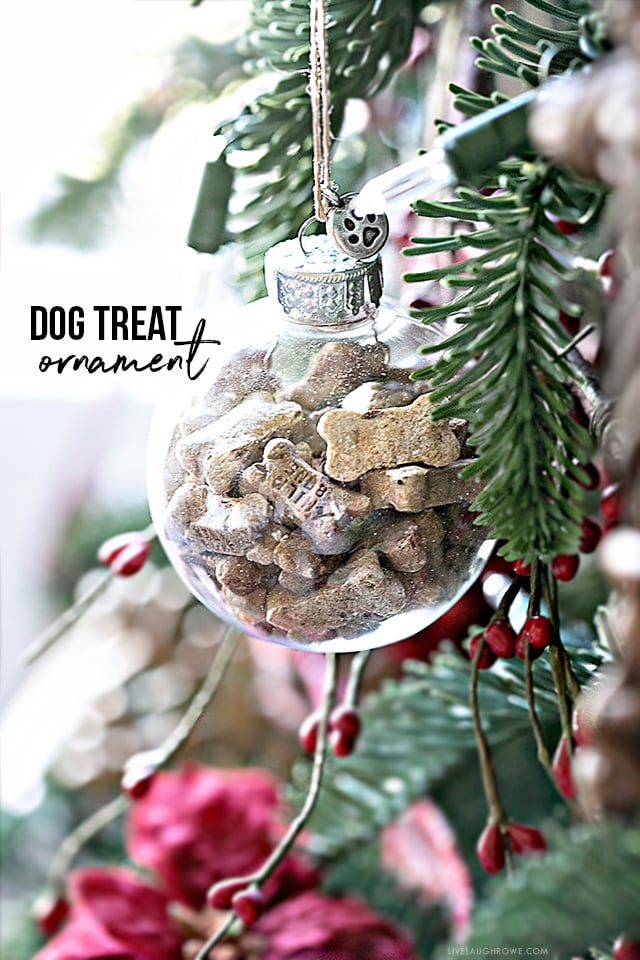 As many of you know, Steve and I have been dog owners our entire marriage. We've spoiled them over the years — as does the entire family. Unfortunately, we lost our sweet Buster Brown in August, so these dog-related posts are a little harder for me than usual.
I miss my sweet boy so much.
Anywho, last Christmas my sister, Kristine, hosted Christmas morning. My husband was in St. Johns, NL celebrating his mom's 75th birthday.
It was a Christmas I will probably never forget — the first year (2019) we've been apart on Christmas and I just happened to be under the weather. Pretty depressing, right?
Yeah, for me, it was a very low-key day. That is to say that I've never been more grateful to have my family so close though.
Nevertheless, it was a lovely Christmas. And I clearly recall these darling dog treat ornaments she made. They were hanging scattered throughout the tree. Then she passed them out to each of us for our dogs. We're a big dog family…
Money can buy you a fine dog,
but only love can make
him wag his tail.
-Kinky Friedman
We were all pretty impressed with this cuteness. On a side note, my sister is pretty darn creative. As a matter of fact, I'm always encouraging her to start her own blog. She blows the idea off and, therefore, I share her genius with all of you. Ha.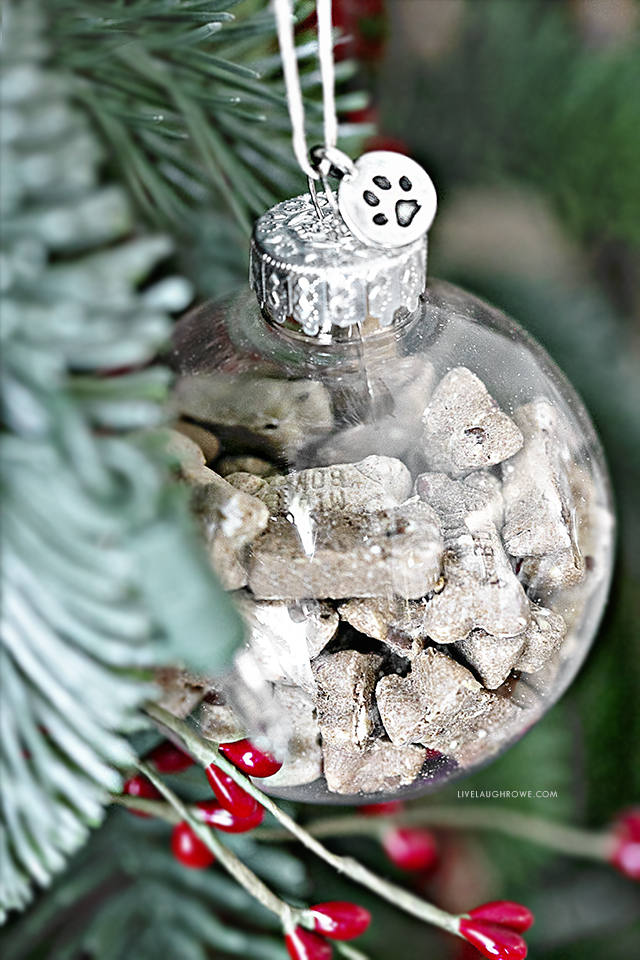 Other dog-related posts:
How to Train your Dog to Ring a Bell to Potty
Homemade Paw Print Dog Treats
DIY Dog Treat Canisters
Awesome Pet-Friendly Carpet
This dog treat ornament makes for a great Christmas gift for all the dogs in your life. Even if you don't own one, this is such a simple way to spread a little extra joy to the four-legged friends in the family, neighborhood, workplace, etc.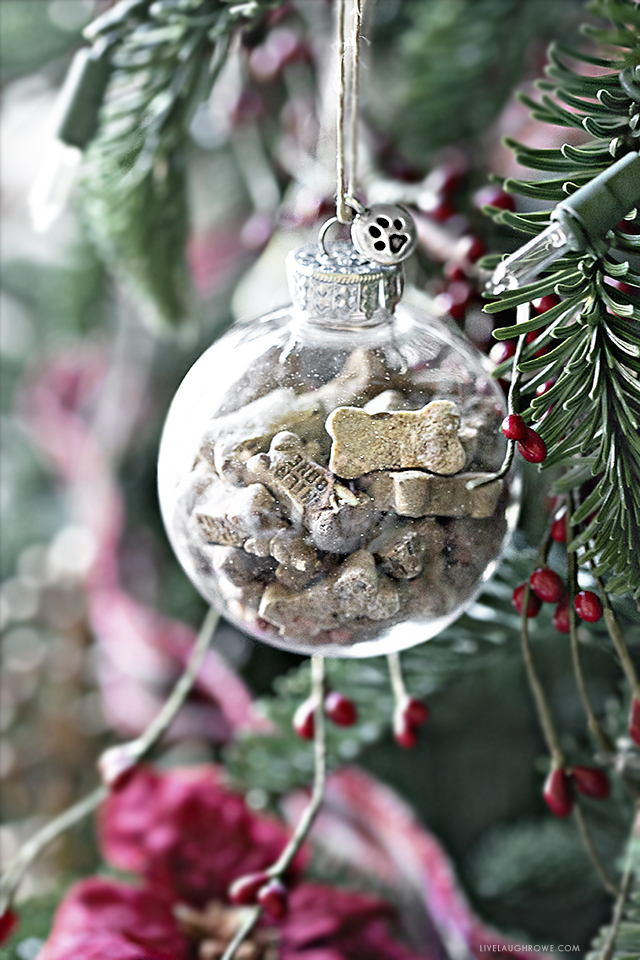 DIY Dog Treat Ornament
Supplies:
plastic ornament(s)
small dog treats (Milkbone Mini Biscuits)
twine or string
paw print charm, optional
grosgrain ribbon for bows, optional
Instructions: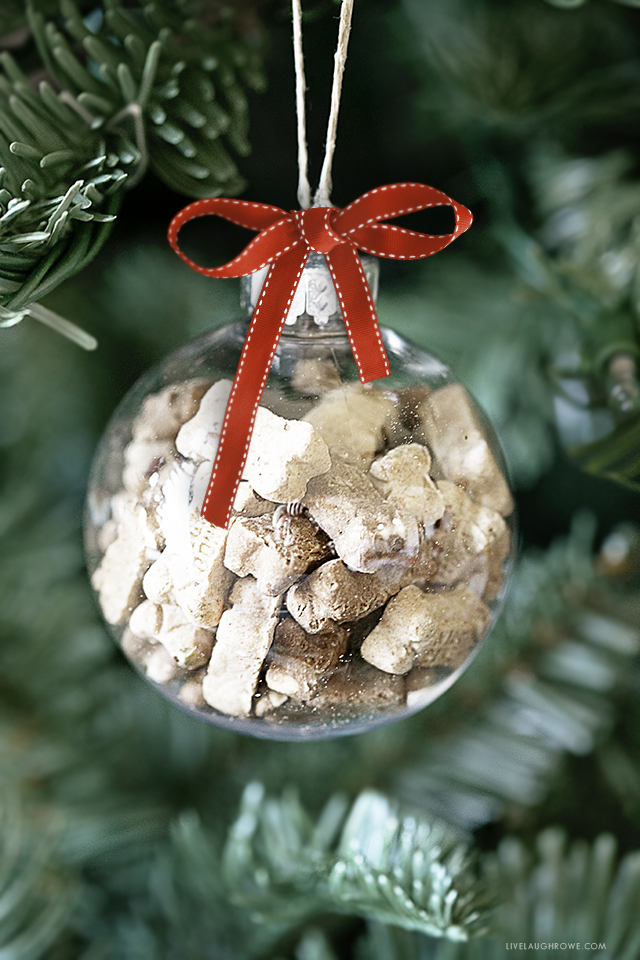 … and it's ready for gifting! Ho ho ho. I told you it was easy. And you can accessorize as much or as little as possible. Maybe you're not crafty — search for the dog treat ornaments on Etsy, some will even personalize them for you.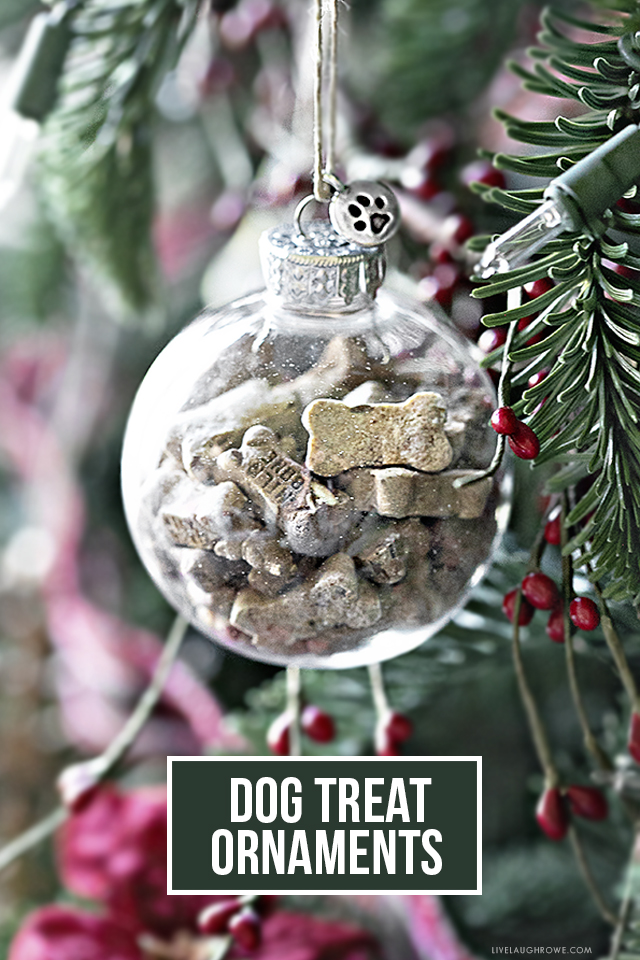 Connect with Live Laugh Rowe!
Facebook | Instagram | Pinterest | Twitter
Hugs and Blessings!