This simple, Rustic Holiday Ornament is the perfect holiday teaser. It's amazing what you can do with just a few basic craft supplies!
Have you ever done a happy dance when thinking of Christmas time? I have!!! I just love this time of the year, friends. November is like the month that primes the pump for December. And then it's all things Christmas throughout December. YAY!
Today, I also happen to be Day 31 in the 31 Days of Handmade Ornaments blog hop… soooo, be sure to stick around to find some other fabulous ornament ideas!

Rustic Holiday Ornament


A few years ago I shared a Cinnamon Stick Tree Ornament tutorial VERY similar to this one over on the Consumer Crafts blog, Crafts Unleashed. It was a wildly popular craft, so I decided to share something similar, but with a twist — wood!
If you've been around the blog long enough, you'd know that I love the farmhouse, rustic style. So, as you can imagine, I'm bringing a little rustic love to the craft room today.
With rustic and farmhouse decor, there seems to be a lot of wood (surprise-surprise). I thought this tree ornament would look darling using a wooden branch stick. Let's grab a few supplies and get this par-tay started!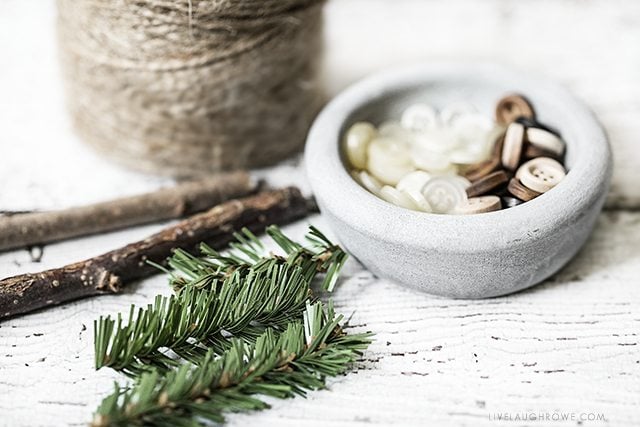 Supplies for Holiday Ornament:
Canadian Pine Stems
Wood Log Sticks
Wire Cutters
Glue Gun
Buttons
Jute Twine
*Pine Stems, Wood Sticks and Wood Buttons were all purchased at my local Hobby Lobby.
Step One: Cut Pine Stems and Wood (if necessary)
Depending if you cut your own wood log sticks or not, you'll want to start by prepping the pine stems and the wood. The wood log sticks I purchased were pre-cut at 3.74".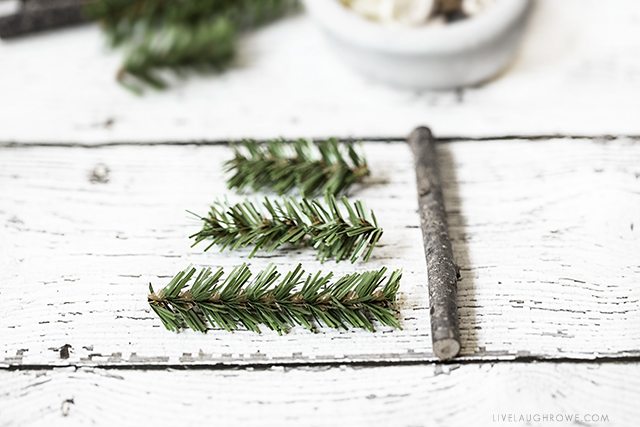 Cut your pine stems into three different sizes: 1-1/2″, 2″ and 2-1/2″ to 2-3/4″ (see picture) Wire cutters are perfect for these cuts. You can use scissors too, but you might damage them a bit (just a fair warning).
Step Two: Attach Pine Stems to Wood
Attach the pine stems to the tree using your glue gun. As you can see in the picture above, you'll place the smaller pine stem on the top and the largest one on the bottom.
Using your glue gun, place a fair size dot of glue onto the stick, center the pine stem and press down firmly. Allow to dry a bit before attaching another stem.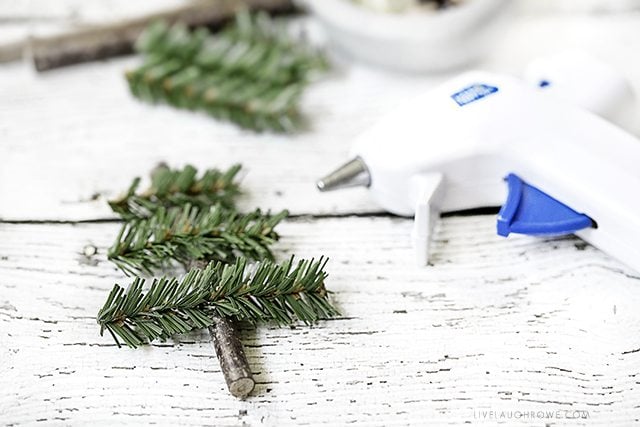 Spacing between the pine stems is at your discretion and also depends on the length of the stick your using. Spacing pictured is a little less than a 1/4″.
Once all of the stems are attached, flip the tree over and add an additional dot of glue (using your glue gun) to each side of the stick where the pine stem is affixed for a bit of extra stability.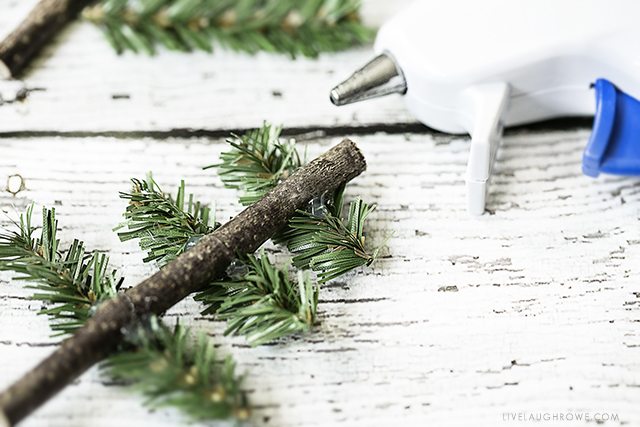 Please note that if the stems are pulled on, they will fall off – these are meant to be for decorative use only.
Step Three: Add Ornaments (aka Buttons)
Using buttons of choice, it's time to decorate your sweet rustic holiday ornament. In keeping them simple, I used some small wood buttons and a variety of white/ivory buttons. Attach buttons with glue gun.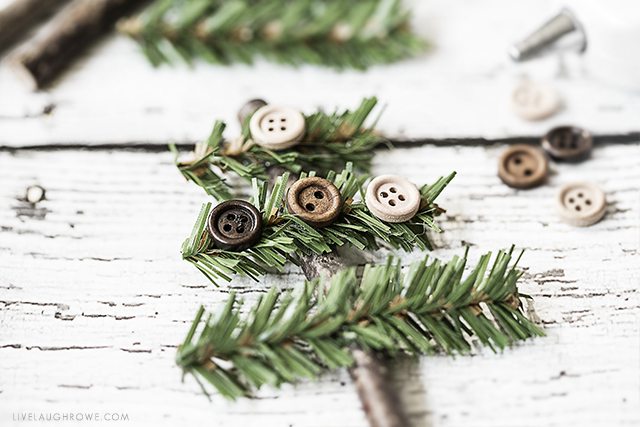 Step Four: Attach Twine
Cut a 7″ piece of jute twine and glue to the back of the tree ornament, for hanging. Bring both ends of the twine together and attach with glue gun –or—you can loop and knot the twine before gluing.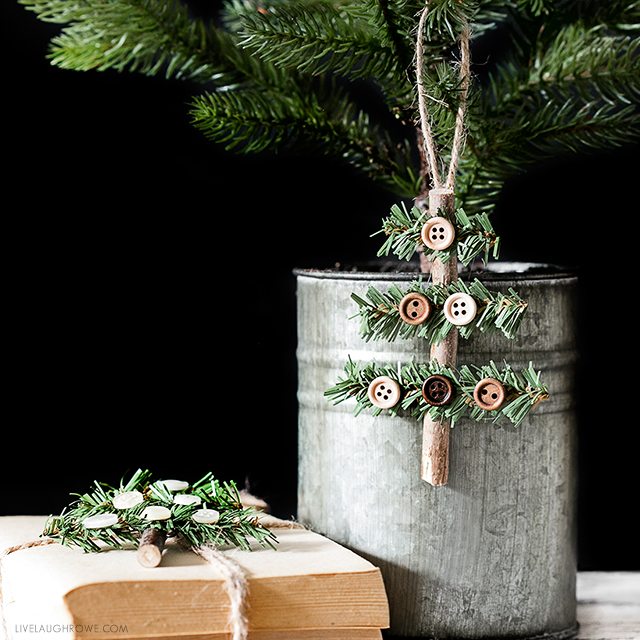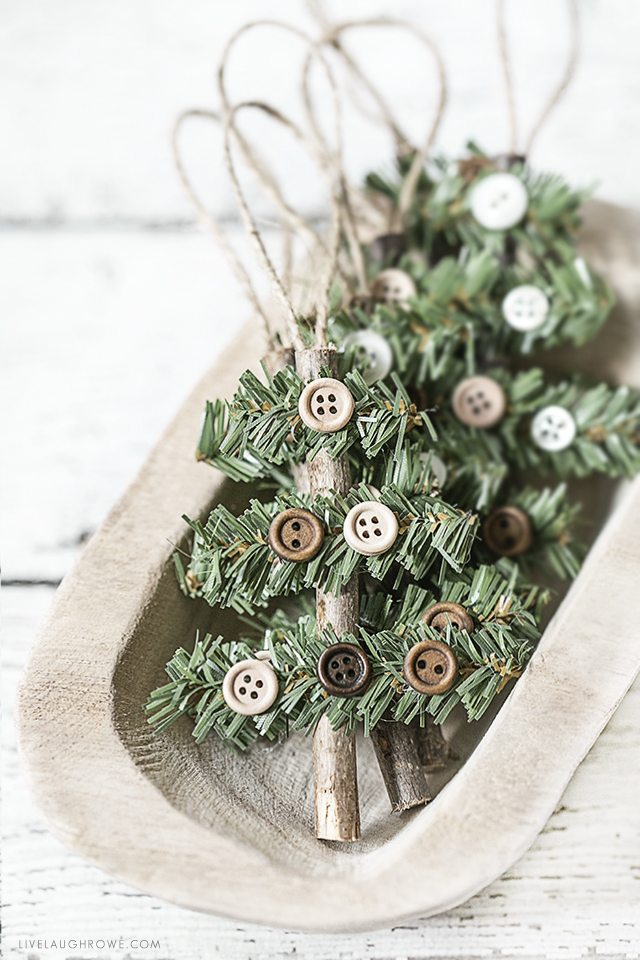 Voila! You're done. I absolutely adore these and think they would make great gift toppers too. Who doesn't love a handmade ornament? It adds a little TLC to the packaging too.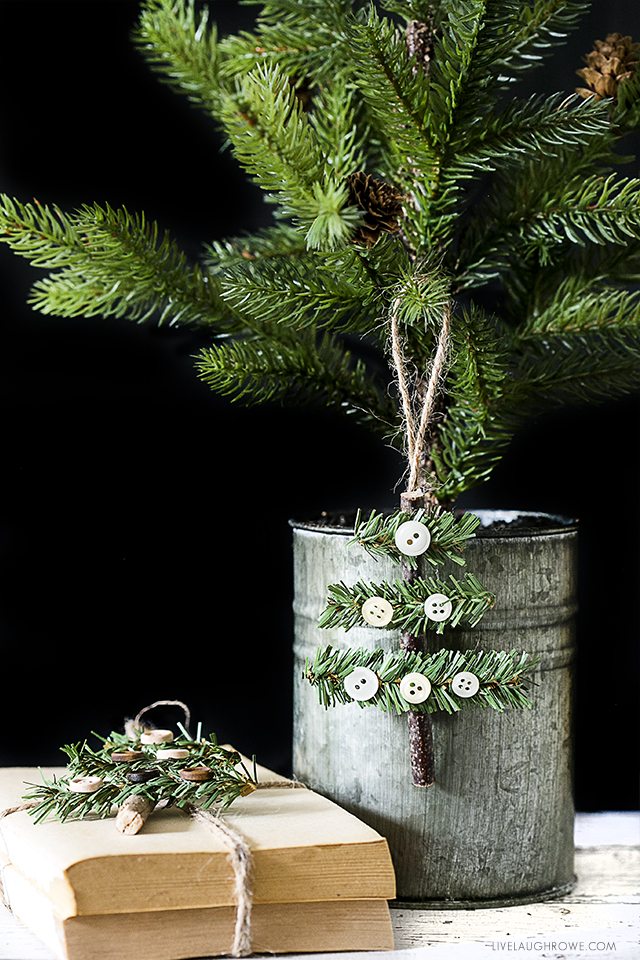 Now for some more fun! Below you'll find the list of participating bloggers in the 31 Handmade Christmas Ornaments blog hop. I'm sure you'll find a new favorite ornament or two… or three. Enjoy!

Here are all 31 Bloggers in order of their appearance:
1. Pet Scribbles
2. Yesterday on Tuesday
3. Cupcakes and Crinoline
4. An Extraordinary Day
5. Celebrating Everyday Life
6. Hunt and Host
7. Love of Home
8. Celebrate Creativity
9. Petticoat Junktion
10. What Meegan Makes
11. Atta Girl Says
12. Sweet Pea
13. Exquisitely Unremarkable
14. Imparting Grace
15. In My Own Style
16. 504 Main by Holly Lefevre
17. Inspiration for Moms
18. The Chelsea Project
19. I Should Be Mopping the Floor
20. My Uncommon Slice of Suburbia
21. Hearth and Vine
22. Shabby Art Boutique
23. Remodelando la Casa
24. Domestically Speaking
25. Swoodson Says
26. Stone Gable
27. My Creative Days
28. The Crafting Nook
29. Knick of Time
30. Lovely Etc.
31. Live Laugh Rowe (ME!!)

Happy creating, friends!

Be sure to visit with me here too:
Facebook | Instagram | Pinterest | Twitter | Google+