Simple Christmas Wreath | Loop Yarn Wreath
This beautiful and simple Christmas wreath will be a show stopper in your holiday decor. Keep it simple this year and make this classic green wreath with only a few supplies that include loop yarn. Moreover, it's fluffy, soft and full of texture.
So if you're looking for a simple Christmas wreath that won't break the bank, look no further. This darling loop yarn wreath will cost you about $23*. Also, it will only take about 20-30 minutes to make. Boom.
Be sure to sign up for my email to get
new recipes and creative ideas
sent right to your inbox!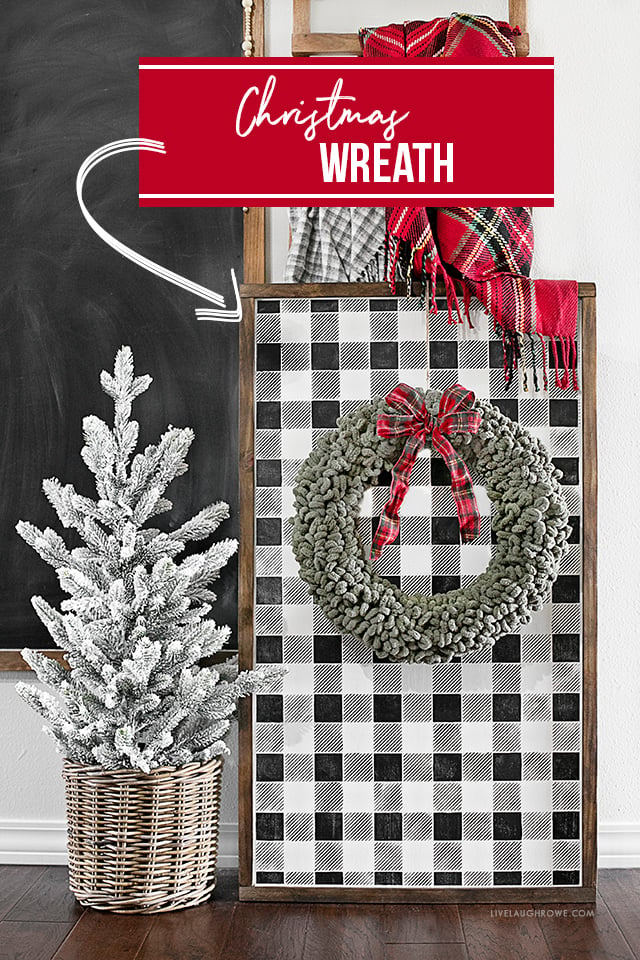 Yarn wreaths are nothing new or original — and this one is really no exception; however, I had to share my simple Christmas wreath with you. If there is one thing I appreciate, it's a project that saves money and can be added to my home.
Recently I saw a loop yarn wreath for the very first time. So, I decided I wanted to make one and went on a mission to find a green color that would make a fabulous Christmas wreath. It adds a perfectly warm and cozy feel to any space.
Want to make a winter wreath? Make one with white loop yarn. There are so many fun options. And it's certainly going to catch your guests' attention. My sister and mom were very impressed. In fact, my mom asked for one for Christmas. Ahem.
Maybe I should've titled the post, Simple Christmas Show Stopper. Ha.
Also, every picture needs a little Parker Posey. Isn't he the cutest? He's posing so perfectly with my sweet Christmas Wreath, don't you think?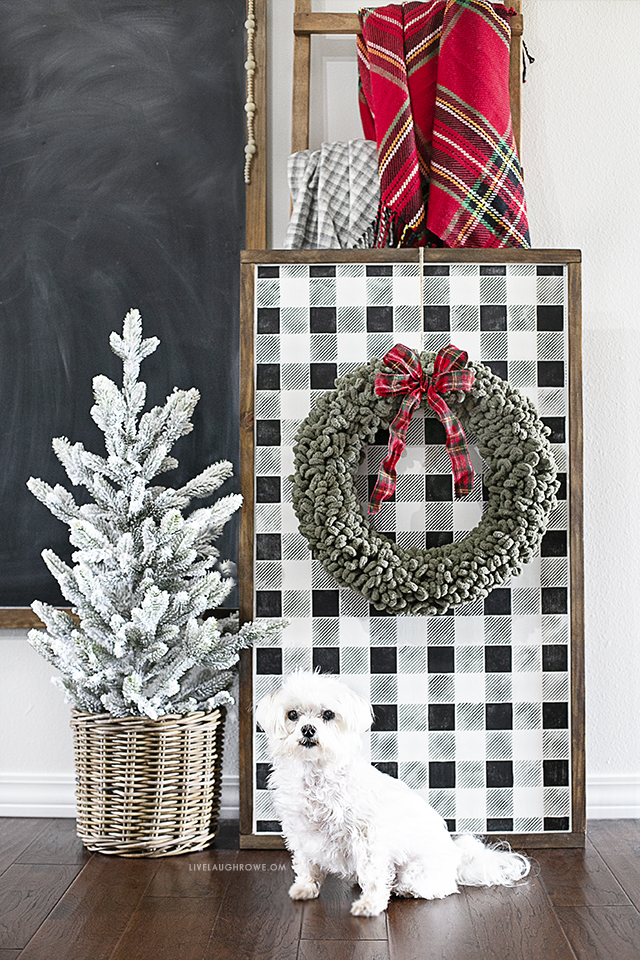 How do you make a loop yarn wreath?
Making a loop yarn wreath is incredibly easy. Have you ever made a yarn wreath? It's similar to that, requiring you to simply wrap the yarn around the wreath form until the wreath form is completely covered. You'll take the yarn and go over the wreath form, through the hole, and up and around again. In short, repeating this until the entire wreath form is covered.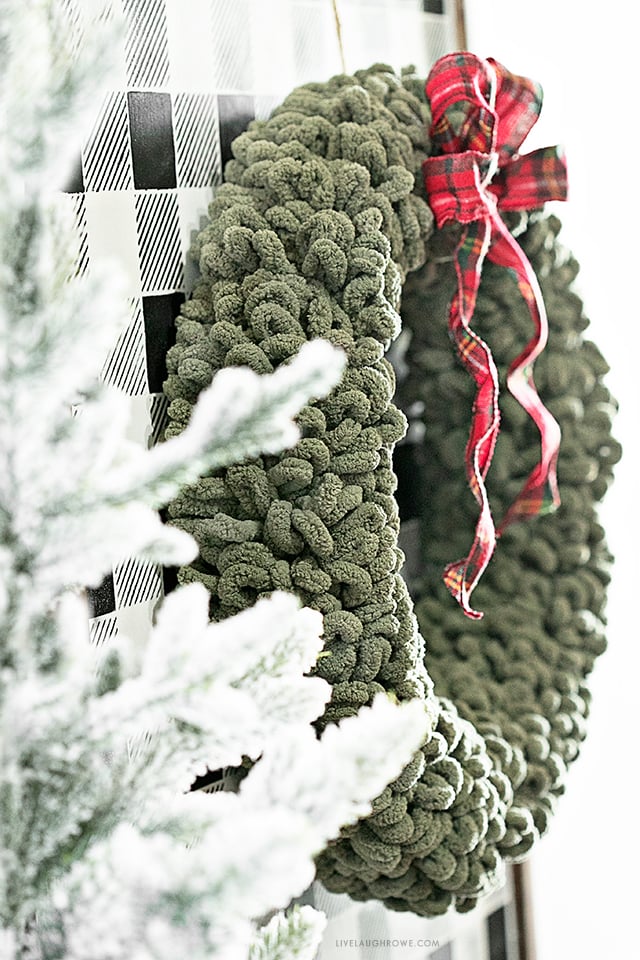 Other holiday projects:
Shiplap Ornament Display
Christmas Ribbon Display
Rustic Santa Door Hanger
Rustic Wooden Stocking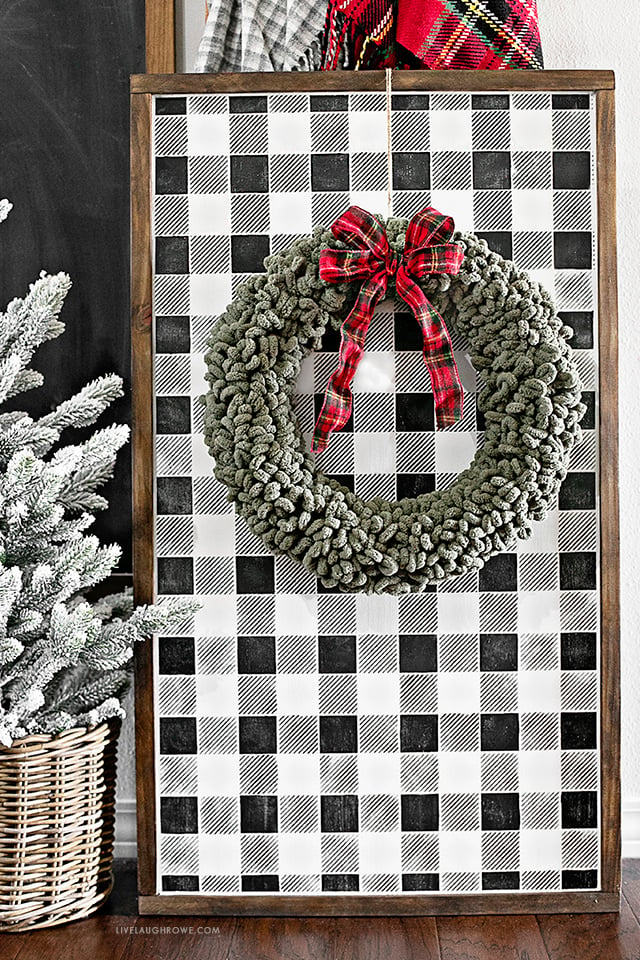 Project Time:
Supplies for Christmas Loop Yarn Wreath:
Hook Yarn in Olive, three skeins (all hook yarn)
2-inch x 15.6-inch styrofoam wreath (white or green)
Wired Ribbon
Scissors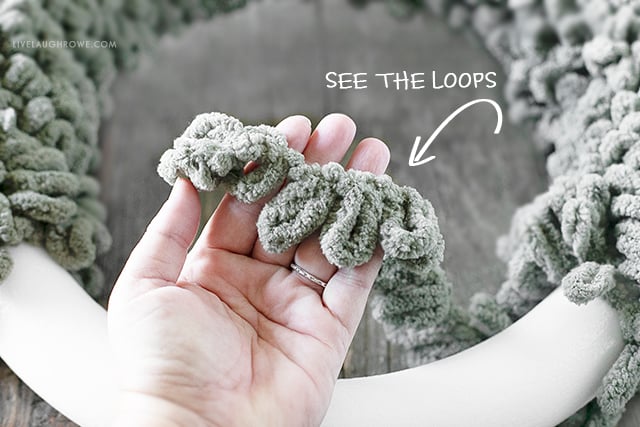 Instructions for Christmas Wreath:
Getting started: Take an end of the loop yarn and begin to wrap the yarn around the wreath form. You can use a pin or glue to keep the end piece down if you'd like, but I just wrapped yarn around mine — keeping the supply list smaller and the project simpler (wink-wink). Most importantly, do what works best for you.
For wrapping. Grab the whole skein of yarn in your hand and wrap around the wreath form, bringing the yarn up through the center of the wreath. In short, continue to wrap, wrap, and wrap some more. Be sure you're pulling the yarn tightly. Once you're done, wrap the end of the yarn piece under the currently wrapped/placed yarn (or glue or pin down).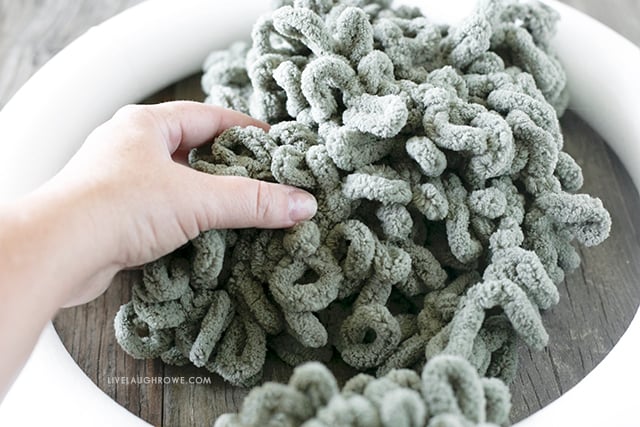 Finishing up. Now that we've finished assembling the wreath, let's add a bow. Using a wired ribbon will allow the bow to keep its form.
NOTES: I purchased my yarn for this project on Amazon for $5.99/skein. However, this yarn can also be found on-line at JoAnns. Be sure to find the lowest price to keep the overall cost of this project down.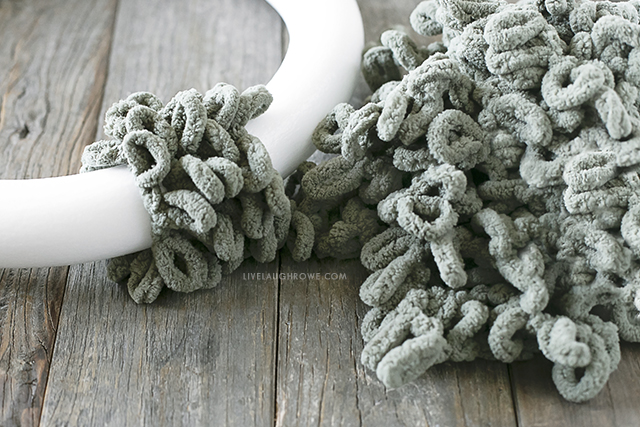 Now it's time to enjoy your simple Christmas wreath. These would make a great gift too. For example, housewarming, hostess, etc.
So I happened to jump over on Etsy and searched for loop yarm wreaths. WOW. They're selling for $40-$50, making this project even more worthwhile. What do you think?
Connect with Live Laugh Rowe!
Facebook | Instagram | Pinterest | Twitter
Hugs and Blessings!

*Please note that prices vary based on the supplies you purchase and where.