Saying Goodbye to Buster
Last week was one of the first times I didn't do anything for the blog. No new posts, no pinning, no Facebook posts, etc. That had to be the first time in 8+ years. Why? Well, we experienced an unexpected loss in our home. Our sweet Buster Brown crossed over the rainbow bridge on Monday, August 17th around 11:45 a.m. I never thought the day would come so soon where we would be saying goodbye to Buster.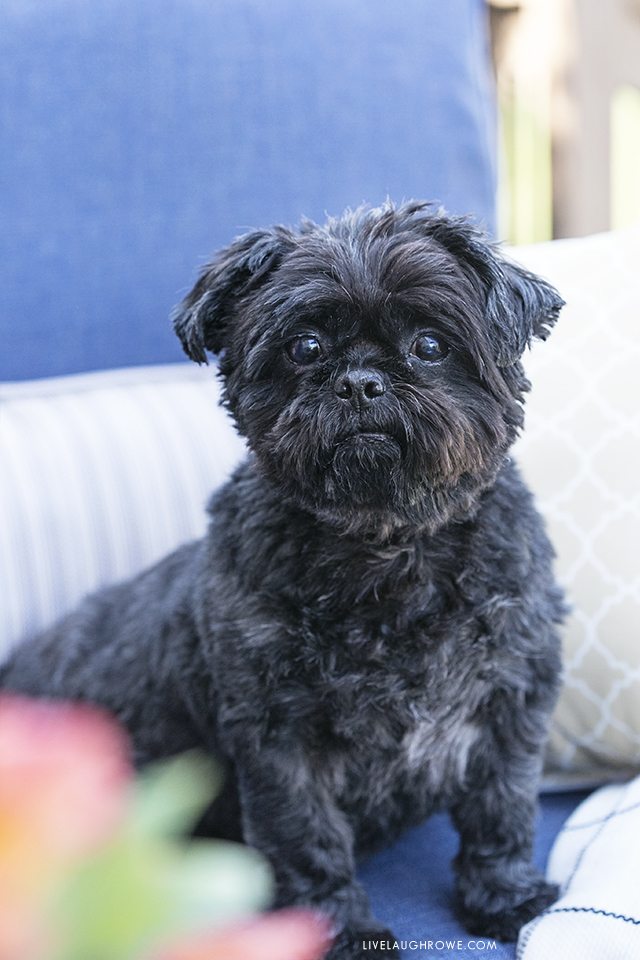 If love could have saved you,
you would have lived forever.
My heart is broken and I truly believe a small piece of me died with Buster…
We adopted Buster about 10 years ago from a pet shelter in Hawk Point, MO. He was 3 years old and the only setback was that he wasn't housebroken. Y'all, that almost broke me. It took around 2 months to potty train him and I shed many tears.
However, he was such a good dog. Super chill, didn't like to be held or cuddled — but he was always present. He loved to chase his little tennis balls, would rarely refuse a dog treat, and enjoyed a belly rub every now and then.
Watch this sweet memorial video I made for our sweet Buster Brown… many tears were shed while putting this together.
What Happened?
On Sunday (August 16th), we noticed he wasn't eating. Our thoughts were that he probably had an upset stomach. We honestly didn't think too much about it, because he's done this before. Therefore, he laid around and eventually made his way out back to chill in the shade.
Steve headed out of town mid-afternoon, but my sister came over for a while and agreed that Buster just seemed under the weather. Saying goodbye to Steve was awful that afternoon. Little did I know that his trip would be cut short.
At dusk, I got him to come inside. He seemed a little weak, but Steve and I thought we'd give it till morning before calling the vet. There really was no change in his behavior before I went to bed, so I turned in praying that whatever might be going on in his tummy/body would pass and he would be better in the morning.
I didn't sleep well that night. I kept hearing Buster moving around (he's not crated at night), which made me think he might've been feeling a little better. One time I woke up and it looked like he was dreaming. It appeared as though he was running in his sleep. Again, I just went back to sleep.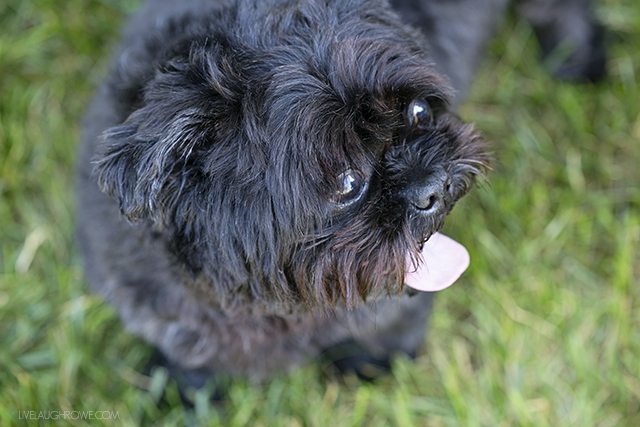 What we have once enjoyed we can never lose;
All that we love deeply, becomes a part of us.
-Helen Keller
Around 6 a.m. I heard a banging sound in our master bathroom. And it sounded like Buster was hitting the cabinets. I jumped out of bed and ran in to see what was going on. He had stopped at that point, but he couldn't walk…. he just kept collapsing. I quickly phoned my husband, something was wrong. Suddenly Buster went into a terrible seizure and I had the devastating realization that he may have been having them throughout the night.
Friends, I went into panic mode. I quickly called my mom to meet me so she could watch Parker, wrapped Buster in a blanket, and sped into town. Our vet wasn't open yet. So I called the Emergency Vet Clinic and told them I was on my way.
Emergency Clinic
Within 15 minutes of checking him in at the clinic, I was told that Buster wasn't really responding to fluids and that seizures are usually linked to tumors or masses on their brain. Treatable seizures are when a pet comes out of them and usually walks in a circle to get their bearings. I knew that Buster didn't seem lucid as we drove into town. His eyes seemed glazed over.
Sitting there alone in a cold, sterile room I began to weep. The doctor on duty basically said that we could transfer him to our vet when they opened for observation or we'd need to put him to sleep. I called my husband and asked the doctor to explain to him what was happening. Steve was unable to speak.
The doctor stepped out and we agreed that we wanted our vet to see Buster for a second opinion. There was no way I was going to put Buster asleep alone without Steve — and in a clinic that was getting ready to close.
Nevertheless, I hung on to a glimmer of hope. Maybe our vet would be able to help Buster and give us some good news. Before leaving the emergency clinic, Buster did have another seizure, so they gave him some valium to make the trip across town more comfortable and incident-free.
While trying to remain hopeful, the thought of saying goodbye was overwhelming.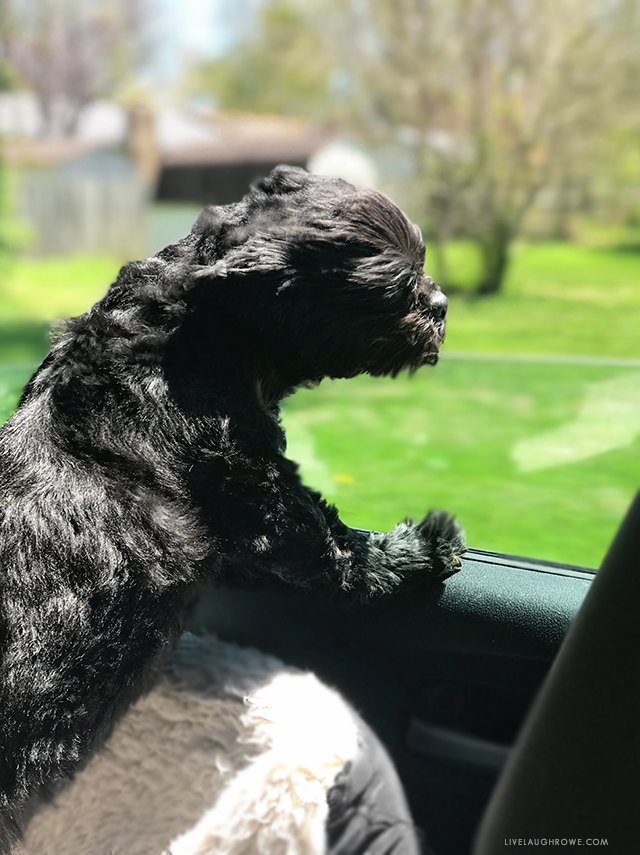 A Second Opinion | Saying Goodbye
Upon arrival, the technician at Parkcret Veterinary Clinic came out for Buster (due to COVID and safety measures, I was unable to go in with him at this time). I spoke to our vet (Dr. Garroutte), weeping as I shared the events that had transpired earlier that morning. The guilt was overwhelming. Let me re-phrase that, the guilt IS overwhelming.
I waited for what seemed like an eternity before Dr. Garroutte came back out to the car to talk to me. He confirmed that things weren't good and time was not on our side. Basically, Steve needed to get back into town ASAP.
Steve was a couple of hours away and said he was at times going 90-95 mph to get home… We scheduled to go back to the vet's office together between 11:00 and 11:30 a.m. By 11:45 a.m., Buster had crossed the rainbow bridge. Our hearts were broken.
Needless to say, it's been a rough week. A day hasn't gone by where I haven't cried and nights are the worst for me. However, while we are currently mourning the loss of our sweet Buster, we are also trying to remember and celebrate the 10 fabulous years we had with him.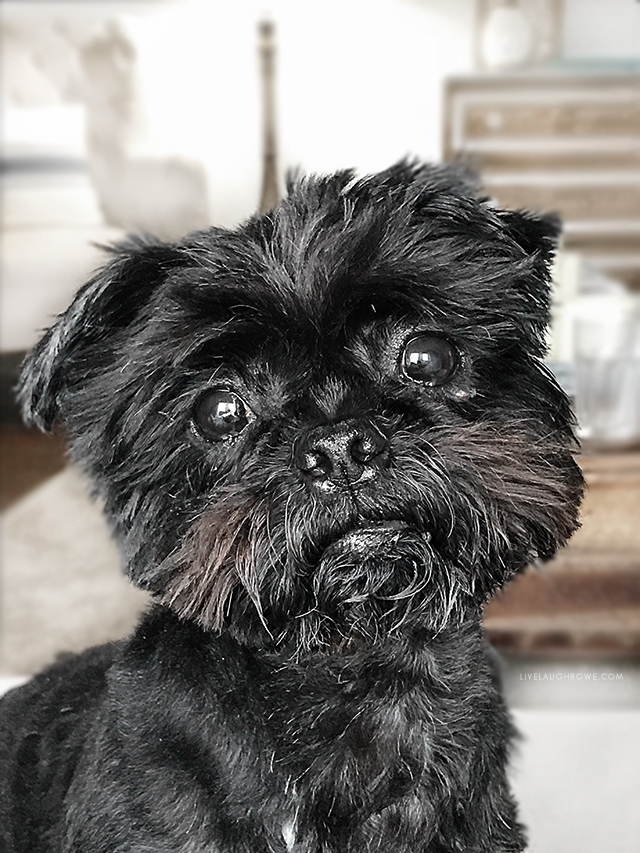 Always in our Hearts
As a rescue dog, we knew that he came from an abusive home. He never did like loud noises and in the beginning, he ate his food way too fast. But, we know in our heart of hearts that we gave Buster the best home and all the love in the world.
Buster was my little shadow — following me wherever I went. If I went into the bathroom, he sat and waited on the ceramic tiles. If I took a nap, he laid next to the bed facing the door — and he laid on the floor next to where I sat and worked so often. Double checking that he wasn't laying on the floor in the laundry room became second nature, as I had a tendency to bump into him on occasion.
He also had the patience of steel… as Parker began to lose his sight, he would walk on and/or over Buster all the time. I would always tell him what a good and patient boy he was. Sigh.
I've learned the hard way that I've never experienced a loss quite like this. And it sucks.
Posts where Buster is featured:
How to Keep Your House Clean with Dogs
Pet-Friendly Furniture and Decor
Awesome Pet-Friendly Carpet
Holiday Wishes from Buster and Parker
Our New Normal
We are so fortunate to still have our Parker Posey with us. Although, we're trying to find our new normal without Buster. Parker is blind and has never been left alone at the house. As a result, it's been sad to watch Parker notice that there isn't a second food bowl to lick, his begging/barking buddy isn't here anymore and he doesn't keep bumping into Buster when he comes in from the backyard.
I wanted to share this news with you. Buster was a part of my blog family too. I thought it would be nice to celebrate his life in words, photos, and video. Thank you for your support and continued prayers. Please be thoughtful if you should decide to leave a comment.
Connect with Live Laugh Rowe!
Facebook | Instagram | Pinterest | Twitter
Hugs and Blessings!