Christmas Coloring Page | Advent Countdown
A sweet Advent Countdown Christmas Coloring Page is a great activity for just about everyone — kids and adults alike. December is preparing to knock on our door and for those who enjoy counting down the days till Christmas, this coloring sheet is simple, festive, and fun.
Be sure to sign up for my email to get
new recipes and creative ideas
sent right to your inbox!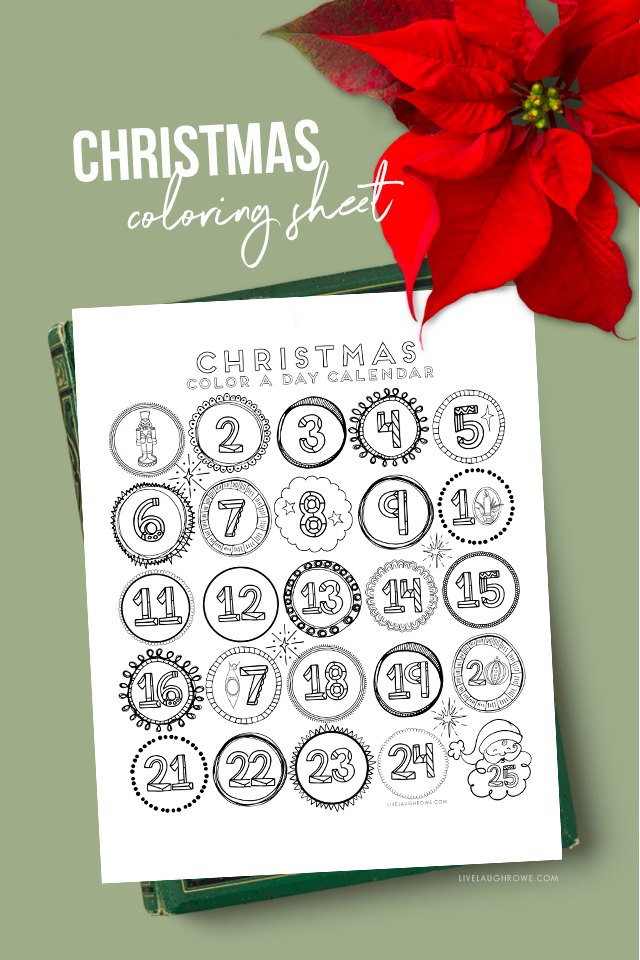 Over the years I've shared a few different advent calendar ideas and I had every intention to share another one with you this year. However, time got away from me, so my original plan didn't work out.
Regardless, I landed on another great idea, especially if you enjoy a little coloring. An advent countdown Christmas coloring page. I hope you'll agree.
"Let the essence of Christmas blossom within,
as the countdown to Christmas begins." -Eleesha
Now that Thanksgiving has come and gone, many trees will go up and Christmas music will fill the radio waves. All things peppermint will start to be on our radar and Gingerbread houses will be assembled over the next several weeks.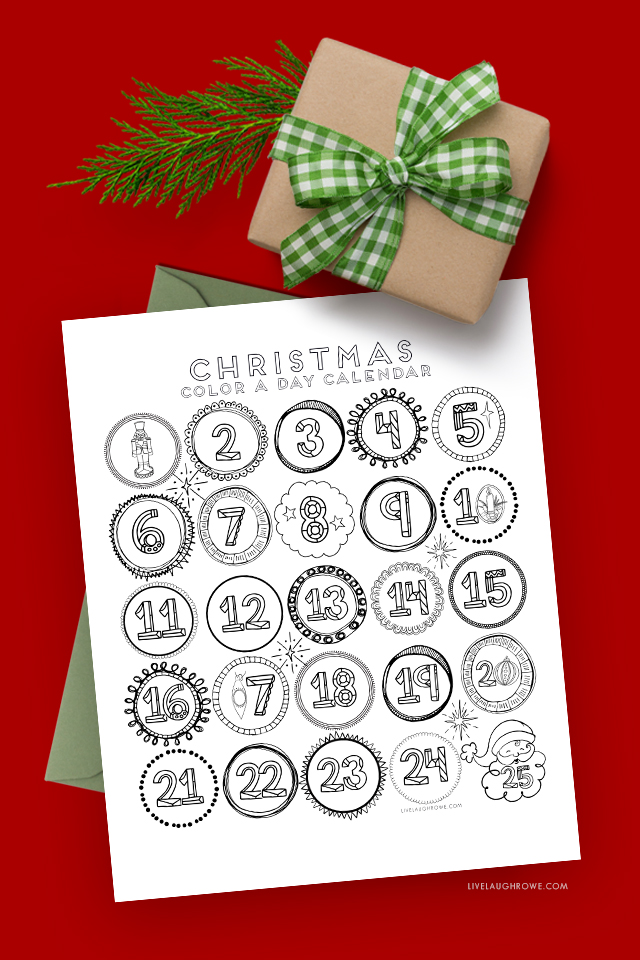 As December rolls in, so many fun and festive activities will take place. Maybe you didn't have time to pull an advent calendar together with little gifts, candy, etc. This Christmas coloring page will save the day.
What I love about this color a day advent printable is that it allows us to stop or pause and take a minute to let our minds rest. Unfortunately, kids won't understand that, but it's an activity to assist them in counting down the days till Santa comes.
But, for myself, I'll keep a copy on a clipboard with my colored pencils close by. In addition, I bought an advent calendar coloring book too for this year… I love to color, so I thought I'd add a little more fun to the mix.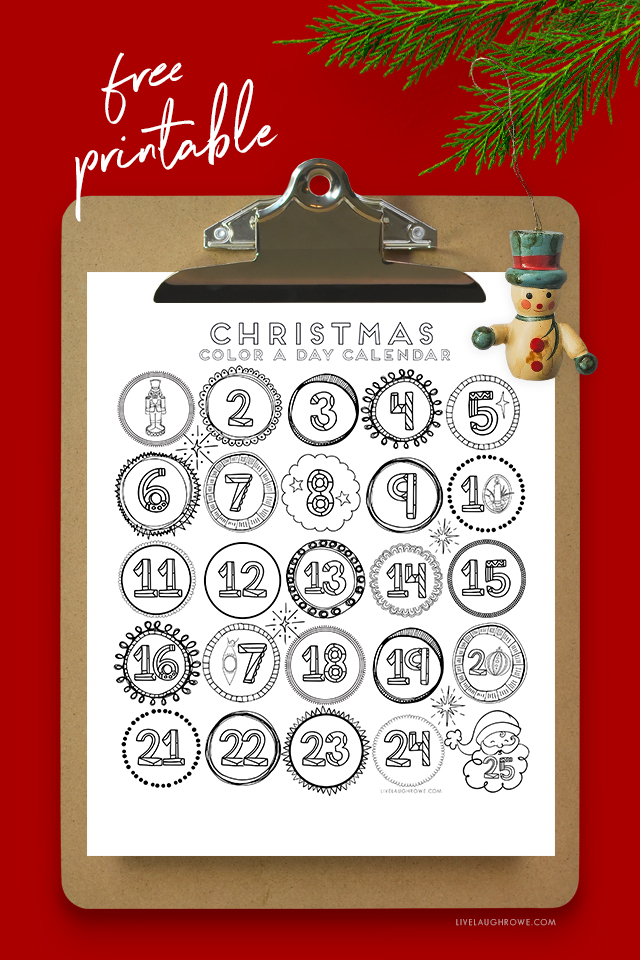 Other Advent Calendar Ideas:
Christmas Countdown for Couples
Matchbox Advent Calendar
Woodland Inspired Advent Calendar
Christmas Coloring Page Printable
It's time to grab your free Advent Countdown Christmas Coloring Page.
Supplies:
Printer
White Copy Paper
Colored Pencils or Crayons
Once you're printed your Christmas coloring page, it's time to celebrate, color, and have fun. Enjoy.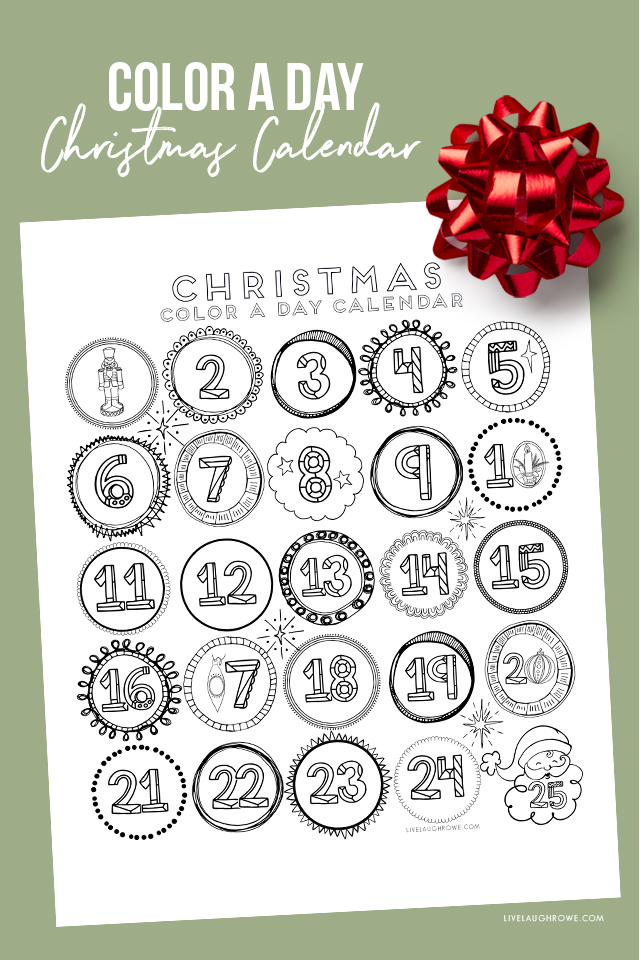 Please Note. Printables and downloads designed by Live Laugh Rowe are for PERSONAL USE ONLY. Therefore, please do not alter the file or claim it as your own. This file is not intended for resale, nor are the printed versions of this file.
*Some readers expressed they were having trouble printing the PDF version. I believe it's a browser issue; however, please try this Christmas Coloring Page in a JPEG format if you are having difficulties. With this option, you will need to Download, then Print.
Connect with Live Laugh Rowe!
Facebook | Instagram | Pinterest | Twitter
Hugs and Blessings!