Easy Lemon Bars that will have your taste buds begging for more!
This past weekend, I had a craving for something sweet and lemony. So, I pulled out this old Weight Watchers recipe that's been lightened up, yet the flavor hasn't been compromised.
Easy Lemon Bars with a Skinny Twist


These lemon bars really should have a disclaimer or warning on them. They're addictive! So, I can't be held responsible if you should eat too many of them. Do you see where I'm going here? They're healthier, but moderation is necessary! (wink)
Easy Lemon Bars
Ingredients
1-1/3

cup

s all-purpose flour

1/3

cup

packed light brown sugar

1

stick unsalted butter

cold, cut into 1/2-inch pieces

4

large egg

s

1/2

tsp

vanilla extract

1-1/2

cup

s powdered sugar, divided

3/4

cup

s fresh lemon juice

2

tsp

lemon zest

optional
Instructions
Crust
Mix flour and light brown sugar using a food processor until fully incorporated. Toss butter into flour mixture and pulse to combine using short bursts of power until butter is cut into tiny pea-sized pieces and dough appears lumpy. Sprinkle crust mixture into an ungreased 13x9x2-inch baking pan as evenly as possible, press down to create a packed surface.

Place pan in middle of oven and bake until golden, approximately 20 minutes.
Lemon Topping
Beat eggs in a medium bowl with an electric mixer until well blended. Add vanilla extract and 3/4 cup of powdered sugar; mix well. Add lemon juice and remaining powdered sugar. Mix until powdered sugar is completely dissolved. Add zest (optional).

As soon as crust is finished, remove from oven and reduce oven temperature to 300˚F. Immediately pour lemon mixture over hot crust. Bake completely, about 20-30 minutes.

Cool and cut into 24 bars. Yields 1 bar per serving.
Notes
-The crust must be HOT when you pour on the lemon mixture.
-Approximately three lemons to yield the amount of juice and zest in this recipe.
-WW Points Plus Value: 3.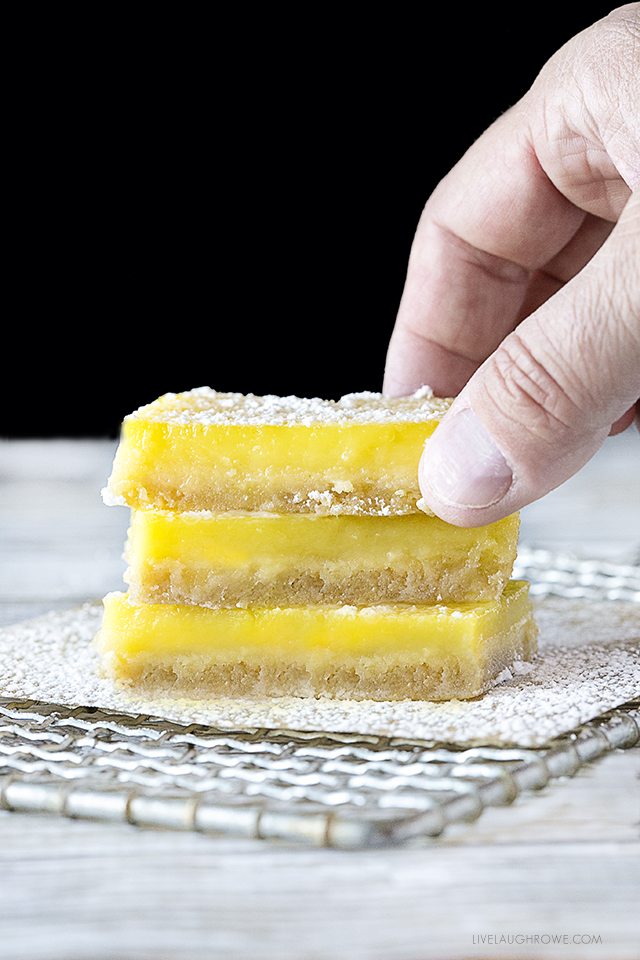 Sprinkle on some powdered sugar and enjoy! For the record, I did use moderation in eating these irresistible lemon bars. Yes, it took an excessive amount of self control. Enjoy the yum!
Looking for more lemon goodness, these Lemon Meringue Cupcakes are AMAZING!