Easy Watermelon Sorbet
A delicious frozen treat to cool you down on a hot summer day. This Watermelon Sorbet is easy to make and requires only three simple ingredients.
The weather has been beautiful here this past week. For instance, the days have capped off in the low 80's and the evenings have been in the high 60's. Consequently, I'm not complaining. As a matter of fact, I've been enjoying our patio more than usual.
Unfortunately, this will be the last frozen summer treat for the season (here on the blog). Trends are saying that Christmas content is what everyone is looking for. So, summer is fading and fall and winter festivities await. Mulled Cider, anyone? Or how about some Hot Cocoa? Haha.
Be sure to sign up for my email to get new recipes
and creative ideas sent right to your inbox!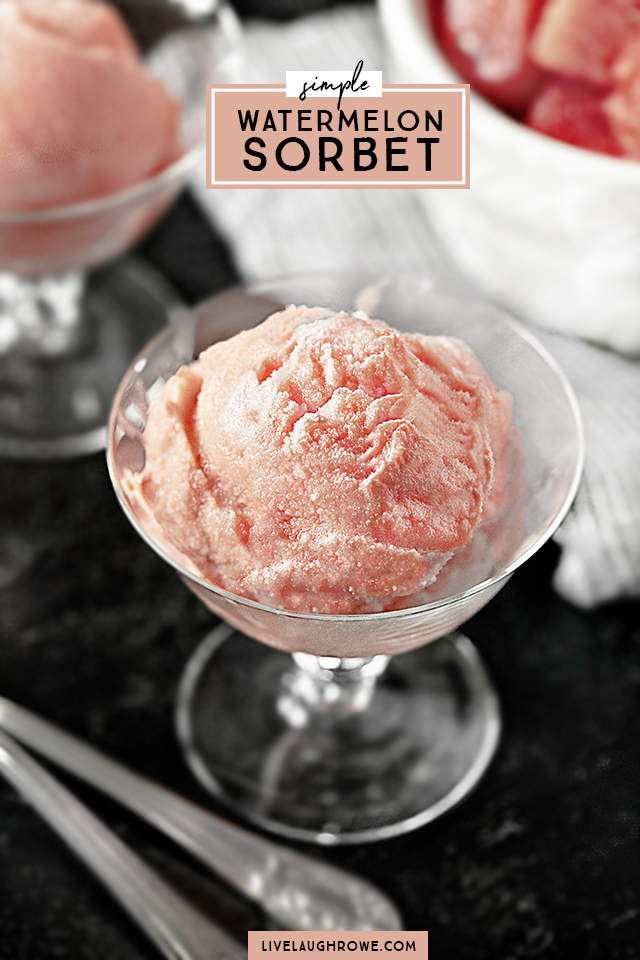 The best part about this Watermelon Sorbet is how easy it is to make. In short, it only requires 3 ingredients and a blender (or food processor). No ice cream machines, stovetops, or a lengthy list of ingredients. Yep, you read that correctly. This watermelon sorbet is made without an ice cream maker. Woo hoo.
Several weeks ago, a friend shared this recipe on her Insta Stories. I love ice cream and since this sounded so good, therefore I took a screenshot. As a result, here we are delving into this recipe together.
Frozen Watermelon Sorbet
I doubled the recipe and have been indulging in a spoonful or two every so often throughout the day. Frozen sorbet and ice cream always make me think of my Grandma Voorhees and my step-grandfather Bob. Whenever we visited, they always had a variety of ice cream in their freezer(s). It was a nightly tradition for them to enjoy a scoop or two together.
Ironically, my husband (Steve) and I were visiting with a neighbor the other day and he mentioned that he and his wife enjoy a bowl of vanilla ice cream each night with strawberries. That is to say, it made me pause and smile. So sweet.
Maybe this Watermelon Sorbet will be the beginning of a summer tradition for you and your family.
Is frozen watermelon good?
Yes, frozen watermelon is delicious. However, watermelon never tastes as good as it does fresh. And also keep in mind that thawing the watermelon will make it mushy. So, freezing it for future use as in sorbets or granitas is your best bet. In short, this Watermelon Sorbet is a great option.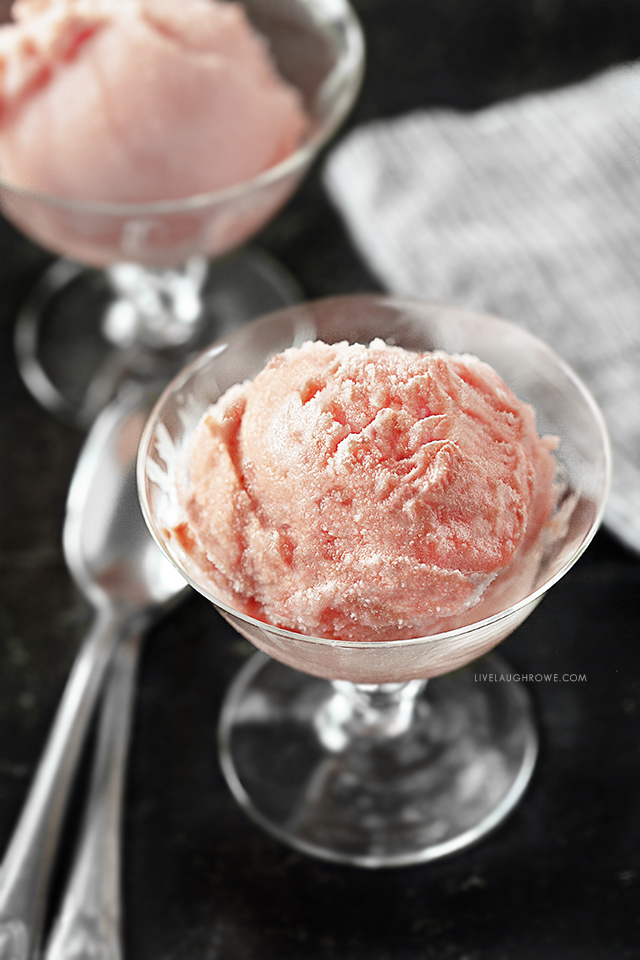 Making Watermelon Sorbet
Ingredients:
Frozen Watermelon, cubed
Cream of Coconut
Lime Juice
Instructions:
Place all frozen watermelon, cream of coconut, and lime juice in blender or food processor. Blend until smooth and serve or store in a freezer-safe container.
Easy peasy, right? I wanted to mention that I made my sorbet with our Vitamix and stored the Watermelon Sorbet in my Tovolo Glide-a-Scoop Ice Cream Tub.
Other fruity desserts to try:
Pineapple Dump Cake
Strawberry Pie
Simple Banana Ice Cream
Peach Dump Cake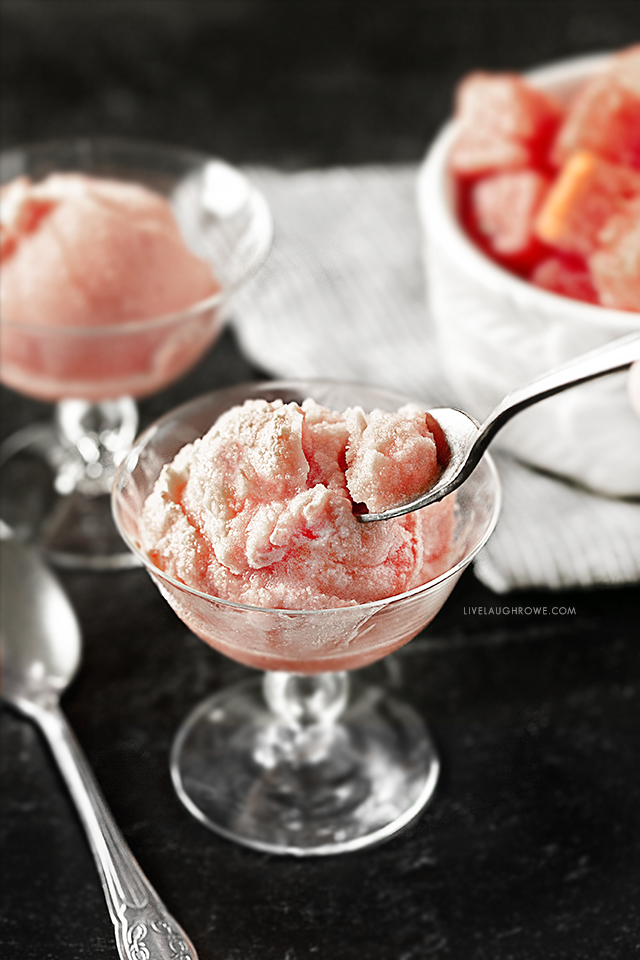 Now it's time to treat yourself to a frozen treat that is sweet and creamy, Watermelon Sorbet. However, don't hesitate because the great pumpkin season is right around the corner. (wink-wink)
Watermelon Sorbet
This Watermelon Sorbet is easy to make and requires only three simple ingredients. A delicious frozen treat that's sure to cool you down on a hot summer day.
Ingredients
3

cups

frozen watermelon

3/4

cup

cream of coconut

2

tbsp

lime juice (or the juice of one medium lime)
Instructions
Cube 3 cups of watermelon, removing seeds and place in the freezer overnight.

Place watermelon, cream of coconut, and the lime juice in the blender (or food processor) Using the appropriate setting and blend until smooth.

Serve immediately or transfer into an ice cream container and place in the freezer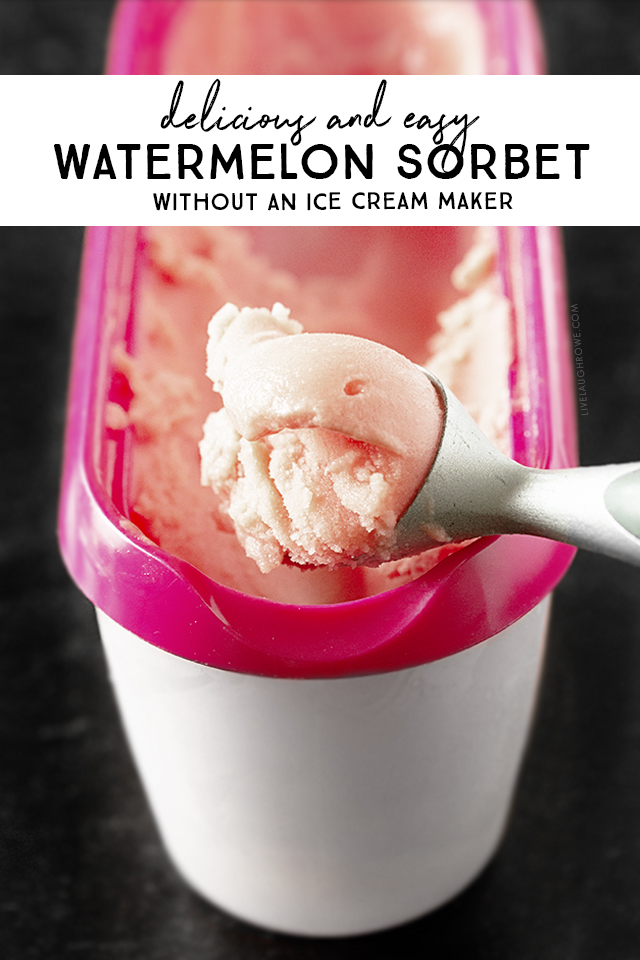 Connect with Live Laugh Rowe!
Facebook | Instagram | Pinterest | Twitter
Hugs and Blessings!