Hi, friend! Happy Weekend. It's supposed to be a rainy day here, but I'm not complaining. I'm happy to cozy up in front of the television and snuggle with our pup.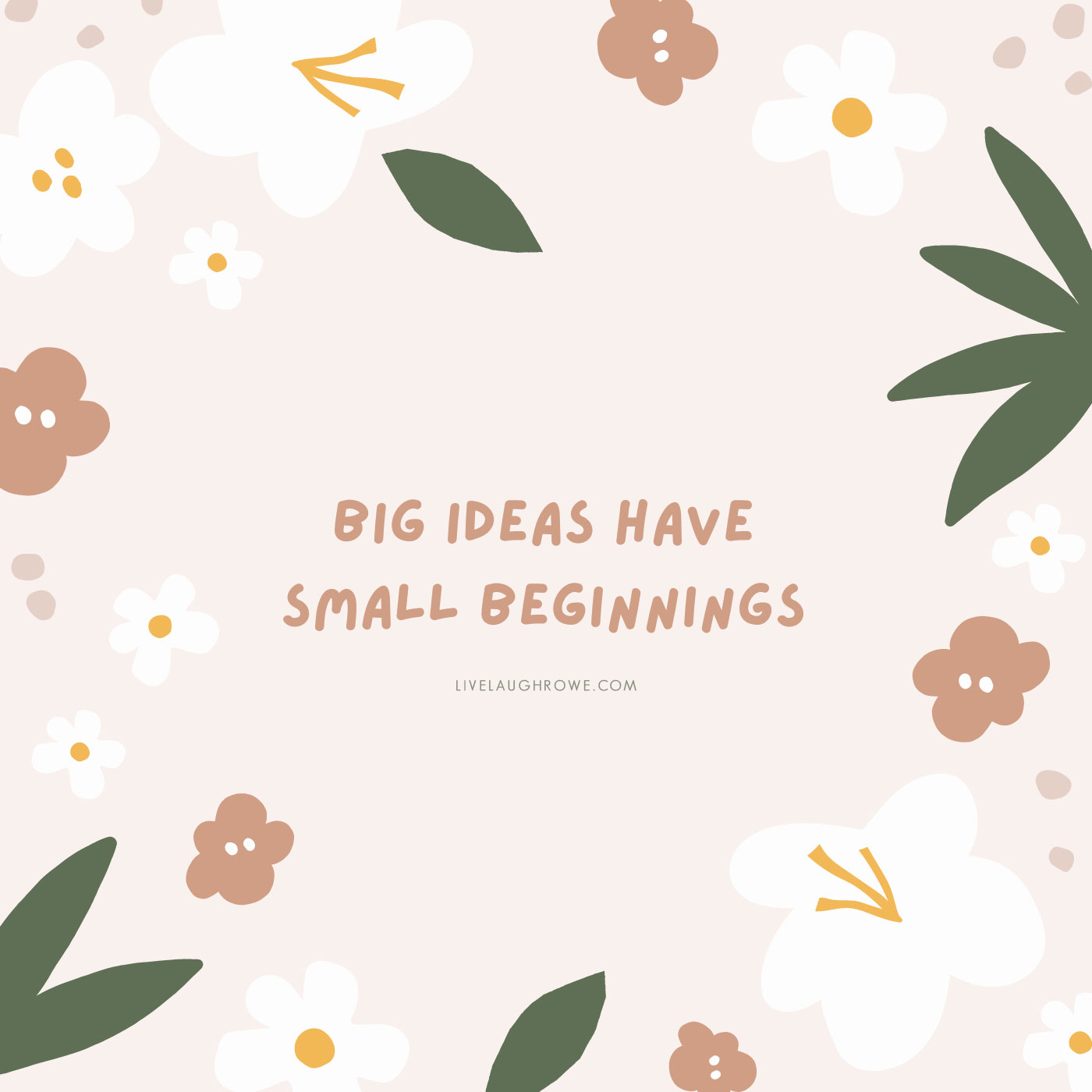 Miscellany:
1. Hormone Solutions. My week kicked off with an appointment with a Family Nurse Practitioner, trained in Bio-identical Hormone Replacement Therapy (BHRT). The appointment went very well, and I left feeling encouraged.
The phlebotomist took TWELVE vials of blood, friends. I don't have great veins, so that was a stressor. I always have a big juicy vein in my hand — and, thankfully, it didn't disappoint.
My follow-up appointment is on Monday, March 20th. I'm looking forward to starting on some medications soon after that. Of course, I'm also anxious to feel better (wink-wink).
2. Sister Time. On Thursday, I spent some time with sis. We revisited a consignment shop in Lebanon. For some reason, the clothing seemed very worn and raggedy this time. There were a lot more meh's than wow's. Haha. I bought a pair of jean shorts that were from Maurice's.
3. Under Sink Storage. I'm happy to report that I did tackle the storage space under our kitchen sink this week. It turned out great. And guess what? I remembered to take before and after shots. Woo-hoo!!
I used these under-sink organizers — the price seems to fluctuate. I purchased two for $29.99. Sooo, add them to your cart and keep an eye on the pricing if you're not in a hurry.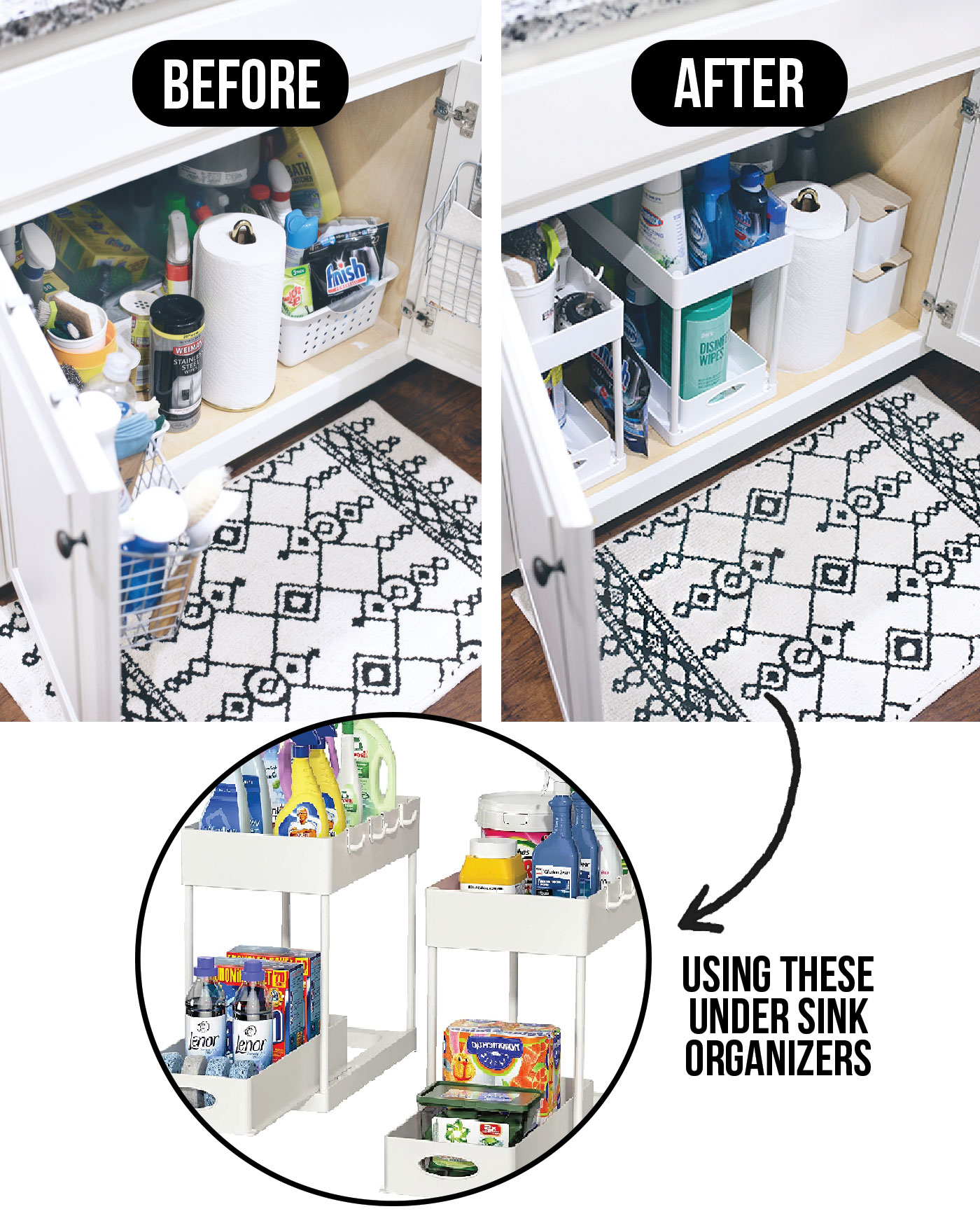 Most of my trigger spray bottles wouldn't fit on the shelves, so there is a container for them behind the paper towels. Everything has a home; only replacements will be added to this space. No more extras. 😂
I was excited to remove the over-the-door storage organizers on both cabinets too. The rattling every time we opened and shut the cabinet doors got on my nerves, and they always ding up the cabinets.

What do you think? I'm loving how clean and organized it is now.
4. Nash. Well, we might be sending Nash off for some training. He'll be with the trainers for approximately four weeks if everything works out as planned. I honestly get super anxious about doing this, but it's what he needs to build his confidence up. I'll keep you posted.
Nash got to taste some of Andy's Frozen Yogurt for the first time this week. It's safe to say he liked the custard but not the cone. Haha. If you ask, Andy's will give you free pup cones (sample cones).

However, we only let him have a few licks. We don't like to give him much human food.
*Andy's always makes me think of Buster. His eyes would grow so big when he saw Andy's lights. It was the cutest thing ever. One time he thought a gas station was Andy's, and we had a good chuckle. Gosh, I miss that sweet boy.
5. Fun Song. I want to share a song with you today that took me down memory lane. Mmmmkay?
It's a throwback to my childhood. I was talking with my gal pal Ashley, and somehow we talked about an old song from our childhood called Bullfrogs and Butterflies. Have you heard it? I believe this song originated on an album we had as kids called Bullfrogs & Butterflies: Songs from Agapeland.
Beware! It's a catchy and fun song that might stick with you for a bit. Sometimes I forget about the joy these old memories bring me. Lol.
6. Spring + Summer Dress. I picked up this Short Sleeve Shirt Dress (in Green Chili) this week at Walmart. Of course, the dressing rooms were closed, but I was willing to do an exchange or return if needed. Lol.
Let me tell you, I'm a sucker for linen, and I could tell from it hanging on the rack that linen was in the material. YAY! It's adorable. When the warmer weather rolls in, dresses are my jam. How about you?
7. Quote: "Friendship is born at that moment when one man says to another: "What! You too? I thought that no one but myself…" – C.S. Lewis
I love this quote and appreciate that this doesn't happen with anyone and everyone, you know?
8. New Post. It was another great week with a second post. I shared this Spring Gardening Essentials printable. It's lovely — so if you're a gardener or know one, download or save this print!
9. Random Fact. Did you know that fish scales, also known as guanine, are used in makeup such as lipstick, nail polish, and many other cosmetics to help add a shimmer to the product?
I had no idea. 🤯 My husband randomly brought it up and said he learned it on Jeopardy.
10. SAVE THE DATE. I'm officially planning on a week-long Project: Snail Mail series in July! I'm so excited. We need to bring back the art and joy of snail mail. Any ideas? Send them my way — I'm in the planning process and have so many great ideas on my list.
Around the Web for Easter:
These Free Easter Cards.
This Easter Bunny Garland.
This Spring Bucket List.
This Egg Decorating Spinner.
These ADORABLE Wood Bead Bunnies.
This Natural Egg Dying using Tea.
This Simple Easter Wreath.
These Faux Tulip Stems.
These Easter Spritz Cookies.
These No-Bake Chocolate Coconut Nests.