Sniff. Sniff. Do you smell that? Yep, spring is in the air. I'm 100% ready. How about you? Everyone I've spoken with recently is undoubtedly ready to roll into spring. So, I'm hoping that this Spring Gardening Essentials printable might help your excitement level a bit (if your in need of a boost, hee-hee). Maybe?!?
Nevertheless, this printable would make a great addition to your spring decor. And don't forget to print an extra copy for your gardener friend(s). You'll probably score a bonus point or two in the community gardening club. 🥰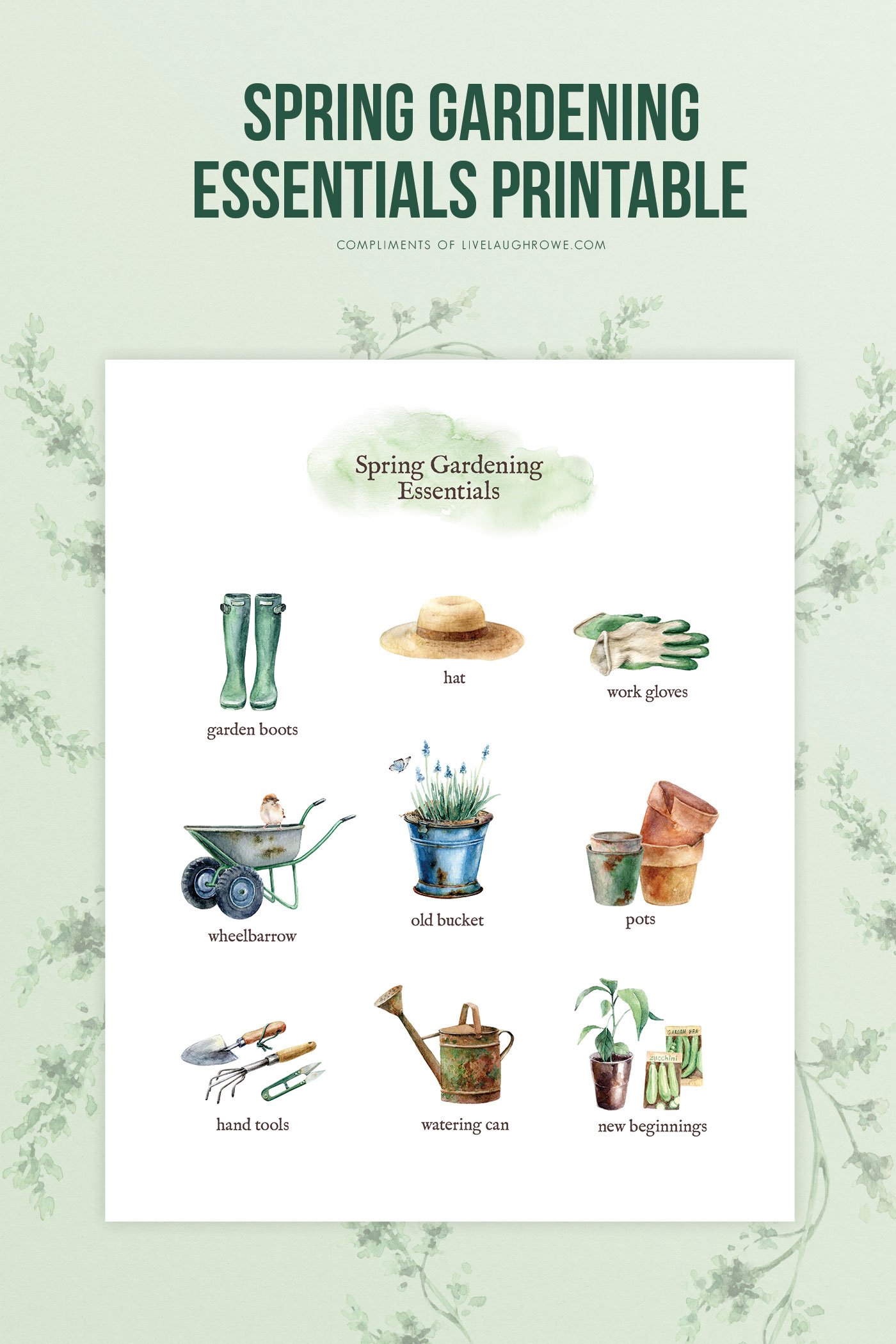 Daffodils are a favorite of mine during the spring. A couple of weeks ago, I shared this Daffodils Poem Printable. This week, while heading in and out of town for appointments, I saw several patches of daffodils popping up along the road.
Those little flowers are pure sunshine to me. I smiled big and wanted to pull over and snap a picture, but I didn't.
In the spring, at the end of the day,
you should smell like dirt.
-Margaret Atwood
If you spot daffodils, be sure to smile. And if you can, snap a picture and share it on social media. As a result, maybe we'll be spreading a little "spring" cheer.
While pulling this post together, I happened to run across some random spring facts. I decided to share a few that I found quite interesting.
Random Spring Facts:
During spring, baby birds learn to sing.
Generally, the earliest spring blooms are daffodils, tulips, primrose, lilies, and sunflowers.
Scientists believe that longer days cause people to be more active, creative, and happy.
Do you know why the Easter holiday date changes each year? Because Easter falls on the first Sunday after the first full moon of the spring equinox.
Additionally, the first day of spring is known as the vernal equinox.
So, tell me, do you do any spring gardening? I like to do some flower pots for the porch, but it's never a guaranteed activity. Ha!
We have neighbors in our neighborhood with beautiful flower gardens in their backyards. When they're all in full bloom, I'm a little jelly. Haha.
I often wonder if I'll do more gardening when I'm retired. Sadly, it's not something I enjoy, and I haven't had much success in the past. So, who knows?!?
Additionally, worms gross me out. They tend to come with spring and all the rain. Our sweet Nash reminds us of how many worms exist on walks when he stops every 5 seconds to snack on the dried-up ones after a rain shower. Ewwww. 🤢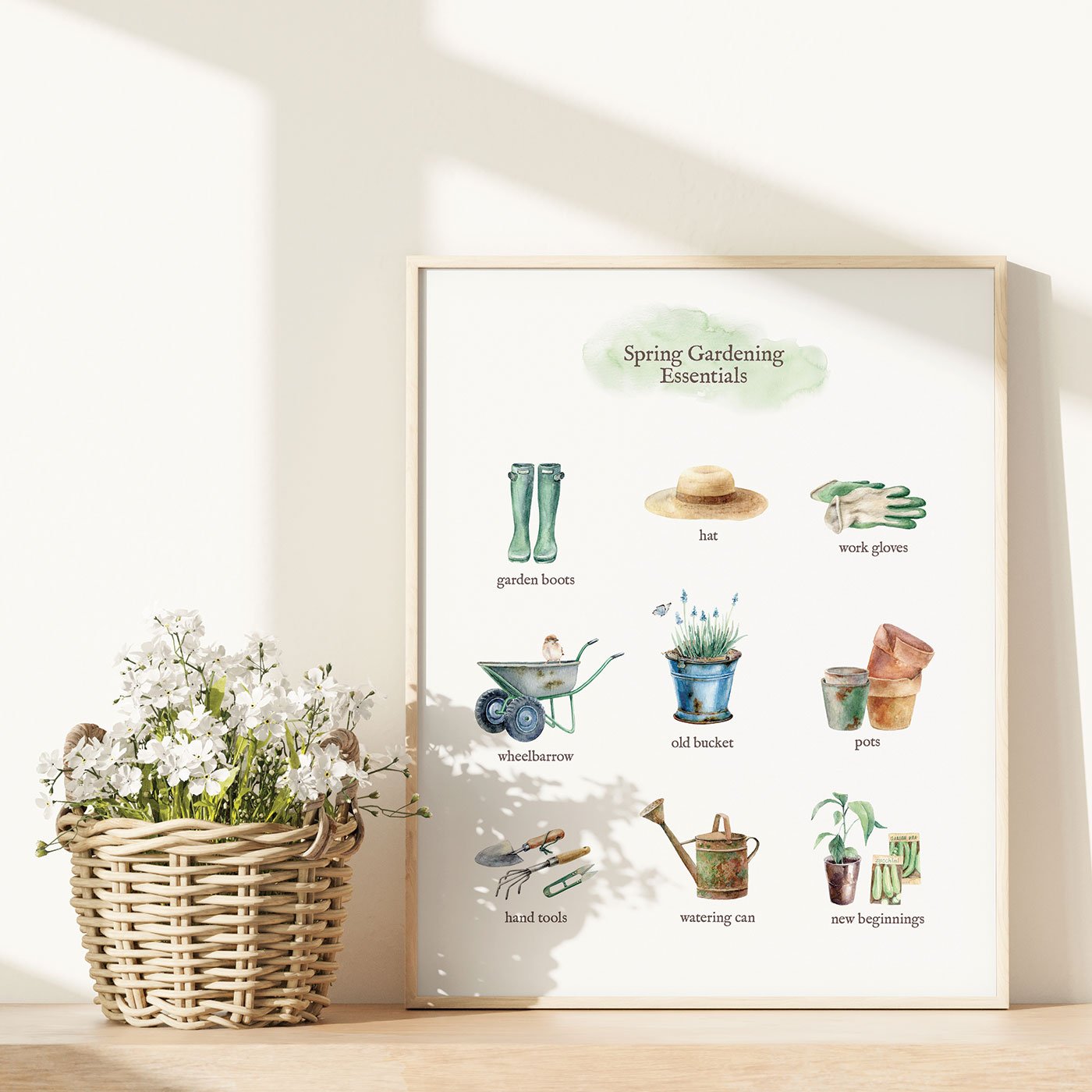 The Gardening Essentials
However, if we were all gardeners and we were going to list out our Spring Gardening Essentials, I think it might include the following:
–Garden Boots
–Hat or Sun Visor
–Work Gloves
-Wheelbarrow
-Old Buckets
–Flower Pots
–Watering Can
–Hand Tools
–Kneeling Pad
-Dirt
-Fertilizer
-New Beginnings (plants, seeds, etc.)
–Garden Markers
-Shovel*
-Pitch Fork*
(*for larger projects).
The Spring Gardening Printable
I'm sure we've forgotten an item or two, but I think these cover most of the necessities. So I took these and created a simple spring gardening printable. The original artwork was created as an 8×10 and printed on 8.5×11.
Therefore, you can cut it down or frame it as-is. Easy peasy!
Other Spring Printables:
Hello Spring
Botanical Spring Flowers
Spring Bucket List
May Day Seed Packet Printable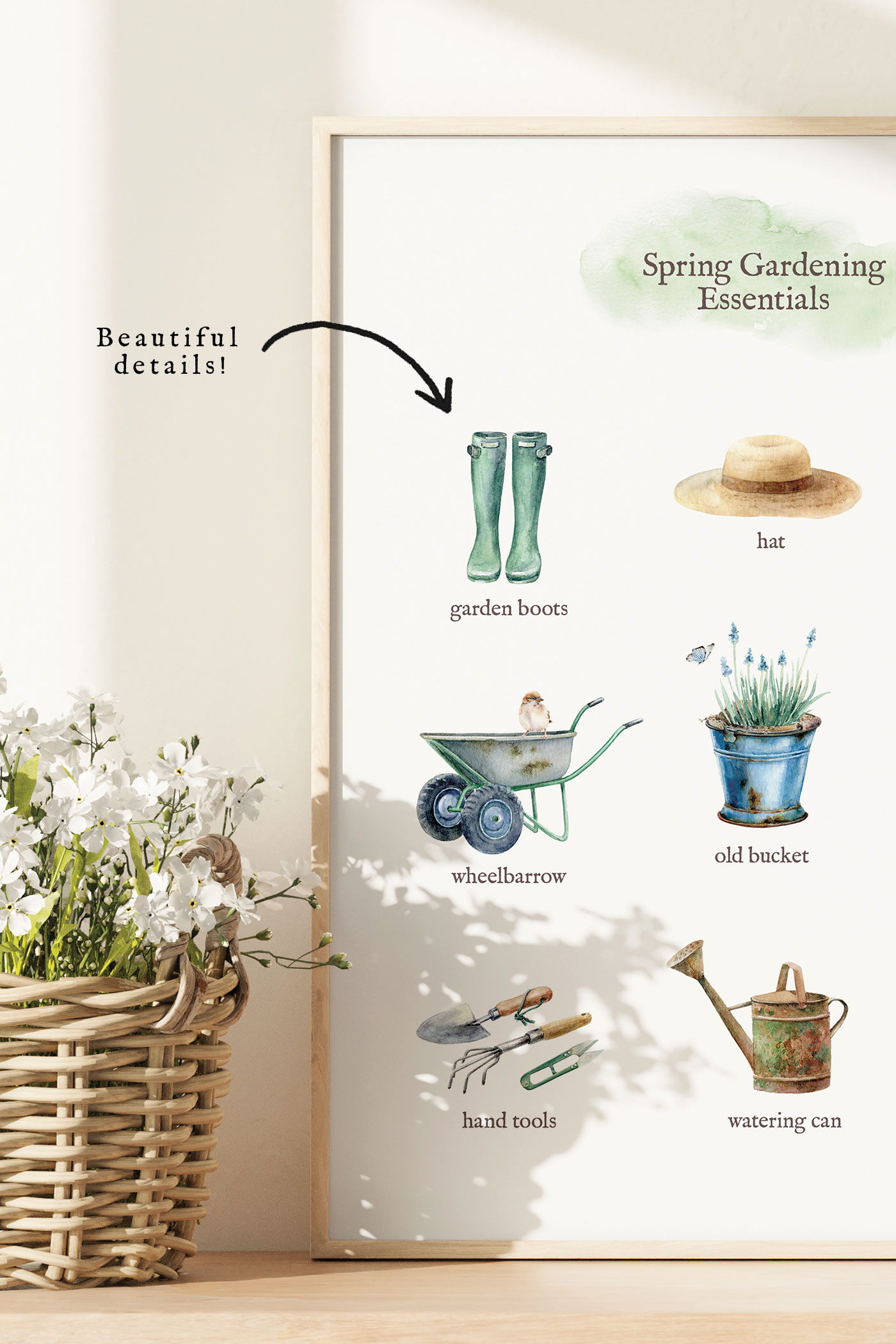 Please Note. Printables and downloads designed by Live Laugh Rowe are for PERSONAL USE ONLY. This file is not intended for resale, nor are the printed versions of this file. Therefore, please do not alter the file or claim it as your own.