I'm not sure if it's just felt like a long winter or if it's literally been a long winter. Haha. Maybe you can relate? Yes? No? In short, I'm ready for Spring. Period. Bring on the allergies if it means warmer days, beautiful sunshine, and all the beautiful shades of Spring. Haha. So, I did a thing. Yep, I created a printable Spring Bucket List. YAY! Let's start planning all the fun things that Spring has in store.
Psst! Let's keep in touch! You know you want to. Be sure to sign up for e-mail updates! Click on that SUBSCRIBE button in the upper right-hand corner, or use the subscription box in the sidebar. As a result, you'll get some happy mail in your Inbox.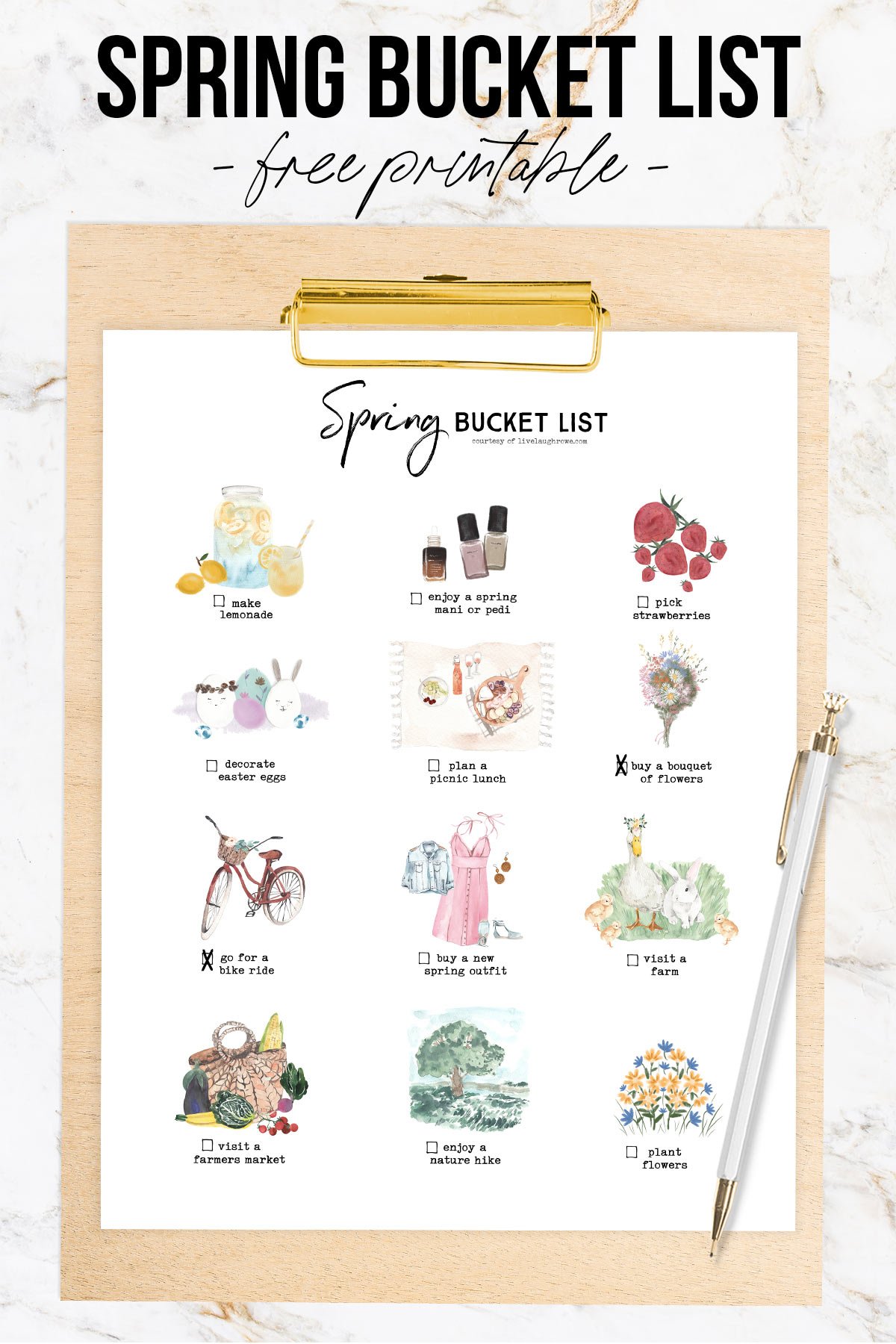 I love all of the bucket lists I've created over the years. To clarify, for me, they create inspiration, they're sharable, and they make a sweet addition to your decor.
When I think of Spring, I think of green, making its striking appearance. I keep a lookout for the colorful tulips emerging from the ground, and, well, my favorite part is Easter.
I have so many fond memories of Easter. From buying a new dress every year to my eyes bulging from my head when I saw my Easter basket to the big, to the fancy meal my mom would make on Easter Sunday.
Of course, all of those memories are just that, memories. However, they sure are special. I still like to buy some Easter candy, look nice for church, and eat a fancy meal.
The activities used on the bucket list are pretty general and can apply to just about anyone. As a result, I challenge you to tackle this list and make some exceptional memories this year. Honestly, why not?
Spring Bucket List Activities:
1. Make lemonade (or iced tea). Enjoy a nice cold glass of lemonade on the front or back porch. Read a good book. Listen to the birds chirping. In other words, stop and smell the roses.
2. Decorate Easter eggs. It doesn't have to be complicated. Check out these darling bunny and carrot eggs! Whether you dye them or use a sharpie marker, they're going to be fabulous.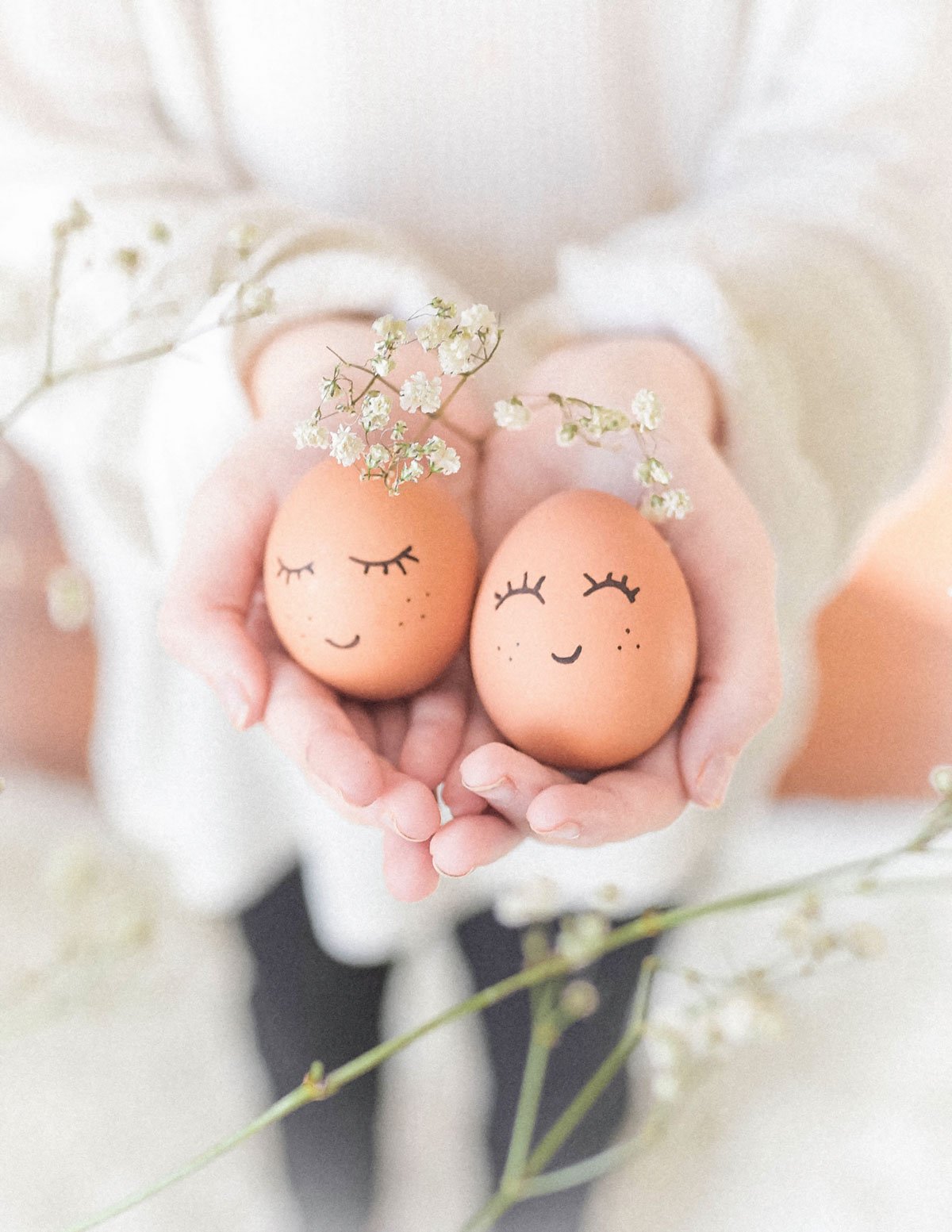 3. Enjoy a Spring mani or Pedi. Whether you do it at home or visit the salon, it's always nice to pamper yourself with a fresh mani or Pedi.
4. Plan a picnic lunch. Yes, please! And do you know what? It doesn't have to be fancy.
"always it's Spring and
everyone's in love and
flowers pick themselves."
-e.e. cummings
5. Buy a bouquet of flowers. I love having a fresh bouquet of flowers on my table or counter. Likewise, they add a slice of happiness to the space.
6. Go for a bike ride. Don't have a bike, borrow one from a friend or substitute the bike ride for a walk. Nevertheless, enjoy that fresh Spring air!
7. Buy a new spring outfit (or two). Shopping is my fave. Need I say more?
8. Visit a farm — especially one with baby chicks, bunnies, and lambs. You might even spy some ducks at a local park where there is a pond.
9. Enjoy a nature hike. Walking has become such a blessing to me this past year. It's good for my body, soul, and mind. So, I'm looking forward to exploring some local nature trails this Spring (and summer).
10. Pick strawberries. I'm always late to the strawberry picking game and it is a bit back-breaking — but it's also rewarding and fun. Grab some girlfriends and snap a selfie in the strawberry field.
11. Plant flowers. Get those hands a little dirty. Fancy up your front porch or create a rainbow of color in your flower bed. After that, step back and enjoy your hard work.
12. Visit a farmer's market. I love going to the farmer's market for fresh vegetables and locally made cranberry chevre. There are certainly always lots of cute dogs to love on too.
Of course, we can do a gazillion other things to celebrate the season. Grilling out more, eating ice cream, planning a road trip, and the list goes on and on. Right?
Other Spring Printables:
Botanical Spring Flowers
Spring Flowers Burst with Joy
Hello Spring
The Printable
Please Note. Printables and downloads designed by Live Laugh Rowe are for PERSONAL USE ONLY. This file is not intended for resale, nor are the printed versions of this file. Please do not alter the file or claim it as your own.
Download or Save Spring Bucket List