Where are my donut lovers at? I'm flailing my hand in the air over here. Cinnamon Sugar Donut Holes Stuffed with Nutella. Need I say more?
Obviously, that's why I'm always overweight. I know, I know. It's a matter of making healthier choices. Then again, I think sweets might be my love language. Haha. 😂🤣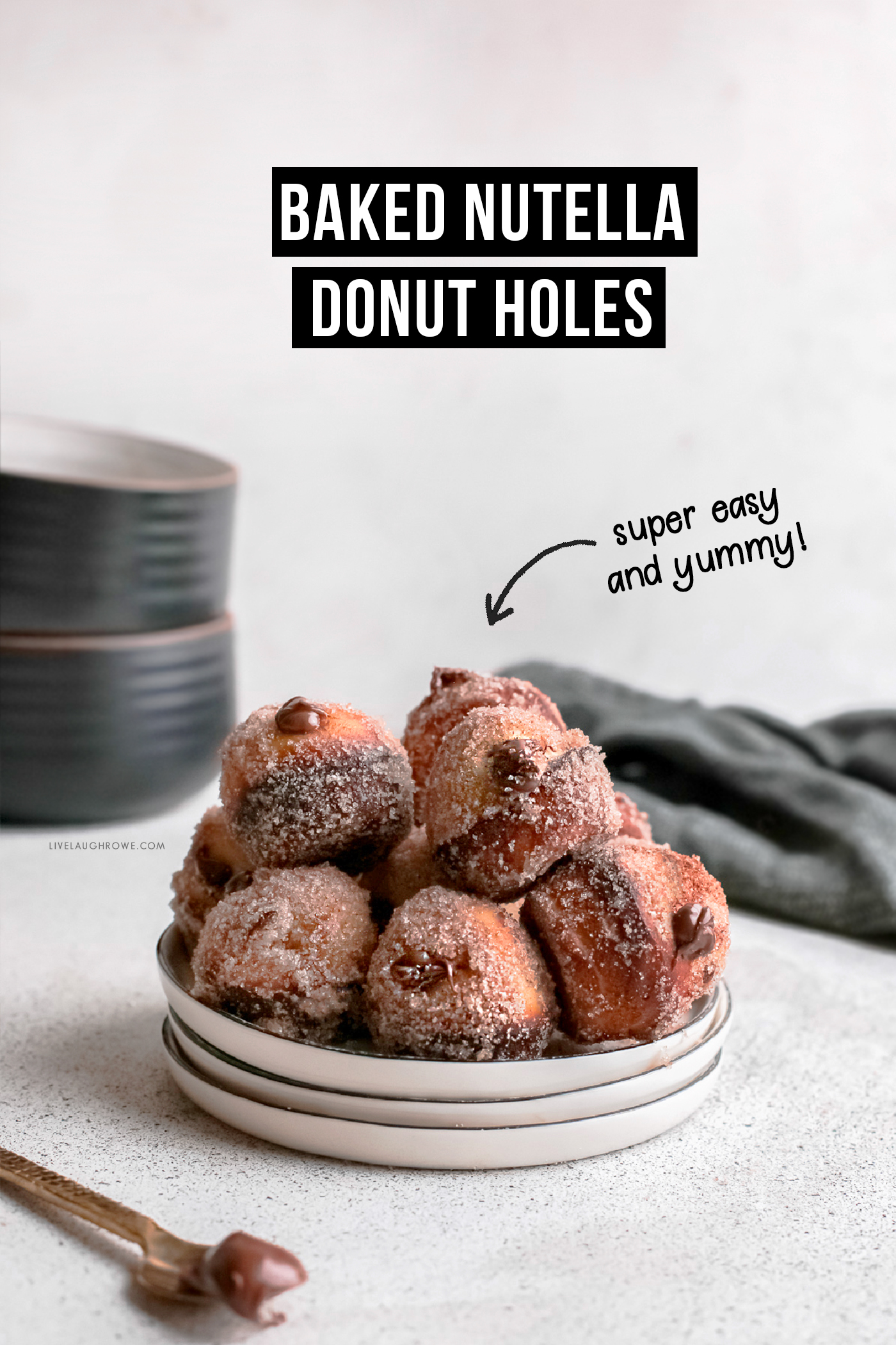 Nevertheless, these donut holes stuffed with Nutella are fluffy, gooey, and oh-so-delicious! Yum. I think my stomach started growling after I typed that.
Guess what? I saved a few calories by not "frying" them.
Can you bake doughnuts instead of frying them?
So, yes, baking doughnuts (or donuts) instead of frying them is a great option.
In this case, I decided to bake these Nutella Stuffed Donut Holes. Pretty exciting, huh?
Well, don't get too excited. Because when I decided to add a little butter, cinnamon, and sugar — that it seemed to make up for the fact that I didn't fry them.
Womp, womp, womp.
You know what? I'm still going to stick with my story that I saved a few calories by baking them. I'll let you decide how you want to spin it so you can enjoy a handful without feeling guilty. Mmmkay?
Nutella Churro Donut Holes
Are donut holes made separately?
I'm sure you've heard the myth that donut holes come from the center of a regular donut. While I'm not sure that I've given this a whole lot of thought — it is a myth.
Donut holes are not the remnant of a donut. Before technology and fancy machinery, that was most likely the case. Haha. In today's society, machines make donuts with holes in them, and donut holes are made separately.
Baked Cinnamon Sugar Donuts
Ingredients:
Flour
Sugar
Salt
Baking Powder
Extra Virgin Olive Oil
Egg
Vanilla Extract
Milk
Melted Butter
Cinnamon
Sugar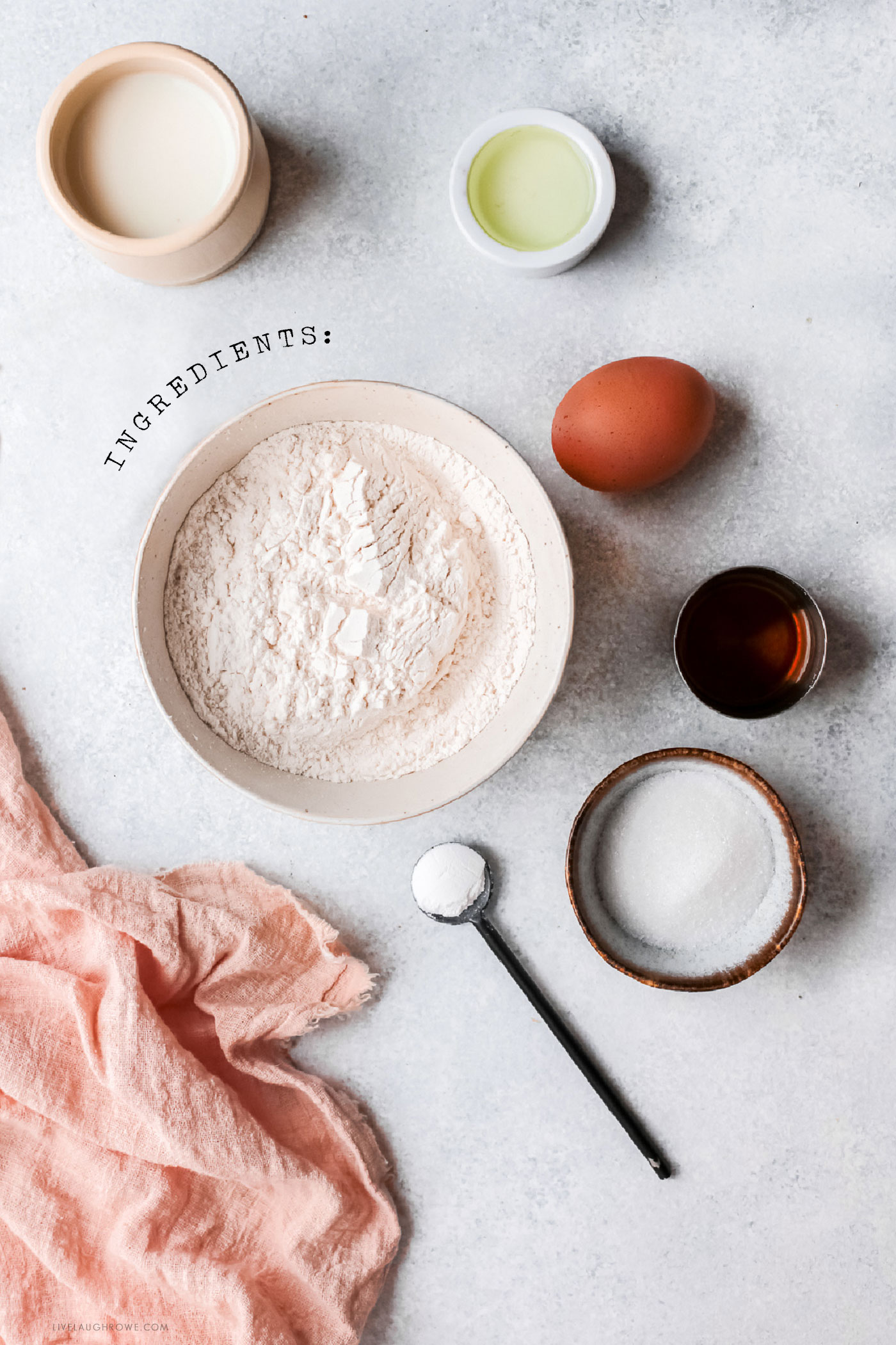 Instructions:
Whisk the flour, sugar, salt, and baking powder together.
Add egg, milk, and vanilla extract. Stir.
Pour batter among 24 mini muffin cavities.
Bake at 350 degrees for 12-15 minutes.
Remove from oven and let cool for a few minutes.
Transfer to a cooling rack.
Brush with butter, and after that, roll in the cinnamon sugar mixture.
If you're looking for just a delicious Cinnamon Sugar Donut Hole recipe — you're done! You can finally eat this cinnamon sugar goodness.
However, if you're wanting to take these donut holes to a whole new level, add some of the delicious, gooey hazelnut spread: Nutella.
Although, I think that 90-100% of you are definitely going to be piping the delicious goodness of Nutella into those Cinnamon Suga Donut Holes. Am I right?
All in all, you're in for a perfect bite-size treat that won't disappoint.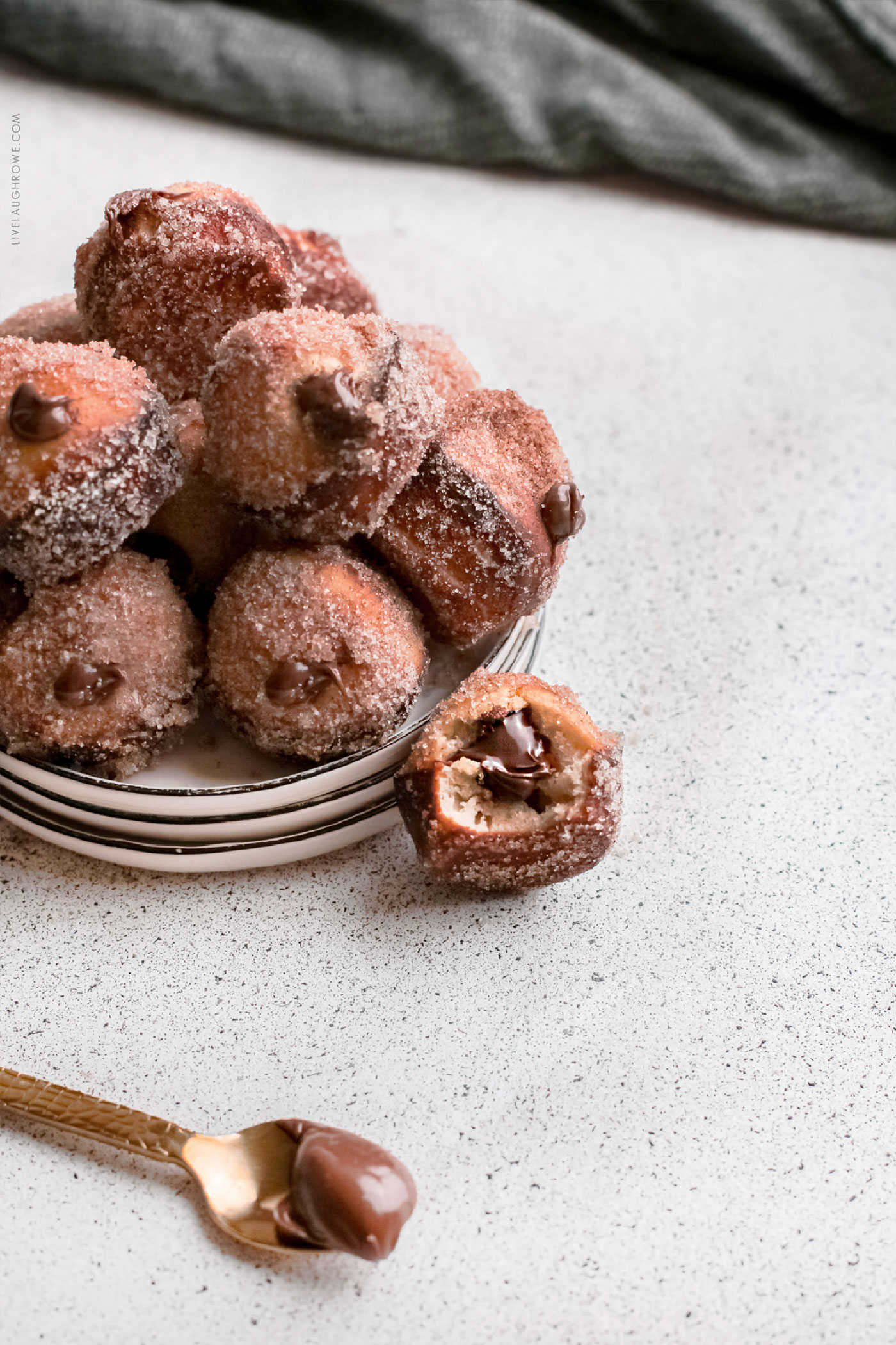 Other delicious Nutella Recipe(s):
Nutella Banana Bread
It's safe to say I certainly need to make a couple more recipes with Nutella. Ha! Enjoy.
Cinnamon Sugar Donut Holes Stuffed with Nutella
No frying is necessary for these addictive bite-size treats! Baked vanilla donut holes dipped in cinnamon sugar and stuffed with gooey Nutella.
Ingredients
For Cinnamon Sugar Coating
melted butter (or butter oil spray)

1/2

cup

sugar

1

tsp

cinnamon
Instructions
Vanilla Donut Holes
Preheat the oven to 350 degrees. Grease a mini muffin pan and set aside.

In a bowl, combine dry ingredients. Mix together the flour, sugar, salt, and baking powder.

Add the egg, vanilla extract, and milk and stir to incorporate. The batter should be thick, similar to pancake batter.

Divide the batter evenly among the 24 mini muffin cavities.

Bake for 12 to 15 minutes or until golden brown.

Remove from the oven and let them cool for 5 minutes.

Remove the donut holes from the pan and transfer to a cooling rack.
Cinnamon Sugar Coating
In a small bowl, whisk the cinnamon and sugar together.

Brush the donut holes with the melted butter. Toss each one of the donut holes in the cinnamon sugar to coat.
Filling
Fill a piping bag with Nutella and carefully pipe a small amount of Nutella into each donut hole.
Notes
These donut holes are easier to coat with cinnamon sugar and fill when they are warm. Don't allow them to cool too much; do the coating steps quickly.