Hello friends from a very hot Rogersville, MO. We've had a heat advisory most of the week here, how about you? It doesn't phase me much if I don't have to stay outside for too long. Haha.
Below is a picture of one of my favorite flowers (fresh or dried). They're called billy balls (Craspedia). Don't they look like little balls of sunshine? They make me smile, so I thought I'd share a little bit of that sunshine with you.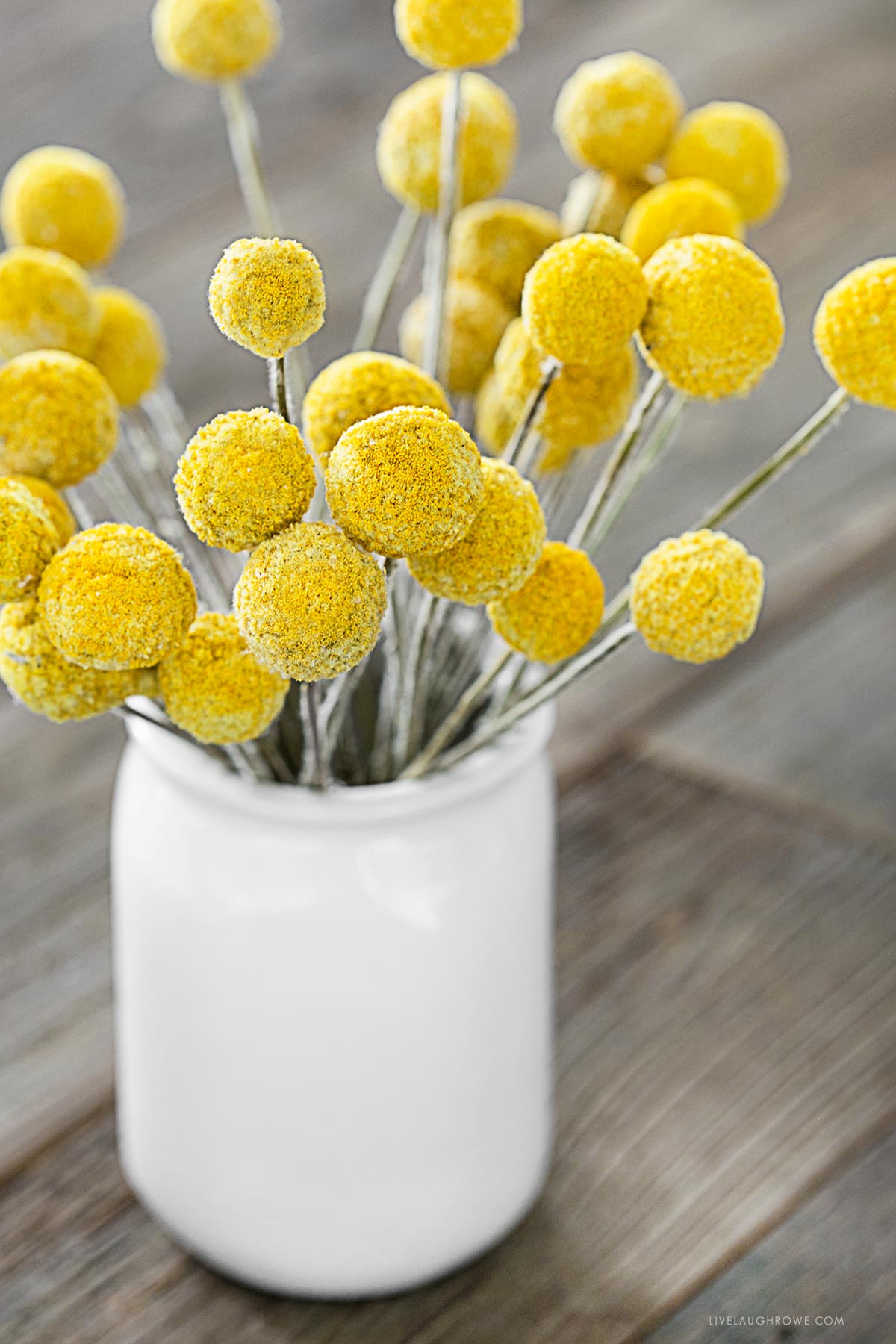 Grab a cup of coffee or tea and let's catch up, shall we?
Miscellany:
1. The car hunt continues. We've decided to stick with getting another Honda CRV. And since our hands have been forced to get another car, Steve said that I should get what I want.
Well, I really want the SUV to be white with a tan leather interior. Many years ago I used to own a white Nissan Altima with tan leather and LOVED it. It's such a classy look, in my humble opinion of course.

Sooooo, we put a deposit down on one that should arrive at the beginning of October or mid-month. Fingers crossed it's the beginning of the month. We're down to one vehicle it happens to be my husband's Ram truck that I've never driven (womp-womp-womp).
2. I'm typing this from the car today (Friday 8/27). Steve and I decided on a day trip to Kansas today for an IKEA and Micro Center run. Can you guess which one is for me and which one is for Steve? Haha.
It was a beautiful day for a drive nonetheless.
3. Jean Chore Jackets. Have you heard about them? I've been seeing them around the web lately. I spotted one on Old Navy's website, but they sold like hotcakes. So I did a little more searching and found one made by LEE® at Kohl's.
I ordered two different colors (Alpine and Berlin Blue) to see which one I'd like better (if at all). The darker wash (Berlin Blue) won out and I love the jacket. It's adorable. I think it will get some great use when camping this Fall.
4. Thankfully there was a little more activity on the blog this week as I shared some of my favorite Ground Beef Recipes and Parkers Memorial Post.
Yep, I finally wrote Parkers Memorial Post. It almost killed me, friends. I can barely look at pictures of him without feeling my breath being taken away. I miss both of my fur babies so much.
5. Since losing both Parker and Buster, I decided to order a ring from Lisa Leonard Designs. I have several pieces of her jewelry and I've never been disappointed.
I bought a sterling silver ring with both Buster and Parker's names stamped on it. It should be arriving this weekend, maybe early next week. I'll be happy to wear the ring as a reminder of my sweet boys.
6. Does anyone else have a full freezer? Golly, mine is always so full you can barely get any ice out. Haha.
I'm not sure why, but I like having my freezer stocked up with meat, fruits, and vegetables. This week Steve and I were thrilled to get a second-hand one from our friends.
One food we'll be stocking up with is chicken wings, we make these smoked chicken wings often.
7. With all things fall quickly approaching, are you TEAM PUMPKIN or TEAM APPLE or BOTH? I love them both. Pumpkin Dump Cake? Apple Crisp? Yes please and thank you!
8. And last, but not least — number eight is being brought to you due to peer pressure from my husband. Ha.
I always ask him to help me recap the week when I'm putting the Weekender together. I'm fairly certain he has suggested "the installation of our new attic ladder" over half a dozen times. Insert rolling eyes and laughter…
Anywho, the spring broke in our previous attic ladder, so we couldn't safely add or remove items from the attic for quite some time.
So last weekend Steve thought he would get up bright and early to install this said ladder. He thought he would git-r-done fairly quickly so he could tackle the rest of his to-do list. That was not the case. Haha.
Yep. Steve was out there for almost 8 hours. And, might I add, I almost died helping him. I made a significant contribution with some manpower and a genius idea. All I can say is those dang ladders are H-E-A-V-Y.
It was a BIG project, but it's done and we can now safely enter our attic. Booyah!
Around the Web:
Free "Its' Better This Way" Journal Card.
This Blue and White DIY Pumpkin Tutorial.
These Baked Burgers. Yum.
These Greek Chicken Kebabs.
This Epic Baked Potato Dinner Board.
These Lemon Whipped Shortbread Cookies.
These Cute Yarn Wrapped Pumpkins.
This Simple DIY Fall Wreath.
These Fall Hanging Mason Jars.